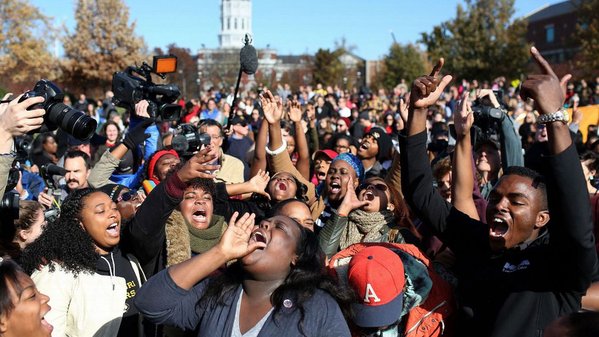 Stanley Kurtz has laid out an interesting proposal for stopping once and for all the shutdowns and hecklers and mobs that have increasingly plagued higher education in recent years. It's called the Intellectual Diversity Act, and it has a simple provision. The law, as passed by state legislatures, will direct public colleges and universities to create an Office of Public Policy Events that will do two things.
One, it will keep a record of all extracurricular events that bear upon matters of public policy. The record-keeping will be especially sensitive to viewpoint diversity. Is the full range of public opinion represented in a school's annual slate of offerings? We know the answer, of course. The record will be made available to the public and shown to the school's trustees and state legislators as well.
The other task for the Office will be to remedy the current problem. It will "arrange for debates, panel discussions, and individual lectures from diverse viewpoints on current public-policy disputes.
[The Cult of Diversity Shows Its True Face]
The assumption is that students who have swallowed the social justice line proceed to shout down conservative speakers because they haven't been exposed to them often enough. The campus is so left-leaning that the rare appearance of a right-leaning lecturer or the mounting of a panel on a controversial topic that gives conservative positions equal time strikes them as not just wrong but abnormal. If they knew that right-of-center views were a regular part of a school's events when it comes to policy discussions outside of class, they couldn't assume that such things don't belong on campus and may be chased away. They would realize that today's successful shout-down wouldn't stop further conservatives from coming to campus.
The Office of Public Policy Events would guarantee it. Administrators would be prevented from indulging the disrupters, nor could they cite security reasons in the course of canceling events. State legislators wouldn't like that, and trustees wouldn't, either. The publicity would pressure the legislators to pressure the school, and punishments of the disrupters would follow—as it should. In fact, the Office would give school leaders more backbone. To student protesters who demand "protection" from a triggering speaker, school leaders may say, "There's nothing I can do about it. We are bound by the state to go through with the event. I'm sorry."
[Heather Mac Donald: In the Crosshairs of a Progressive Campaign]
It is important to note, too, that the Office doesn't touch what professors do in the classroom. The formal curriculum remains untouched. The proposal aims only at open campus events. Academic freedom is preserved.
It is hard to imagine any reasonable objection to such a proposal. Professors who decry such initiatives as a form of political interference in academic matters have long discredited themselves on the issue. They are the ones most responsible for having manufactured the biased and irrational atmosphere in the first place. Besides, why should teachers disallow a richer intellectual climate from forming? If they do, they are proselytizers, not instructors?
And school leaders should welcome the Office of Public Policy Events for exactly the reason noted above. It will take the delicate and sometimes embarrassing issue of campus censorship out of their hands. Our sense is that college presidents and provosts and deans hate to see trouble brewing. They may be coming to realize, too, that conceding to disrupters doesn't make them less disruptive. It emboldens them.
So does the continued disappearance of conservative ideas from the campus climate. We should realize by now that another episode of heckling, another case of suppression, a conservative student group shunned by the student government, a professor ranting about President Trump in the classroom . . . they won't stop just because the cases get reported in the press. The perpetrators don't care about bad publicity. On the contrary, it flatters them, especially if they find that they've escaped punishment. It's time to try plans such as Kurtz's and see what happens.