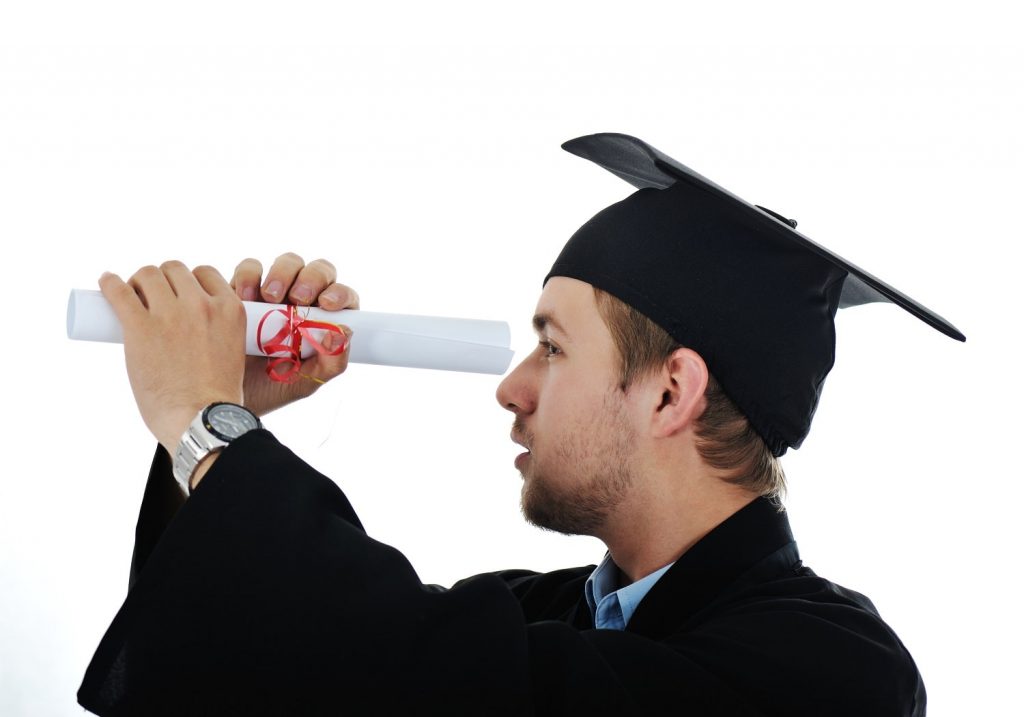 Another Blow Against Integration
At the University of Nevada, a public school in Las Vegas, integration on campus is not exactly encouraged according to a report in the College Fix. In fact, the University discourages socially mixing different groups by providing separate dorms for identity tribes, all at taxpayer expense: Howell Town for black students, Stonewall Suites for LGBT students, Tonopah housing community for women only, the Health Living floor for those who still like tofu and kale, and the Study Intensive Hall for those who plan on graduating.
Oberlin–Let's Blame the Media!
Oberlin College's student newspaper editorial board blasted national media coverage of the Gibson's Bakery trial, saying that it "misses the mark," and that the ruling is part of an "increasingly authoritarian country," Campus Reform reports. The Oberlin Review's editorial board published an editorial Wednesday, titled "Media Coverage of Gibson's Verdict Misses the Mark," in which it strongly criticized how national media covered the case resulting in the college being ordered to pay Gibson's Bakery $44 million.
Western Civilization = White Supremacy
New York City school administrators have been taught that pillars of Western Civilization such as objectivity, individualism, and even belief in the written word all are examples of … white supremacy, the New York Post reports.
A slide presentation obtained by the Post from the workshop "Dismantling Racism: A Workbook for Social Change" includes claims that a belief in an "ultimate truth" (objectivity) leads to a dismissal of "alternate viewpoints or emotions" as "bad" (this is straight out of the critical race theory playbook), and that emphasis on the written word overlooks the "ability to relate to others" and leads to "teaching that there is only 'one right way' to do something."
Other "hallmarks" of white supremacy include a "sense of urgency," "quantity over quality," and "perfectionism." Read more at The College Fix
The Civility Problem
Maybe a few courses on how to create a civil society would help America's so-called "social warriors" learn how to deal with their fellow men and women. Let's start with Amherst College in Massachusetts, where former Attorney General Jeff Sessions was scheduled to address the ongoing issue of free speech on campus. Campus Reform reports that Sessions got a dose of today's SJW tactics when a stinkbomb was set off before he went on stage. Then, a walkout was staged by a gay pride group punctuating the assault on the former A.G. Stinkbombs? What is this, 7th grade?
Studying 'Angry White Males'
The University of Kansas has approved a course called "angry white male studies," open to all students willing to take a women's studies course first. The course on white males will explore recent changes in demographics since the 1950s. Republican Congressman Ron Estes took a dim view, arguing that "KU is offering a class that divides the student population and could pose a TitleIX violation by creating a hostile campus movement based on gender."
The course will be taught by Christopher Forth, who focuses on gender, fat-shaming, and masculinity.
Erasing White Men from Politics
Believing that courses on American political thought are too fixated on white males, Professor Chad Shomura of the University of Colorado at Denver has solved the problem by banning discussion of white men in his course on the nation's political thought. This means nothing from Washington, Jefferson, Tocqueville, Rousseau or any of the pre-Obama presidents. Discussion of the Hillary Clinton race for the presidency in 2016 is allowed, but how she managed to lose while apparently "running unopposed" is unclear.
No Free Speech: Heckler Cancels Another Student Meeting
Last week, a group of at least 4 Portland State University police officers stood by and declined to intervene as a heckler with a cowbell single-handedly canceled a College Republicans meeting. This is the second time in 2019 that PSU allowed hecklers or would-be hecklers to shut down campus expression — and the second time the Foundation for Individual Rights in Education (FIRE) has demanded the university adhere to its First Amendment obligations. FIRE first wrote to the university Feb. 18 after PSU's law enforcement unilaterally canceled a meeting of a socialist student group after the founder of the group Patriot Prayer said he would show up.
Be Careful What You Wish For on Social Programs
Nathan Glazer, the last of a group of famous neocon social scientists, died at the age of 95 on January 19 at his home in Cambridge, Mass. (He resisted the label "neocon.") Glazer consistently warned that vast government plans to improve the lives of the poor often come to grief or create new problems of their own. "The evaluations  of the specifics of the first ten years after the launching of (the War on Poverty) confirm that nothing worked and in particular, nothing in education worked." He concluded that the family was the key institution to positive social change and that rights are inherent in individuals, not groups. The article here by Howard Husock of the Manhattan Institute ran in 2011 when President Obama planned an extension of the War on Poverty.
You, Too, Can Turn in Your Classmate
The campus police of the University of Illinois have issued calls for students to report "acts of intolerance" to the schools Bias Assessment and Response Team. It said, "acts of intolerance create an unsafe and unwelcoming environment for campus community members. Please let us know if you feel unsafe." According to BART, bias is defined as "actions or expressions that are motivated at least in part by prejudice against or hostility toward a person or group because of that person or group's perceived age, disability, status, ethnicity, gender, identity-expression, national origin, race, religion/ spirituality, sexual orientation, socio-economic class, etc." Those reported to BART may be required to participate in mediation or other educational conservations.
More Evidence of Professorial Political Bias
University of North Carolina business professor Michael Jacobs polled 40 Republican students at his school and found that all but two believed they would be penalized for not expressing the professor's politics in a test answer. The professor claimed that faculty should pledge to respect ideological diversity and that chancellors who are too afraid to promote tolerance for ideological diversity should be fired. "One of my top MBA students, who I would categorize as moderate, recently told me that she will no longer participate in class discussions that involve social or political issues for fear of being branded by the 'progressive police,'" the professor said. Read the story at Campus Reform.
More Risible News From Yale
As you recall, the campus exploded in outrage in 2015 when Prof. Erika Christakis challenged a Yale diktat warning students not to wear offensive costumes for Halloween. ("If you don't like a costume someone is wearing, look away," she wrote in a campus-wide email. Her husband Prof. Nicholas Christakis, threatened by a group of offended students, quit as master of Silliman House after getting zero backing from Yale. In a review of The Coddling of the American Mind in the American Interest, writer Aaron Sibarium says Christakis' successor at Silliman, psychology professor Laurie Santos, has a program for happiness that includes this advice:
Avoid binding attachments and obligations; these will stress you out and make you sad.
Focus on cultivating your own mind and mental habits so that you can be happy regardless of your external conditions, a self-reliant ray of sunshine.
Prioritize instrumental knowledge that helps to achieve your goals; in particular, learn how to manipulate others to your advantage.
Columbia's Comedy of Errors
A comedy act by a former member of Saturday Night Live was shut down in mid-performance at Columbia University Friday night because students felt the humor was racist and anti-gay and made them feel unsafe. Nimesh Patel was performing for the campus Asian American Alliance's charity event. One joke referred to being black and gay as a double vulnerability. So, a complaining student wrote in the Columbia Spectator, "If you're black and gay, you don't need a straight South Asian guy to point out that your life is hard because you're black and gay." You can read more at Reason.com.
Duping Kids With an Easy 'A'
"Only about a third of high school seniors are academically prepared for higher education," according to the National Assessment on Educational Progress. Yet, their high school GPA scores would make one think they're shoe-ins for Harvard. The "easy A" is trending in secondary schools, partly because the 10 percent rule has been implemented in many states, like Texas. That rule guarantees the top 10 percent of graduates of all public high schools automatic entry to the state university school system. Sounds good, but inflated numbers can backfire on the very students they're designed to help. An article in Accuracy in Academy quotes Bailey Cato Czupryk, a partner at The New Teacher Project: "The kids are suffering because they fundamentally believe the signals that we as grownups are sending them about how ready they are (for college)."
No Hiring of Faculty Without Bias Training
The University of Pennsylvania apparently fears that without unconscious bias training, its faculty hiring decisions might be unfair.
An item in the October 15 Daily Pennsylvanian says: "Penn faculty on hiring committees are now required to undergo unconscious bias training."
The Office of the Provost's training, which will take place in October, will be run by the New York-based Perception Institute. The Institute is the same research-collaborative that conducted employee training for Starbucks after the coffee chain came under national scrutiny following the arrest of two black men in a Philadelphia Starbucks.
Angry Georgetown Prof Wants to Castrate Men
The feminist Georgetown professor who tweeted that white male Republicans who voted to confirm Justice Kavanaugh should die miserable deaths and then be castrated has paid a price, but so far, only to Twitter, which suspended her account. Georgetown gave her the rest of the term off, but in a limp statement defending free speech and criticizing unkind remarks, the president of Georgetown didn't even name the professor—Christine Fair.                                                                                                                                                    Fair tweeted this statement: "Look [this] chorus of entitled white men justifying a serial rapist's arrogated entitlement. All of them deserve miserable deaths while feminists laugh as they take their last gasps. Bonus: we castrate their corpses and feed them to swine? Yes."
'Accidental' Loss for Yale Conservative?
James Kirchick, a conservative anti-PC journalist, has been running for a seat on the Yale University Board of Trustees and counting heavily on the class notes section of the alumni magazine to boost the effort and attract endorsements. Imagine his surprise when the magazine 'accidentally' dropped the class notes from the Oct.-Nov. issue. Now he must gather 2000 more endorsements by midnight tonight, October 1. The College Fix says, "Kirchick is campaigning on a free-speech platform that aims to rein in the Ivy League school's 'busybody' bureaucrats, trigger warnings and 'mob' justice."
Surprise! College Faculties Are Mostly Democrats
Mitchell Langbert, an associate professor of business at Brooklyn College, published a study of the political affiliations of faculty members at 51 of the 66 liberal-arts colleges ranked highest by U.S. News in 2017. Commenting at Bloomberg this week, Democratic stalwart Cass Sunstein called the findings "eye-popping (even if they do not come as a great surprise to many people in academia)."
Democrats dominate most fields. In religion, Langbert's survey found that the ratio of Democrats to Republicans is 70 to 1. In music, it is 33 to 1. In biology, it is 21 to 1. In philosophy, history and psychology, it is 17 to 1. In political science, it is 8 to 1.
The gap is narrower in science and engineering. In physics, economics and mathematics, the ratio is about 6 to 1. In chemistry, it is 5 to 1, and in engineering, it is just 1.6 to 1. Still, Lambert found no field in which Republicans are more numerous than Democrats.
The faculties of Wellesley, Williams and Swarthmore are overwhelmingly Democratic, with ratios at or above 120 to 1. At Harvey Mudd and Lafayette, the ratios are 6 to 1. At the U.S. Naval Academy at Annapolis, it is 2.3 to 1; it is just 1.3 to 1 at West Point.
For two reasons, these numbers are genuinely disturbing, Sunstein wrote.
"The first involves potential discrimination on the part of educational institutions. Some departments might be disinclined to hire potential faculty members based on their political convictions. Such discrimination might take the form of unconscious devaluation of people whose views do not fit with the dominant perspective.
"The second reason is that students are less likely to get a good education, and faculty members are likely to learn less from one another if there is a prevailing political orthodoxy."
It is far too simple, of course, to say that professors of history, political science, philosophy and the like should "look like America" in political terms. What matters is that they are experts in their fields, able to convey what they know. In faculty hiring, affirmative action for those with conservative political positions is not likely to serve anyone well.
Nonetheless, the current numbers make two points unmistakably clear.
First, those who teach in departments lacking ideological diversity have an obligation to offer competing views and to present them fairly and with respect. A political philosopher who leans left should be willing and able to ask students to think about the force of the argument for free markets, even if they produce a lot of inequality.
The Men's Rights Movement at Yale
It was bound to happen. Last May, a 30-year-old Ph.D. student has accused the University of Southern California and Yale of creating a toxic environment for male students. Kursat Christoff Pekgoz, a member of the National Coalition for Men, is partly basing his claim on data that shows 56% of all college students are women, and 42% are men. He filed a "Dear Colleague" letter, a Guide to Abolishing Affirmative Action for Women explaining how to file a Title IX complaint. Now, some of those complaints are being investigated. According to The Wall Street Journal, "The government dismissed parts of Mr. Pekgoz's complaints, including concerns about Yale Women in Business and USC's Gender Studies Program and its Center for Feminist Research, after finding that they don't exclude or discriminate against men. But it will investigate Yale's Women Faculty Forum, Yale Women Innovators and five other groups or programs at that school. It is also looking into USC scholarships and fellowships that are advertised as being open only to females, and a Women in Science and Engineering group that excludes males."
'Slap a Zionist' at Vassar 
Some 400 students at Vassar received email copies of "The Vassar College Disorientation Guide" to offset the impact of the annual Orientation Guide.  Much of the text was either anti-Israel or anti-Semitic, including the advice to "Slap a Zionist."
The Student Right to Counsel
The authors, Mike S. Adams and KC Johnson, argue in this article that in quasi-judicial campus tribunals, the student right to counsel is good for students and universities. Many colleges deny the right to counsel by prohibiting students' lawyers, and sometimes the students themselves, from exercising the fundamental functions of an attorney, such as presenting evidence, cross-examining witnesses, or speaking to anyone but the client during a hearing. Such restrictions, moreover, exist at a time of unprecedented pressure—from the federal government, the media, and social activists—on colleges to adjudicate quasi-criminal behavior, especially sexual misconduct, outside the due process protections of the criminal justice system.
Rutgers Gets Caught Between a Rock and Hard Place
It was bound to happen sooner or later. Reason reports that a self-loathing history professor, James Livingston, wrote on Facebook: "Okay, Officially, I now hate white people." He also called Caucasians "assholes." Uncovering this racist language puts Rutgers officials between the proverbial rock and hard place. If they punish this self-described asshole for violating their racial discrimination policies, it can limit free speech and the right of faculty to discuss controversial issues.
Facebook had no such dilemma and removed the offensive post. Livingston had an excuse, though lame. He had been at a hamburger restaurant in Harlem and claimed it was "overrun with little Caucasian assholes." (Presumably, these were the patrons, not white mice.) He said he was railing about the gentrification of the neighborhood, even though he didn't acknowledge his own "whiteness."
"I hereby resign from my race," he wrote. "Fuck these people." Hmmm. Speech is free, but it can cost you. Read it at Reason.
Is Studying Bad for Black People?
Birmingham City University offers a Black Studies course with a provocative reason to sign up. No, it's not a guarantee of a job or entrance to prestigious master's program. Too bourgeois (read white). But you will learn to 'build a radical community of practice,' according to a report in The Conservative Woman.
The author, Ollie Wright, says, "BCU no longer sees itself limited by the old-fashioned notion that universities should simply teach. They are there to change things through 'social activism,' necessary in the face of an educational system that is so racist that according to Dr. Kehinde Andrews, an associate professor on the Black Studies course, universities are like 'slave plantations.'"
The obvious is true. If education only helps white people, why should black people bother to study and therefore perpetuate the 'white privilege' that has stifled them? In other words, if you won't join them, become a permanent victim instead.
Loyalty Oaths Back in a New Form
Cal Poly San Luis Obispo is the latest college to "require a diversity statement from candidates for all faculty and staff searches, "the College Fix reports.
For Cal Poly, requiring the diversity statement is one part of a larger effort school officials are engaged in to "improve diversity" via dozens of various endeavors outlined in its 30-page action plan. As part of the diversity initiatives plan, the university also has a goal of "increasing, in a Proposition 209-compliant manner, the hiring of diverse faculty utilizing cluster hires every other year."
Critics of required diversity statements have suggested they are a tool used to weed out candidates who do not agree with the leftist notion that identity politics should be the lens through which academics is taught. What's more, critics contend, seeking to identify and hire underrepresented conservative and libertarian scholars is not the type of "diversity" sought through the statements. Finally, they argue, the statements are used to elevate applicants of color over other qualified candidates.
Nicholas Christakis, Pilloried by Leftist Students, Wins Yale Teaching Award
A Yale professor who was abused by a mob of shrieking students in 2015 has been awarded the highest faculty honor by the university. Nicholas Christakis, along with his wife Erika, was targeted by students in 2015 after Erika sent an email urging students to not be so easily offended by Halloween costumes and chiding the administration for announcing to students which costumes were unacceptable. The administration refused to fire the Christakises, as unhappy students demanded, but otherwise spent no time or energy defending the embattled professors. Nicholas resigned his position at a residential college and Erika resigned from the faculty. This week, Christakis was awarded the title of Sterling professor, "the highest honor bestowed on Yale faculty," said the Yale Daily News. A campus spokeswoman said that Christakis's appointment "was the result of his body of academic work" and had nothing to do with the 2015 protests.
Brea Baker '16, who participated in the 2015 protests, said she was not surprised by Christakis' appointment since it falls in line with the Salovey administration's habit of "sneak decision making and going against the will of the student body." Still, she said, she was "shocked at the explicit cowardice" to announce the appointment, which she called "insult enough," when students were away from campus on summer break."Yale sells a vision of intimate residential college system led by administrators tasked with our emotional and social health above anything," Baker said. "Based on the original email, administrative responses and now this appointment, it seems that only students of color understand this. If Yale insists on selling this narrative, then those who don't understand their obligations to the student body should be replaced."
50 Shades of White
Campus Reform reports that The University of Colorado-Colorado Springs is no longer offering a course that critiqued "individualism, consumerism, meritocracy," and "productivity" as staples of "white culture." The 3-credit "Witnessing Whiteness" course is still listed on the website for UCCS's Graduate Certificate in Diversity, Social Justice, and Inclusion, but is conspicuously absent from the school's official course catalog.
To read more Notable Items, click here.
Antifa Issues Warning on GOP Bill
Campus Reform reports that various radical organizations are attacking the "Unmasking Antifa Act, "which would provide enhanced penalties for certain crimes committed while in disguise. The act was introduced into the House of Representatives on June 8 by the GOP. After the bill was covered by mainstream publications in early July, "Antifa USA," an activist group based out of Arizona, tweeted an image of what appears to be an Antifa member surrounded by an arsenal of military-style weapons.
"I don't think the #Fascists & their collaborators comprehend the gravity of the situation, our resources, nor dedication to #Antifascism," the organization tweeted.
Wisconsin High Court Rules for McAdams 
John McAdams, the conservative professor with tenure that Marquette University has been trying to fire for almost 4 years, has won a favorable ruling in the Wisconsin Supreme Court. The Court ruled on Friday that Marquette "breached its contract with Dr. McAdams when it suspended him for engaging in activity protected by…guarantee of academic freedom." McAdams had written a blog post criticizing another Marquette instructor, Cheryl Abbate, for not allowing class discussion of the Catholic position on gay marriage because she said the issue had been settled, and discussion of it might offend gays in the class. Marquette, at least nominally, is a Catholic, Jesuit institution. 
The Court ordered Marquette to "immediately reinstate" the academic with "tenure, compensation, and benefits." According to  the decision, the court ruled that the university violated its contract with McAdams, which included an academic freedom clause. "This ruling rightly demonstrates that when a university promises academic freedom, it is required to deliver," Robert Shibley, the executive director of FIRE, said in a statement. 
U. of Washington Pays up over Free Speech Lawsuit
 The University of Washington will pay $127,000 in legal fees to lawyers for the university's College Republicans to settle a free-speech lawsuit filed by the group, The Seattle Times reports. The College Republicans chapter sued after the university tried to charge a $17,000 security fee for the group to hold a campus rally in February with the conservative group Patriot Prayer. A federal district court judge blocked the fee. 
Portraits Taken Down at Harvard School—Too Male and White
A teaching hospital of Harvard Medical School will take down portraits of prestigious white male doctors and scatter them throughout the grounds in a new diversity move. Of the 31 various doctors and department heads that have their paintings hung in the Louis Bornstein Family Amphitheater at Brigham and Women's Hospital, all are men, 30 are white, and one is Chinese. They've been described as "pioneers of medicine," and getting a portrait hung there is something great to aspire to, according to the white male doctor who most recently had his image installed, Dr. Ron Walls, founding chair of the Department of Emergency Medicine.
But apparently having a cluster of white male doctors' portraits — great as they may be — sends a message to employees and students that "white men are in charge," Dr. Jeroan Allison, a professor at the University of Massachusetts Medical School who researches health disparities, told the Boston Globe, which first reported the news. A hospital official told the Globe removing the portraits will create a "sense of belonging" for women.
U. of Michigan Responds to Speech First's Suit
 The University of Michigan is pushing back against a lawsuit challenging the constitutionality of the school's "Bias Response Team" and policies that allegedly chill campus speech. In a court filing on Friday, the University said the lawsuit, filed last month by the watchdog group Speech First, presented a "false caricature" of school's conduct code and how it is implemented. The lawsuit claimed the University of Michigan disciplinary code uses vague and broad definitions of "bullying" and "harassment," effectively barring speech that other students might find "intimidating," "demeaning," "bothersome" or "hurtful." "Under this regime, the most sensitive student on campus effectively dictates the terms under which others may speak," the lawsuit said.
Elite College Dumps SATs and ACTs Despite Grade Inflation
The University of Chicago is the first elite institution to make SAT/ACT test scores optional. In an effort to "level the playing field" for low-income students. Although they're not the university to make that move – a few smaller colleges and universities have already made the tests optional – the University of Chicago can lead other elite schools to eliminate the tests or make them optional as well. The College Board, which administers the SATs, told USA Today, that "standardized tests remain pertinent because grade inflation in U.S. schools is higher than ever. From 1998-2016, high school GPA has increased by .11 GPA points, according to U.S. Department of Education data. At the same time, U.S. high school officials are less frequently disclosing students' class rank, adding another layer of fog for admissions counselors reviewing transcripts.
Canada's High Court Says Christian School Can't Impose Christian Rules
Canada's Supreme Court struck down a rule at Trinity Western University's law school requiring admitted students to refrain from all but traditional husband-wife marital sex. The two dissenting justices said a "state-actor" can't use religious practices that have already been "legislatively accommodated and Charter-protected" as an excuse to justify "the exclusion of a religious community from public recognition." In the British Columbia case that the school initially won, the high court has let the state off the hook from its "duty … to accommodate diverse religious beliefs without scrutinizing their content." The majority said the school's rule burdened LGBT students whose identity pushes them to have sex while pursuing legal study.
Student Goes to Prison for Reporting Fake Rape
Nikki Yovino, 19 of Setauket, Long Island, who spent over a year insisting she was raped by two Sacred Heart University football players. admitted she made up the story. She agreed to a plea deal and will now serve a prison sentence of one year. She had been preparing to begin her false rape trial, the New York Post reports.
Paying to Educate Social Warriors
The University of Kansas makes no apology for offering a new job with major political implications: "Student Social Justice Educator." The student will earn $9 an hour to help administrators create "an inclusive campus community through social justice," according to Campus Reform. The SSJE will also create workshops concerning issues about diversity education and social justice." But hurry up candidates—this highly competitive coveted position will close on July 1st, and you need to get your diversity- laden resumes reviewed by the bias police before you apply.
Historian Resigns Free Speech Post
Niall Ferguson, a conservative historian and senior fellow at Stanford University's Hoover Institution, resigned his leadership position in a free speech group after it came to light that he had encouraged the Stanford College Republicans to dig up dirt on an activist student.
The Stanford Daily published emails between Ferguson and CR President John Rice-Cameron that depict both parties as incredibly hostile toward Michael Ocon, a campus progressive they considered to be a hindrance. "Some opposition research on Mr. O might also be worthwhile," Ferguson wrote, referencing Ocon. He also instructed conservative students to "bury" and "intimidate" the "SJWs." (That's short for social justice warriors.) Rice-Cameron was no less militant, writing in an email that "slowly, we will continue to crush the Left's will to resist, as they will crack under pressure."
Ferguson had served as one of two faculty leaders of the Cardinal Conversations steering committee, a group that aimed to support free speech at Stanford by inviting a range of speakers to come to campus. These speakers included Charles Murray, an American Enterprise Institute scholar and author of The Bell Curve, whose visits to colleges have been greeted protests and even violence at Middlebury College, the University of Michigan, and elsewhere
U. of Michigan Absolves Itself of Sexism
Professor Mark Perry, University of Michigan-Flint, asked the University to "look into" its 11 females-only programs and explain how they could be legal under Title IX and proposal 2, an amendment to the state constitution, both of which forbid programs open to only one sex. After three days, the University abruptly called off its internal investigation, announcing simply that its 11 single-gender, female-only programs/scholarships/fellowships, etc. at UM are not in violation of Title IX or Proposal 2 in Michigan. They offered no rationale, explanation or details on its findings.
Spat-settling Manager Sought at U. of Michigan
The University of Michigan is looking to hire an adaptable conflict resolution manager at $47,000 or more a year, to settle student conflicts on campus. They're seeking expertise and strong cultural competence working with diverse populations with an emphasis on multicultural, LGBTQ, underrepresented and underserved populations. A successful candidate monitors and responds to campus climate trends relevant to diversity, equity, and inclusion and has familiarity with restorative justice; racial justice, advanced knowledge of campus-based diversity and inclusion issues, and direct experience working on diversity, equity, and inclusion issues on a campus. Since all the buzzwords of the left are in here, it may be that the leftmost squabbling students will do especially well once an adaptable campus conflict resolution spat-settler is named.
Dartmouth Republicans More Open Than Democrats
A poll of Dartmouth undergrads shows that Democratic students are much less willing to date or study with Republican students than Republicans are with Democrats.
While 82 percent of respondents who identified as Democrats say they would be less likely to date someone with opposing political beliefs, only 47 percent of Independents and 42 percent of Republicans said the same. Similarly, 55 percent of Democratic respondents said opposite political views would make them less likely to befriend another student, compared to 21 percent of Independents and 12 percent of Republicans. Gender plays nearly as strong a role in dividing responses. For example, 83 percent of women said they would be less likely to date someone with opposing political views compared to 56 percent of men.
Evergreen Cutting Lots of Faculty
Just weeks after it announced nearly $6 million in budget cuts to cope with rapidly declining enrollment, Evergreen State College has cut dozens of faculty and staff positions, with up to 20 additional layoffs possible, Campus Reform reports. In a memo sent to employees, the school said it has trimmed the curriculum to eliminate 24 faculty lines, partly by not renewing the contracts of adjunct professors, in addition to eliminating 19 vacant staff positions.
Not Very Hard to Get Into College
Most U.S. colleges aren't selective. In fact, most of them accept a majority of applicants, according to "The Condition of Education 2018," a congressionally mandated annual report from the U.S. Department of Education released on May 23rd.  Just 14 percent of them accepted fewer than half of their applicants in 2016-17, according to the report. Around 27 percent were open access, another 27 percent accepted at least three-quarters of applicants, and 32 percent took between half and three-quarters of those who applied.
How Sincere Are Your Texts?
If you text, you could be revealing a major character flaw without even knowing it. According to the Intellectual Takeout, a period at the end of a text indicates insincerity, whereas exclamation points sprinkled throughout your prose is a clear sign of sincerity. So….
Please!!! Remember the Ps! and Qs! of texting etiquette and have fun learning the new rules! Believe me, once you get the hang of it, you'll absolutely love it!!!
Michigan Lawsuit Targets 'Bias Response Team' That Threatens Free Speech
Speech First, a free-speech group, is filing suit against the University of Michigan over the university' bias response teams, which monitor and respond to campus reports of hateful or hurtful comments or action. The group has filed for an injunction against UM president Mark Schlissel, declaring that he and the university have "created an elaborate investigatory and disciplinary apparatus to suppress and punish speech that other students deem 'demeaning,' 'bothersome,' or 'hurtful.'"
Fallout From Evergreen State's Debacle
In the wake of last year's "one-day no-whites-allowed" frenzy, Evergreen State College is expecting up to 700 fewer students next term and is cutting its budget by $6.9 million. A poster hung at the Washington State school and obtained by The College Fix declares that next semester's no-whites-allowed self-segregation events will be held off campus. It asks people to RSVP at a website that spells out "No Nazis Allowed" in its URL.
Inflating the Cost of Public Information
When Jillian Kay Melchior of the Wall Street Journal asked the University of Michigan for a year of campus bias incident reports, part of its speech-monitoring operation, the university thwarted her inquiry by imposing a fee of more than $2,400 for the public records. From George Will's column of May 18.
3 Campuses Change Their Minds About Attacking 'Whiteness'
Three U.S. campuses—Grinnell College in Iowa, Ohio State University and Hunter College in New York City—have dropped their "white privilege "courses.
At Campus Reform, correspondent Toni Airaksinenon reported that the Grinnell course called "American whiteness," had been scrapped after three years. It had referred to whiteness as "a very bad idea." Ohio State, she said, has stopped offering a similar course on "Crossing Identity Boundaries," also with a dim view of white people.
Hunter College, part of the City University of New York system, will no longer offer its course on "The Abolition of Whiteness." It had described the course as examining "how whiteness—and/or white supremacy and violence—is intertwined with conceptions of gender, race, sexuality, class, body ability, nationality, and age."
Not So Painless Dentists
An analysis of more than 91,000 graduate degree holders with student loans shows that dentists, optometrists, and veterinarians tend to have student loan debt most out of balance with earning soon after graduation. The report by the company Credible says dentists take out the most in student loans–a whopping median of $236,739.
Commencement Advice—Don't Visit Your Boss's Hotel Room
The Commencement speech at Sweet Briar College in Virginia infuriated some of the new graduates. The speaker, Nella Gray Barkley, a 1955 graduate who founded a career-counseling company, expressed "partial sympathy" for the #MeToo movement, but criticism too:
"I have little patience with the woman who arrives breathlessly at her boss's hotel room for a so-called conference. What did she think was going to happen?" Barkley also added that it is "only natural for men from Mars to follow the shortest skirt in the room," advising women: "It is you who makes the ground rules." The college put out a statement that appeared to support the commencement speaker. It said, in part:
"Sweet Briar College has always been an institution that encourages discussion on subjects of profound importance for our women and our society. We hold this truth to be unassailable: Every woman has dominion over her physical self and must be free from coercion, pressure or influence."
Top Talent Teaching Exodus
The FAANGs are on the prowl for the best artificial intelligence talent they can find as the race for self-driving cars, home devices like Alexa and Google Home, natural language processing, robots, and drones capture a larger part of business and consumer spending. Facebook, Amazon, Apple, Netflix and Google are all in the game, with resources – and paychecks — unmatched by academia. According to MIT's The Algorithm, Facebook is vacuuming up the AI talent as it opens AI labs in Seattle and Pittsburgh, stripping the University of Washington and Carnegie Mellon University of some the best minds in artificial intelligence.
Really What She Wants to Wear
Prof. Rebekah Maggor asked her Cornell student Letitia Chai, "Is that really what you would wear?" when Chai wore jean shorts during "a trial run of her thesis presentation." The syllabus for the public-speaking course explicitly warns students that their clothing will be scrutinized. But Chai decided that was sexist, so she wore a bra and panties to the class. So there!
Elevator Mishap Mars Academic Meeting
The scene: a crowded elevator at an April academic convention in San Francisco. The offense: when people were asked to call out floors they wanted, Prof. Richard Nell Lebow of Kings College, London, answered  "Women's Lingerie." People laughed. The Result: within 4 hours, he was reported to the academic group, the International Studies Association and later found guilty and formally ordered to apologize to the offended person, Simona Sharoni, a teacher of women's and gender studies at Merrimack College. But he refused.
Jefferson under Fire at Hofstra
Leftist students at Hofstra decided to "rescind our acceptance" to meet with the university president and administrators to discuss whether the campus statue of Thomas Jefferson should be removed. Instead, the students vandalized the statue and "dared Hofstra University to reject historical revisionism and white supremacy, to fight against rape culture and misogynoir, to no longer participate in the immortalization of a pedophile and serial rapist and to no longer claim neutrality when it comes to racism, xenophobia, and imperialism."
Yes, the Public Rejects Victim Culture
Protests at the University of Missouri and Evergreen State College caused large enrollment declines, a sign that people turn away from the campus victimhood culture when they learn about its excesses. So say sociologists Bradley Campbell and Jason Manning in their new book, The Rise of Victimhood Culture.
Free Speech Lawsuit against UC Berkeley Allowed to Proceed
District Judge Maxine Chesney ruled on April 25th that the plaintiffs, Young America's Foundation (YAF), and Berkeley College Republicans (BCR), adequately alleged that campus administrators applied broad "major events" policies to suppress conservative speech. This allows the suit over speakers At UC Berkeley to move forward.
Need a Space to Cry? Utah Campus Has One
A "cry closet" has been created on the University of Utah campus so students stressed out by final exams can weep in peace and hug various stuffed animals. Rules: no bringing a friend along—solo sobbing only—and crying is limited to 10 minutes to make way for waiting weepers.
Yale Cops Argue Campus Is Unsafe
Yale University's police union, eager to win a new contract, is arguing that the campus and the city of New Haven can be dangerous places. It is handing out flyers listing recent crimes and the slogan "Yale's campus may not be as safe as you think."
No Rudeness Loophole in First Amendment
A Fresno State professor, Randa Jarrar, tweeted a reference to the late Barbara Bush as "a generous and smart and amazing racist who, along with her husband, raised a war criminal." Joseph Castro, president of Fresno State, said he might consider firing Jarrar in light of the "disrespect" exception to the First Amendment. There is no such exception.
Taunting Whites at Pool Party
For some reason, Latino students at Scripps College in California thought it was a good idea to throw a pool party with no white people allowed. They dropped the idea after many objections, which included the rule that segregated swimming was not allowed in the pool.
Harvard's New Sexual Assault Response Man
Pierre Berastain, a 2010 Harvard grad from Peru, has been appointed director of Harvard University's Office of Sexual Assault Prevention and Response. Berastain has worked with the BGLT community and the National Latin@ Network for Healthy Families and Communities and sits on the board of MERGE for Equality, an organization that "engages communities in transforming masculinity to advance gender equality." He will presumably work with Harvard's large (50-member) group of Title IX officers.