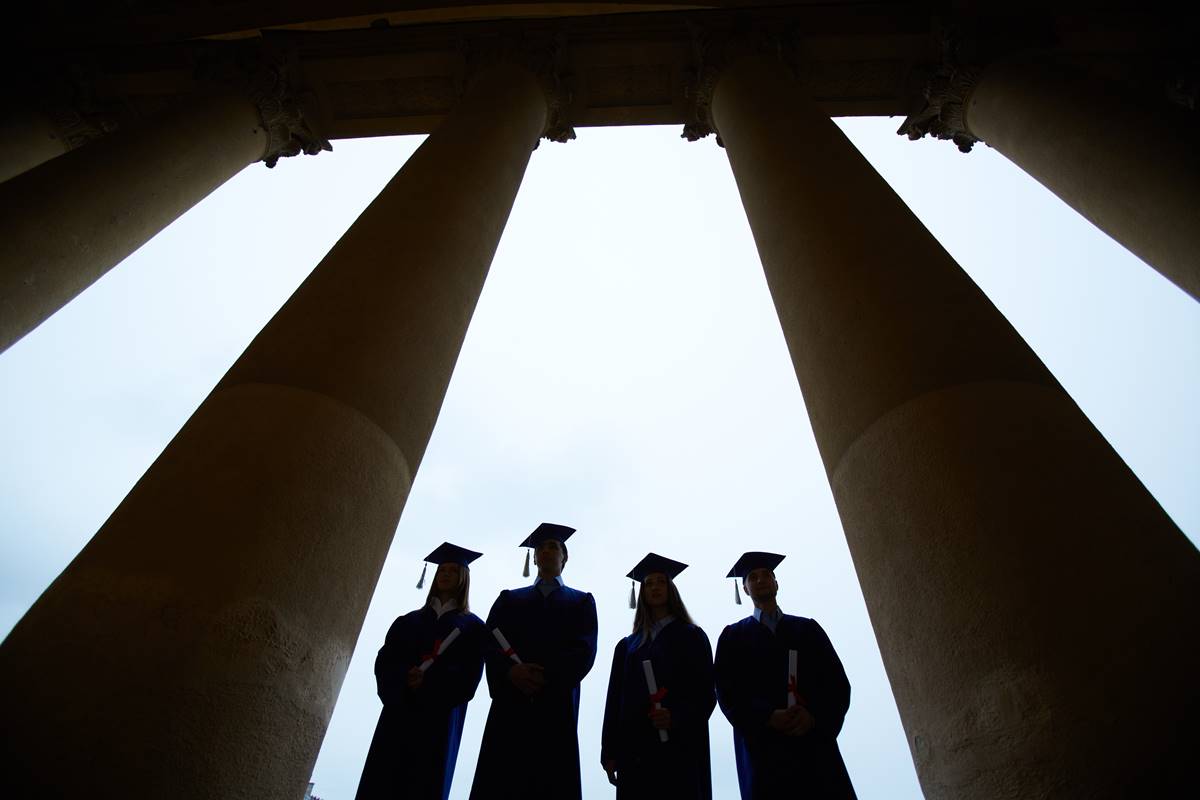 HANOVER, NEW HAMPSHIRE – At most elite colleges and universities in America, the barometer of alumni engagement is simple: How many of them sign checks each year? At Dartmouth College, the smallest of the Ivy League schools and the only one with a democratized Board of Trustees, the measure is voter turnout.
Stephen F. Smith, Class of 1988, just completed his run for a seat on Dartmouth's Board. He's the fourth in a line of "petition candidates" – alumni who earned their spot on the ballot after sending a letter to alumni asking for signatures. Five hundred signatures are necessary, but petition candidates usually receive substantially more. In fact, the number of petition-signing alumni increases each year. Like the three earlier petitioners, Stephen Smith ran against a slate of formally nominated candidates who are supporters of Dartmouth's administration and are reticent to upset the status quo. But Smith has some tough questions to ask. And like the three earlier petitioners, he has emerged from an improbably caustic campaign with a decisive 55% victory.
The talking points against Smith–a black man who escaped impoverished inner-city Washington to arrive at Dartmouth at the age of sixteen, now a leading professor of criminal law at the University of Virginia–included the fact that he is a man of modest means whose name fails to grace the granite arches of any campus building, that he is a Catholic, and that he is the Manchurian candidate of a stealthy band of Dartmouth Illuminati. Sandy Anderson, one of his opponents, asserted that Smith's platform had nothing to do with reform and everything to do with "baloney" issues masking a reactionary agenda to return Dartmouth to the days "before women were admitted, and before the Indian [mascot] was removed."
Academia tolerant? Hardly – particularly when there's an orthodoxy under threat. But don't let anyone tell you all is lost. Mr. Smith's historic election portends brighter days for Dartmout.
* * *
Why subject oneself to the rigors of the race? Alumni love Dartmouth, and feel as though they have a stake in its wellbeing. History has largely proved them correct. When New Hampshire threatened to annex the College into the state university, Daniel Webster, Class of 1801, fought for its independence before the Supreme Court. When Dartmouth faced financial ruin almost a century later, alumni rescued it and, in return, at the June 22, 1891 meeting, the Board of Trustees gave alumni the right to elect half of its ranks. Immediately, five Trustees out of ten resigned, to be replaced by alumni designates.
By the terms of Dartmouth's charter, the Board itself is the College. The cession of half of its seats, far from a mere placation, was a sober acknowledgement that a college, like any business, has stakeholders to whom it is responsible. And alumni have exercised their right judiciously, allowing a small group of alumni to choose nominees pleasing to both the College administration and the alumni body. But as academia has become increasingly disconnected from mainstream life–including modern mores of good corporate governance–the consensus was lost. Its deanery began to grow faster than the faculty. Classes increaseingly became over-subscribed. The administration began taking aim at the school's football program. The alumni donation rate, long over sixty percent, fell to the forties in recent years.
Enter Thurman John Rodgers. The blunt, bulldozing executive founded Cypress Semiconductor twelve years after he graduated Dartmouth in 1970. In 2004 he decided to run for a seat on Dartmouth's Board. A vocal opponent of some of Dartmouth's policies, he was not chosen by the official nominators. Mr. Rodgers instead used a little-noticed provision in the election rules allowing any alumnus to secure a spot on the ballot by having five hundred fellow alumni sign his petition. Rodgers put a letter in the mail, telling alumni that Dartmouth had to do more to support genuine free speech on campus. Instead of five hundred signatures, he received thousands. T.J. Rodgers won the election in a walk.
One year later, in the spring of 2005, two Board seats were open, and they were not going to remain comfortably within the administration's ambit.
Todd Zywicki, Class of 1988 and a professor of law at George Mason University, entered the race as a petition candidate focused on ending a complex social engineering program called the Student Life Initiative. The regime was supposed to slowly sap Dartmouth's fraternity system, the center of social life on campus and for many the one vestige of college taken out into the wide world.
Peter Robinson, a 1979 graduate, a fellow at Stanford University's Hoover Institution, ran on an agenda that placed additional pressure on the free speech issues which had not been resolved during Mr. Rodgers's first year on the Board. But Dartmouth's speech code–it had long been rated 'red' by the Foundation for Individual Rights in Education–finally met its end right in the middle of Mr. Robinson's campaign. The College hadn't become convinced of the value of the open marketplace of ideas–it became worried Robinson would win a seat on the Board. So the documents constituting the speech code disappeared from the College website one evening, while College officials continued to deny that they had ever proscribed offensive speech.
A group calling itself "Alumni for a Strong Dartmouth" came into being to oppose the candidacies of Messrs. Robinson and Zywicki, but it failed adequately to engage the candidates on the issues; it argued primarily that the two petition candidates were in favor of a weak Dartmouth. Improbable. Both Peter Robinson and Todd Zywicki won their elections and took their seats.
In the year between the spring of 2005 and 2006, things moved. New athletic facilities were suddenly added to building plans. The overstretched government and economics departments were given expanded budgets that allowed them to hire overdue tenure-track faculty. In a soft concession to dignity, stained glass panels by Tiffany and Royal Bavarian were restored to Dartmouth's quaint Rollins Chapel. (They had been shielded from light and view in the 1960s for depicting scenes from the Bible that might offend non-Christians.) Speeches from senior administrators including College President James Wright began to include stock paragraphs supporting freedom of speech. The retirement of Dean of Admissions–the fellow who had proclaimed football to be antithetical to Dartmouth's mission–was announced.
* * *
Things moved elsewhere. A nine-person Alumni Governance Task Force was commissioned. Its charge was to draft a brand new set of rules for the activities of Dartmouth's alumni, including Trustee elections. The drafters of the proposed constitution had created a 7,000 word document with dozens of minute changes to the structure of Dartmouth's Association of Alumni. But the constitution also included a set of impairments to the petition Trustee process. Most egregiously, the proposal required all potential petition Trustee candidates to announce themselves in advance of the selection of the three officially nominated candidates.
The idea was that, since the nominators were obliged to name three candidates for an open seat on the Board, they could select two weak candidates of type A and one strong candidate of type B–the latter selected to appeal to voters predisposed to support a petitioner. Think of it as academic gerrymandering.
The debate on the constitution was hot and loud. The New York Times ran a cover story on the issue, and for the first time a Dartmouth Trustee, Peter Robinson, took a bold public stand apart from the Board. The promulgators of the proposal had taken to calling their constitution a democratic reform. But it was a decidedly illiberal document, allowing most key committee positions–including those overseeing Trustee elections–to be appointed by a vote of insiders rather than by the alumni at large. Robinson told the Times: "This is as much a reform as when Joseph Stalin decided to hold elections in Eastern Europe….Voting? Yes. Democracy? Not at all."
The constitution was supposed by its drafters to be a consensus work–one that ought to earn easily the 3/4 approval necessary for ratification. Besides, it was too long and verbally dense for anyone really to pay attention. But when the tide of public opinion seemed to turn against them, a sudden meeting of the Association of Alumni was called on February 12, 2006. A rush amendment was passed that reduced the threshold for ratification to two-thirds and also allowed the Association's executives–supporters of the constitution, all–to issue a bold voting recommendation on the ballot itself. Later, those same executives postponed annual elections and voted themselves a half-year extension of office. Should the constitution fail, they would still preside over the next Trustee election.
Balloting on the constitutional overhaul took place over six weeks, and a flurry of campaigning seemed to uplift the crystalline Connecticut River and replace it with Potomac sludge. Promoters of the constitution used services from the Manning Selvage & Lee public relations firm. Dartmouth retained a PR outfit, too. The message was simple: to approve the constitution is merely to exercise common sense. "Dartmouth Alumni for Common Sense" suddenly flowered into existence and the group's colorful mailers and automated 'robocalls' featured rich and famous alumni urging a 'yes' vote. An editorial from one particularly wealthy alumnus warned that, should the constitution fail, Dartmouth would enter a "downward death spiral." Supporters of the constitution hired The Clinton Group to conduct voter identification polls by phone. "Do you think Dartmouth is on the right track?" the pollster asked. "And how do you plan to vote on the constitution?"
For their part, opponents of the constitution sent two multi-page letters to alumni, each laying out the arguments against the document. One was signed by T.J. Rodgers, Todd Zywicki, and Peter Robinson. The other was signed by several dozen students and young alumni who styled themselves "Supporters of a Democratic Dartmouth."
The results were announced on November 2, 2006. The constitution failed not only to meet the lowered ratification threshold, but to even gain majority approval. 51% of alumni voted against the document, with a record 37% turnout. The Association of Alumni executives–who postponed the annual elections and lowered the ratification threshold–met later that day. The group's minutes record the meeting ending when "[t]he committee acknowledged it is a new era for campaigns."
The spring 2007 Trustee election would be conducted pursuant to the original rules.
* * *
Stephen Smith's situation has never allowed him much rest. Raised by an ailing mother in a blighted Washington, D.C. neighborhood, he assumed the mantle of adulthood at eight when his father left the family and he became the man of the house. At twelve, his mother's multiple sclerosis forbade her driving. Smith piled phonebooks on the car seat to convey himself and his three siblings to school. He graduated Dartmouth at the age of twenty, quickly set about building a family (five boys, now) with his wife Lora, even as he was clerking for Justice Clarence Thomas on the Supreme Court and earning top marks at the University of Virginia School of Law. (The Washington Post feted his graduation in 1992 on page A1.) He now teaches criminal law at Virginia. He's widely considered the toughest professor.
All of this seems an exaggerated reverberation of Justice Thomas's unlikely ascent from depressed Pin Point, Georgia, and in a way it is; the two remain brotherly confidantes. And here's another similarity: the tack taken by his political opponents has been to put it about that Stephen Smith hasn't got a mind of his own–that he's a puppet for a cabal intent on hijacking Dartmouth's Board.
Mr. Smith sees it differently. His campaign for Trustee came largely in two letters to alumni. The first was a simple note of introduction and a request for petition signatures. The second letter formed the intellectual foundation of his campaign. Using publicly available data, Smith detailed a half-dozen examples of systemic mismanagement at Dartmouth, from a bloated bureaucracy to an overlean faculty to chronic classroom problems that were causing a small intimate college to deliver nothing better than the mediocre, impersonal classroom experience offered at larger universities.
Opposition to Smith was swift and fierce–and anything but substantive. The three formally-nominated Trustee candidates organized their campaigns primarily around insinuations about the source of Smith's campaign dollars. (A hundred or so donations.) A Dartmouth biology professor attacked Mr. Smith in an editorial, saying that he "appears…unsupportive of the theory of evolution" based on a book review he wrote ten years ago. (The Professor in fact subscribes to the theory of evolution.) Sandy Alderson, in an open forum at a Dartmouth fraternity, said Stephen Smith wanted merely to take Dartmouth back to the way it was in the 1950s. "Would any of you want to go to a Dartmouth like that," Mr. Alderson asked the dozen assembled students. No. One student, a senior, raised his hand and offered: "Mr. Alderson, Stephen Smith is a black man; he probably couldn't have gotten into Dartmouth then, don't you think?," to which no response was possible.
Through the balloting period, Smith remained hopeful that the fact that he wasn't being engaged on the issues meant alumni would overlook the smear campaign–just as they'd overlooked the "Strong Dartmouth" and "Common Sense" conceits in favor of meatier arguments. His faith in his fellow alumni was justified: On May 17, 2007, he was announced the winner of the election. 55% of voting alumni cast a vote for Stephen Smith–an improvement on even T.J. Rodgers's result. When he is formally inducted by the Board in June, he will become the unlikeliest Trustee in Dartmouth's 238 year history. He'll also be its best hope for sound stewardship.
* * *
The fracas surrounding former Harvard President Larry Summers is only the most prominent example of universities' staid culture rejecting reform. (And finding any excuse in the political correctness canon to do it.) But cases of administrations at drift are legion, and they usually end up imperiling the ultimate purpose of any college which is–this may sound old-fashioned–education. The small town of Hanover, New Hampshire may be home to more deans per square inch than any other place in the world. (36 on a quick count, serving a small undergraduate body on a one square mile campus.) But it is also home to a nimble, bantam college, with a governance system that allows for reform.
It's a wonderful spot for a revolution.