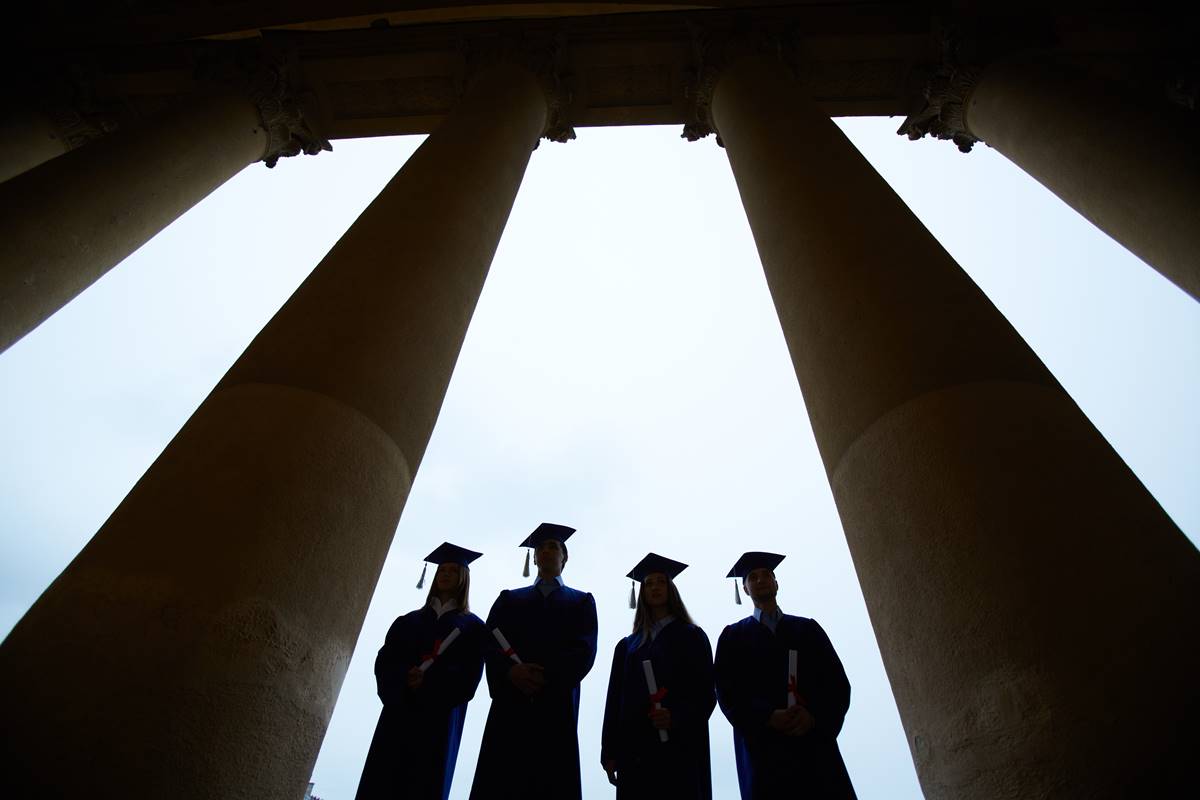 Donald Lazere offers a breezy and factless hatchet job on Allan Bloom today at Inside Higher Ed.
At first he seems about to offer a detailed critique of his works, asserting that they are "lofty-sounding ideological rationalizations for the policies of the Republican Party from Ronald Reagan to George W. Bush." Stern words; Lazere follows them with examples from the text? No, just a dscriptive paragraph – wait, actually, a mere sentence: "Bloom rages against the movements of the 60s – campus protest, black power, feminism, affirmative action, and the counterculture – while glossing over every injustice in American society and foreign policy (he scarcely mentions the Vietnam War)."
The books are not mentioned again – Lazere blithely skips on to build his case on the basis of Bloom's friendships and professional connections: "Bloom's personal affiliations further belied his boast of being above "attachment to a party" and captivity to "the spirit of party." His writing for Commentary, association with the John M. Olin center at the University of Chicago, and – of course, role as instructor for Paul Wolfowitz all place him ireedemably within a neo-con cabal.
It's on the tour of Bloom's iniquitous friends and bastard progeny that Lazere expands his aim from damning the man to damning, well, about anyone who knew him or now cites him. Bloom, to Lazere, seems first among many right-wing hacks who "vaunt their dedication to intellectual disinterestedness while acting as propagandists for the Republican Party and its satellite political foundations." Lazere builds his subsequent argument less-than-convincingly. Consider his take-down of Commentary:
The magazine in which Bloom made these boasts, Commentary, and its then-editor Norman Podhoretz, were prime examples of this hypocrisy. Podhoretz proclaimed in his 1979 book Breaking Ranks about Commentary, "I could say that the reason for our effectiveness [against the New Left's alleged subordination of intellectual integrity to political partisanship] was a high literary standard." But in the 80s he turned Commentary into a fan mag for President Reagan and in 1991 commissioned David Brock, in his self-confessed "right-wing hit man" days, to write an encomium to the intellectual gravitas of Vice President Dan Quayle.
Somehow the New Yorker, Harpers, and the New York Review of Books have maintained high literary standards while also taking markedly political stances over the decades – but Commentary can't do this? Exactly how it reveals that Bloom is an activist is also unclear. His other arguments are comparably silly. Take his portrait of a right-wing cabal creating Closing's fame – or, as he puts it "how much the success of The Closing was attributable to Republican-front publicity channels":
For years, Bloom was co-director of the John M. Olin Center for Inquiry into the Theory and Practice of Democracy at the University of Chicago, which received millions from the John M. Olin Foundation. That foundation, whose president was William J. Simon, multimillionaire savings and loan tycoon and Secretary of the Treasury under President Ford, at its peak spent some $55 million a year on grants "intended to strengthen the economic, political, and cultural institutions upon which … private enterprise is based."

William Kristol wrote a rave review of The Closing in The Wall Street Journal (where his father was on the editorial board), which is also quoted on the paperback jacket; he was at the time Vice President Quayle's chief of staff, and is now editor of Rupert Murdoch's Weekly Standard. Kimball, the Times reviewer, was an editor of The New Criterion, and yet another Olin beneficiary. (So much for the Times' fabled vetting of reviewers for conflicts of interest.)
Caught all of that? Good. It's somewhat inconceivable to imagine that the Times Book Review investigates its reviewers to ensure that they haven't received grants from any of the same foundations as the authors. That's a pretty complex chain of guilt – but, for Lazere, any connection is enough to damn Bloom and anyone that argues for him.
After tying Bloom to every conservative politician he can find, Lazere musters his grand indictment, citing a parade of vulgarians from Ann Coulter and Bill O'Reilly to President Reagan and Rupert Murdoch as proof of the "long-running schizophrenia of American conservatism." Lazare wonders how Bloom and others can "lay claim to aristocratic traditions and high moral or academic standards" when keeping company with those.
It is the utter failure of Bloom and other conservative intellectuals to dissociate themselves from or even acknowledge the vulgar variety of conservatism that ultimately exposes the hypocrisy of their lofty ideals and their selective indignation against every variety of liberal/leftist villains.
Utter failure to dissociate? I'm not sure if this Bloom, who utterly failed to dissociate himself from "vulgar conservatism" is the same that I've read.
Bloom, who asserted that "no real teacher can doubt that his task is to assist his pupil to fulfill human nature against all the deforming forces of convention and prejudice" – the merest skimming of the book reveals countless Millian phrases about the need for universities to pose alternative ideas for consideration, for students to "resist the easy and preferred answers."
Bloom, who condemned "the semi-theoretical attacks of right and left on the university and its knowledge."
Bloom, who saw "the establishment during the last decade or so of the MBA as the moral equivalent of the MD or the law degree" as a "great disaster" and otherwise made countless arguments for the inviolability and value of an academic sphere isolated from the commercial world.
Doesn't sound very Reagan-friendly to me. I could go on.
Look to Rachel Dodano's Revisiting The Culture Wars or Jim Sleeper's Allan Bloom And The Conservative Mind, both from the New York Times Book Review, for two decidedly non-conservative – yet far better-argued glosses on Bloom's legacy than Lazare's nasty and superficial swipe.