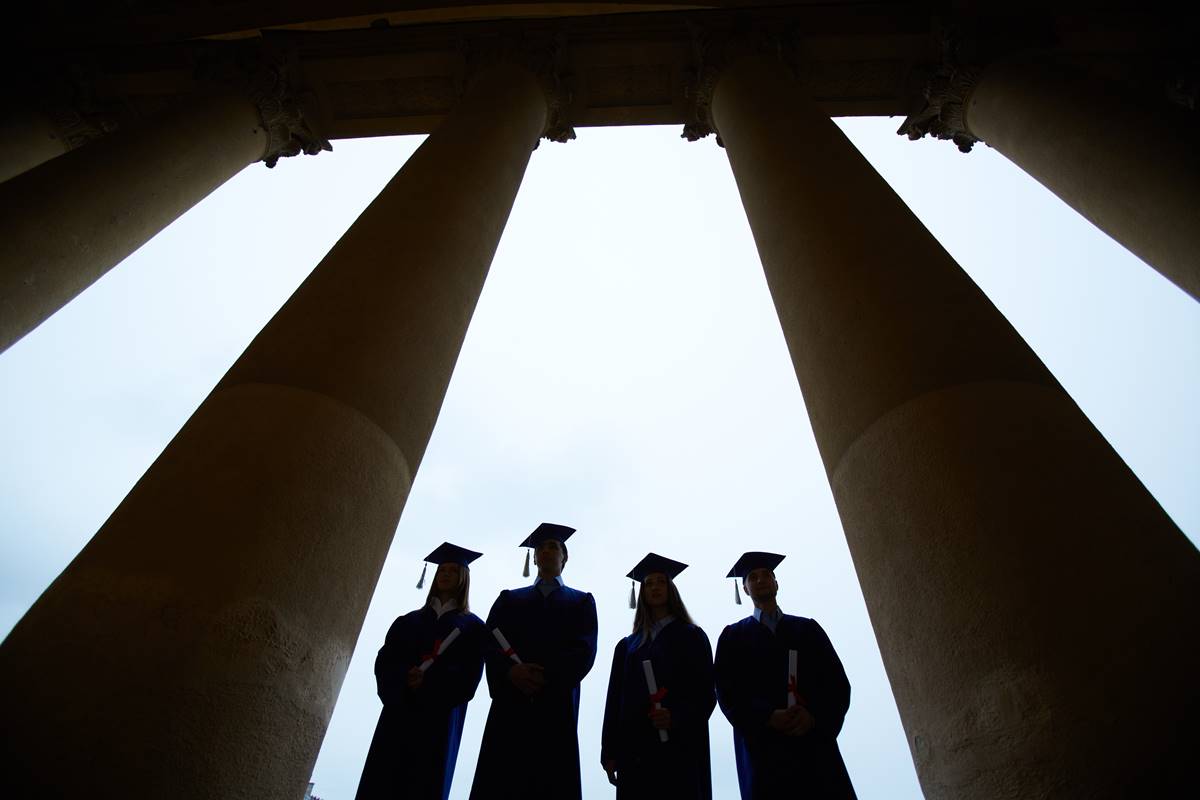 "The Hungry Student: Reopening After The Closing of the American Mind"
At the end of the introduction to Allan Bloom's Closing of the American Mind, Bloom mentions that only Socrates knew that he was ignorant, albeit "after a lifetime of unceasing labor." Bloom observes at the time of his writing that every high school student knows he is ignorant. Like the psychology professor Bloom describes in his introduction, the goal of many a professor is to rid students of prejudice so that they can know that they do not know, so that like Socrates, they can be open-minded. But as Bloom finds, harkening back to Plato's Republic, the professor's endeavor to rid students of prejudice enervates the very imagination that projects images onto the cave wall. That is, the professor's endeavor actively dissembles civilization and burns its parts so that they may never be reassembled into a whole. And students are somehow more like Socrates as a result? At issue in Bloom's essay is the end to which education, particularly higher education is directed. Does opening minds, as liberal learning through reading Great Books, involve some taste, as remote as it may be, of a love or eros of wisdom? Where does such liberal learning cease? And has it? Bloom finds that while the endeavor of American higher education has sought to open minds, it is directed toward ends which do the opposite. Perhaps Bloom is correct. But after Closing, perhaps there is some conscious attempt among a select few to rekindle the eros that characterizes liberal learning in the university.
Cosmopolitanism, tolerance, specialization, and devouring nature's fruits. These are the ends to which the modern university would appear to be directed. My own university places a premium on these self-described virtues. But it does so having uttered the language of its Jesuit heritage: 'educating the whole person.' Presumably the university attempts to implant in its students the theoretical and practical knowledge which together are crucial to love of truth and passion to live a good life, as the elementary reader of Aristotle knows and Bloom is quick to note. Nevertheless, in practice, these classical ideals, which surface in Closing, today often materialize as something less than the liberal learning that Bloom describes. That is, while students are required to study literature, theology, philosophy, and perhaps even political philosophy, much less is made of reading great old books than of learning critical methods for denigrating the thought of "dead old white men" or conceptualizing them as products of history. Few are those courses that engage in sincere dialogues with the great old writers who perhaps are esteemed enough to be regarded as lovers of wisdom. While American students are fortunate to have some attempt at liberal learning, gone are the days when Alexandre Kojeve could read his students' term papers and see that they refer to Aristotle as 'Mr. Aristotle' as though he were a contemporary engaging in living discussion on matters of truth, right, and beauty.
Replacing 'Mr. Aristotle' is too often a mode of education that intends to 'educate the whole person' as a citizen not of any particular city but of a soulless world. And in order to graduate from such education, one must be void of all prejudices. One must be simply a material animal without any activity of soul that exhibits excellence. As in Plato's Republic, the civilization that resides in the cave and the philosophic endeavor to ascend from the cave are usually not the ends of most cities today. That is, rather than cultivating one's soul within one's own city, as is the original meaning of culture, citizens abandon their cities for a more cosmopolitan place, the world. Culture is no longer an activity of cultivation within cities but a source of understanding without prejudice. In Max Weber's thought, which Bloom in light of his teacher traces to the root of most modern social science endeavor, the student cannot make a truth claim as to the value of one culture or mode of cultivating one's soul over another. The end of the professor is to foster not love of truth but love of toleration. Toleration in this light precedes truth. In opening the student to a cosmopolitan world, the university then closes the student from any interest in truth.
There are students at almost all American universities who dedicate their time to more inward pursuits than this brash cosmopolitanism, which Bloom sees as replacing dialogues with the great writings of human history. These are often the students who not only embrace the division of labor in Western thought, but do so without any desire for a vision, misguided or not, of the whole. And if they seek some vision of the whole, it is usually not a vision at all but a taste of nature's fruits. These students, in their course of study, do not seek to be graced by nature's grace in tasting nature's fruits. Rather they seek to conquer nature and to devour it. For them, my own university is currently constructing two new buildings to occupy the physical center of campus, a business school and a science research center. Indeed, the economics of the household, which characterizes the pursuit of the businessman, occupies sizeable space in Book I of Aristotle's Ethics and thereafter in much of the Western canon. And science as natural philosophy teaches any student a great deal about his nature as a human being. But both these pursuits in their current states are instrumental to overly specialized utilitarian ends at best. They are hardly concerned with the meaning of human nature. Much of the research that will take place in the new science center on campus will not seek some knowledge of the whole aware of the "sanctity of human nature." Rather, it will seek to conquer human nature and nature more broadly. That these buildings should occupy the physical center of campus reflects a withdrawal from the dialogue for love of wisdom and passion for the good life in place of some utilitarian ends. It is still true today that the physicist gains nothing but mild "spiritual uplift" from reading Shakespeare and seeks nothing more too often.
Cosmopolitanism and the tolerance it requires redirect the student's interest in truth. Specialization marked by a desire to devour nature's fruits through conquering nature limits the student's ability to make even an attempt at grasping knowledge of the whole. As a student, I fear that if the university does not look back to an earlier pursuit, one interested in cultivating virtuous citizens and teachers, then our society more broadly will be susceptible to the danger that Bloom evokes from Tocqueville – a society's enslavement to public opinion or passions. Our universities still lack the philosophic experience that Bloom sees as the lifeline to philosophic endeavor more broadly. If we as students cannot distinguish the laws that killed Socrates from laws that enable his survival, philosophy is doomed. And if philosophy is doomed in our society, we find ourselves living in nihilism. The university as the bastion of liberal learning can be the preserve of philosophy. The university can be the place where we the citizens and students bring ourselves from the cave that our ancestors dug beneath the original cave. To do this, we must read things which much of our core curriculum has abandoned in place of things cosmopolitan or things specialized for the sake of instrumental knowledge. We must ask those ultimate questions in the academy, and not limit ourselves to learning techniques in glorified trade schools. Our professors must let students know about classic philosophers. With all these needs facing our starving universities, Bloom leaves us with a choice: embrace a rebirth of liberal learning or fall deeper into the cave.
Despite the replacement of cosmopolitanism and tolerance for citizenship and truth in most curricula, and despite the new epicenter of the college campus in the instrumental sciences, the neo-Gothic towers of the old campus have not yet been demolished. Like the pseudo-Gothic spires of the University of Chicago, which Bloom describes as his first discovery of life, or the life dedicated to contemplation, these Gothic towers still reflect the contemplative life in the university. And while few and far between, courses are available for the student to read the writings of great thinkers and engage in a living dialogue about truth, beauty, and right. Academic forums for students that seek to revitalize liberal learning are sprouting up across the country. But these forums are still in their infancy. Perhaps a few students with the help of a few professors at leading universities will start to seek those ultimate questions from education. Perhaps those students and professors will call for a reopening of the American mind in true liberal learning. For love of truth, beauty, and right, the last bastions, a few professors and a scant offering of courses, I the hungry student feed on the only food I find nourishing. And I hope. I hope that the American moment in world history, "the one for which we shall forever be judged," as Bloom describes, is a success. A reopening of the American mind.