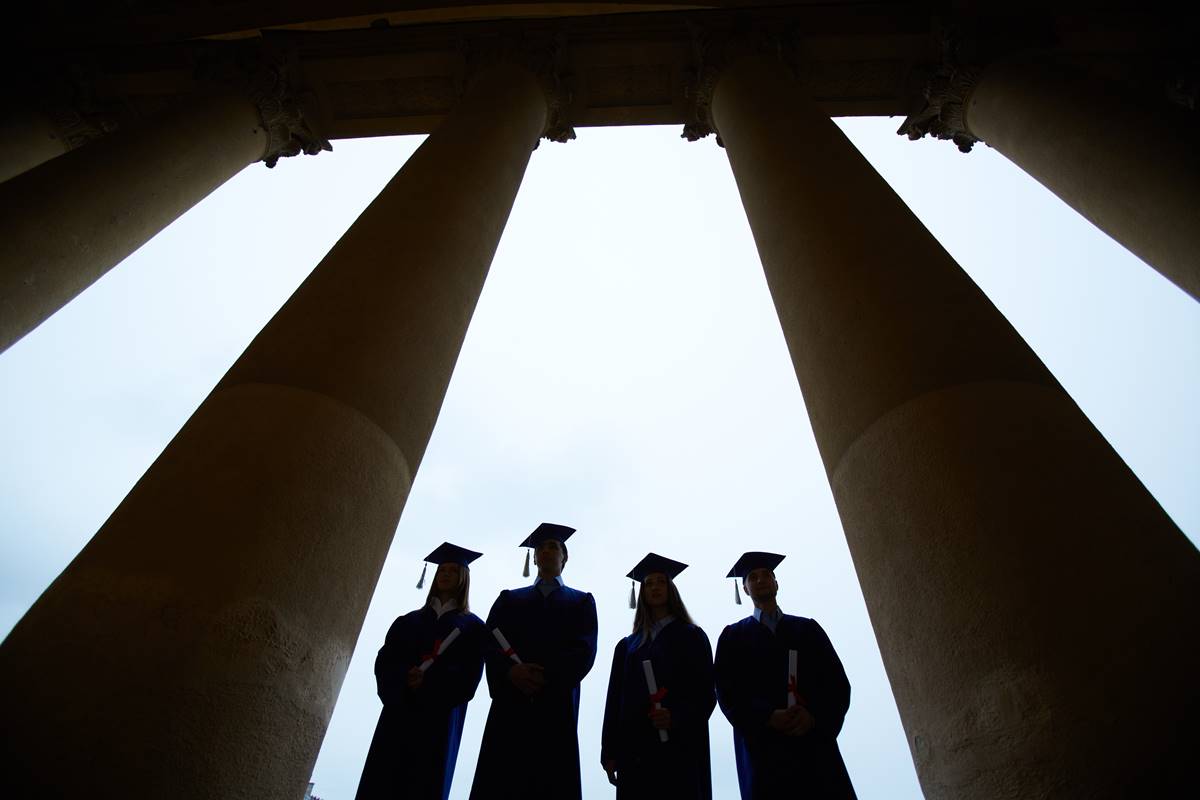 You've just started your freshman year in college, so one of your first stops is the campus bookstore to pick up your textbooks. You signed up for Econ 101, where your professor has assigned one of the top-selling basic textbooks in the field: Harvard professor N. Gregory Mankiw's 936-page Principles of Economics (South-Western/Thomson), now in its fourth edition. The price: $175.95, or if you want to throw in a study guide to help you ace the course, $209.90.
Wow, that's steep for just one book – but you've only just started. Next class: the first semester of your college's world history survey course, spanning the period from 1 million B.C. to 1500 A.D. In that class the prof is having you read the first volume of Traditions & Encounters: A Global Perspective on the Past (McGraw-Hill), the ever-so-politically correct overview by Jerry H. Bentley and Herbert F. Ziegler that devotes only 28 of its 600 pages to ancient Greece. The sticker price for Traditions and Encounters, now in its second edition: $89.69. Next, chemistry class, where the assigned textbook is Karen C. Timberlake's Chemistry: An Introduction to General, Organic, and Biological Chemistry (Prentice-Hall), now in its ninth edition. The price here is $148.80 for 736 pages plus a CD-ROM, and another $64.90 if you want a study guide. The bargain on your textbook list, if you can call it that, is Lynn Bloom's The Essay Connection (Houghton-Mifflin), the required anthology for your freshman English class, and "only" $61.16 for 656 pages. The Essay Connection is in its eighth edition, an improvement over the seventh edition, its blurb promises, because the book now includes essays by David Sedaris (can't you read him at home in your parents' New Yorker?), a photo collection on the horrors of war (guess what non-English-related political point that's trying to make), and cartoons and other illustrations for students who learn better by looking at pictures.
Your textbook-bill total for the semester is now $475.60 for just four books, more than a fourth of the average $2,315 in tuition and fees for a semester at a U.S. state college, according to figures for 2004 from the U.S. Education Department) – and that doesn't include optional study guides, the lab manual you might need for chem class, or the photocopied handout packet your English teacher says she'll be passing out at your expense. Why the sky-high prices for basic textbooks? After all, the brand-new, critically acclaimed translation of Tolstoy's War and Peace by Richard Pevear and Larissa Volokhonsky (Knopf) lists at only $37 for 1,273 pages in handsomely designed hardback. If Knopf, a trade publisher, can bring in a lengthy volume with a scholarly apparatus of notes and bibliography for less than $40, why can't textbook publishers, serving a market of generally cash-strapped young people, do something similar?
Welcome to the world of textbook pricing, where, it would seem, the usual market forces don't apply. The textbook market in no way resembles the trade book market, in which the same person – the consumer – desires the book (the new War and Peace, the latest diet guide or whatever), acquires it, and pays for it, so that price points and competition are crucial. What the textbook market resembles most is the market for health care, in which one entity (the physician/the professor) desires – that is, assigns or prescribes – the product, a second entity (the patient/the student) consumes it, and a third set of entities (insurance companies/parents) foot the bill. Spiraling prices for textbooks, like spiraling medical costs, seem to be the inevitable result. A General Accounting Office report in 2005 noted that textbook prices rose 186 percent in the U.S. from 1986 to 2004, compared to only a 3 percent rise in other prices over the same period and a 7 percent rise in average college tuition and fees. The seemingly out-of-control price increases have prompted laws in six states and pending bills in at least four others – plus a measure passed by the House of Representatives on Feb. 7 – that aim to regulate the way in which textbooks are marketed so as to lower costs to students.
In September 2006 an advisory committee to the U.S. Education Department issued a lengthy analysis of the economic forces that possibly lead to high textbook prices. They included inelastic demand (student who want to pass their courses have to buy the books); an oligopolistic supply market in which only a handful of publishers (including Thomson, McGraw-Hill, Prentice Hall, and Houghton-Mifflin) dominate, high production costs that create barriers to entry by possible competitors with the Big Four; the fact that college bookstores, which typically charge some of the highest retail prices, tend to be profit centers for their universities; the fact that professors typically receive free comp copies of the books they assign their classes and thus often don't know how much the books cost; and the further fact that the professors who author textbooks have a financial stake via royalties in assigning the books to their captive classes. The Harvard Crimson recently reported that Mankiw has made his Principles of Economics required reading for the nearly 2,300 students who have passed through the beginning economics course he teaches at Harvard. Furthermore, multiple editions of a textbook (Principles of Economics has gone through four in the nine years since its first edition in 1998) tend not to reflect rapid developments in the field (how much does the law of supply and demand change?) so much as the desire of publishers, and in many cases authors, to render older editions obsolete, discouraging students from buying cheaper used copies.
Perhaps inevitably, textbook pricing has become a pet project of U.S. PIRG, the nationwide alliance of Ralph Nader-inspired state public interest research groups, or PIRGS, that tackle perceived consumer issues. U.S. PIRG has about 100 campus affiliates, often funded by contributions from mandatory student activity fees. The PIRGS and their national parent have been the main instigators of the price-regulation legislation. The House bill, strongly supported by U.S. PIRG, would require publishers to provide college faculty with extensive pricing and related information about every book the instructor is considering using, including its wholesale price, the copyright dates of every previous edition over the past 10 years, substantial changes between editions, and the availability (with prices) of alternative formats for the book, including e-books and coverless no-frills versions that can be loaded into a three-ring binder. The information would presumably spur professors to assign cheaper versions or older editions that could be bought used. The House bill – like many of the state measures, including a bill passed by the Colorado state legislature in March – would also require the "unbundling" of CD-ROMs and other supplementary items that are often shrink-wrapped into a package with the textbook itself; those extra items would be required to be sold separately. Finally, the House bill would prohibit instructors from selling their free copies of textbooks to used-bookstores for treat-your-spouse-to-dinner money – a common practice well known to book reviewers (including the author of this article).
Not surprisingly, textbook publishers resists such measures – and for good reason. As they point out, students are willing to spend up to $400 for an iPod – so why not $200 for a chemistry book? Furthermore, many textbooks are genuinely more expensive to produce than trade books, not only fatter and sturdier but often filled with graphs, charts, maps, illustrations, and reproductions of works of art that all cost money to make. Requiring publishers to provide detailed pricing and related information for every edition of a textbook every format whenever a professor expresses interest in it would only add an additional cost that would have to be passed on to someone, and that someone would probably a student. Such regulation's effect on smaller publishers seeking to break into the textbook market could be devastating, having the ironic effect of preserving the perceived oligopoly of market dominance that consumer advocates decry.
Bruce Hildebrand, higher education spokesman for the American Association of Publishers, argues that one main reason textbook prices are escalating – and being increasingly sold in conjunction with software and other products – is that cost-conscious colleges are cutting back on their traditional human and bricks-and-mortars educational support systems: teaching assistants, graders, language labs, and even science laboratories in some basic courses. In their place are CD-ROMs, e-tutors, and guided online homework, all especially useful to the vast majority of college students these days who are not quite college-ready, but all representing educational costs that colleges have quietly shifted from themselves to their students. "Faculty like the software" [bundled into text books] nowadays," says Hildebrand. "You can build a custom book. You can strip out the graphics and the other stuff and sell it cheaper. Georgia Tech tried that with a chemistry book published by Houghton-Mifflin. The cheaper book didn't sell. The students didn't want it." Furthermore, says Hildebrand, unbundling mandates, besides raising the price of extras for those who can benefit from them, interfere with the First Amendment rights of textbook authors and publishers to produce a package of materials that fits their idea, not some legislature's, of the learning experience they want the students who use them to have.
"Honestly, the faculty member is the one who has to make the decision [regarding which edition or format of a textbook to use," says George Priest, antitrust law professor at Yale. "The faculty member is the best monitor of what is in the students' best interest."
For example, says Priest, he personally monitors the law casebooks he assigns his Yale classes to find the cheapest edition for his students. "I teach a class on capitalism," he says, "and I found a $7.95 edition of Adam Smith's Wealth of Nations, in contrast to the $12.95 edition I had been using. It took me more than four hours to correlate the passages in the two versions I wanted to assign – all to save the students $5."
Trusting in professors' dedication to their students' interests, which is, after all, part of any college teacher's job, might be a more effective route than punitive regulation of publishers' practices if the goal is lowering textbook costs. In California, for example, Republican Gov. Arnold Schwarzenegger last October vetoed a bill passed by the state senate that closely resembled the federal House bill, instead signing a measure that mandates price disclosure only on an instructor's request and told professors to consider cost in assigning textbooks, but did not require them to assign any particular version.
Better yet, would-be textbook-price regulators might simply trust students themselves to figure out ways to make their learning materials cheaper. Many already bypass the premium prices prevailing at their campus bookstores for the rich used-book market on Amazon.com, where Principles of Economics can be had for $93 and The Essay Connection for as little as $8.10. Numerous other websites, such as textbooks.com, half.com, ecampus.com, and campusbooks.com compete to allow students to comparison-shop for books as well as buy and resell them at low prices. Other enterprising students, and even a few commercial entities, have discovered that many popular textbooks sell for less – sometimes a lot less – in licensed versions in foreign countries; they re-import the international editions from abroad and sell them for considerably less than their U.S. prices to classmates and other willing buyers. Of course, such maneuvers can violate U.S. trademark laws and subject sellers to liability for damages, warns James Grimmelman, professor of intellectual property law at New York Law School. "The [trademark] law basically enables price discrimination," says Grimmelman.
That may be, but the pressure on textbook prices by the combined strategies of enterprising students and used-book websites is likely in the long run to bring those prices down without government intervention. Eventually some publisher, major or minor, will figure out ways to give students and their professors exactly what they need for far less money – and at that point the textbook market will move quickly to correct itself, all by itself.