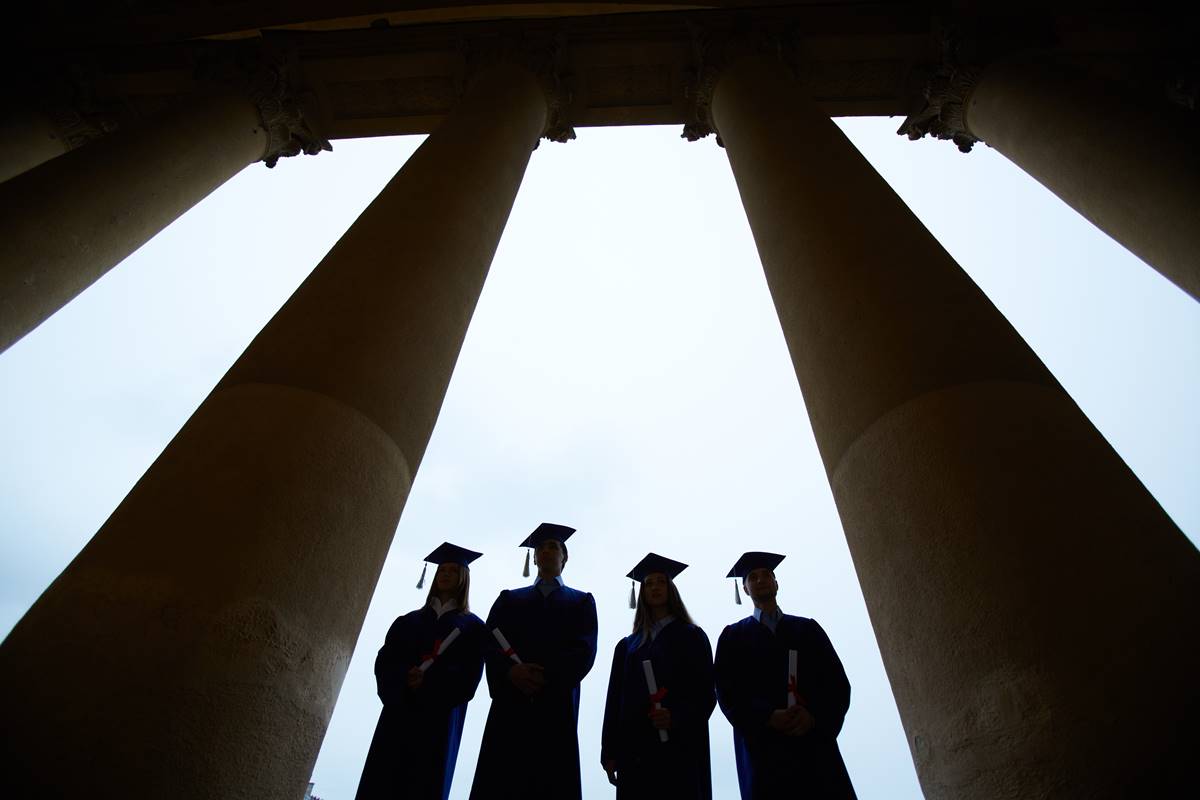 Cuyahoga Community College expects to see nearly 30,000 students enrolled for credit on its three campuses in Cleveland when it opens for the fall semester late in August, with an additional 30,000 taking non-credit courses for job-training "personal enrichment" (instruction in art, photography, and other hobbies). According to campus officials, the 30,000-strong for-credit student population represents an all-time high: about 20 percent more than the 24,311 for-credit students whom the college reported as enrolled last spring. The projected 6,000-student increase is unprecedented, too; in the spring of 2009, college records show, there were only about 800 more students attending Tri-C, as Clevelanders call their community college, than were on the rolls for the spring of 2008. Chalk up the current surge to the recession, which has suddenly made the $25,000-a-year-tuition typical of U.S. private four-year-colleges look unaffordable to many families (private colleges nationwide have reported lower-than-usual freshman acceptance rates for this fall). Annual tuition at Tri-C is a tenth of that: $2,418. That's a bargain even compared with tuition costs at Ohio's public four-year colleges, which charge $8,583 annually on average to state residents.
So it's perhaps only logical that President Obama, in a July 14 speech at Macomb Community College in Warren, Mich., announced a proposal to invest $12 billion in federal spending in the nation's community college system, all with the aim of helping an additional 5 million Americans earn degrees and certificates from community colleges over the next 10 years. The president called community colleges the under-appreciated "stepchild of the higher education system" and declared that the money would help workers learn "the skills they need to fill the jobs of the future." His message seemed designed as a boost to Warren, a recession-battered suburb of Detroit with a 20 percent unemployment rate, but also to millions of other American young people desperate to cut the cost of attending college.

Community colleges not only charge their students less but deliver their services cheaper. Tri-C runs all three of its campus on a budget of $270 million a year that will be cut by $8 million this year because of a decline in state aid. By contrast, Cleveland State University, Tri-C's cross-town four-year opposite number (Tri-C was founded in 1963, Cleveland State in 1964) and one of 14 members of Ohio's state university system, spends nearly as much, $257 million a year (according to figures from 2008), to educate only 11,000 undergraduate and graduate students. (In all fairness, Cleveland State offers 200 academic programs in contrast to Tri-C-s 70, operates dormitories, a dining hall, and similar services for a residential student population that Tri-C as a two-year commuter school lacks, and underwrites a law school, an MBA program, and a doctoral program in engineering among its graduate offerings.)
Not surprisingly, given their low cost and their geographic convenience to their students, most of whom tend to live within a short driving or public-transportation distance away from campus and thus don't have to pay for dorms, community colleges are on a roll of popularity. Not only is Tri-C, for example, bursting at the seams, necessitating a desperate hunt for part-time faculty to teach all those new enrollees (as a cost-containment policy, only about a third of Tri-C's instructors are on the full-time payroll), but some of Tri-C's vocational programs are attracting a new category of student, what Tri-C's president, Jerry Sue Thornton, calls the "reverse transfer." That refers to a brand-new graduate of a four-year college who discovers that a baccalaureate degree in liberal arts isn't worth anything on the job market. "In our nursing program, which is our biggest program, about 50 percent of our students now have bachelor's and master's degrees," Thornton explains. "They might have a B.A. in history, but they can't find a job, so they come here. Corporations used to take college graduates with B.A.'s and train them, but now they don't train you anymore. Instead they ask you, 'What can you do for us?' So they [college graduates] come to us. We used to take most of our nursing students right out of high school, but now we have to reserve a percentage of slots for new high school graduates."
Tri-C is just one participant in a community-college growth boom. Most of America's two-year institutions date, like Tri-C itself, from the vast expansion of post-secondary education during the 1960s, a growth-explosion aimed at accommodating not only the postwar Baby Boom but the notion, then novel but soon to be accepted as gospel, that a high-school diploma was an insufficient credential for entering the adult work force. Before the 1960s there was only a smattering of two-year, academically focused "junior colleges" for young people right out of high school, some municipally subsidized such as Los Angeles City College and its vocational sister, Los Angeles Trade Technical College; others, privately operated and expensive, essentially advanced-level finishing schools for wealthy young women on the MRS-degree track who wanted a smattering of college polish. During the 1960s many of the private junior colleges morphed into academically rigorous four-year institutions with the advent of feminism, and the public junior colleges and trade schools changed their names and repositioned themselves as educators for adults of all ages and abilities in their communities. According to Department of Education statistics, enrollment in community colleges grew by 741 percent from 1963 to 2006, compared with 197 percent at public four-year colleges and 170 percent at private four-year colleges. More than half of all college undergraduates these days are women, and at community colleges women comprise an even bigger majority of students. At Tri-C nearly two-thirds of the student body is female.
Community colleges have an irresistible democratic appeal. The age demographics at Tri-C include more than 1,200 high-school juniors and seniors taking college-level courses in such demanding fields as engineering (the most ambitious of them can graduate from high school with a two-year associate degree already under their belts) to about 500 senior citizens who may be enrolled in anything from non-credit crafts classes to college-level courses that they can take for free if there are vacancies after paying students enroll. All of this is fairly typical. In a June 17 article in U.S News and World Report, George R. Boggs, president of the American Association of Community Colleges and former president of Palomar College, a two-year institution in California, touted the colleges' affordability, open-access policies that allow all comers to work for a degree (almost no community college requires anything of applicants beyond a high-school diploma or a GED certificate), proximity to most of their students' homes, generally small class sizes (fewer than 35 students on average, in contrast to the giant lower-division lecture courses found even in the Ivy League), and generous array of vocational and academic programs leading to well-paying, in-demand jobs, as well as, for the more intellectually inclined, all the coursework necessary to transfer to a four-year bachelor's-degree program at a university at substantial savings for the first two years.
"For example, community colleges prepare most of the nation's registered nurses, police officers, paramedics, firefighters, and advanced-skill technicians," Boggs wrote. He pointed to numerous well-known figures who got their careers started in community colleges: Senate Majority Leader Harry Reid; J. Craig Venter, mapper of the human genome; Eileen Collins, the first female space-shuttle commander for NASA; actor Nick Nolte; and Hall of Fame pitcher Nolan Ryan. (Boggs might have also mentioned the comedian Steve Martin, who got both his academic start as a college philosophy major and his theatrical start as an improv artist while attending the institution that is now Santa Ana Community College in California during the early 1960s.)
It is this atmosphere of opportunity for all comers—the idea that one can become an astronaut, a distinguished scientist or a movie star, or failing that, embark on a solid and respectable career in law enforcement or health services—after graduating from high school with a nothing GPA and spending next to nothing in tuition, that has made community colleges an attractive proposition that many deem worthy of greater societal support. Community colleges offer second chances to young people who goofed off in high school and first chances to those (including many first-generation Americans) whose economic circumstances would seem to rule out the possibility of attending college altogether. So it's not surprising that the 6 million-plus students enrolled at America's 1,045 community colleges constitute 35 percent of all students enrolled in post-secondary institutions these days. (The figures come from a 2008 report authored by the U.S. Education Department's National Center for Education Statistics, and given projected enrollment increases this reported at Tri-C and elsewhere, the number of community-college students right now is probably closer to 7 million..)
In Pennsylvania community colleges function in part as automatic feeder schools for Pennsylvania State University, which allows only the top academic layer of the freshman classes it accepts to live and take their first two years of classes on its flagship campus in University Park, Pa.; the others it redirects to community colleges. Community colleges in 17 states have recently added bachelor's degrees to their program offerings, effectively turning themselves into super-cheap four-year colleges and blurring the line between what is a community college and what is not. Miami Dade Community College in Florida, for example, went so far as to drop the "Community" from its name after it added bachelor's degrees in nursing, teaching, and other fields.
Obama's proposed $12 billion in federal aid for community colleges represents a break from past funding patterns, because typically community colleges have relied almost entirely on state and local money, coupled with whatever they can raise from tuition, gifts, and earnings on their typically modest endowments. (Tri-C, for example, receives 42 percent of its budget from local taxes and another 30 percent or so from the state of Ohio.) Supporters of Obama's proposed federal cash infusion say it's long overdue. In an essay in the Chronicle of Higher Education Sara Goldrick-Rab, assistant professor of educational policy studies at the University of Wisconsin-Madison, crunched numbers from the Delta Project on Postsecondary Education Costs, Productivity, and Accountability to conclude that community colleges "receive less than one-third the level of federal support per full-time equivalent student ($790) than public four-year colleges do ($2,600)."
One reason for the disparity may be that direct federal support for any institution of higher learning in America is unusual. Federal aid to colleges and universities has traditionally come mostly in the indirect form of grants to students to cover tuition and living expenses and to professors to cover research. Since community college professors are hired primarily to teach (full-timers typically oversee four or five classes a semester, in contrast to the two or three that are the norm at four-year institutions), they generally don't receive many research grants.
It's hard not to root for Tri-C, and to hope that whatever federal cash it receives will do it some good as it tries to be so many educational things to so many Clevelanders: bargain-basement leg-up to bachelor's degrees, vocational school for those with no interest in college, high-grade AP program for smart high-schoolers, job-training facility for the newly employed and the would-be employed (Tri-C runs two conference-center-style "corporate college" campuses in the Cleveland area where it offers custom courses for area businesses), senior center for oldsters. At Tri-C you can train to become a dental assistant, a cook, an electrician, a drywall installer, a paralegal, or a computer technician, among the dozens of trades and professions represented in the course catalogue. You can study Latin or Chinese or college-level physics when you're 15 years old—or when you're 75 if there's a seat in the classroom for you. Tri-C's nursing program, the largest program offered with more than 3,500 students enrolled, is top-rated, featuring clinical partnerships with the city's University Hospitals and Cleveland Clinic and courses tough enough for students to gripe about their rigor in online discussion groups. "About 97 percent of our graduates pass their licensing exams right away and go straight into nursing jobs," says Thornton.
That's the inspiring upside of community colleges. The downside is this: Only a tiny minority of the students who enroll in them manage to complete any of the programs they offer. Four-year colleges are notorious for their uninspiring completion rates (only about 54 percent of their students manage to graduate within six years), and at community colleges the graduation rate is at the abysmal level. At Tri-C, for example, it's 6 percent within three years. During the spring of 2009, for example, Tri-C awarded a mere 1,676 two-year associate degrees for all three of its campuses, plus another 214 training certificates, which typically take a shorter time to earn. Tri-C's nursing programs may be top-flight and virtually guarantee good jobs, but the programs produced only 229 nursing graduates in 2009 plus another 62 people with practical-nursing certificates. Only 672 Tri-C students graduated in 2009 with associate degrees in the arts and sciences, those stepping-stones to a bachelor's degree from a four-year college. Furthermore, the average time it takes to collect a two-year degree from Tri-C is 7.8 years. And of those who make it through to graduation, only 27 percent (according to students' self-reporting) transfer to four-year colleges, even though Tri-C has transfer agreements with an array of public and private universities designed to make such moves easy. That's not a bad percentage as transfers go. At Northern Virginia Community College only 14 percent of graduates move on to another institution, even though an arrangement at Northern Virginia guarantees students who complete an associate degree admission to their choice among 39 public and private universities in the state, including the prestigious University of Virginia.
Tri-C's dismal graduation rate is just about average for community colleges, according to the National Center for Education Statistics, which studied students who had enrolled in community colleges as first-time freshmen during the academic year beginning in 2003 and following them through to the spring of 2006. Some 45 percent had dropped out completely within three years, compared with 16 to 17 percent of students at four-year colleges who drop out for good during that time. Community-college students who defined themselves as more motivated—planning to transfer to a four-year college, for example–did only marginally better, with a 39 percent dropout rate. About half of first-time community-college freshmen were still enrolled in either the college where they had started or in some other college three years later. That might not sound too bad—half the students still in school presumably still trying to finish—except that the very purpose of a degree or certificate is to prepare for a decent job (a community-college certificate alone is said to increase its holder's earning power by 15 percent a year). Every year spent without completing a program is a year without that extra earning power, not to mention earnings that might be foregone while attending classes. The bottom line is that the 500,000 additional Americans a year whom Obama hopes to nudge toward community-college graduation represents a full 50 percent increase over the paltry 1 million a year who graduate now—an average of fewer than 1,000 students per college.
A close look at the enrollment breakdown at Tri-C reveals even more depressing numbers. For example, out of the 24,311 students enrolled for credit during the spring of 2008, only 548 had come straight out of high school and another 1,371 had entered Tri-C after spending some time out of school after their high school graduations. A huge category called "continuing" students accounted for the vast bulk of Tri-C students (15,791 of them), and another category called "returning" students, those re-enrolling in school after dropping out for a while accounted for a substantial portion of the remainder (3,971). Tri-C prefers to describe its temporary leave-takers as "stop-outs" rather than drop-outs, on the theory that many of them eventually do reappear on campus after taking time off (sometimes as long as five years) to earn money, attend to family problems, or straighten out their personal lives.
Still, when you look at the number of students whom Tri-C classified as freshmen in the spring of 2008–13,336–and the nearly 16,000 it classified as continuing students, it's easy to see that many of those who enrolled at Tri-C weren't getting very far with their educations. On reason was likely that the vast majority of them–14,893 students–were enrolled part-time, virtually guaranteeing that their two-year programs were going to drag on for at least four years and even longer if stopped out. The median age of Tri-C students, as it is at many community colleges, is 29. Age 29 is long past the age when most people are expected to have graduated from a four-year college, perhaps completed professional school, and embarked upon their most productive earning years.
Furthermore, although vocational training—not only in nursing but in other health fields, as well as business, engineering, public service, computer technology, and trade certificates—accounted for more than two-thirds of Tri-C's enrollment in the spring of 2008, the numerically largest group, 7,664, consisted of students enrolled in associate programs in the arts and sciences, programs designed solely to enable transfer to a four-year school. The 672 graduates those programs produced in 2009 thus constituted less than one-tenth of their total enrollment. Vocational programs, which offer a straight shot to a higher-earning career on graduation, can at least provide motivation for their enrollees to stay in school. The motivation factor that might lie behind, say, an associate degree in philosophy, which is worthless in the job market, is less easy to discern. Thousands of students spending seven or more years in school earning minimal credits toward valueless liberal arts degrees that they are unlikely to complete anyway can't amount to anything other than a colossal waste, if only of the students' own time and (admittedly minimal) tuition dollars.
"People flood these colleges because they're more affordable," says Carol D'Amico, a higher-education consultant who was assistant secretary for the Education Department's Office of Vocational and Adult Education during George W. Bush's first presidential term. "The students float in and out—they'll drop out, for example, when a child gets sick. They tend to accumulate a lot of credits, but they have no coherent goals or academic plans. Nursing and some of the other occupational programs have better completion rates because they offer a defined path to graduation, and the people who are in them know why they are there, but the trend that's evolving seems to be toward the liberal arts and general education. Now some of the community colleges are even offering baccalaureates." Asked how community colleges could make themselves more educationally efficient and produce more graduates out of their vast, often directionless student bodies, D'Amico suggests two things: "They ought to be streamlining their focus—right now they're trying to be the front door for liberal-arts education, plus training for all the occupations, plus aerobics for seniors. They ought to focus on a smaller number programs for which there are jobs. And they ought to be more selective about the students they admit."
Selectivity is a sticking point for community colleges, however, since their very philosophical raison d'etre is to be non-selective, so as to give everyone who passes through a chance. Only a handful even require their applicants to pass an English-language proficiency test. Not that many lower-tier four-year colleges erect much in the way of selectivity screens: Cleveland State, for example, admits 73 percent of high-school seniors who apply to its freshman class, according to the Princeton Review. Nonetheless, the vast majority of community college students, who tend to have grades well into the bottom half of their high-school classes, arrive on campus astonishingly unprepared for college work, sometimes having failed to learn not just 9th-or 10th-grade math but 6th-grade math.
At Tri-C a full 80 percent of entering students—6,000 of them at any given time–place into "developmental" (low-level remedial) classes in math and 57 percent into developmental English, both prerequisites that must be passed before students are ready to take regular freshman courses. Anywhere from one-third to half the students who enroll in developmental classes during any given semester don't pass them and don't return to Tri-C—often for good. Tri-C, like many community colleges, is in part a massive remedial-education factory that tries—and as often as not fails—to make up for the basic instruction that either the constructivist theory-addled K-12 education system hasn't bothered to impart, or that students, distracted by personal and socioeconomic problems or their own laziness, haven't bothered to take in.
"Community colleges have become a dumping ground for all the educational problems in the rest of the system," says Richard Longworth, longtime Chicago Tribune reporter and author of "Caught in the Middle: American's Heartland in the Age of Globalism," a study of the economic devastation of the Midwest. Longworth believes that the collapse of the K-12 system, the drag of the remedial-ed burden, and societal insistence that every young person should obtain a baccalaureate degree (Obama's pledge in February to help America regain its lead in production of college graduates is an example) have deflected community colleges' energy and resources away from a job they could do well: training or retraining people to find well-paying work in a tough economy. "They should set up a separate program to do the remedial stuff," he says.
So thinly stretched are some community colleges that they are having a hard time even meeting even their vaunted new goal of moving more students to four-year degrees—because, in this time of state and local belt-tightening, they often can't afford to offer all the courses necessary for transfer. Twenty-nine-year-old Scott Stimpfel is a model community-college product. An academically lackluster California high school student with schoolteacher parents whose divorce left little money for college after his graduation, Stimpfel enrolled in 1998 at Pasadena City College, where he did so well academically that he won a full scholarship for his last two years at the University of Southern California, graduating summa cum laude in 2002. After graduation he set up a nonprofit organization, Resources for Educational and Employment Opportunities (REEO), that helps a select group of several hundred students at six Los Angeles-area community colleges (admission to his program is highly competitive), mostly minority and first-generation college-enrollees, transfer to top-tier four-year schools, find scholarships, and link with corporations for internship.
The transfer hopefuls in the REEO program don't have it easy, Stimpfel explains. "All the [four-year] colleges have different transfer requirements, and not all the community colleges offer the courses, so some of our students are enrolled in two or three colleges to get the courses they need to transfer. Many of them don't have cars, and they've got to travel long distances from college to college by bus. So we try to give them the support they need so they'll stick it out.." That's support they'll need, because the nearly bankrupt state of California recently cut $825 million in support for the state's 110 community colleges, forcing the Los Angeles Community College District to halve its summer courses, eliminating basic classes in English, math, and history that students who hope to transfer need.
Increasing retention, completion of community-college programs, and eventual transfer to four-year institutions is a major goal of Obama's proposed $12 billion aid package, all so to be funded, his administration insists, from savings gained from implementation of another of Obama's education proposals: eliminating private lenders from federal student loan programs. The lion's share of the money, $9 billion, is supposed to fund research into what might work to keep students enrolled longer (the rest would be earmarked for campus construction and developing online courses). In fact such research efforts have been ongoing for several years in the nonprofit private sector without a great deal so far to show for them. Since 2005 some 15 states have participated in an initiative called Achieving the Dream sponsored by the Lumina Foundation for Education.
One of the strategies they've tried is the "learning community," a fashionable pedagogical trend these days in which students, instead of enrolling in individual courses, take a package of team-taught classes with a small group of other students. The idea is that group bonding and a close relationship with the teaching team will keep the students in school. At Northern Virginia, a participating institution that experimented with learning communities for its remedial-math students, the results have been so-so. Of the 145 students who joined a learning community that combined remedial math with a course titled College Success Skills (note-taking, time-management, and so forth), 49 percent passed the course compared with 44 percent who took remedial math alone—a disappointing number compared with the 62 percent pass rate for which campus officials had hoped. The next-semester return rate for students in learning communities was also only marginally higher: 83 percent compared with 72 percent of other remedial-math students.
Unfortunately, the problem with community colleges may well be structural—and hence insoluble—rather than a matter of how instructional material is delivered and how close students feel to their teachers and classmates. Community colleges cost very little and demand very little (a high school diploma or a GED certificate will get you in). As with Obama's catastrophically successful "cash for clunkers" program, something that free or nearly free will draw a lot of takers, but it also demands little commitment of purse or self—so there will always be plenty of students at community colleges but also plenty of dropouts. Some critics have pointed out that even in vocational training, for-profit institutions, proprietary colleges such as the University of Phoenix are far more successful at retaining students and getting them through graduation (a 40 percent graduation rate is the rule, according to one industry study), because the students have invested real money in their educations. That is undoubtedly true—yet if we shut down community colleges, we would miss something, too. They're the places where everyone has a theoretical chance to study Chinese or electrical wiring or go on to graduate with top honors from USC, even if, sad to say, relatively few have the aptitude or perseverance to do so.