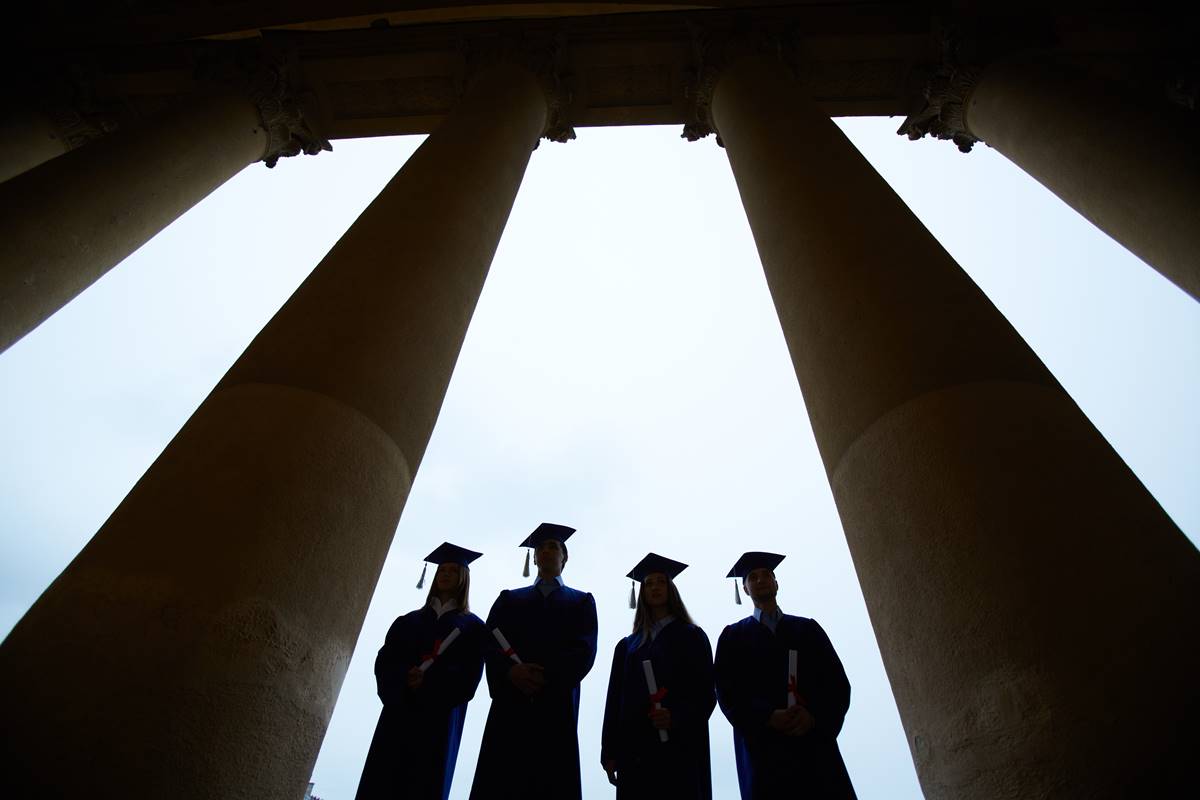 Does it matter which college guide a high-school student consults? Yes indeed. They all differ in poundage, cost and frankness. To illustrate the various approaches, and the various levels of candor, here are five guides discussing one school, Wesleyan University of Middletown, Connecticut:
Barron's Guide to the Most Competitive Colleges is the driest of the guides and unusually prone to boosterism. It says Wesleyan's "unparalleled academics and unique student body makes for a college experience unsurpassed elsewhere." "The breadth of offering is outstanding." The guide names a few courses many of us would probably be eager to skip, including "Commons, Alliance and Shared Resources," "Politics of Terrorism" and "Tropical Ecology and the Environment." The faculty gets high marks ("outstanding and engaging"), the economics department is hailed as renowned, and the science faculty "has received more outside funding from prestigious sources such as NSF and NIH than their peers at any comparable institution." Nothing here about the campus culture.
The Insider's Guide to the Colleges, written by the staff of the Yale Daily News, is far more irreverent, mentioning at the outset that Gawker, a popular gossip site on the Web, says Wesleyan is the nation's "most annoying liberal arts college." The guide, based heavily on interviews with students, mentions one of the zanier aspects of Wesleyan: the so-called "naked dorm," which features some public nudity, but not much. The Yalie authors say Wesleyan is a druggy, ultraliberal and politically correct campus. At each campus this guide features a brief comment on "one thing I would change." At Wesleyan the one thing is "I'd change the repressive remnant of political correctness that actually makes people self-censoring and makes conversation less interesting."
The Best 371 Colleges, published by the Princeton Review, says Wesleyan students are "liberal and alternative," "passionate" and "intelligent." One interviewee said students see the place as "a playground for the most opinionated and social-norm destroying students of our generation to debate issues that really matter to them." No description of norm-destroying is offered in the text, however. Nothing much about the campus culture either.
The Fiske Guide to Colleges also describes Wesleyan students as passionate, and adds "progressive, politically minded and fiercely independent." The campus is "hands down an activist campus." Classes are small (only 7 percent of courses have more than 50 students) and taught by "a highly rated faculty." "The key to Wesleyan's success seems to be the fostering of an intellectual milieu where independent thinking and an appreciation of differences are omnipresent," a comment at odds with guides that depict Wesleyan as narrowly liberal and intolerant of non-liberal ideas.
Choosing the Right College is a generally conservative guide ("right college" clearly has two meanings) published by the Intercollegiate Studies Institute. Unsurprisingly, it is negative about Wesleyan's far-left culture. The looser cafeteria-style curriculum, one professor says, "can leave students unable to confront the larger debates that have been central to the Western tradition." Questionable courses include "Personal Identity and Choice," which is listed as a philosophy course. One professor says: "Heavy university investments in fashionable studies have led to a systematic underfunding of core departments." The guide reports, "Underage drinking is pervasive… often accompanied by liberal drug use." Other guides avoid mentioning the great chalking controversy. Not this one. Aggressive gay groups, as one student explained, "would chalk the sidewalks across campus with various slogans," including "the kinds of sex acts they would have with incoming freshmen, some of which tended toward the violent." This proved controversial when parents visited the campus with their high-school sons and daughters. Still, the guide gives Wesleyan credit for some strong departments, including history and philosophy, and one student says undergrads show far more toleration for libertarian, conservative and religious ideas than do their professors.