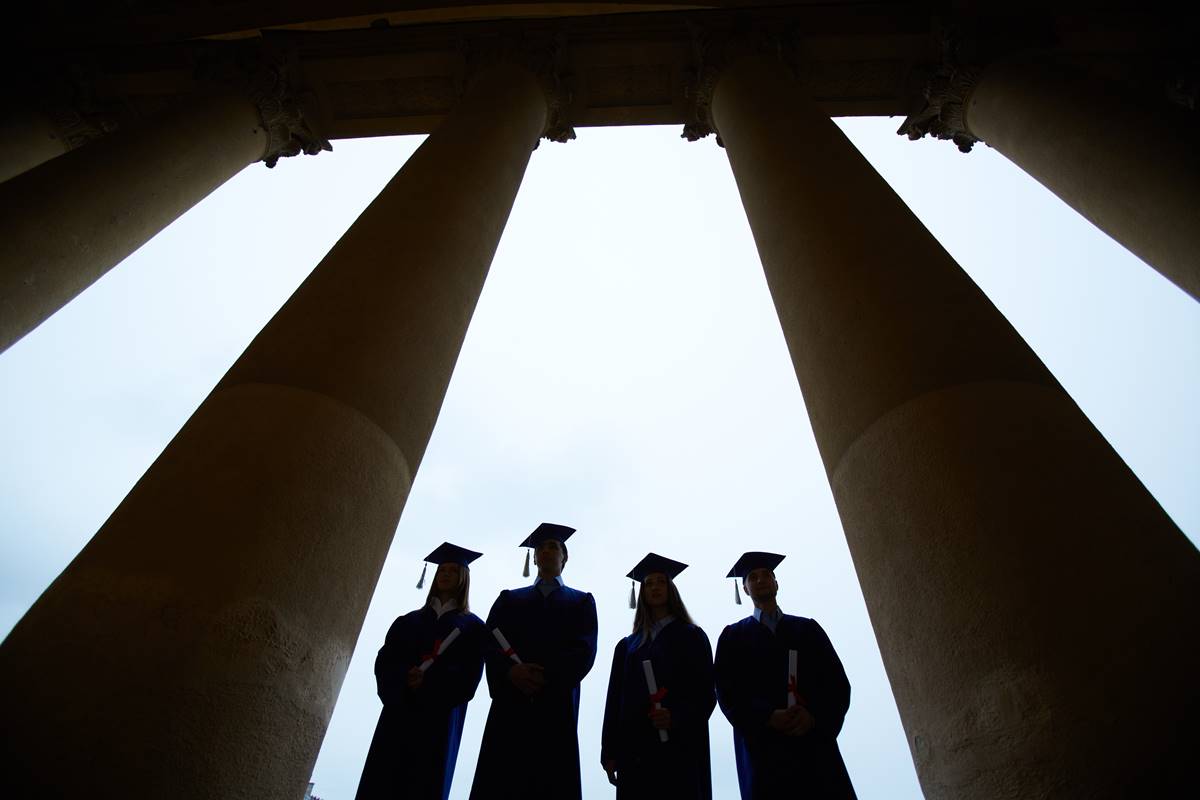 All across the country there were demonstrations on March 4 by students (and some faculty) against cuts in higher education funding, but inevitably attention focused on California, where the modern genre originated in 1964. I joined the University of California faculty in 1966 and so have watched a good many of them, but have never seen one less impressive that this year's. In 1964 there was focus and clarity. This one was brain-dead. The former idealism and sense of purpose had degenerated into a self-serving demand for more money at a time when both state and university are broke, and one in eight California workers is unemployed. The elite intellectuals of the university community might have been expected to offer us insight into how this problem arose, and realistic measures for dealing with it. But all that was on offer was this: get more money and give it to us. Californians witnessing this must have wondered whether the money they were already providing was well spent where there was so little evidence of productive thought.
The content vacuum with filled with the standby language of past demonstrations, and so there was much talk of "the struggle," and of "oppression," and—of course—of racism. "We are all students of color now" said Berkeley's Professor Ananya Roy, and a student proclaimed that this crisis represented "structural racism." (Why not global warming too?) Berkeley's Chancellor Birgeneau called the demonstrations "the best of our tradition of effective civil action." Neither Chancellors nor demonstrations are what they used to be. The nostalgia for the good old days surfaced again in efforts to shut the campus down by blocking the entrance of UC Berkeley and UC Santa Cruz. It didn't seem to occur to anyone that the old "shut it down" cry was somewhat misplaced when keeping it fully open was what the present demonstration was about, but then this was not an occasion when anyone seemed to have any idea of what they were trying to achieve.
One group at UCLA stumbled into the truth, though it was a truth they did not understand. At Bruin Plaza a crowd chanted "Who's got the power? We've got the power." In its context this was just another slogan of a mindless day, but the reality is that those people do indeed have the power, and routinely use it in a way that makes them the author of their own troubles. Let me explain.

Unemployment in California is still rising. It just went up from 12.3 to 12.5%, nearly three points above an already bad national average. This horrendous figure is the source of California's budget problem. The huge loss of tax revenue is compounded by greatly increased unemployment outlays. If we look at the few other states that have unemployment figures well above the national average, there are obvious explanations. Michigan is at 14.6 because employment in its major industry (automobiles) has collapsed. Nevada, at 13.0, is dependent on discretionary cash at a time when there isn't any. But California is too big to be dominated by one industry, and its plight can only be explained by the state's having grossly mismanaged its affairs.
In 2007 Raymond Keating formulated a Small Business Survival Index, which is a composite of various aspects of the climate for business in a particular state: business and personal taxes, regulations, mandates, and so on. In that index California ranked 49 among the 50 states. Rhode Island ranked just above California, and its unemployment rate is 12.7. At the bottom of the Index is D.C., and its unemployment rate is 12.1.
In the component parts of the SBSI index, California ranks worst of 51 (including D.C.) on top personal tax rates, worst on top capital gains tax rates, 42 on corporate taxes, 43 on health insurance mandates, 46 on electric utility costs, 47 on workman's compensation costs, rock bottom again on state gas taxes, 45 on state and local government five year spending trends, and 47 on state and local per capita government spending. It also ranks 49 among the states on the US Economic freedom index, and it has the highest state sales tax rate too: where some states have an income tax but no sales tax, and others have a sales tax but no income tax, California has both, AND it has the highest rates in both.
In short, California is a disaster for business. The state has piled up so many taxes, regulations and mandates that businesses are leaving the state. Just this week I learned that a spare part order for my Lennox fireplace is delayed because Lennox is moving this division of its business to Tennessee. Wealthy individuals are also fleeing the state to avoid the country's highest tax bracket. When both wealth and wealth creation leave the state, tax revenues leave with them.
How has this happened? As everyone knows by now, California has a dysfunctional legislature. Already in 2003—well before the current national crisis, and when the national unemployment rate was only 5.9%—California was bankrupt, and spending was so out of control that a Governor was recalled. The legislature enacts every politically correct whim that comes into its head, loading on one mandate and regulation after another. Cap and Trade could not pass nationally, but the California legislature proudly passed its job-killing global warming bill.
That is why the state now has a budget crisis of staggering proportions, and why university students are seeing those large fee hikes. But why is the California legislature so irresponsible, not to say goofy? Well, California is extremely rich in state university campuses: the UC and CSUC systems alone amount to 33 campuses, about a third of them mega-campuses of 30-35 thousand students, with another 10 around 20,000. The mega-campuses completely dominate the Assembly districts they are in, and their large concentrations of students and faculty skew the district electorate not just to the left, but to the devoutly politically correct but hopelessly unrealistic left. Virtually all of them routinely send Democrats to Sacramento. College towns with more modest sized campuses play their part too, but mega-campuses make their districts so one-sided that in the last election UC Berkeley's Assembly seat had no election even though it was vacant: the Democratic nominee still ran unopposed. Where there is real competition between the parties the two sides keep each other honest and realistic, but when Assembly seats are so inevitably left that there is no contest, there is nothing to stop the side that has automatic electability from sliding into fantasy. Those districts provide the margin that allows an immature leftism that has lost contact with reality to control the state legislature and ruin the business climate of the state.
The irony here really cries out for attention: a large state university system needs a free market economy that hums along in top gear so that the revenue needed to support it can be generated. But California's two unusually well developed state university systems provide enormous local voting power in many Assembly districts for a bitterly anti-capitalist ideology that sabotages the California economy. The campuses are shooting themselves in the foot. The power that those students and faculty chanted about is indeed theirs, and if they used it to elect sensible assemblymen and state senators their problems would be solved by the healthy business climate that would result. The votes that they actually cast are the source of their troubles.
Only one idea for solving the funding crisis was floated on March 4. It was to repeal the state's requirement that taxes can only be raised by a two thirds vote, so that taxes can be raised yet again and more money made available to the campuses. In other words, let's make the funding crisis even worse, by driving out of California even more wealth and wealth creating capacity, and raising the unemployment level even more. "California is not a tax-heavy state," said Assemblyman Joe Coto, whose office is right next door to San Jose State University, which enrolls 31,000 students. And that raises the question: how much longer will the California citizenry want to support a system of higher education that keeps its legislature stuck on stupid? It's not a question for this state alone.