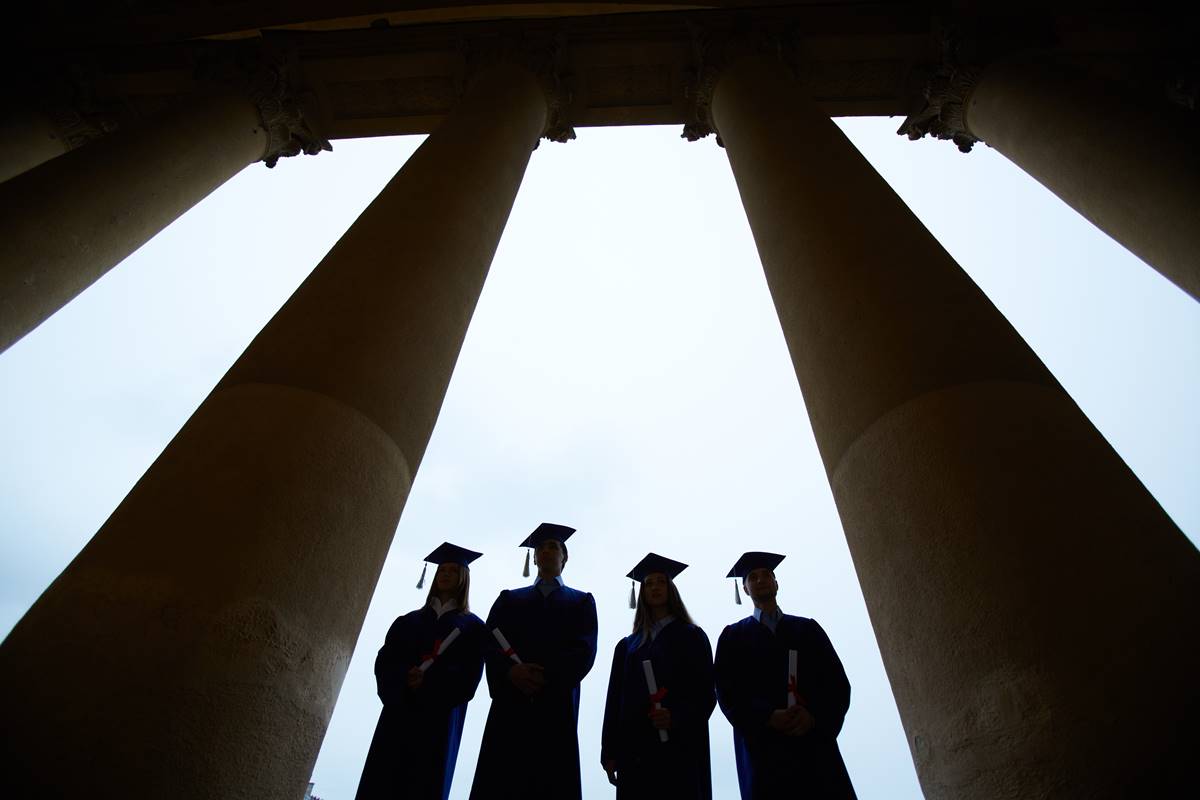 On 19 April, the board of trustees of Shimer College in Chicago, by an 18 to 16 vote, ousted Dr. Thomas Lindsay from the presidency after little more than a year of service. For sixty years, tiny Shimer (about ten faculty and 100 students) has touted itself as a Great Books college on the Robert Maynard Hutchins plan. Students converse about the content of texts with one another, guided by a professorial facilitator employing the Socratic method. The experience, it was believed, would "sustain a life-long passion for learning." Accordingly, Shimer constructed and reconstructed its mission statement to reflect—and to extend— Hutchins's ideals. Since 1996, the ambitious Shimer educational experience purported to prepare students for "active citizenship," not just in the United States, but "in the world." After four years of matriculation, Shimer's graduates would learn to shun "passivity" for "responsible action" by moving "beyond either unquestioning acceptance of authority or its automatic mistrust."
Dr. Lindsay came to Shimer from the National Endowment for the Humanities (NEH) where he served as deputy director and oversaw We the People, a well-regarded program designed "to encourage and enhance the teaching, study, and understanding of American history, culture, and democratic principles." There he attracted national attention with impressive publications and lectures on how to teach the principles of the founding to the American people. Inaugurated as Shimer's thirteenth president In January 2009, he set to work trying to elevate an institution possessed of noble goals but gasping from slipping standards, radical egalitarian governance structures, a bare-cupboard endowment, and a long history of financial distress, including several bankruptcies. Re-accreditation itself was hanging in the balance. Dr. Lindsay expanded to thirty-four the number of sitting members on the board of trustees to include educators and philanthropists who could help Shimer out of its chronic fiscal woes. Raising money in good times requires persistence and long hours to persuade prospective donors. During a recession, the task can seem Sisyphean. Dr. Lindsay says he spent two out of every three days during his first year at Shimer on the road with tin cup in hand.
Many at Shimer made known their dislike of Dr. Lindsay from the outset. Despite his obvious relish for the Great Books, many saw him as an outsider with a suspicious agenda. They complained when they discerned that he might be moving to make the founding documents of the United States more central to a Shimer education. In The Federalist Papers, a work that Dr. Lindsay would have liked Shimer's undergraduates to read cover to cover, Publius devotes the majority of the eighty-five essays to the republican character of the Constitution. Of the two species of popular government, republicanism had refining, insulating features that democracy did not. In fact, in The Federalist Papers, the word democracy appears less than a dozen times and when discussed in its pure form draws a pejorative contrast. In a society composed of a small number of persons, Publius warns, the "citizens, who assemble and administer the government in person, can admit of no cure for the mischiefs of faction," and they "are continually exposed, by their incapacity for regular deliberation and concerted measures, to the ambitious intrigues" of others. One would be hard-pressed to find in the United States an institution of higher learning with a more radically egalitarian and democratic structure than Shimer's. Three faculty members and two students sit as voting members on the board of trustees. Shimer's representative assembly consists of all students, faculty, and staff, with one vote each. Dominated by activist students, the assembly has set itself up as the moral authority of the college, and members reference the Assembly's majority votes as if they were exquisite expressions of Rousseau's general will. When dissidents protested that Dr. Lindsay was not sufficiently steeped in Shimer's traditions read that he refused to kow-tow to the majoritarian voice of the predominant element in Shimer's Assembly.
Shimer's board hired Dr. Lindsay in large part to fix problems. His executive actions, however, in attempting to plug a leaking ship got him branded by the radical democrats as a tyrant and usurper with an "ideological agenda." When he fired a director of admissions who was not performing to standard without consulting the Assembly, that group threw a tantrum. His success in raising substantial sums of money with no strings attached from donors with no obvious connection to Shimer, other than their support for a Great Books program, encountered howls of protest from conspiratorial-minded students and their adult allies, including alumni who had shown no previous generosity to the impoverished place. Suddenly, Dr. Lindsay heard from Shimer "stakeholders" he never knew had existed. Tocsins sounded that the "faculty and curriculum" were "in serious peril" from the allegedly imperious Dr. Lindsay.
The Shimer Student Alliance, hostile to Lindsay, branded him a "conservative menace" for daring to speak of strengthening civic instruction in the curriculum through serious engagement with the Declaration of Independence, the Constitution, and The Federalist. A convenient narrative circulated by a faction of ambitious intriguers insisted that the "duplicitous" Dr. Lindsay was part of some vast right-wing conspiracy to capture poor little poverty-stricken Shimer. To cite one example, dissident students and their allies among alumni and faculty turned into some sort of presidential bribe an invitation to President Lindsay from my Alexander Hamilton Institute to bring, all expenses paid, a class of Shimer students to a major colloquium on the relation between the Declaration of Independence and the Constitution. Dissident students ginned up the propaganda machine and organized on campus a boycott of the colloquium, pressuring interested students into non-participation. The decibel-level of protesting voices intensified when Dr. Lindsay proposed for Shimer a new mission statement that would more accurately reflect the importance of Shimer's Great Books education. Instead of citizen-of-the-world gobbledygook, Dr. Lindsay offered two deeply thoughtful paragraphs on the relation between liberal education, political liberty, and intellectual liberty. The Shimer Student Alliance, along with alumni and faculty allies, rose in protest. For those who wish visual images of the boorish radical egalitarianism Dr. Lindsay was up against, watch a series of twelve YouTube clips, "Thomas Lindsay vs. Shimer College". Throughout a lengthy conversation in a ring with dozens of braying, exceptionally self-centered students, Dr. Lindsay remained poised, patient and thoughtful. Students demanded that their "consensus" on defeating the proposed mission statement trumped Dr. Lindsay's defense, as Shimer's chief executive, of conscience and right. They repeatedly declared that Shimer's president "works for us" or "represents us." One of the most memorable scenes occurred when Dr. Lindsay attempted to invoke words from Edmund Burke's "Speech to the Electors of Bristol" to explain to those around him his position as president in advancing the new mission statement against the student demands for "consensus." Remember what Margaret Thatcher said about consensus? "What great cause would have been fought and won under the banner 'I stand for consensus'?" The students repeatedly cut him off, refusing to allow him to finish. The suppressed words deserve quoting here: "Your representative," said Burke to his constituency, "owes you, not his industry only, but his judgment, and he betrays, instead of serving you, if he sacrifices it to your opinion."
On 20 February 2010, Shimer trustees, after passing through a gauntlet of black-shirted protestors on their way to a meeting, approved Dr. Lindsay's judgment by an 18 to 16 vote. Anti-Lindsay students faculty, and alumni then rolled into action. With the lure of free pizza, they organized a special meeting of the assembly for Sunday, 18 April. About sixty people showed and voted overwhelmingly to adopt a resolution of no-confidence, saying that Dr. Lindsay's presidency "has imperiled the very existence of the College." Such breast-beating would not have mattered much if the 18 to 16 majority that had passed the mission statement on 20 February had held at the 19 April meeting that decided Dr. Lindsay's fate. But in secret balloting, two votes turned. Since "transparency" was a watchword of the anti-Lindsay protest, perhaps the two voters who switched should muster the courage to explain themselves publicly. That Ed Noonan, a trustee emeritus and Dr. Lindsay's replacement ad interim, immediately announced the renewal of faculty contracts, suggests the source of at least some of the energy behind the clanging alarm bells was more material than ideal: Dr. Lindsay, a man of high standards concerned about the lack of professionalism in Shimer's untenured faculty, may have been thinking of clearing it of dead-wood.
"Of all flattery," declared the Federalist politician Fisher Ames in 1805, "the grossest (gross indeed to blasphemy) is that the voice of the people is the voice of God." Where will Shimer go from here? One observer close to the scene despaired, "How grotesque. An excellent scholar and a proven administrator, possessing a compelling vision and mastery of liberal education in the great books tradition, is thought somehow wrong for Shimer College." Shimer has squandered an outstanding opportunity, perhaps its last to save itself from going the way of Antioch.
Like generations of lovers of the Great Books in the Western canon, Dr. Lindsay has journeyed through Plato's Republic and pondered the meaning of the allegory of the cave. Plato asks how do those transfixed and confused by the ever-changing shadows in the cave escape its darkness to pursue the light of truth. Do the shadows projected on the cave walls stimulate us to seek the truth? Or do we require before ascension into the light an essence, inscribed in our nature, that allows us to reason our way out of captivation by reaching the understanding that the cave's illusory shadows are refractions of the truth, not truth itself. Many people, as Dr. Lindsay well knows, never escape the cave.