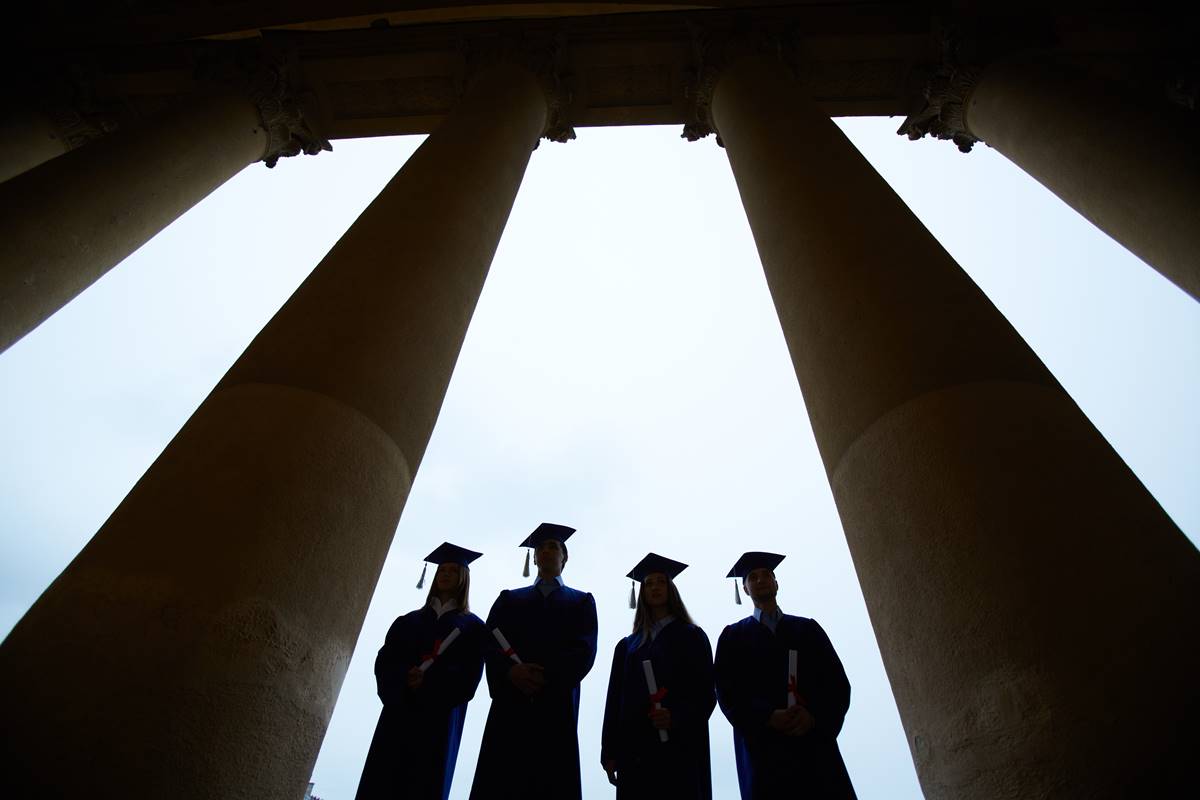 Ohio governor Ted Strickland believes America's public systems of higher education "strengthen our people" and "provide ideas that our [nation] needs to grow." I agree that they should do this. After serving as a trustee of The Ohio State University at Mansfield for the past nine years though, I have begun to wonder whether, in some very important ways, they are actually undermining and doing significant harm to these essential goals.
Numerous surveys and studies show that the faculty and administrations of America's major public campuses are politically well to the left of the typical American. But it's not just one-sided campus opinion that's the problem. Even more so, it's the highly ideological programs, courses, centers and approaches to teaching and learning that these believers keep imposing on our students.
To understand the problem, look at the two related concepts of diversity and multiculturalism. At Ohio State, as at many public universities today, "celebrating" and "respecting" diversity are considered to be highly important goals that are expected to be broadly incorporated into the university's curriculum and student programming and activities. As such – and because diversity is such a broad and all-encompassing term – it is important to understand what the university means by the term diversity. At Ohio State, the preface to the university's 2001 Diversity Action Plan established the focus of the university's diversity efforts. This preface says:
The committee (that developed the plan) . . . reaffirmed that the focus of the proposed diversity plan would remain on increasing the number of women and racial/ethnic minorities and improving the campus climate for all, including persons with different sexual orientations.
The work of this committee and the recommendations focus on gender, and racial and ethnic differences – the core interests of the civil and women's rights movements of the 1960s and at the heart of the subsequent social change in this country – and on persons with same-sex orientation. This plan is, however, just the first step in a longer-term commitment to increasing diversity, in its broadest meaning, on the campus.
And, in the Diversity Dictionary that has been used at Ohio State, which it had borrowed from the University of Maryland, diversity is defined in this way:
diversity (n) – A situation that includes representation of multiple (ideally all) groups within a prescribed environment, such as a university or a workplace. This word most commonly refers to differences between cultural groups, although it is also used to describe differences within cultural groups, e.g. diversity within the Asian-American culture includes Korean Americans and Japanese Americans. An emphasis on accepting and respecting cultural differences by recognizing that no one culture is intrinsically superior to another underlies the current usage of the term. (Emphasis added.)
So, while both documents acknowledge a much broader diversity that encompasses many different facets of humanity, culture and society, they also clearly narrow the focus of what is intended by diversity at Ohio State to the areas of gender, racial, ethnic and cultural differences, and sexual orientation. Ohio State's definition of diversity also incorporates the liberal ideology of multiculturalism and strongly implies that culture is of little matter or importance.
Several years ago the Ohio State administration directed that strategic plans be developed for each of its regional campuses and that these guiding principles for diversity be fully incorporated into these plans. In response, the March 2008 draft strategic plan that Ohio State Mansfield's administration and Faculty and Staff Executive Committee presented to trustees made diversity one of its highest priorities. The plan listed diversity as one of its five Core Values and "creating and supporting a welcoming community that celebrates, appreciates and respects diversity" as one of its seven Guiding Principles. To implement this guiding principle, more than 30 diversity-related goals and strategies were incorporated into the plan. I should say here that after the administration received an earlier version of this essay in April 2008, many of these diversity related goals and strategies were removed from the Ohio State Mansfield strategic plan. The board was informed, though, that while these no longer appeared in the plan, they continued to be action items that the campus administration and faculty planned to implement. In other words, they were deleted and not deleted at the same time.
Here are some of the goals and strategies that were listed:
– Add courses or academic programs that enhance an appreciation of diversity;
– Integrate an examination of diversity in all aspects of the curriculum;
– Create a monthly "Diversity Day" that may involve films, speakers and field trips;
– Offer cultural programming that examines and/or celebrates diversity throughout the year;
– Display photographs of persons who reflect diversity in common spaces on campus;
– Proceed with a Student Life Center plan that incorporates a Multicultural Center;
– Expedite the implementation of the Multicultural Action Plan and establish a policy to assess progress on the Multicultural Action Plan and Diversity Plan;
– Develop multicultural programs that celebrate our community's diversity;
– Study the establishment of an Institute for the Study of Social Justice on campus.
In addition, the plan included a diversity strategy stating that the campus will identify spaces to be devoted to underrepresented student groups. While the more recent drafts no longer specify these underrepresented groups, the May 2007 draft of the plan specified them as: GLBTQ (Gay, Lesbian, Bi-sexual, Transgender and Questioning); Non-Christian, African American, American Indian, and Asian American.
Thus diversity can be, and is, used to justify and support the development and implementation of a wide variety of highly ideological programs, majors, courses, activities and centers. It is also clear that these diversity areas of focus at Ohio State specifically incorporate, promote and support a number of politically liberal ideological perspectives.
As one example, one of the most visible and institutionally supported aspects of diversity at Ohio State and most of America's taxpayer supported campuses is gay, lesbian, bisexual and transgender (GLBT) sexual relationships and activity. Political issues surrounding GLBT sexual relationships and activity are among the most divisive, controversial and emotionally charged in America. GLBT advocacy groups, and their supporters, say that the traditional perspective on sexual activity and relationships is personally and financially discriminatory. Most Americans disagree. In the latest political typology study done by the Pew Research Center for the People and the Press in 2005, Pew found that liberals were the only one of the nine distinct political types they identified that approved of legalizing marriage between people of the same sex, and that liberals did so by the overwhelming margin of more than 5 to 1, with 80% approving and only 15% opposed. In sharp contrast, among the eight other political types Pew identified, approval for marriage between people of the same sex ranged from a low of 8% to a high of 37% with the average being just 24%. A 2009 Pew survey found largely similar results. Despite this, Ohio State has made it clear that it is lending the full political weight of its taxpayer-supported educational institution to one, poorly-supported side of this divisive political battle.
Several years ago Ohio State Mansfield held a three-day Arts & Lectures Series Forum on topics related to sexual orientation. Like many such campus events, this one was clearly designed to support one side, while ignoring or repressing the other. On a panel entitled "Social and Legal Issues of Homosexuality," the four panelists consisted of two lesbians, a bi-sexual man and a teenage boy whose mother is lesbian. In addition, the faculty member who organized the panel informed the audience that he was gay. With the exception of one panel on religious perspectives, the entire three-day event provided no perspectives other than the one-sided "diversity" point of view.
During this forum, it also came out that Ohio State has been employing a staff of paid GLBT advocates at its Gay, Lesbian, Bisexual and Transgender Student Services Office since around 1990, and the coordinator for this office stated that he "is paid to be gay" by Ohio State. In other words, taxpayers were frankly funding the gay advocacy work of this office, which also included promoting and organizing "National Coming Out" day, "GLBT History Month," the "National Day of Silence," and training on "How to Be a GLBT Ally."
During its freshman orientation, Ohio State Mansfield has included Internet-based bias surveys that point out a student's 'bias' if the student believes that the traditional societal perspectives on sexuality and marriage are better and healthier for individuals and for our society and culture. A news article about this also said that the students who believe this were asked to physically identify themselves in front of other students. These exercises were apparently designed to single these students out in front of their peers to try to make them feel as though they are being unfairly discriminatory and prejudicial. Campus "diversity" tends to isolate and punish dissenters.
The low point demonstrating the campus's intolerance for true diversity, came when Scott Savage, a campus library official on a book-recommending committee, proposed several conservative books for first-year students to read, including The Marketing of Evil, which presents a strongly negative view of the marketing methods used to promote the gay cause. A faculty committee, by a vote of 21-0 with 9 abstentions, charged him with sexual harassment. After this vote was rescinded, apparently due to procedural issues, a harassment complaint was then filed against Mr. Savage on behalf of two openly gay professors. Mr. Savage is suing Ohio State over the incident.
At another Ohio university, in May 2008, Crystal Dixon, a black woman who was the University of Toledo's interim Associate Vice President for Human Resources, wrote a letter objecting to an op-ed in the Toledo Free Press that equated discriminating against someone because they have black skin with disapproving of a person's gay sexual activity. University President Lloyd Jacobs published a letter in Toledo's largest paper, The Blade, repudiating Ms. Dixon for this opinion. A short while later, he fired her.
At Ohio University the Lesbian, Gay, Bisexual, Transgender (LGBT) Center there publishes a university-sponsored newsletter called OUTwrite: Totally Gay and then some. In the November 2007 issue of OUTwrite the lead front page headline was "Buying from the enemy." In this article, OUTwrite encourages readers and consumers to stop buying from companies considered "not-so-LGBT-friendly" because they have corporate policies that are more in line with traditional societal perspectives on marriage, sexuality and relationships, and because LGBT advocates do not believe that these companies do enough to financially contribute to and support and promote the goals and work of Lesbian, Gay, Bisexual and Transgender advocates. Instead of dialogue or argument, the instinct shown here is to create a list of "enemies" to be punished, including Toys "R" Us, Rubbermaid, Domino's Pizza, Heinz, Cracker Barrel and Wal-Mart.
In our nation there are many diverse and widely held points of view on a wide variety of controversial issues. In a free and self-governing society such as ours, it is the highest responsibility of our public universities to do all they can to ensure that their policies and practices provide our nation's student citizens with the opportunity to hear, read, discuss and study all important perspectives on controversial issues in their forums, events, classrooms, centers, colleges, departments and majors, and in all other applicable aspects of the operations of our campuses – presented in a full, fair and balanced manner – so they can develop the reasoned capacity to consider, analyze and critique differing points-of-view, and the ability to determine for themselves what they believe to be true and in the best interests of society on these issues.
For university trustees, the public trust they hold goes well beyond their responsibilities to any one campus or university. Trustees hold an even higher trust to their students, to the parents who are paying for the education of their sons and daughters, to the taxpayers whose taxes help pay for that education, to their states and our nation as a whole, and to all those whose lives will be affected – either positively or negatively – by the education that students at their institution receive and the future actions their graduates will take as a result of that education. If trustees fail to fully address the politicization of our public campuses, their failure to do so would be a clear violation of the public trust they have been given.
What I have seen and learned during nine years as a trustee has convinced me, beyond doubt, that the politicization of the curriculum, programming and scholarship on our nation's public campuses is indisputably real, systemic, and pervasive; and that it is gravely detrimental to the fundamental purposes for which our public colleges and universities were founded and to the well-being of our nation and its citizens. Thomas Jefferson said, "It is error alone which needs the support of government. Truth can stand by itself." Fair-minded people do not want to silence the gay activists or the leftist theorists, but we all should mount resistance to the imposed ideology and punishing of dissent that too often flies the flag of "diversity."
————————————————–
Kevin Nestor is a Trustee at The Ohio State University's regional campus in Mansfield