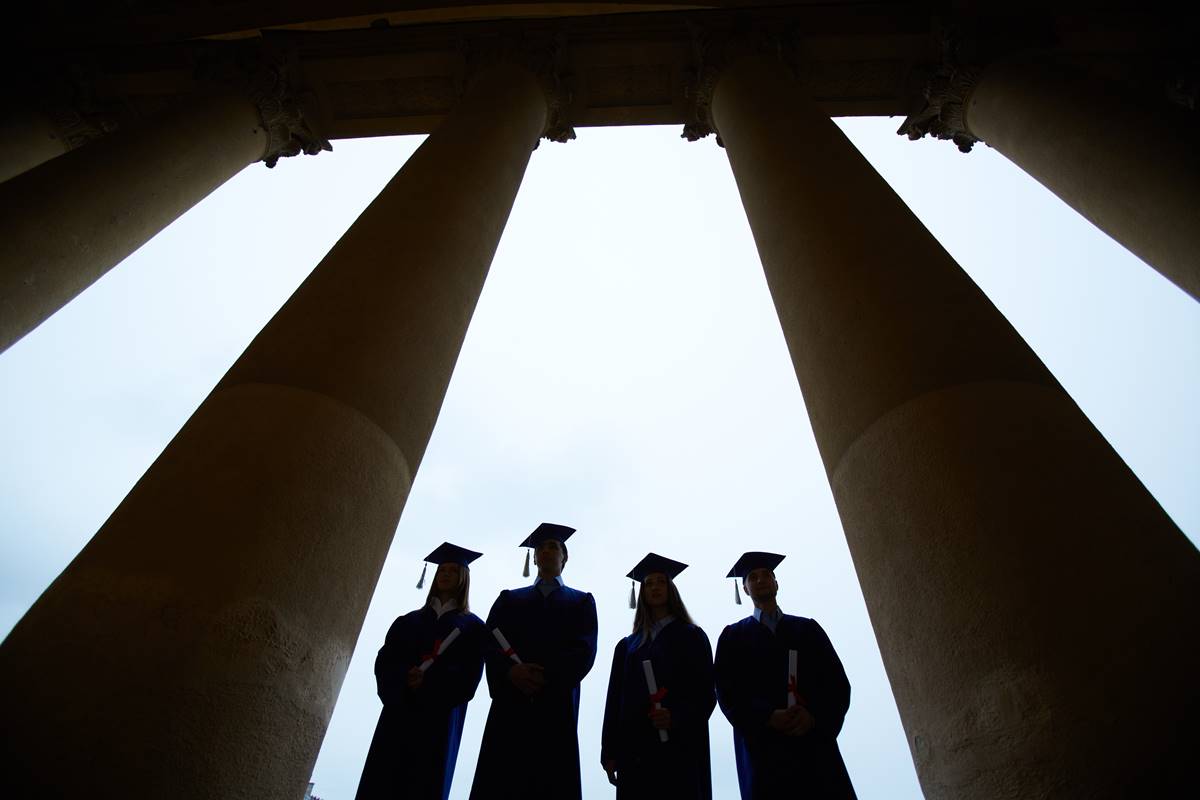 Matthew J. Connelly, a historian at Columbia, is busy preparing for a second summer of scholarly doom. Last May, he presided over "Nuclear Summer," an intensive 12-week course of study, research and collaborative writing about coping with nuclear proliferation and various nuclear scenarios. Next week, he is scheduled to announce that his 2011 summer course, also for a limited number of graduate students and undergrads from around the country, will focus on "Pandemics and Global Public Health."
The continuation of his "total immersion" summer course at Columbia is a victory of sorts. Connelly conceived the course and sold the idea to Roger Hertog, a New York businessman, chairman emeritus of the Manhattan Institute, and a philanthropist who last month won the Philanthropy Roundtable's William E. Simon leadership Prize for innovative giving aimed at advancing the power of ideas. Writing in the Philanthropy Roundtable's magazine, Philanthropy, Bret Stephens estimated that Mr. Hertog has invested well over $140 million in such philanthropic ventures.
Hertog's Foundation agreed to underwrite a two-year, $250,000 gift so that Connelly could experiment with a summer "total immersion" course focused on some of the greatest challenges confronting the U.S. and the planet.

His program was, in turn, was inspired by a "Grand Strategy" course which a handful of conservatives financed for several years at Yale. Hertog has also provided financial support for several other "summer schools," among them a two-week program at Princeton on "Jewish Thought and Enduring Human Questions" and a six-week course at George Washington University on political thought. But the "Nuclear Summer" was the most "policy oriented" of his recent academic investments, says Connelly.
The program was intended to "blow down the walls of university bureaucracy" and the growing academic specialization that have been denied students a historically grounded "big-picture" of how the world really works, Connelly said. He also wanted to see whether students could use historical research to think more clearly about current nuclear challenges and produce more creative policies aimed at stopping the spread of nuclear weapons.
Based on the rave reviews not only from the course's students, but also from several of the field's most respected experts who lectured during the course, the experiment fared well. In interviews, several prominent scholars whom Connelly persuaded to speak to his students praised both his approach and his choice of subjects.
Robert Jervis, one of the most influential theorists of nuclear strategy, called the program both "high-level and extremely diverse." Admitting that he was "initially skeptical" of the effort, Jervis, a political scientist who teaches at Columbia, said that Connelly succeeded in attracting both first class lecturers and students, no mean fete given the dearth of interest among many students in deterrence strategy and nuclear policy since the collapse of the Soviet Union. "We have all these declassified documents and interviews from the Cold war," he said, "but we don't have the scholars to work on them."
Richard Betts, another leading nuclear theoretician who also teaches at Columbia, also had offered praise. "Understanding the complexity, anxiety and priority of those debates is important," he said. "Because it's important to understand how we got out of the cold war since it can always come back." The U.S.-Soviet arms race may be history, he added, but understanding its political dynamics might help students evaluate policies, say, towards China, or the dynamics of deterrence between India and Pakistan, two rival nuclear states which have already almost come to nuclear blows.
Total Nuclear Immersion
Connelly's "total-immersion" in all things nuclear began with three weeks of training in nuclear strategy and international history in daily seminars and a two-day workshop. In late June, the students dispersed for two months of independent and team research on projects that they selected. They reconvened in August to present their research findings and participate in a discussion of future scenarios and a crisis simulation exercise.
The program's co-director, Francis J. Gavin, a professor of international affairs at the University of Texas in Austin and director of the Strauss Center for International Security and Law, helped arranged the lectures by prominent scholars, nuclear experts, and current and former officials involved in countering the proliferation threat. Starting with Hans Blix, the former chief of the International Atomic Energy Agency and a well-known critic of the Iraq war who now heads the international Commission on Weapons of Mass Destruction, the course continued with key members of the nuclear policy priesthood – among them, Henry Kissinger, Deputy Secretary of State James B. Steinberg, Robert Gallucci, a former senior State Department official and international weapons inspector who now heads the MacArthur Foundation, Graham Allison, director of the John F. Kennedy School of Government's Belfer Center for Science and International Affairs and a former Pentagon official under President Clinton, and Philip Zelikow, a senior foreign policy official in the Bush administration and former director of the 9/11 Commission.
Several students said they particularly struck and inspired by Professor Zelikow's lecture, which pointed out that despite countless academic books, memoirs and government studies on the birth of atomic bomb and the nuclear arms race that followed, important nuclear "questions and mysteries" remain, foremost among them: how the U.S. decided to build a bomb. "There is not there a single scholarly work that unpacks this decision," he told students.
There were glitches in the program, Prof. Connelly conceded. First it took longer than anticipated to develop the computer program that enabled students to upload their research onto a common data base to create a "virtual historical archive" – a pioneering aspect of the effort. Second, though the course had no shortage of applicants, the topic proved less appealing to younger students than Connelly had anticipated. Only 84 students applied for the well-advertised program's 18 slots – "which made me realize that younger people are just not all that interested in global nuclear strategy and nuclear weapons," he said. (By comparison, over 160 students competed for 24 slots in Mr. Hertog's summer course in Washington.)
Third, the program's cost — $9,000 not counting room and board — may also have been a disincentive, though it was comparable to that of Columbia's other summer courses. The lectures were free and open to the public, and streamed live on the internet, with questioning and live chats about them posted on Twitter. In addition, YouTube and iTunes U archived the lectures for all nuclear policy wonks to see.
Finally, there was one disgruntled, if prominent student – Christopher J. Brownfield, a newly minted book writer and graduate of the U.S. Naval Academy who had studied engineering at Old Dominion University and served as an officer aboard a nuclear submarine before volunteering for duty in Iraq in 2006. A reviewer in The New York Times praised Brownfield's first book, My Nuclear Family, published in September by Knopf, as a "swaggering, fly-on-the-wall" account of his military service on the nuclear sub Hartford and time spent trying to improve the energy sector of Iraq.
But Mr. Brownfield's brash, opinionated style alienated some professors and fellow classmates alike. After a heated exchange of emails among them and a public dressing down over the quality of his research presentation, he resigned from the course in its final days. In an interview, he said that the course had not proven useful because he was writing a new book about nuclear strategy and had hoped to use the seminar "to fish for ideas for the book and test out some of my ideas. I couldn't reconcile the history paper they wanted with what I was doing," he explained.
Even Mr. Brownfield, however, praised the course, calling the experience "extraordinary." "It delivered what it promised," he said.
Other students agreed. Taunton Paine, a Masters student at Columbia and the London School of Economics, called it "one of the most beneficial experiences I've ever had in higher education." Matt Fay, then studying for his masters from American Military University, said he was bowled over by the lecturers. "My undergrad political science syllabus was literally sitting around the table with me," he said. The course, he added, had convinced him to specialize in international relations, rather than history. Lindsey Ricchi, an undergraduate from Duke, said she had learned almost as much from her fellow students as from the course, making what she predicted would be "life-long friends" as well as valuable intellectual contacts and connections.
Prof. Gavin, the course's co-director, said that it was "far and away the best teaching experience of my life." The subject area was particularly vital, he asserted, because the current generation of nuclear strategy experts was aging and dying out. "There isn't a next generation."