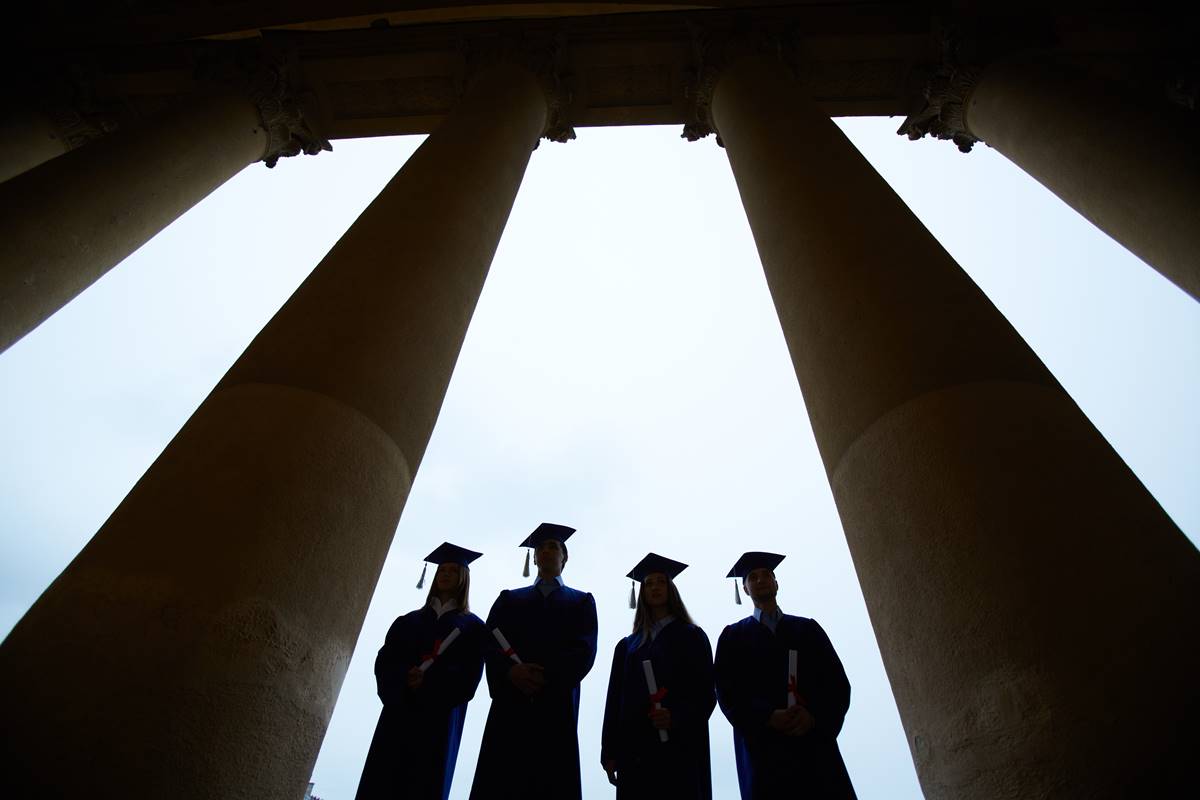 If you care about free speech on college campuses, there could hardly be a more sympathetic figure than Jonathan Lopez. A student at Los Angeles City College (LACC) in 2008, when California voters rejected Proposition 8 , he was one of the first victims of the rage of gay-rights advocates and their academic allies: a week after the vote, Lopez tried to fulfill an assignment by giving a classroom speech on his Christian faith and his Biblically-based opposition to gay marriage. His professor, John Matteson, a supporter of gay marriage and Proposition 8, allegedly called him a "fascist bastard," refused to give him a grade on the talk and later allegedly promised to get him expelled.
Lopez is a key player in
one
of two federal cases currently on petition for review by the U.S. Supreme Court challenging the constitutionality of campus "hate speech" codes that can punish students for expressing views that are protected by the First Amendment but don't jibe with the progressive ethos of many college administrators and faculty. The
other
free-speech case involves an anti-abortion group at the University of Maryland-Baltimore that was in effect silenced in 2007 when forced to move a graphic display on abortion to a remote part of campus. University officials had ruled that the display might offend some students. If the Supreme Court decides to review the two cases, the result could be a death blow to speech codes at public institutions of higher learning. Though speech codes have not fared well in the courts, they have been a much-criticized but common fixture of campus life since the 1980s.
There is a problem, however, that could derail both lawsuits: Did Lopez and the University of Maryland group, Rock for Life (now Students for Life), suffer actual injury and thus have standing to sue to have the speech codes declared unconstitutional? A 1992 Supreme Court decision, Lujan vs. Defenders of Wildlife, denied standing to environmentalist groups that wanted to mount a court challenge to some Interior Department regulations they deemed insufficiently rigorous, ruling that challengers to a law or policy have to show some concrete injury caused by the law that is "actual or imminent, not conjectural or hypothetical," as legal commentators have put it. Plaintiffs in First Amendment cases can establish standing via a looser standard, simply by alleging that the regulation in question is so overly broad that it has a "chilling effect" on their own or others' efforts to express themselves freely. But some federal appeals courts have ruled that even those plaintiffs must claim a concrete injury, such as actual or threatened enforcement of the regulation against them. Among those courts are the Fourth Circuit (in the Rock for Life case) and the Ninth Circuit (in the Lopez case), both of which ruled that since no one had tried to enforce a speech code directly, the lawsuits had to be dismissed for lack of standing. Other federal appeals courts appear to hold to the contrary–and that division of opinion alone may persuade the Supreme Court to review the two rulings.
The Lopez and the Rock for Life cases present a dilemma for those who believe on the one hand that campus speech codes are outrageous restrictions on free expression, but on the other hand that courts shouldn't encourage people to file lawsuits randomly and solely because they oppose speech codes. As Walter Olson, author of the Overlawyered blog and a former Manhattan Institute fellow now at the Cato Institute, wrote to me in an e-mail, "In general, courts are not allowed to issue advisory opinions (even when we might approve of the results) and the requirement of standing, even if attenuated in the First Amendment context, is meant in part to safeguard that general principle."
"Ask God what your grade is," Matteson is alleged to have written on Lopez's speech evaluation form for the class, adding that "pros[elytizing] is inappropriate in public school." Lopez delivered a written complaint the next day to Allison Jones, LACC's dean of academic affairs, and on observing this incident, Matteson allegedly told Lopez that he would make sure that that the young man was expelled from school.
In the background of the Lopez case lurks the Los Angeles Community College District's sexual harassment policy, which, as interpreted in the district's student handbook in a section titled "The Rules for Student Conduct," forbade, among other things, "[d]disparaging sexual remarks about your gender." The district's compliance office website defined one form of sexual harassment as "generalized sexist statements, actions and behavior that convey insulting, intrusive or degrading attitudes/comments about women or men." The student handbook warned, "If [you are] unsure if certain comments or behavior are offensive do not do it, do not say it." The day after Matteson allegedly threatened Lopez with expulsion, Lopez submitted to Matteson a list of proposed topics for his next assignment, a persuasive speech. One of the proposed topics was "how to exercise your freedom of speech right" that would include a discussion of how one should "[a]lways stand up for what you believe in." Matteson gave Lopez an "A" grade for the list of proposed topics but wrote below the "free speech" topic, "(Remember—you agree to Student Code of Conduct as a student of LACC)."
By this time Lopez had already obtained legal representation, from lawyers with the Christian public-interest law firm
Alliance Defense Fund
. In response to a letter from the Fund, an administrator stated that LACC had started disciplinary proceedings against Matteson. She also stated that she had received letters from two students in Matteson's class who said that they had been "deeply offended" by Lopez's speech; one of them accused him of "preaching hate in the classroom." Matteson was ultimately disciplined by LACC in some fashion that has never been made public, and Lopez received an "A" grade in his Speech 101 class.LACC never instituted any formal enforcement proceedings against him under the college district's sexual-harassment provisions.
Still, U.S. District Judge George H. King ruled in Lopez's favor in his federal suit. King ruled not only that Lopez had standing to sue because the speech code would "arguably" cause him to self-censor on issues of religion and homosexuality in future classes atLACC, but that the speech code violated the First Amendment by forbidding a wide range of constitutionally protected expression. The
Ninth Circuit overturned that ruling
. While expressing sympathy with Lopez and the "serious concerns" that campus speech codes raise, U.S. Circuit Judge Sandra S. Ikuta, writing for the appeals court, noted that Lopez could not show that he had been harmed by the code, in contrast to Matteson's alleged bizarre behavior. "Under the relaxed standard applicable to First Amendment cases, Lopez's arguments come to the very edge of showing injury in fact," Ikuta wrote. "But Lopez has not made it over the threshold."
Rock for Life faced a similar impasse in its own federal lawsuit, also filed by the Alliance Defense Fund. Back in 2007 a wide range of sexual harassment-related restrictions contained in the Baltimore campus's student handbook and a residential-life manual forbade such things as "emotional harassment" and "intimidation," all in the name of protecting the "emotional…safety" of students. The university later dropped some of those vague restrictions after Rock for Life sued, but it continues to carry on its books a prohibition against "verbal conduct…of a sexual nature when [s]uch conduct has the purpose or effect of…creating an intimidating, hostile, or offensive…environment." The ultimate penalty for violating the code is expulsion, and campus police testified at a hearing in the Rock for Life lawsuit that they typically determine whether harassment has occurred by merely asking "if the victim perceives it to be harassing." University officials first agreed to let Rock for Life display its posters at the well-trafficked Commons Terrace on the Baltimore campus but later forced the group to move the exhibition to the campus's distant North Lawn, where few students viewed it. In defending the forced move, the campus's general counsel, Christopher Tkacik, cited the speech codes and expressed concern that some students might feel "emotionally harassed" by the graphic display.
As in the Lopez case, there were never any formal enforcement proceedings involving the codes, and about a year later Rock for Life succeeded in gaining permission to display the posters on the more desirable Common Terrace. A federal district judge in Baltimore ruled that the group failed to show the palpable injury required for standing to challenge the constitutionality of the code, and
the Fourth Circuit agreed
. Despite Tkacik's suggestive remarks, "nothing suggests that the plaintiffs face a credible threat of disciplinary action under UMBC's sexual harassment policy," Robert J. Conrad, a North Carolina federal district judge sitting temporarily on the appeals panel, wrote for the court.
So—should the Supreme Court (if it agrees to take the cases), overturn the Fourth and Ninth Circuits and allow Lopez and Rock for Life to claim, as they do, that students shouldn't have to wait until someone tries to enforce a campus speech code formally against them before they can challenge its constitutionality? The Alliance Defense Fund's senior counsel, David French, says yes, and points to rulings by other federal appeals courts—the Third, Sixth, and Seventh Circuits—that appear to dispense with the injury requirement in speech-code cases, because speech codes by their very nature "have an objectively chilling effect" on what most students believe they are permitted to say inside and outside of classrooms, French said in a telephone interview. "There are negative downstream effects when you view colleges as guardians of the sensitivity of aggrieved groups," he said. "Eighteen- and nineteen-year-olds are not constitutional lawyers with a strong sense of what is allowed and what is not allowed under the First Amendment. So when you have a speech code, you deprive a campus of the marketplace of ideas."
French's argument may or may not be a good argument for relaxing the standing rules (the Supreme Court will have the last word on that), but it is certainly a good argument for getting rid of speech codes. And that, so some degree, is exactly what both the Los Angeles Community College District and the University of Maryland's Baltimore did, most likely in response to the Lopez and Rock for Life lawsuits. Each has narrowed its sexual harassment code so as to focus more narrowly on genuine sexual harassment. The codes are still problematic, but at least it may be more difficult to use them to persecute students whose religious and moral beliefs are at odds with the prevailing academic culture.