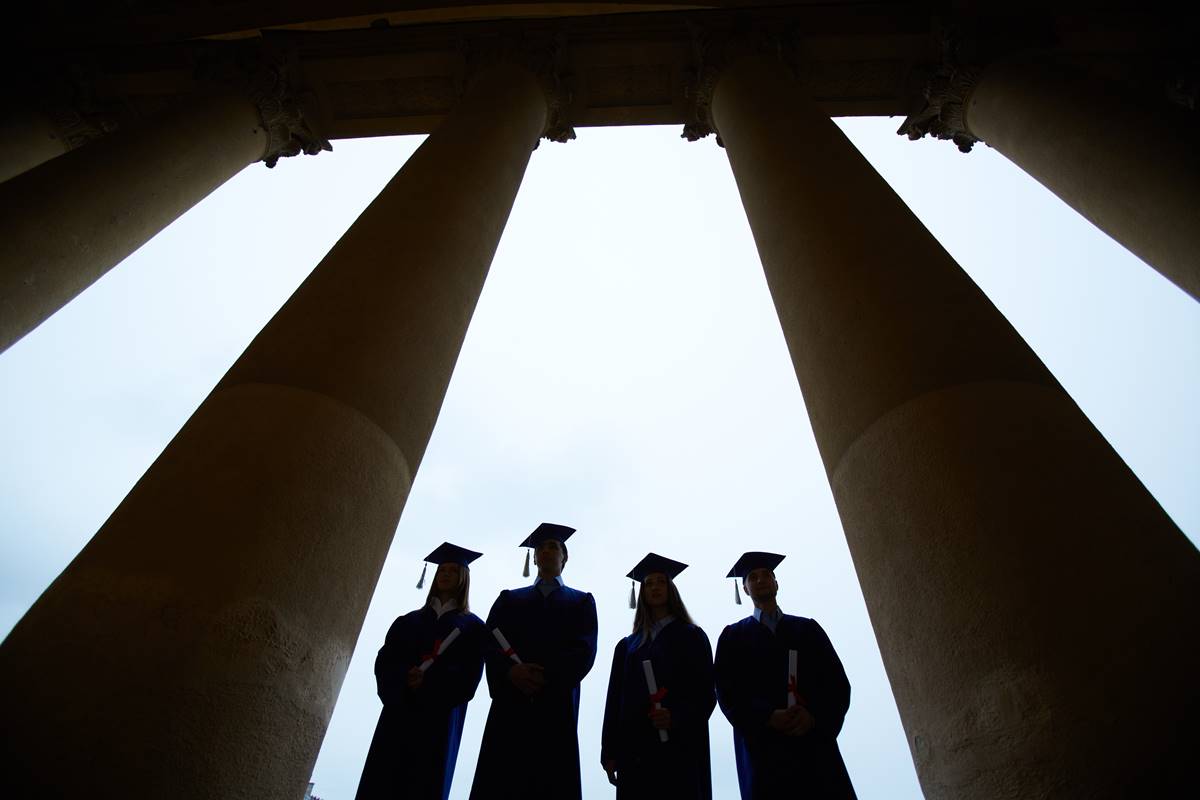 The academic gender wars are back in the news, with the Department of Education's Office of Civil Rights announcing an investigation into a Title IX complaint against Yale University. Sixteen current and former Yale students claim that the university discriminates against women by allowing a sexually hostile environment to flourish. Is there really a problem with the sexual climate at Yale? And if so, is it much more of a two-way street than the complainants allege?
An evaluation of the charges is complicated by the fact that the specifics have not been publicly released. Some details, however, can be gleaned from the complainants' statements as well as a Huffington Post article by Yale research fellow Claire Gordon, a former director of the Yale Women's Center who declined to co-sign the complaint but summarized the draft.
Gordon paints a shocking picture of virulent misogyny: fraternity pledges shouting chants that celebrate rape and necrophilia; pledges from another frat chanting "Dick, dick, dick" outside the Women's Center — so intimidating a female staffer that she had to go in through the back door — and having themselves photographed with a sign that reads "We love Yale sluts"; an email circulated among athletes and fraternity members rating 53 female freshmen on how many beers a man would need to drink to have sex with them. All this outrageous behavior, Gordon and the complainants assert, is treated as little more than boys-will-be-boys hijinks.
Yet many Yale women do not support the complaint and do not see the campus environment as rife with sexism and sexual harassment. Of the twenty-one students approached for comment by the Yale Daily News, ten felt the charges were unwarranted while five said they did not have enough information to comment. One female senior said that the campus climate should not be judged by "the actions of a few disgusting individuals."
What's more, a closer look at the offenses adds nuance to the story. The 2008 incident at the Women's Center occurred after midnight when the center was closed. The young men's intent was to take the "Yale sluts" group photo as an initiation trophy, and the offending chant may not have been "dick" but "Deke" for DKE (Delta Kappa Epsilon), a rival fraternity. After one of the young men posted the photo on his Facebook page, the Women's Center sent it around campus in an email threatening a sexual harassment suit. (This response, which happened on Claire Gordon's watch, was regarded as extreme and counterproductive by many in the Yale community — including subsequent Women's Center leaders.) The fraternity, Zeta Sci, promptly apologized. The culprits were charged with intimidation and harassment but were found not guilty by the Yale College Executive Committee.
The other fraternity initiation scandal, in which DKE rushes marched through a residential section of the campus chanting "No means yes! Yes means anal!", was likewise followed by an apology from the fraternity, as well as strong condemnation from university officials. Students from DKE and the Women's Center met in a joint public forum as well as private discussions to promote dialogue and mutual respect. Yale College dean Mary Miller sent out a letter to the Yale Community noting the importance of both free expression and civility. She also noted that, as a matter of both federal law and university policy, any disciplinary measures against individual students had to be kept confidential. (The same confidentiality requirement covers the university's response to the email ranking the desirability of freshman women.)
In an interview with NBC, one of the principal complainants, Yale junior Alexandra Brodsky, seems particularly irked by the fact that the university's response stresses education rather than punishment. Yet, considering that none of the offenses involved injury to specific individuals, is this approach necessarily inappropriate?
A column Brodsky penned for the Yale Daily News last September offers a glimpse into the mindset of a self-described "angry feminist" for whom no deviation from the party line is too trivial. Brodsky relates that her very first days at Yale made her aware of rampant misogyny: she was rejected by two all-male problem set groups in a freshman economics class; a student in a workshop on sexual communication "expressed confusion as to why it was OK for a girl to change her mind about sex after taking off her shirt"; in a dining hall, someone allegedly opined that "history was determined by great men, and maybe women just didn't have it in them."
Clearly, the Yale complaint addresses wrong and offensive conduct. But is this an issue of misogyny — or pervasive vulgarity and deterioration of sexual standards? Writing in the New York Post, National Affairs managing editor Meghan Clyne argues that these instances of men behaving badly should be seen in the context of a campus culture that embraces sex toy displays, talks by porn stars and fetish fashion shows. While one may argue that none of these examples involve harassment or violations of privacy, the modern college woman is quite capable of matching the male offenders at Yale in that regard. Not long ago, recent Duke graduate Karen Owen caused a stir by creating a detailed report evaluating the thirteen men she had sex with during her academic career — a report that went public after she sent it to three friends, one of whom forwarded it. The feminist blog Jezebel.com gently chided Owen for personal disclosures about men who did not consent to having their sexual performance analyzed on the Internet — but also hailed her as a welcome reminder that "women can be as flip, aggressive, or acquisitive about sex as men can" and reproduced her report on its site, with blacked-out names and blurred faces.
Besides, if we talk about a sexually hostile environment, what of the ways in which certain kinds of feminism may create such an environment for men? For instance, like numerous other campuses, Yale regularly sponsors productions of The Vagina Monologues, Eve Ensler's lurid tribute to female genitalia which almost uniformly depicts men as jerks, creeps, abusers and woman-haters.
While female parts are celebrated, male ones are accorded considerably less respect. Three years ago, The Yale Daily News ran a piece mocking men's obsession with "the almighty phallus." While the article purported to sympathize with men victimized by "the cult of penis," its derisive and hostile tone toward male anatomy and sexuality was unmistakable. Its author even managed to quote notorious anti-male bigot Andrea Dworkin on women's need for "polymorphous tenderness" rather than sexual intercourse.
That author? None other than Claire Gordon.
There is no question that some of the male behavior targeted in the Yale complaint represents a backlash against campus feminism. Some of this backlash is undoubtedly informed by dyed-in-the-wool misogyny. But it is also a reaction to a climate in which thinly veiled male-bashing is mainstreamed, charges of sexual misconduct can easily turn into witch-hunts, and the male victims of such witch-hunts are shown little sympathy.
The need for respect does cut both ways.