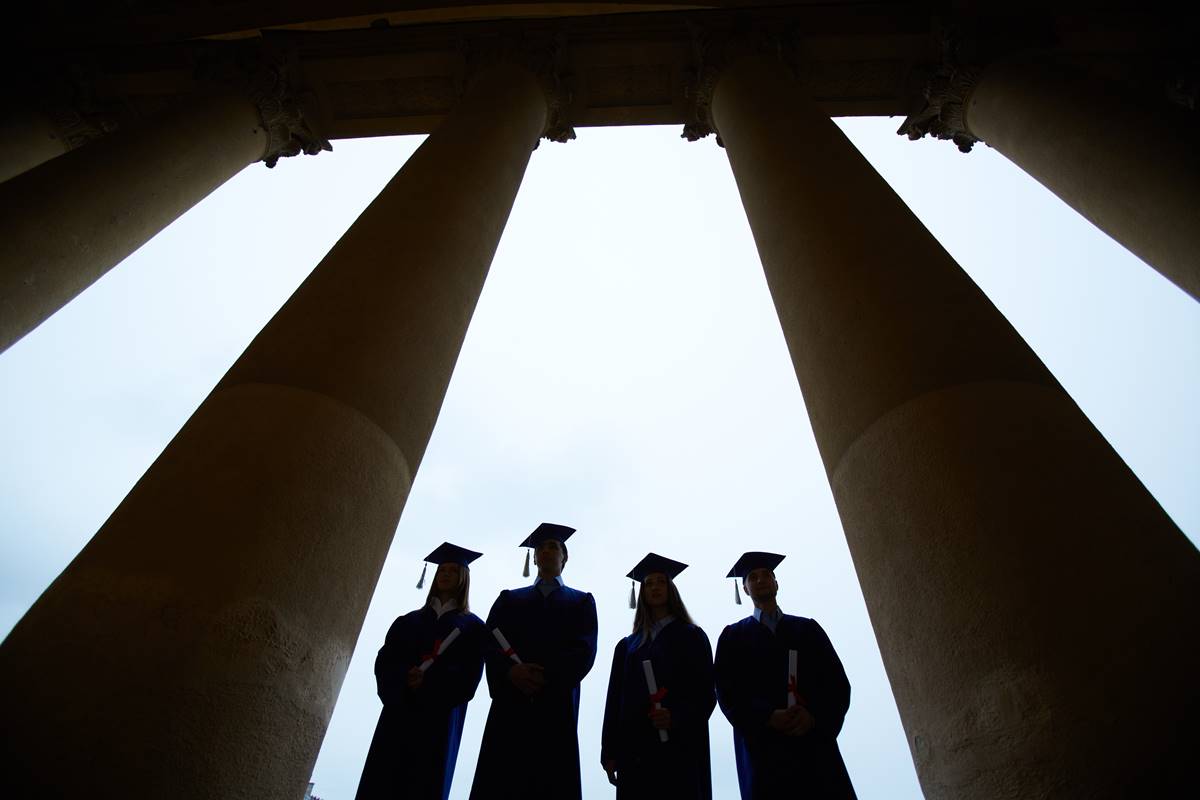 Delta Kappa Epsilon–the "Dekes"–whose pledges' allegedly sexist chant during a hazing ritual at Yale last October so offended campus feminists that the U.S. Department of Education's civil rights office is now conducting a full-blown investigation of Yale for sexual harassment under Title IX of the federal Civil Rights Act.
They were marched blindfolded through the Old Campus–"No means yes, and yes means anal!" One of the other allegations in the 30-page complaint
that triggered
the investigation filed by 16 Yale alumni (12 of them women): a "Preseason Scouting Report" e-mail that some Yalies had circulated rating 53 incoming freshman women according to how many beers it would take to have sex with them. The complaint charged that Yale, by failing to respond sufficiently to such outrages, and by failing to respond sufficiently to a 2007 petition by 150 students in Yale's medical school accusing professors and fellow students of groping, intimidating, verbally abusing them, and raping them failed to "eliminate a hostile sexual environment." Should Yale be found in violation of Title IX, which forbids sex discrimination by educational institutions, it stands to lose some $500 million annually in federal funds.
The whole idea of Yale, these days one of the most politically correct institutions of higher learning in America, maintaining a "hostile sexual environment" seems in itself ludicrous. Indeed, although as of Monday Yale administrators said they had not read the alumni complaint, Yale Dean Mary Miller promptly issued a statement and said, "Yale has a deep commitment to gender equity." Yet there are two very serious and disturbing issues that the Education Department raises. The first is a free-speech issue. Whether or not the Deke pledges' chant was funny or, boorish and in poor taste it is not surprising that Yale, whose 1975 Woodward Report codifies broad guarantees of freedom of expression on campus, chose not to discipline the fraternity or any of its members merely for saying things that offended other students. Should the Education Department deem Yale's failure to punish the pledge chants or the "Preseason Scouting" e-mails a violation of civil rights laws, it will effectively impose a draconian federal speech code upon not only Yale, but all college campuses. Students will have to watch what they say and fear what they write lest some protected group seek severe disciplinary reprisals.
The second issue is just as serious. The alumni complaint is part of an ongoing war against college fraternities, in which it's not paranoid to infer that the signers wish to enlist the Education Department's participation and clout. That in turn stands to imperil another right enshrined both in the First Amendment (which applies to public-university campuses) and in many private-university codes: freedom of association. The Deke pledge incident was not the only incident relating to fraternity rituals that the petitioners found offensive. They also cited a 2008 incident in which Zeta Psi pledges stood in front of the campus Women's Center with a sign reading "We Love Sluts." In 2005, according to the complaint, other Yale fraternity men had sabotaged a "Take Back the Night" rally in which women students hung "I Was Raped" T-shirts on a clothesline by stealing some of the T-shirts and wearing them.
Media feminists quickly jumped onto the bandwagon to denounce fraternity culture and call for the
immediate abolition
of campus Greek life as a threat to the physical safety of women. The most prominent was Atlantic writer Caitlin Flanagan. In an op-ed article for the
Wall Street Journal
Flanagan described the terror she felt just four days after enrolling as a transfer student at the University of Virginia:
My fourth night at school, I went with some friends to Rugby Road, where the fraternity houses are located. They are built of the same Jeffersonian architecture as the rest of the campus. At once august and moldering, they seemed sinister, to stand for male power at its most malevolent and institutionally condoned. I remember standing there thinking I'd made a terrible mistake. It wasn't worth it, I decided. The next day I withdrew from the university.
Flanagan expressed hope that the Yale complaint to the Education Department would "shut down…for good" all college fraternities so that female students "would have a fair shot at living and learning as freely as men." Her delicate sensibilities—which she desired to be accommodated by the full force of federal law—were replicated elsewhere in the media. Jessica Bennett wrote for the
Daily Beast
that "students watched in horror" as the Deke pledges at Yale
chanted their chant
last fall. She interviewed one of the complaints' signers, who said she had "bolted from the room crying" when fellow students had failed to take sufficiently seriously a simulated date rape that was part of a required sex-ed seminar during freshman orientation.
Fraternities have never had an entirely easy relationship with the universities that house them. Even during what might be called the good old days of the early 20th century Greek societies were occasionally, and undoubtedly justifiably, thrown off campus for excessive drinking, brutal hazing rituals, and Animal House antics. However, starting in the late 1960s many college administrators began a wholesale campaign against fraternity life itself. Williams College abolished fraternities in 1968, and Amherst and Colby followed suit during the 1980s. Other colleges demanded that their fraternities admit women, refused the houses official recognition, or barred fraternity brothers from sharing living quarters. Fraternities were deemed too white (although all admitted blacks by the 1960s), too exclusionary, too sexist, or too anti-intellectual. Most significantly, fraternities were irritants. They were—and still are—refuges from prevailing campus cultures of oppressive political correctness, places where male students didn't have to apologize for being men and could laugh at the humorless feminists at the Women's Center.
I interviewed Will Creeley, director of legal and public policy for the Foundation for Individual Rights in Education (FIRE). FIRE is currently fighting a new policy at Wesleyan University, scheduled to go into effect in August, that will forbid students from "participating in social activities" on the off-campus premises of private associations not formally recognized by Wesleyan. The policy is directed at fraternities to which Wesleyan has not given its official stamp of approval. "We're arguing that the policy violates the freedom of assembly that Wesleyan promised to its students," says Creeley. But if the signers of the Yale complaint to the Department of Education prevail, the right of students to join campus organizations that have enjoyed public and private protection for almost two centuries, as well as to express themselves freely, will come to an end. It seems worth it to stand up for Dekes.