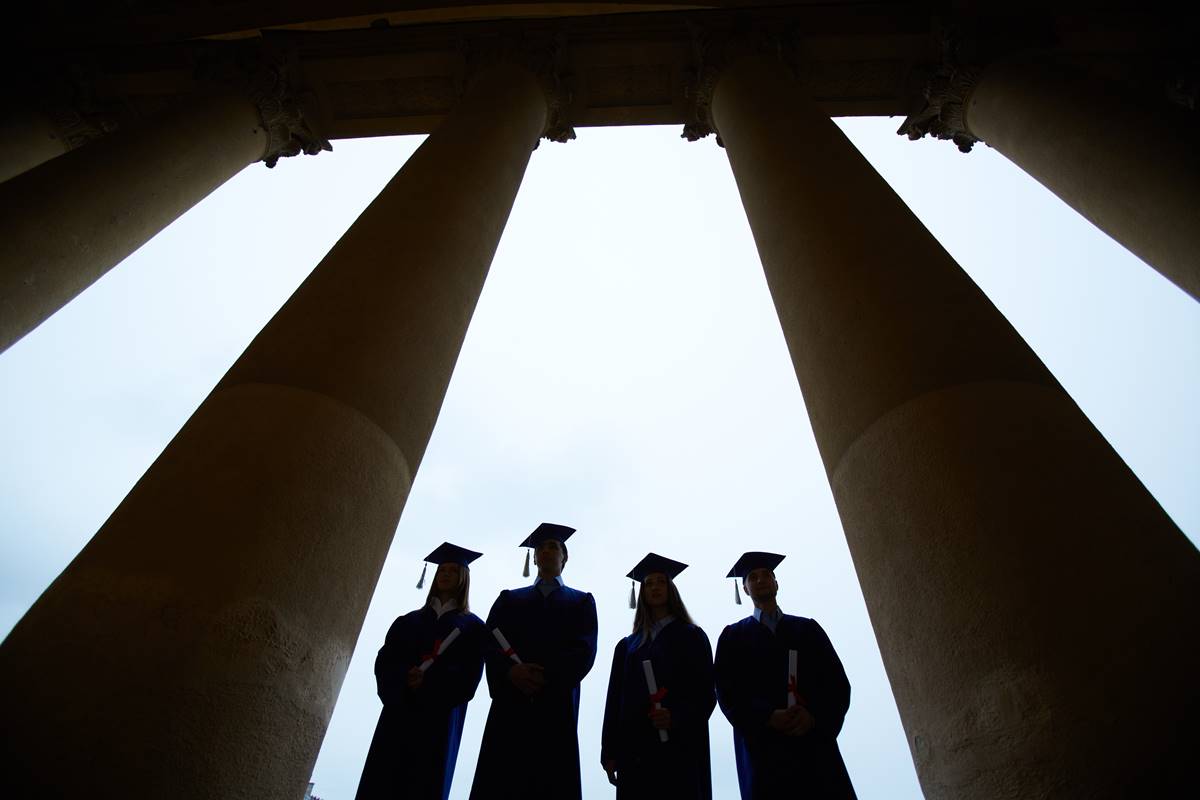 Among the many troubling findings cited by Richard Arum and Josipa Roksa in Academically Adrift is this remarkable note on grade inflation:

—–55 percent of college students have a B+ grade average or higher (3.3 and higher)
—–85 percent of college students have a B- grade average or higher (2.7 and higher)

Those numbers demonstrate what most everybody has known for a long, long time. The old grading system running from A to F is virtually meaningless. Today, except for the small fraction of low outliers and dropouts, the only meaningful discriminations happen at the high end. Are you a B+ student or an A- student? The difference may come down to only two-tenths of a point, but generally that's the best the scale can do.

Everybody knows it, especially when you get outside Organic Chemistry, Advanced Calculus, and other science/med school prerequisites which have a forthright weeding-out purpose. In a humanities class, a "C" counts as a lost case. I am just as guilty of the practice as most, but at least my colleagues and I usually admit it.
In the Chronicle of Higher Education's recent survey of college presidents , though, the acknowledgment dwindles. As you can see from the chart included in the story, when asked whether the teachers at their institution grade students "too leniently," "too stringently," or "about right," presidents came up well short of recognizing grade inflation in their midst. Here are the numbers:
——At 4-year private institutions, 66 percent said "about right," 33 percent, "too leniently," and 0 percent, too stringently.
—–At 4-year public institutions, 75 percent said "about right," 24 percent "too leniently," and 0 percent "too stringently."
—–At 2-year schools, the numbers were 77 percent, 21 percent, and 1 percent.
The Chronicle played up the recognition of leniency, but the numbers don't come close to being accurate. Leniency extends a lot farther than to 33 percent of private 4-year schools and 24 percent of public 4-year schools.
The problem looks even worse when you add another finding to the mix. On average, college students study only 12 hours per week. Furthermore, in Arum and Roksa's study, "Fifty percent of students in [the] sample reported that they had not taken a single course during the prior semester that required more than twenty pages of writing."
The customary workload puts the leniency factor into sharper relief. At the same time, it sets the presidents' responses (apart from those 30 or so percent) in the category of puffery, not truth-telling. They know that if they started talking about their teacher's being too easy, they might signal a coming rise in rigor on campus. Juniors and seniors leading tours of prospective applicants and their parents around the quad would have to say things like, "Yes, we've been a bit too relaxed with part cohorts, but in the next five years, things at this university are going to get a lot tougher."
The dilemma is obvious. Raise the rigor and word gets around. Applications go down and so do retention rates. Two antagonistic forces are at work: one, the reputation of a school for challenging academics, and two, the reputation of a school as a cool place to go. That tension won't end any time soon, but what we've seen in the last 30 years is a imbalance well toward the latter.