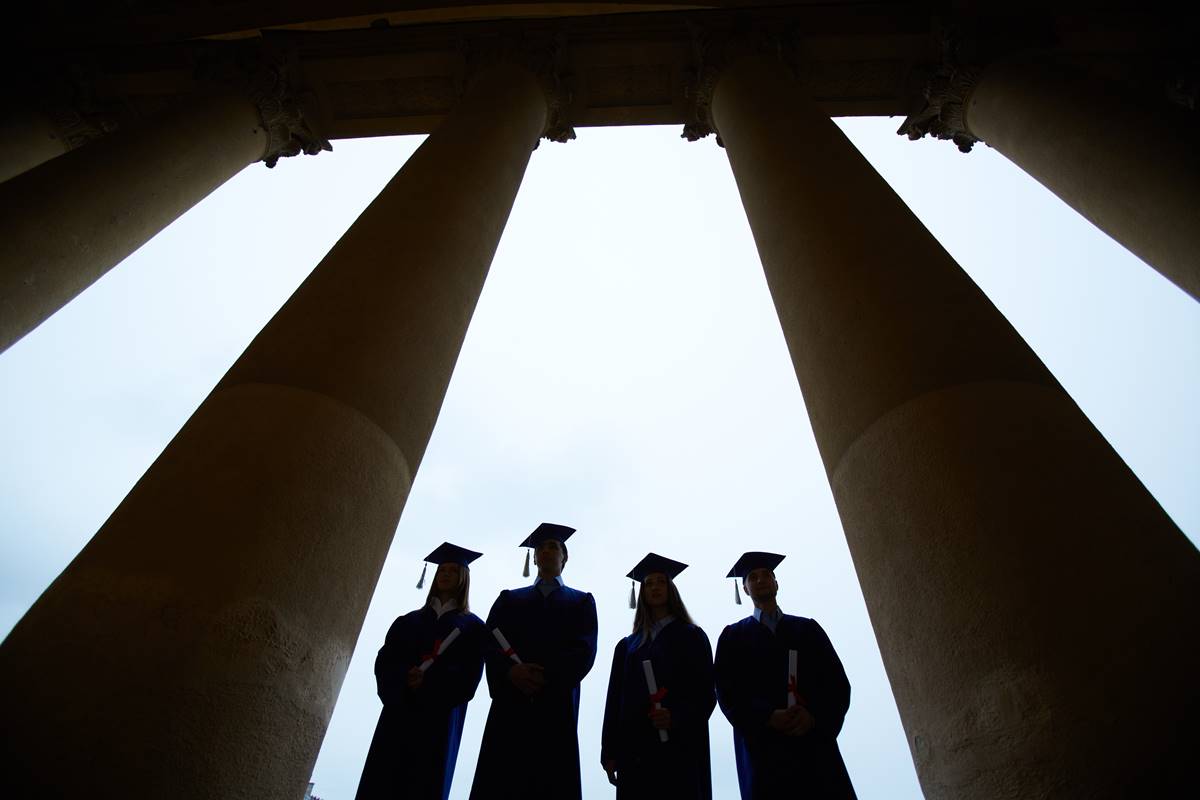 Consider the disturbing case of Lawrence Connell, a criminal-law professor at Widener University's law school who was suspended for a year without pay on Aug. 8 despite having been cleared of allegations of sexual and racial harassment in his classroom lodged by two female black students. The case can be best understood as a story of two clashing law-school cultures, the first represented by Connell himself and the second by Widener Law's dean, Linda Ammons, who has pushed relentlessly since last fall to get Connell off of the campus. We can call the two cultures Old Law School and New Law School.
The Old Law School/New Law School distinction helps explain why Connell was meted harsh punishment despite his vindication on the underlying charges (Widener says that Connell might have been innocent, but he wrongfully "retaliated" against the complaining students by suing them–along Widener itself and some of its administrators–and by publicizing the charges against him in an e-mail to his other students). The Old Law School/New Law School distinction also helps explain another, truly ominous aspect of Connell's punishment, also pushed by Ammons: As a condition of reinstatement, he must undergo a psychiatric evaluation and a course of treatment (including "anger management"). The psychiatrist or psychologist is supposed to report to Widener on the treatment's progress and must certify that Connell is sufficiently cured in order for him to be allowed to return to his classroom. If that seems reminiscent of the Soviet Union's treatment of dissidents as mentally ill, or of the reeducation camps of Maoist China, the Old Law School/New Law School distinction again comes into play.
Cultural Conflicts
Old Law School culture revolves around a traditional curriculum—those torts and contracts courses—and the Socratic method of instruction, with its pointed and rigorous give-and-take between professors and students. Old Law School assumes that the process of training lawyers is training them to a centuries-old Anglo-American tradition of lawyerly thought, which rests on the careful crafting of legal arguments and the relentless challenging of those arguments, often by the professor in the classroom. Old precedent-setting cases may be supplanted by newer cases, and legal principles may shift, but the underlying methodology of close analysis of written court opinions and the arguments on which they rest, along with certain assumptions underlying the American legal systems—that human beings are generally capable of exercising reason and free will and thus should be held responsible for their actions—are Old Law School constants.
New Law School culture, growing out of the Critical Legal Studies movement that first surfaced in law schools during the 1980s, is quite different. In New Law School thinking, the law does not embody a rational system of justice—or even strivings toward such a system—but is essentially a political construct that has historically operated to keep the rich and powerful in their places of wealth and power and other groups—women, racial minorities, the disabled, and the poor—in their socially subordinate places. If this characterization sounds Marxist, that is because Critical Legal Studies—and its intellectual progeny, Critical Race Theory and Feminist Legal Theory—grew out of the New Left radicalism of the 1960s, which viewed American governmental and social structures as systems of oppression. It has also been influenced by postmodernist literary theory, with its assumptions that there is no objective truth or reality. In New Law School thinking, reason, free will, and personal responsibility are illusions, for all legal battles are actually struggles of race, class, and gender, in which power, not justice, is the ultimate goal. In New Law School scholarly writing, rigorous analysis of court opinions and the drawing of fine distinctions underlying legal arguments have been supplanted by "story telling": personal narratives typically involving the law professors' own experiences as members of an oppressed group with the race-gender-class matrix that is the source of their oppression. Since a shift in the power structure, not justice, is the goal, any tactic that coerces the recalcitrant into conforming to the new power regime is permissible in New Law School thinking.
At Widener Law's campus in Wilmington, Delaware, where Connell is on the faculty (along with, coincidentally, Vice President Joe Biden, an adjunct professor currently on leave), Connell was distinctly Old Law School. A former prosecutor and private-practice lawyer who had been on the Widener faculty since 1984, Widener (until he was put on leave of absence last December pending the resolution of the harassment charges) taught traditional courses in criminal law and procedure using standard textbooks assigned in similar classes. He was by all accounts a popular and entertaining teacher, known for leavening his classroom presentations with real-life anecdotes from his criminal-law career, acting out crime scenes in front of his classes, and reproducing the earthy argot of the criminal defendants his students were reading about in their textbook.
Linda Ammons, on the other hand, has a resume that has "New Law School" written all over it. Her legal scholarship (she taught and was associate dean at Cleveland-Marshall Law School until she became dean at Widener in 2006), contained in a series of law review articles published over the past few decades, features arty postmodernist titles loaded with giveaway references to racial hypersensitivity and feminist ideology. Examples are: "Dealing with the Nastiness: Mixing Feminism and Criminal Law in the Review of Cases of Battered Incarcerated Women—A Ten Year Reflection"; "Mules, Madonnas, Babies, Bathwater, Racial Imagery and Stereotypes: The African-American Woman and the Battered Woman Syndrome"; "What's God Got to Do with It? Church and State Collaboration in the Subordination of Women and Domestic Violence." As those titles suggest, Ammons's chief academic preoccupation over the years has been shielding women who claim to be victims of domestic abuse, especially African-American women with such claims, from the consequences of the crimes they commit.
From 1998 to 1991 she had headed a clemency project for Ohio Gov. Dick Celeste that had resulted in the pardoning of 28 female prisoners who claimed to be battered women. They had gone to prison because, under the rules of Old Law School—and of the American legal system in general—merely being a victim of domestic abuse does not excuse guilt for a crime unless the accused can show that she acted in self-defense or that she was literally forced to engage in criminal activity. But in New Law School thinking, where personal responsibility for one's actions is deemed illusory and crimes deemed to be the result of racial and gender oppression, not the acts of the individual perpetrators, domestic-abuse victims get a free pass just because they are domestic-abuse victims, especially if they are African-American and female.
Egregious Allegations
The two students who launched the complaint against Connell in the spring of 2010, out of more than 200 who had taken his courses that year, fell right into New Law School's catalogue of societal victims: they were both black females. Their laundry list of allegations, whose accuracy and veracity were clearly doubted by the two committees of Widener faculty and administrators who examined them, stemmed entirely from things that Connell had supposedly said in his criminal procedure class.
According to their numerous allegations, he had referred to African-Americans as "black folks" (apparently verboten, although he also referred to whites as "white folks"); he had said, "Die, bitch" to a female student (according to an affidavit Connell filed, he had actually been addressing no one in particular but acting out a homicide scenario in which an enraged husband kills his wife when he catches her in adultery) he had implied that all black people are criminals; he had introduced racial issues into a class discussion of the case of Bernhard Goetz, acquitted of shooting four black teen-agers who he thought were trying to rob him on a New York subway in 1984—even though race was a major issue in the Goetz case, tried against a backdrop of an early-1980s wave of violent crimes committed by young blacks that had terrified many New Yorkers.
Connell's most egregious offense, however, and probably the offense that brought down the full-bore wrath of Ammons upon him, was a series of classroom hypotheticals. The scenarios involved Ammons herself and Connell's efforts to kill her (hypothetically) after she threatened to fire him (hypothetically) for parking his car in her parking space. In one of the hypotheticals Connell rushed into Ammons' office with his .357 magnum and shot her in the head—except that the "head" turned out to a pumpkin artfully painted to look just like the dean. The idea was to ask the class whether under prevailing legal rules he should be tried for attempted murder—or not, since no harm actually befell her. Imaginative and macabrely humorous hypotheticals, often pitting professors against deans and other campus authority figures, are a standard feature of Old Law School pedagogy. The idea is that the students will absorb and remember the underlying legal principles better in a context of humorous narrative. Hypotheticals show up not just in law school classrooms but in exam questions and moot-court competitions. Supreme Court Justice Elena Kagan was repeatedly murdered in classroom hypotheticals when she was dean of Harvard Law School.
That's Old Law School. In New Law School the rules are different, and those who create hypotheticals do so at the risk of offending the thin-skinned and the ideology-driven. As early as 1991 the American Bar Association Journal ran an article detailing the perils awaiting hypothetical-creators who forget that in New Law School political correctness and race/gender sensitivity trump all else. The article described a visiting contracts professor at Harvard who was berated by feminists for using the pronoun "he" with reference to judges and "she" with reference to their secretaries in his classroom and also and quoted Byron's famous line in "Don Juan" about the woman who "whispering, 'I will ne'er consent,'—consented" (anathema to feminists who read the line as suggesting that women consent to rape). A legal-writing instructor got into trouble for assigning a problem to his students that involved crafting an argument on behalf of a father trying to wrest custody of his child from his lesbian ex-wife. So it was that Connell's humorous efforts to illustrate the law of attempts via Ammons and a pumpkin were interpreted by a pair of hypersensitive students, and especially, it is clear, by Ammons herself, as deeply offensive slurs against blacks and women that warranted the heaviest of sanctions.
Ammons seems to have gone on the vindictive offense from the very beginning. In August 2010, months before Connell was notified of the charges against him in December, she abruptly pulled him from co-chairing an externship program that he had headed since 1997. Then, on Dec. 20, Ammons' vice dean, J. Patrick Kelly, delivered a letter to Connell that banned him from the Widener campus so firmly and quickly that he did not have time to pick up a set of final exams that he had just proctored. The letter listed a mishmash of charges that included the Ammons hypotheticals, some anonymous negative student evaluations that Connell had received in years past, and a 1996 incident in which Connell had admitted to making an "inappropriate" remark about a female student's classroom attire. "Taken together," Kelly wrote, "these alleged incidents appear to establish a pattern" of "[c]ursing and coarse unprofessional behavior that include demeaning language and depictions of people and groups…[r]acist and sexist statements and characterizations directed at minorities and women…[v]iolent, personal scenarios that demean and threaten your colleagues, administrative officials, and students." The "cursing" reference was to a quotation by Connell of a police officer's use of the f-word while trying to apprehend a suspect.
Abuse of Power
Ammons and Kelly offered to drop the charges if Connell would consent to the psychiatric evaluation that has been a leitmotif of Ammons' handling of Connell's case, with its implications that Connell was at worst suffering from a mental disorder and at best in need of re-education. Connell, who had spent 15 years working in his spare time to win a new trial for a black Delaware man sentenced to death after a prosecutor had excluded blacks from the jury, was incensed at the allegations of racism. He refused the offer and hired a lawyer. In March a committee of three tenured law professors at Widener completely exonerated Connell from all the charges, clearly giving little credence to the students' garbled allegations. Ammons promptly had the students refile, so that the case against him would be heard by Kelly and another Widener administrator, plus a professor hand-picked by Ammons. The list of charges against Connell shifted its contours: The 1996 incident disappeared, and some of the things that the two complaining students had said about Connell vanished as well.
By this time, however, Connell had amassed affidavits from students in the class in question and e-mails from other students, many of them female, attesting to his effectiveness as a teacher and his fair treatment of members of minority groups in his classes. He also presented an affidavit from Orin Kerr, a criminal-law professor at George Washington University whose credentials included having graduated magna cum laude from Harvard Law School and having clerked for Supreme Court Justice Anthony Kennedy. Kerr not only defended Connell's raising of racial issues in his classroom discussion of the Goetz case but deemed his hypothetical attempts to murder Ammons for the amusement of his students as unexceptionable pedagogy.
It is not surprising, then, that the second committee likely believed it had no choice but to clear Connell of all the substantive charges. What is appalling is that, despite both exonerations, Ammons appears to have gotten her way in the end after all, exacting sanctions against a tenured professor that are not only costly but humiliating (he is supposed to apologize to the complaining students. The charge of retaliation, based on a vague prohibition in the faculty handbook, seem especially flimsy. Connell's e-mail to his students in December neither named his accusers nor referred to them in any way. As for the lawsuit, Connell never waived his right to seek redress in court against individuals whose false accusations have already cost him quite a bit of money and promise to cost much more. But that is the way of New Law School. It is perhaps only Old Law School, with its emphasis on fairness, reasonableness, and color-and gender-blind justice, that would find something totalitarian in Widener's treatment of Connell and accordingly demand Linda Ammons' resignation. In New Law School thinking, where power is everything, and the claims of grievance-bearing identity groups will always prevail over fairness, it is perfectly fine to strip your perceived opponent of his livelihood and to consign him to the ministrations of your own Nurse Ratched—and there is no such thing as abuse of power.