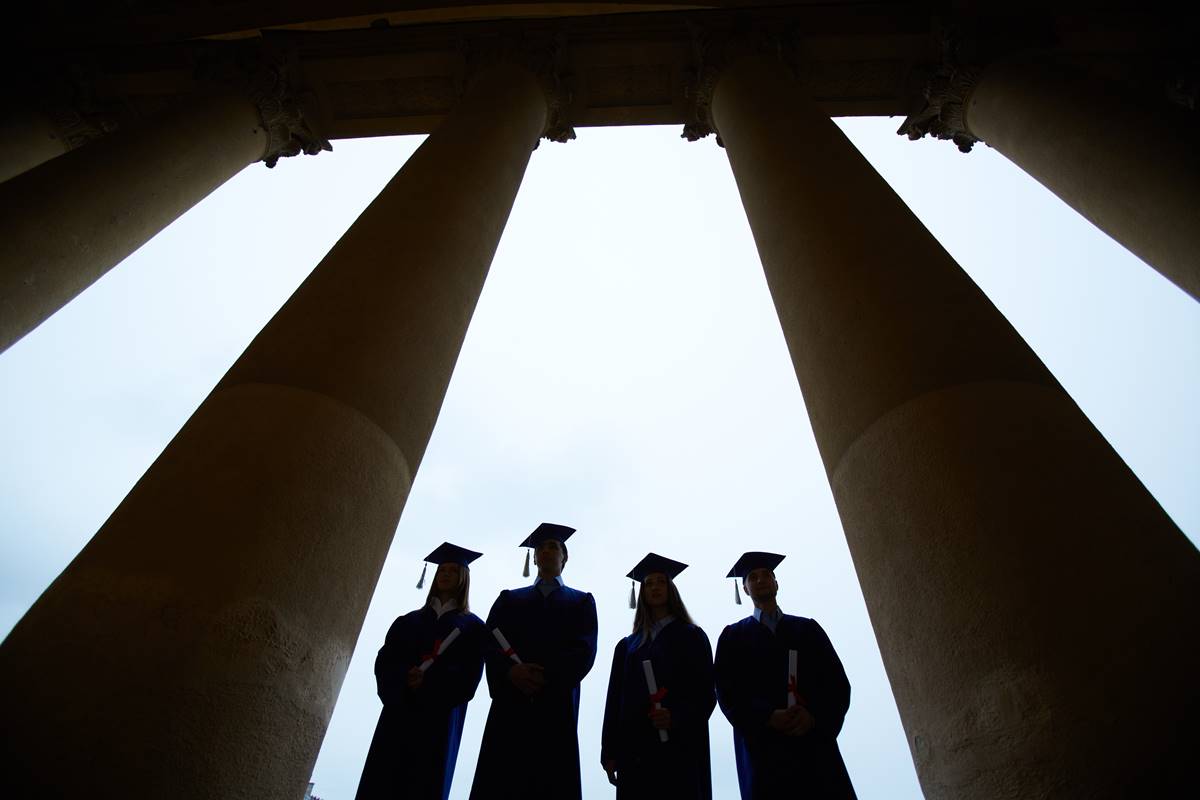 Most observers have framed the recent disruption by backers of racial and ethnic preferences at the University of Wisconsin-Madison as a free-speech conflict. Free speech is clearly involved but lying below the surface are three issues that warrant close attention, specifically how Wisconsin once handled "inclusion;" how the protest reflects the transformation of the idea of "opportunity;" and how the university's policies to help select minorities breeds dependency.
I attended UW-Madison from 1965 to 1969 as a graduate student and back then, at least for in-state residents, the University was highly inclusive. It simply admitted the top three-quarters of all Wisconsin high school graduates (non-residents faced tougher standards) and pretty much left them to survive on their own. I recall seeing only a few blacks on campus, but this undoubtedly reflected the state's then largely white demography. Surely, if this generous admission standard were applied today, the affirmative action issue would be moot.
This policy predictably brought massive attrition—it was sink or swim and thousands of Wisconsin kids sank. Everyone just got their shot, nothing more, and that was that.
What has altered the landscape is Wisconsin's switch over to a more conventional admission process stressing high grades and class rank in the top 85th to 90th percentile (the official admission rate is now 50.4% of applicants). Some blacks and Hispanics will survive this tough screening, but most, apparently, do not.
So, why doesn't the inclusive-minded administration just return to the good old days of admitting almost anybody with a pulse and letting them sink or swim? That would eliminate the racial/ethnic unfairness conflict, would be far cheaper and, most of all, permit the university to escape craven dishonesty and possible expensive litigation.
My explanation is that returning to the old policy would eliminate the "achieve social justice" infrastructure and, to be cynical, I'd guess that employing more black and Hispanic administrators is far easier than hiring minority professors. This is all about jobs. The University's website lists the African American Student Academic Services, American Indian Student Academic Services, Chicano/a Student Academic Services, a Multicultural Student Center, and various multicultural student organizations. A separate Academic Advancement Program (AAP) exists to assist "underrepresented students" and for four years helps "…create an inclusive campus climate where all members of the campus community feel valued, respected, and free to participate and achieve their highest academic and professional potential." AAP "…focuses on academic advising, academic instructional support, academic engagement and enrichment, and community building, which are the four pillars of our program." The AAP is not, however, to be confused with the Center for Educational Opportunity that works with over 600 students to upgrade their skills and mentors them. And don't forget the Office of Equity and Diversity targeting underrepresented groups to achieve social justice. And for students struggling with certain subjects, I counted an additional six separate tutoring services.
This is only a sampling and omits what occurs in the admissions office and in feel-good courses on identity politics. One can only wonder how many educationally useless hours were spent crafting the Orwellian mission statements, progress reports and schemes to create yet more bureaucracy.
All this understood, those demonstrating against the Center for Equal Opportunity's unwanted critique of affirmative action are merely useful idiots saving jobs for diversicrats. After all, restoring the old open-door admissions policy could be done overnight, has zero legal risks and it would boost minority representation on campus though, admittedly, it would be a revolving door for all unqualified students.
This confrontation also illustrates how "opportunity" has been transformed into today's egalitarian society. "Opportunity" traditionally meant a chance to gain a benefit and while this chance is valuable, it was also risky. Attending college may bring a degree which, in turn, may result in a higher income, but this opportunity could also bring academic failure, years of debt and wasted time better spent elsewhere. The degree may also be in easy-to-pass, but vocationally questionable, majors like Black Studies. The benefit to costs ratio for a college degree undoubtedly varies by academic ability—marginal students are more likely to have costs outweigh benefits so they would be better off attending a more academically suitable community college.
Unfortunately, the campaign to push academically iffy students into the UW totally neglects the risk element in the equation. Mere admission is portrayed as the end goal, not the hazardous means to a difficult-to-achieve end. Telling students that admission is all benefits is dishonest and sadly illustrates how some university bureaucrats put their own economic self-interest above the welfare of those they are supposed to be helping. This is an anti-merit policy: the more totally unqualified students admitted, the greater the number of jobs so these diversity administrators necessity must champion low admission standards.
Lastly, compare today's intensive bureaucracy with the previous sink or swim policy. I'm not sure which approach resulted in more bona fide graduates but I'm convinced that those who managed to swim on their own learned valuable lessons unknown to today marginally students showered with help. Today's struggling students are being trained for life-time dependency, perfect "citizens" in the nanny welfare state. I can only imagine these graduates getting their first jobs and asking about all the support services.
If honesty were the best policy, those students disrupting Roger Clegg's talk should have been chanting "Role Models are a Human Right," "Dependency Forever" and, to borrow a tactic from the animal rights activists, cute pictures of various diversicrats who would be clubbed to death if affirmative action were ended.