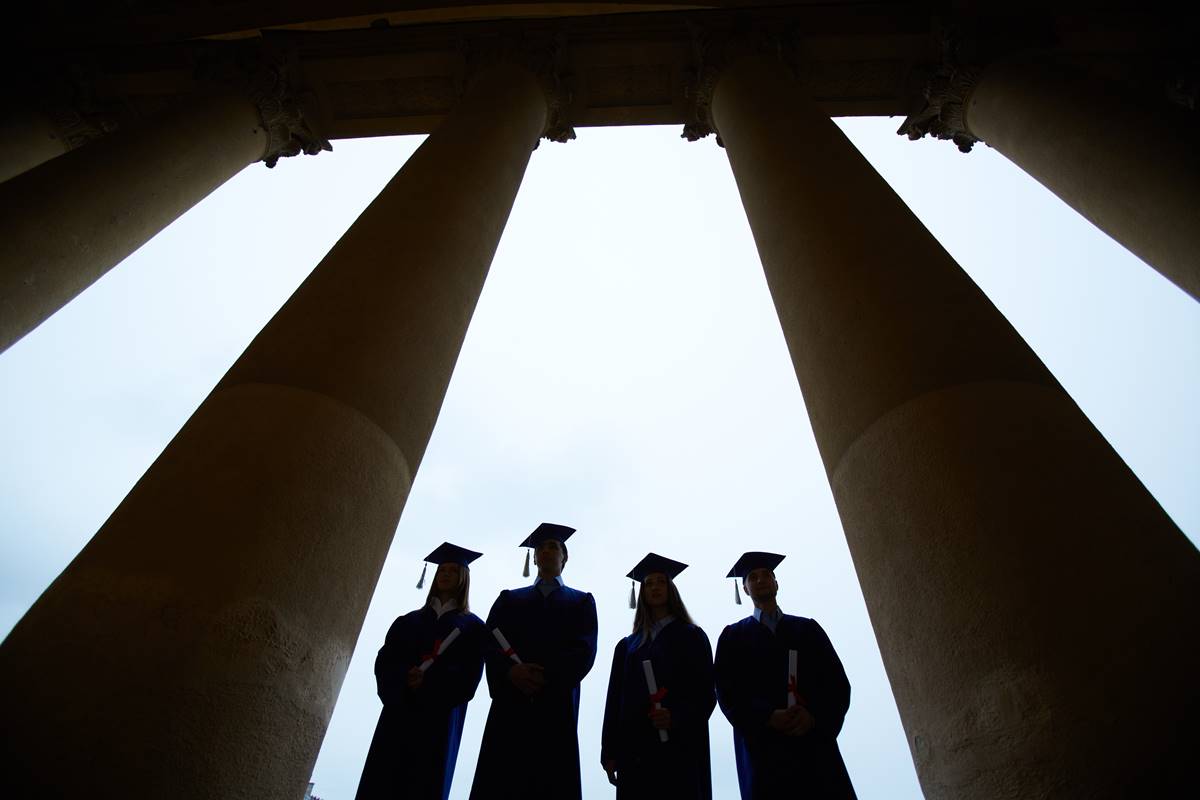 This past Monday I delivered a speech at the Delta Kappa Epsilon house at Wesleyan University. I had been invited to speak by DKE and another fraternity at Wesleyan, Beta Theta Pi, because I had written an op-ed article in June for the Los Angeles Times titled "War Waged on College Fraternities." That was the theme of my Wesleyan speech, too. I had expected the audience to consist mostly of "Deke" and Beta brothers plus other members of Wesleyan's tiny Greek-letter community who felt beleaguered by efforts of university administrators to regulate and restrict their activities, and calls by activists to put fraternities out of business altogether. But my speech had been advertised in the student newspaper. The room where I spoke–the former ballroom, now all-purpose party room, of the worn nineteenth-century mansion that served as DKE's house–was packed with an overflow crowd of some 75 young people. At least half of them were non-fraternity members, many of whom had never set foot inside a fraternity house. From them I learned something: how thoroughly college students, at least students at elite colleges such as Wesleyan, have absorbed and internalized all of the negative things–especially about fraternities as supposed hotbeds of sexual assault–that professors and administrators have been harping on for at least two decades. There seemed to be a consensus that university authorities weren't tough enough in clamping down on Greek-letter societies.
These bright and articulate young people believed everything. They believed, for example, that college campuses are rife with sexual assaults committed by male students on their female classmates. "One out of every four college women is raped," declared a young man who was obviously not part of the Deke/Beta group during a post-speech question-and-answer session. "That's been under-reported," he said. "Actually, it's been over-reported," I responded. I explained, as Heather Mac Donald explained in her City Journal article "The Campus Rape Myth," that the one-in-four statistic came from a single flawed study debunked many times over the years. It was done by a feminist University of New Mexico professor who quizzed female college students about their sex lives and then concluded on her own that many of the incidents they reported constituted sexual assault. She had never actually asked the students themselves whether they thought they had been raped. Few members of my audience were buying my explanation.
Nor did they buy my own (and Mac Donald's) theory about the supposedly high incidence of student-on-student rape. They never brought it to the attention of college authorities: that the supposed assaults that it stemmed from a campus culture of binge-drinking and a lack of moral constraints on hookups in general—so that one boozy thing led to another and female students often woke up the next morning or a couple of days later realizing that they'd done things with male acquaintances that made them feel exploited. A female Wesleyan student in my audience promptly raised her hand. "Then what would you say to a rape victim?," she asked. I told the student that she was begging the question by assuming that a rape had occurred. Her response was simply to ask again: "What would you say to a rape victim?" Another student announced that she herself had been sexually assaulted. "As a victim of rape, I…," she began her question. I decided that I didn't want to go there, to embarrass her with a pointed interrogation, so I pretended that I hadn't heard that part of what she said.
A male student standing in the back announced, "I don't feel safe in this room." "In this room?," I queried incredulously, pointing around the spacious ballroom with its neoclassical molding and high fireplaces at each end, both topped by oil paintings of men who appeared to be illustrious Dekes of the nineteenth century. "In this room, where you're speaking your mind freely and everyone is listening respectfully?" "I don't mean now, but when the parties are going on, when it's dark and there's a lot of loud music and drinking and people are being victimized." A female student chimed in that she didn't feel "safe," either. ("Safe" is politically correct campus jargon for "liking what I see or hear.") A second male student added his two cents: "Everyone knows there's a lot of rape going on in fraternity houses." He got a hiss or two from the Greek-letter contingent but the main audience response was the poetry-reading/Occupy Wall Street version of applause: an enthusiastic round of finger-snapping.
Hate Speech and Hostility
In my op-ed I had focused on the DKE chapter at Yale, which was suspended for from on-campus activity, including recruiting, for five years and triggered a U.S. Education Department investigation of the university over some nasty chants that blindfolded DKE pledges had been obliged to utter as part of a hazing ritual:"No means yes, and yes means anal!" and "My name is Jack, I'm a necrophiliac, and I like to f— dead women!" I had argued in my op-ed piece, as I argued on Monday at the DKE house, that the chants might have been obnoxious or boorish, but they were only chants that happened to offend campus feminists with their "What Part of No Don't You Understand?" T-shirts. They were, in short, free speech, of the kind that is protected in public places by the First Amendment and on many private campuses, including Yale, by explicit guarantees of freedom of expression. That didn't faze feminists both on and off the Yale campus. A feminist online magazine, Broad Recognition, accused DKE of sponsoring "hate speech" beyond the pale of protection. A mostly female group of Yale alumni filed a petition with the Education Department accusing Yale of maintaining a "hostile sexual environment" in violation of Title IX of the federal Civil Rights Act. Writer Caitlin Flanigan, in an op-ed article for the Wall Street Journal, expressed hope that the department's investigation would "shut down…for good" all college fraternities. Yale College's dean, Mary Miller, at first called for the permanent banishment of Yale's DKE chapter, then reduced that sanction to a five-year suspension. She had headed a committee that issued a report in January declaring that the members of "campus organizations" should be held responsible for hazing activities deemed offensive to "to third parties."
Amazingly, the majority of the Wesleyan students in my audience agreed with Miller, Flanigan, and the feminists at the Yale Women's Center who had agitated for severe sanctions against the Dekes and other fraternities. They had little sympathy for my argument that the First Amendment and other guarantees of free expression don't mean much if they don't apply to forms of expression that other people don't like. "The First Amendment doesn't protect threats," opined a young man in the back of the room." I said, "How was what they said a threat? Isn't 'No means yes' a statement of opinion, not a threat? Couldn't those girls have looked outside their windows and seen that those guys were their own freshman classmates?" But again, those Wesleyan undergraduates were having none of what I was saying. "They were chanting right outside those girls rooms, where they could hear them," the young man responded. "If I were at Yale, I'd be afraid to go inside the Deke house," added a young woman. Another young man declared, "You have a right to be as offensive and obnoxious as you want when you're inside the fraternity house with people you know, but when you go outside, you're in other people's space, and you don't have that right."
I genuinely liked my Wesleyan audience. The students were well-spoken, friendly, and uniformly courteous to me and to each other. No pies were thrown. I had pleasant conversations—even if we could agree on little—with several of them after the speech. But I was flabbergasted at the extent to which they had imbibed the sentiments of a militant and victimology-obsessed brand of feminism. They assumed that young women were so psychically frail that they could be intimidated by a silly chant. They didn't see anything wrong with terminating campus free-speech rights if the speech was deemed offensive and eradicating campus organizations that exercised those rights. They genuinely viewed college fraternities as breeding grounds for unspeakable violence against women.
Before the speech I had dinner with four Wesleyan fraternity men, two from DKE and two from Beta, all of them juniors. They, like their liberal counterparts in my student audience, were well-spoken, friendly, and courteous. They told me their version of fraternity life and the general response to fraternity life at Wesleyan, where, as at most liberal-arts colleges, especially in the Northeast, the ethos of political correctness is overwhelming. Fraternities—and there are only four left at Wesleyan that still have their own houses, plus a few more that are essentially social clubs—have become, at the Northeastern liberal-arts colleges where they are still permitted to exist, a refuge for the politically incorrect. That means political and religious conservatives and athletes (all four of my dinner companions were on Wesleyan athletic teams). At Northeastern liberal-arts colleges none of those groups enjoys much respect, and Wesleyan's four last residential fraternities survive in a climate of constant suspicion. In my speech I mentioned an interview I had had with a recent graduate of Yale and a member of DKE. He said to me, "I think that the best thing that fraternities can do is to continue to exist." I hope that fraternities at Wesleyan, Yale, and elsewhere continue to exist, as witnesses to an ethos radically different from that relentlessly pushed by university faculty and administrators and adopted by nearly all the students.