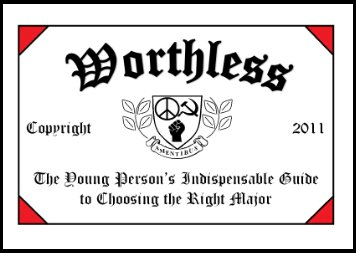 "Here are some [college] degrees that cost you roughly $30,000 in tuition, their much cheaper replacements, and the savings you'd realize:
                  Degree                                  Replacement                                        Savings
                  Foreign Languages                 Language
Software                               $29,721
                  Philosophy                             Read
Socrates                                    $29,980
                  Women's Studies                   Watch
Daytime TV                               $30,000
                  Journalism                             Start
a blog                                          $30,000
…Since none of these degrees help increase your employability, you might as well avoid these majors and do it on your own."
The above is an excerpt from one of the funnier paragraphs
in "Worthless: The Young Person's Indispensable Guide to Choosing the
Right Major" (Paric Publications), Aaron Clarey's hilarious primer
for college students who would like to work as something other than nannies and
theater interns after graduation.
Clarey, a fairly recent economics major
(apparently) at the University of Minnesota, can seem at times
humanities-challenged (you don't "read" Socrates but, rather, Plato
presumably channeling Socrates), and the punctuation in this obviously
self-published book will make grammarians wince (Clarey doesn't think much of
his seventh-grade English teacher "still teaching English to
English-speaking kids"). Still, at 173 short and highly readable pages,
"Worthless" ought to be required reading for every college
undergraduate even thinking about concentrating in what passes for the liberal
arts these days, much less taking on soul-crushing student debt in order to do
so.
Boiled down to a few words, Clarey's message is this: Do not
under any circumstance waste your or your parents' time, money, and credit
rating to acquire a degree titled "Bachelor of Arts." Those degrees
are the "worthless" sheepskins of Clarey's book title. Instead, focus
on degrees that will promise you a decent living when you graduate. Those
degrees are titled "Bachelor of Science," they almost invariably lie
in the "STEM" fields (science, technology, engineering, and
mathematics), as well as statistics and accounting, and they involve the
mastery of math.
Skip Women's
Studies–China and India Do
"Yes, math," Clarey writes. "I know at this
point most people have probably tuned out. They didn't like math in school.
They probably weren't very good at math. And for the most part, people just
plain don't like math. To that I respond with one simple word: 'Tough.'"
That's because, as Clarey explains, math-based majors produce graduates whom
the economy demands–because they are trained to work in fields that produce
goods and services that other people want, from cars to healthcare to
computer-game consoles. "This not only goes a long way in explaining why
liberal art majors face high unemployment and low-paying jobs, but also
explains why we have a trade deficit with the likes of China and India whose
students DO major in the fields that produce the goods we want," he
writes. Clarey maintains that although math may be hard, "it is
understandable by the average human brain" as long as the owner of that
brain is determined to "turn off the reality TV show, or set down the
video game controller, and focus his efforts towards learning math."
The most entertaining sections of "Worthless" contain
anecdotes about hapless college graduates who got suckered into spending four
years majoring in women's studies–or sociology, anthropology, psychology, or
environmental studies–by guidance counselors and proselytizing professors.
There's the graduate of the University of Oregon "with degrees in
international studies and sociology and a double minor in nonprofit
administration and African studies"–now living with her parents after her
dream of working for a nonprofit fell through despite her sending out 70 job
applications. There's the English major whose most lucrative employment
consisted of an internship that didn't pay enough for him to buy food. There's
the guy who took out $35,000 in student loans to earn a master's degree in
puppetry, only to discover that the best job he could get was as a substitute
teacher. "What did you expect with a MASTERS in PUPPETRY?" asks Clarey.
(Puppetry falls into a category of degrees that Clarey describes as "New
Age Crap," bearing such titles as "Peace Studies," "Social
Justice," "Holistic Medicine," and "Master's in Outdoor
Recreation."
Clarey reserves his most scathing scorn for majors in
"Hyphenated-American" studies. That means "African-American
Studies," "Gay/Bi/Lesbian/Transgender-American Studies," and so
forth. "Frankly, these are particularly dirty and low degrees, in that
they are not only worthless, but they target minority groups as their
victims," Clarey writes, pointing out that blacks aren't helped
economically by paying tuition to explore their black identity–nor gays helped
by paying to explore their gay identity. He can't resist pointing out (via a
pie graph on page 133) that 68 percent of the worthless degrees awarded at his
alma mater, the University of Minnesota, go to women–which might help account
for the supposed "wage gap" between the sexes. His advice to females
who want to close that gap: Try majoring in a STEM field (only about 20 percent
of engineering degrees go to women, so among the other benefits of the major is
"that you'll never be without a date," Clarey writes).
As a recipient of a "worthless" college degree
myself (I double-majored in English and classics), I wish that Clarey had
devoted few more pages to discussing exactly why the liberal arts have become
radically devalued in the eyes of prospective employers. Not too long ago a
bachelor's degree in history or philosophy signaled that you were smart and
could write well, two qualities that employers prized (and still do). Now, a
B.A. seems to signal, "I'm a parasite" in search of make-work at a
nonprofit, as Clarey bluntly puts it.
The
College-for-Everyone Illusion
Clarey does touch on one reason for the decline of the
liberal-arts degree: the insistence that everyone, even the academically
untalented, go to college. "[T]oday's college degree is the equivalent of
the 1950's high school diploma," Clarey writes–and grade inflation hasn't
helped. But he doesn't touch on the other reason: the contents of the majors
themselves. It's not just that there's a "women's studies" major (and
even a doctoral program at some universities); it's that entire academic fields
have turned into sub-sectors of women's studies–that is, predictably politicized.
To major in English at many institutions these days, you're no longer required
to take a course in Shakespeare, but a course in "post-colonial feminist
film" is practically mandatory. It's no wonder that employers write off
English majors as airheads and look for resumes where the initials
"B.S." indicate that the degree's bearer has learned something that
might be useful on the job. It's too bad that learning a vocational
"trade" or "skill"–as Clarey points out–seems to be the
only valid reason for going to college nowadays, but the humanities have only
themselves to blame.
That quibble of mine aside, young people thinking about
college will do themselves a favor–and also have a few belly-laughs–by reading
this book. Some of them, as Clarey hopes, may even decide to bypass college
altogether and go directly into learning a trade. (Plumbers and skilled
mechanics earn a lot more than substitute teachers.) Or, as Clarey suggests,
join the military, where "they will be more than happy to give you serious
work." And serious work is better training for the world of work than any
pile of degrees.