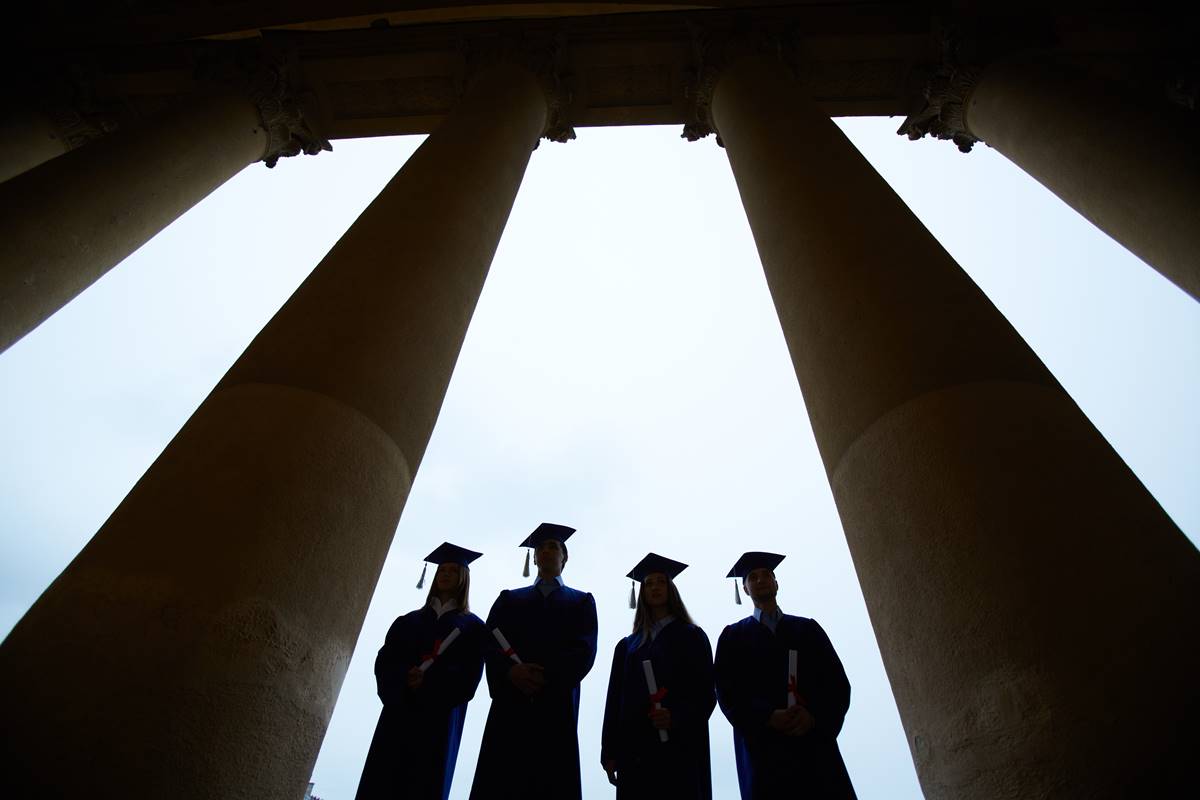 By Evan Sparks, from Philanthropy magazine
Scan the rankings of the world's best universities and you may spot a few patterns. First, you will probably notice that, in every major survey, virtually all of the world's 20 best schools are located in English-speaking countries. Next, within this elite cohort, it is hard to miss America's dominance: the surveys usually place about 15 of the world's top 20 universities in the United States. (Please see the table below.)
And if you look closer, you may notice that, among the American universities, the majority are private schools. The names of the schools themselves are revealing. They are not usually named for cities or states. Often they bear the names of their patrons: John Harvard and Elihu Yale; Ezra Cornell and Johns Hopkins; Leland Stanford and James B. Duke. It is striking that of the top 20 schools on earth, more than half were funded, built, and sustained by wealthy Americans who took it upon themselves to start an institution of higher learning.
The preeminence of these private universities is sometimes easy to overlook, but it represents something extraordinary. Throughout our history, Americans have relied upon private, voluntary action to create institutions dedicated to the pursuit of higher learning. The tradition is older than the United States itself. Harvard University, founded in 1636, celebrated its 150th birthday before a single word of the Constitution had been inked. The American Revolution only accelerated the trend. "No community," wrote historian Daniel Boorstin of 19th-century America, "could be complete without its college or university."
The golden era of private initiative in higher education occurred about a century ago. Some donors created new universities out of whole cloth; others radically retrofitted and turbo-charged existing colleges. Three of the world's finest universities–Stanford, Carnegie Mellon, and the University of Chicago–were founded during the decade from 1890 to 1900. Cornell, Vanderbilt, Johns Hopkins, and Rice were created from scratch by eponymous donors. Paul Tulane took the University of Louisiana private in 1884; James B. Duke transformed Trinity College into Duke University in 1924. Starting in the 1900s, George Eastman's gifts transformed both the University of Rochester and the Massachusetts Institute of Technology. (For more examples, please see the timeline below.)
In no small part because of these individuals, the story of American higher education is one of constant innovation. (It is also a story of relentless competition–for every Caltech or Grinnell that has thrived, there were far more colleges that never gained traction, that struggled along on a shoestring, or that boomed and then went bust.) The challenges America faces today will demand another burst of innovation. Government simply cannot afford to increase student lending, and families are starting to question whether the credentials their students receive are worth the fees. Paypal founder and Facebook angel investor Peter Thiel argues that college is a bubble–and puts his money where his mouth is, offering fellowships to extremely talented young people to forego college and pursue big ideas.
But other philanthropists are working to bring about higher education's next golden era. They can see a role for colleges pursuing ambitious cultural goals that a for-profit college would not. They see a role for religious colleges that public universities cannot adopt. They can see the next Rockefeller University, the next Notre Dame, and the next MIT. And they are putting serious resources behind universities that, they believe, will introduce disruptive models, inspire religious faith, and invigorate small towns.
The directors of the F. W. Olin Foundation had a problem.
It was the early 1990s. Their founder, Franklin W. Olin, had died four decades before. Before his death, he had begun a pattern of giving to fund academic buildings on college campuses, paying the full cost–including equipment and furnishings. His trustees had continued that practice. It was a straightforward grantmaking operation, requiring minimal staff.
"We were concerned about how we were going to find people committed to continue the grant program, who wouldn't come in with their own agenda, their own baggage, and try to change things around," says Lawrence Milas, a lawyer who was president and chairman of the foundation and who is now retired in Florida. "We had really carved out a niche. Nobody else consistently made building grants year after year. We wanted it to continue."
Finding personnel was just one challenge. "With the escalation of building costs, would we be able to sustain that grant program?" asks Milas. "We were locked into what we had as a private foundation. Would we remain relevant if we couldn't substantially grow our assets?"
Milas and his fellow board members began thinking through their options. In doing so, they looked first to Olin himself for inspiration. Franklin Olin was raised in upstate New York. As a boy, he didn't finish school, but he took to mechanics and studied as much as he could. At the age of 22, he passed the entrance exam for Cornell University, where he studied engineering. (He played baseball, too–moonlighting as a professional ballplayer in the summers. He designed his own concave bat.) Olin started his career building powder mills, then, in 1892, opened his own black powder plant, from which he expanded into shells, casings, shot, and other ammunition. His companies boomed, and when Olin died in 1951, the amount he bequeathed to his foundation, together with gifts he made during his lifetime, instantly made the foundation one of the largest in the nation.
"We always had a bias toward supporting science and engineering schools because Mr. Olin was an engineer," Milas says. Among Milas' ideas was opening a brand-new college dedicated to engineering. "I was concerned with whether or not this would be consistent with what Mr. Olin had ever considered. I went back and read minutes of board meetings. And sure enough, in the late 1940s, at two or three board meetings shortly before his death, he expressed the idea of starting a new institution."
Moreover, engineering was a field that was ripe for a new kind of institution. "The skill set and intellectual tools required for engineering in the 21st century are significantly different from those required in the 20th century," says Richard Miller, the college's president and first employee. "And yet, higher educational models for teaching engineering haven't changed much. Even though the students are very smart, they tend to come out as applied scientists ready to investigate the principles behind something–but not necessarily entrepreneurial, creative team players who envision what has never been and do whatever it takes to make it happen."
In 1997, the board of the Olin Foundation chartered the Franklin W. Olin College of Engineering in Needham, Massachusetts. It committed $200 million to start the fledgling school–at the time a record in higher education. "I got a lot of comments along the lines of, 'Why a new engineering college? We're up and running. Why don't you just give us the money and we'll do what you want!'" says Milas, his eyes twinkling. "I believed the only way to get it our way was to start our own college. There would be an existing culture at these other institutions that would be difficult to change. We'd have the advantage of a new institution, to make these changes the essence of Olin College. I don't think we would have gotten anything like the results that we've gotten."
Two years later, Milas hired Richard Miller, then the dean of engineering at the University of Iowa. Miller set to work developing the curriculum and hiring faculty. Olin College adopted a broader concept of engineering education into its curriculum. The new concepts included entrepreneurship, teamwork, interdisciplinary study, and communication skills–elements traditionally lacking in an engineer's training. The curriculum is project-based; seniors work on teams of about five on a capstone project for which a company pays $50,000 to the college. "It's a serious project," says Miller. "There's a statement of work. There are often non-disclosure agreements, and there's a periodic design review."
Milas located Olin adjacent to Babson College, one of the nation's top-ranked entrepreneurship schools, and 25 percent of Olin students are simultaneously taking classes at Babson or nearby Wellesley. "Part of the vision was to provide more business education to engineering students," he says. "Today most students going into engineering don't want to work for big corporations. They want to start their own firms."
The college opened its doors in 2001 with 30 "partners"–not official students, but pioneers who would help to create the college's culture in preparation for its first freshman class in 2002. "We have an amazing campus culture," Milas says. One Olin tradition is that students are on a first-name basis with their professors. "If we're 'partners,' I guess I can call you by your first name," he recalls a student saying. "That got out of the box that first year." To help produce a culture of change and innovation, faculty members are untenured.
Olin's students and graduates are impressive. It admits only about 16 percent of applicants. Even with only 350 students, it's among the top producers of National Science Foundation graduate fellowships and Fulbright scholarships. Forty-one percent of graduates go on to advanced study–and 22 percent of those attend Harvard, Stanford, and MIT.
But perhaps more impressive is Olin's zeal to change engineering education. "We set out not to create a college for its own sake, but to be a positive influence in higher education in general," Miller says. Olin's mission, he adds, is to be "an important and constant contributor to the advancement of engineering education in America and around the world. Olin is to be different. It was not to be another small school that provides a good education. There are lots of those. Olin has a missionary focus."
"I'm an engineer, so you'll have to forgive me," he says with a laugh. "We have lots of numbers." Over 100 universities have sent visitors to Olin in the past two years. Nine are beginning to revise their programs along Olin's lines. At the University of Illinois at Urbana-Champaign, all engineering freshmen are now taking a program that borrows principles from three Olin courses.
Many of Olin's visitors come from emerging market countries like China and Brazil, where higher education is booming. In these countries, the engineering department is often the pride of a university. With a 2 percent acceptance rate, for instance, the Indian Institutes of Technology (IITs) are the most prestigious higher education centers in India.
Could these changes have been triggered without creating a new model college? Miller is doubtful. "The likelihood of a university choosing to do what we've done is very, very small. The National Science Foundation spent around $100 million over 10 years to provoke this kind of change on large campuses in the 1990s. After five or six years, they ended it–concluding that its penetration into universities was disappointing." He pauses for a moment. "That's not to say that the model that Olin has now created won't be inspirational. It may well re-kindle interest in universities to attempt big changes."
In 2005, the Olin Foundation closed its doors, transferring the balance of its endowment–over $250 million–to the college. Seven years on, the foundation's former president is pleased. "In my view, it has achieved everything I have ever wanted for the college–and more," says Milas. "The respect that the college has gotten from its peers has been remarkable. It is seen as a leader in engineering education. My only real disappointment is that we could no longer continue our original idea of making it tuition-free. We couldn't continue that with the decline in the stock market in recent years, so we give all students a half-tuition scholarship."
"I view Mr. Olin as a great example of an engineer, innovator, and philanthropist," reflects Miller. "He was an entrepreneur, he was educated as an engineer, and he was motivated to do things to create opportunities for others. We are doing all that we know how to do to inspire the graduates of Olin to follow along that path."
"There are very few people with a can-do attitude who are willing to try things," he adds. "We have an exceptionally high percentage of those people on our campus. That's how Olin makes things happen."
With $2 billion remaining for his foundation to disburse by 2017, Charles ("Chuck") Feeney can make dramatic commitments. In New York City, he recently gave $350 million to create NYC Tech, a graduate school in applied sciences. Thanks to Feeney's gift, Cornell University won a bid to build a $2 billion facility on city-owned land on Roosevelt Island. "This is a once-in-a-generation opportunity," Feeney said in a statement, "to create economic and educational opportunity on a transformational scale." (In keeping with his usual preferences, Feeney declined to be interviewed about his philanthropy.)
Cornell will partner with Technion-Israel Institute of Technology, the academic incubator of Israel's high-tech "Silicon Wadi," to launch the new tech campus. NYC Tech won't be solely part of either university but rather a new joint venture through which students can receive degrees from Cornell and Technion.
NYC Tech will be focused on the Big Apple. It will include an Innovation Institute to help commercialize research of immediate relevance to New York's economy. Mayor Michael Bloomberg said that NYC Tech will be home to a $150 million venture fund for start-ups that stay in New York for three years, and that it will provide support for math and science education for thousands of New York City schoolchildren.
(Part Two of this article, the cover story of the spring issue of Philanthropy, is available here.)
—————-
Evan Sparks is managing editor of Philanthropy.