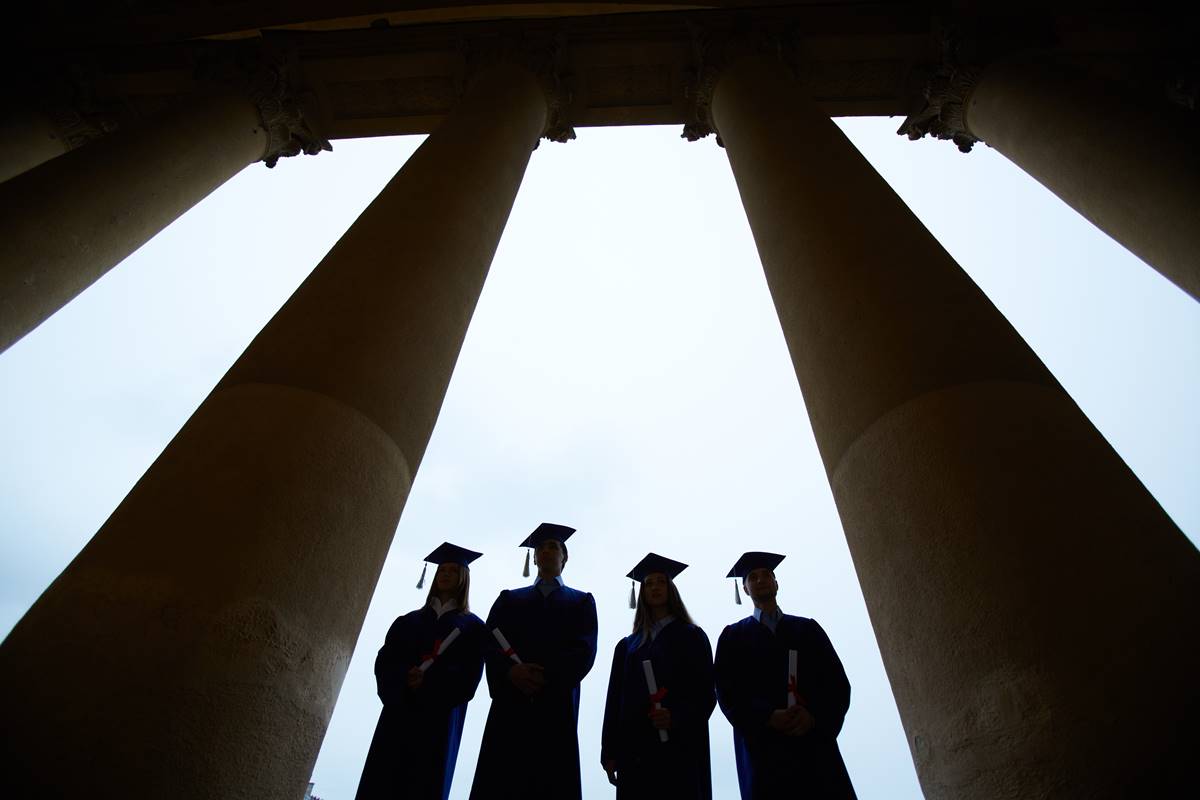 By Ronald Radosh
Last week, Professor Jonathan Zimmerman of New York University wrote a surprising op-ed in The Christian Science Monitor, "US Colleges Need Affirmative Action for conservative professors." Describing himself as a "devout Democrat" as well as a "frequent O'Reilly critic, ' he found himself agreeing with the Fox News channel's host that "Universities should institute affirmative action for conservative professors, so all the professors don't think the way I do."
Obviously, Professor Zimmerman, a professor of history and education at NYU, is something of an anomaly. On the face of it, he is what we used to mean when calling someone liberal in his attitudes; i.e., he thinks that his own beliefs are not the only ones that should be present in institutions of higher education, and that as a real believer in tolerance, those who vigorously oppose him should be included in the conversation, and even more to the point, students at his institution should hear these opposing views.
Professor Zimmerman pauses to note that "we're not the wild-eyed Marxists that Mr. O'Reilly and other right-wing pundits sometimes make us out to be." Perhaps Prof. Zimmerman put that qualifier in to not insult his own colleagues at NYU. The truth is, as I've argued particularly about the NYU history department on this site and elsewhere many times, NYU is most egregiously guilty of precisely such a bias. Their own history department is dominated by precisely those types, and some of the institutes and centers they have established have gone out of their way to make that crystal clear.
Looking at the Dominant Paradigm
The Center for The United States and the Cold War is perhaps the best example. Its founders wrote that its objective was to re-examine the "dominant paradigms" of the Cold War, and with The Tamiment Institute document "the history of progressive politics" and to focus "on the relationship between the Cold War abroad and the struggle for progressive social change at home." The very terminology used is based upon acceptance of their own left-wing paradigm, and clearly its sponsors do not see it as a center in which anyone who does not share the assumptions of the Left is welcome. Their mission statement continues to note their desire to study "the U.S. response to revolutionary nationalism, repression, resistance, internal security…race, class and gender." You get the idea.
It comes as no surprise that this institute hosts the Papers of Alger Hiss, whose trial they describe as a turning point the "conservative counter-offensive." The description continues that the 1948 presidential campaign fractured "the left-liberal coalition as many of Harry Truman's Democratic supporters began to call Henry Wallace a Communist fellow traveler." Where is there a place at this NYU center for a historian who indeed believes not just that Wallace was a fellow-traveler, but also, possibly, a Soviet agent? According to John L. Gaddis of Yale University, speaking a week ago at the second annual Buckley forum at Yale, evidence suggests that Wallace was in touch with the KGB and likely was doing its bidding.
The description continues to suggest that the Hiss trial was "used to reinforce the idea that progressives were soft on Communism." Were they? Is there in fact any room for a scholar who reaches the conclusion that this was in fact the truth? The entire structure of the Hiss project is carried out from the standpoint of not only Hiss's innocence- which few Americans believe to be the case anymore-but from that of a leftist world-view that Hiss was framed in order to more effectively wage an unnecessary Cold War. Rather than say what Hiss stood for, they state that he "embodied the reformist vision that linked FDR's domestic agenda to an internationalist foreign policy." Hence they conclude that "the Hiss indictment was part of a wide-ranging campaign designed by Richard Nixon and the Republican right to discredit the New Deal…."
An Ideological Fairy Tale?
This is, indeed, not history—but an ideological fairy tale meant to use the university to further the agenda of today's far left. So let me return to Professor Zimmerman's plea for affirmative action for conservatives. His idea is well meaning, but is itself deeply flawed. For one, a scholar should be hired on his credentials and his work, and not on his politics. There are conservatives who write bad history, and leftists who write good history. I do not agree with much of Michael Kazin's interpretations, but he is a serious historian who has done very good work. And it is not surprising to find that some years ago, Kazin wrote one of the most damning critiques of the work of Howard Zinn for Dissent, a social democratic journal of opinion.
I have not, however, found many leftist historians, or even liberals, praising the work of the late Eugene D. Genovese. When the great historian of the South and slavery died a short while ago, conservative publications extolled his work; liberals and leftists who were furious that he abandoned Marxism for social conservatism largely remained quiet. There were few who heaped the kind of praise on him that they did for the British Communist historian Eric Hobsbawm, who passed away the same week as Genovese. In Hobsbawm's lifetime, he received scores of honorary degrees, while his counterpart in age and brilliance, Robert Conquest, has only received one.
How anyone in a liberal arts, history or humanities department with such a point of view would even agree to affirmative action for conservatives makes it clear that it will never happen. Most of those who control leftist departments seek consciously only to hire more of their own, in order to use these departments as vehicles to create what some of them openly call a socialist university. I recall that a chairman of a sociology department at such an institution, who I personally knew when I was on the Left, told me that this was precisely his goal upon taking over the department. Had a conservative been a chairman and announced the same, that person would have been condemned as a violator of academic freedom and as a man usurping his power in the service of reactionary ideological conformity.
Professor Zimmerman quotes Justice L. Powell's citation of an article by William G. Bowen, who argued that racial diversity would help students "to learn from their differences and to simulate one another to reexamine even their most deeply held assumptions about themselves and their world." Prof. Zimmerman says "that's exactly right." I do not think this is true. People do not think differently because of race or ethnicity. Perhaps they do vote as a bloc for a member of their own ethnic or racial group. But as we know, the new Senator from South Carolina is an African-American conservative, appointed by Gov. Nikki Haley of South Carolina to replace the outgoing Sen. Jim DeMint. He is black, but the color of his skin is not what gives him different ideas.
No 'Historic Discrimination'
Prof. Zimmerman is to be congratulated for saying "we need more right-leaning professors," but as an opponent of affirmative action, the reasons for opposing its use that have continued unabated for decades are the same reasons it should be opposed when the goal is to bring conservatives to the campus. That goal will only be met when the would-be liberals and leftists who now dominate the academy rethink their own assumptions, and come to believe that higher education and the stimulation of making students learn how to think will not occur if universities are thought of as centers of left-wing indoctrination.
Prof. Zimmerman also thinks that conservatives have not "suffered historic discrimination." He is also wrong about that. My own experience some years back, written about in The Chronicle of Higher Education, The Weekly Standard and The New Republic, showed to me that my chances of being made part of the Department of History at George Washington University came to naught, precisely because the left-liberal department members were aghast at the possibility that I might join their ranks. Indeed, when I appeared before the department, I was bombarded with questions about my politics, and not about my approach to history or how it should be taught. At another institution, where I went for a job interview, I was asked a series of hostile questions about why I had concluded Julius Rosenberg was a Soviet spy, and why I felt the need to write such a book as The Rosenberg File. Finally, at his own institution, in the middle of an article having nothing to do with me at all, the left-wing NYU historian Linda Gordon proclaimed that I was in the pay of the National Rifle Association, although I had never written about the gun issue at all. No editor at the publication sought to take that sentence of her review out, nor did they seek to find out whether or not the NRA had in fact given me any money at all. (They did not, in case any readers are wondering.)
The reason such professors will not hire conservatives is precisely because they do not want "other right-leading students" to "follow them, into the academic profession," as Prof. Zimmerman hopes they will once conservative professors are hired. Does he really think people like Marilyn Young and Linda Gordon at NYU want anyone to challenge the ideological hegemony they now hold over molding students' minds? Does he think that Eric Foner, the Columbia University professor who has won almost every major award of the profession as well as the leadership of the historical profession's organizations, will ever use his authority and influence to bring conservatives to his department at Columbia? I do not think that is the reason Eric Foner went into the profession in the first place.
So, I agree with Prof. Zimmerman that there should be "a better kind of ideological balance." That will not happen until leftist group-think comes to an end, and the leftist academics stop being a perpetual "herd of independent minds." Conservatives will unfortunately have to develop their own schools of thought at conservative institutions like Hillsdale College and Claremont, hoping that the work they carry out will reach independent minded students who think for themselves. But it's a long, long road through the existing institutions until liberal academia holds out a welcome mat for conservatives.