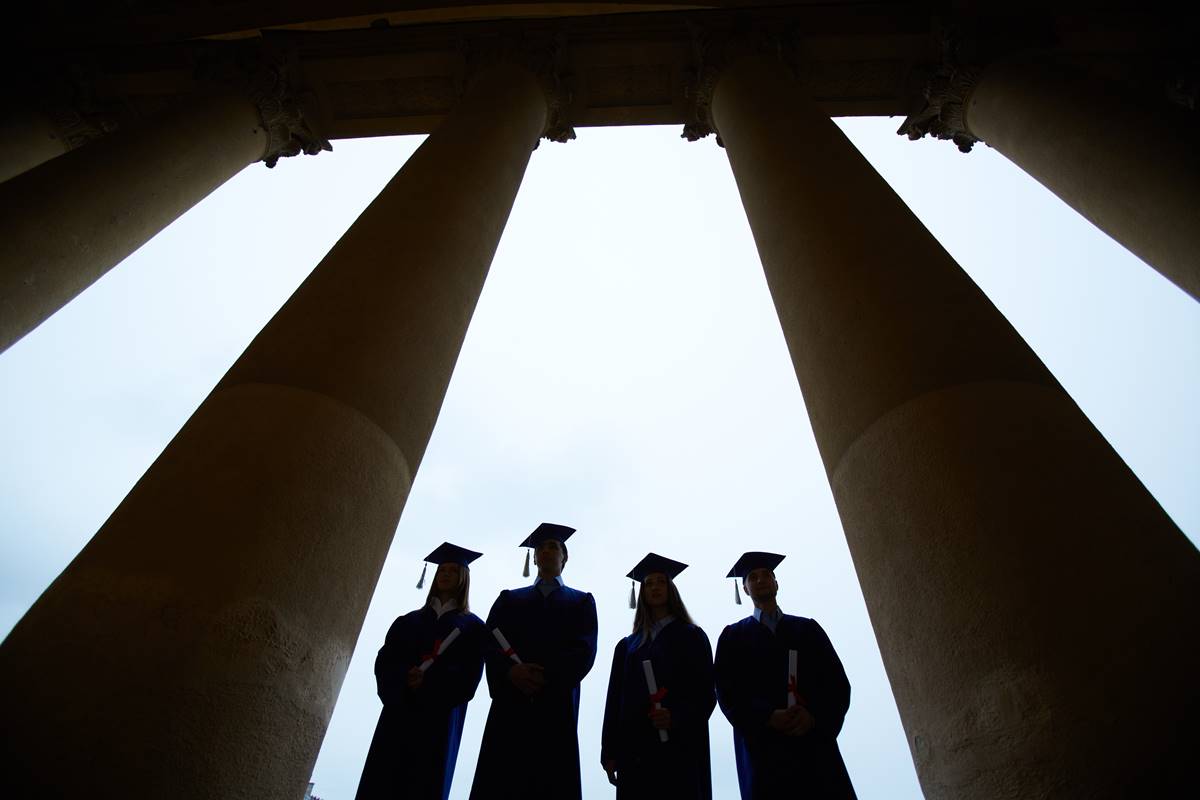 Andrew P. Kelly and KC Deane
Despite our better instincts, we looked at Andrew Leonard's recent piece on the conservative plot to "wreck higher-ed." He begins with an oft-heard although accurate lament about public colleges: state funding is decreasing while costs and prices continue to climb. However, Leonard's argument quickly veers into conspiracy-land:
There's a political context to the transformation. Higher education is in crisis because costs are rising at the same time that public funding support is falling. That decline in public support is no accident. Conservatives don't like big government and they don't like taxes, and increasingly, they don't even like the entire way that the humanities are taught in the United States.
It's absolutely no accident that in Texas, Florida and Wisconsin, three of the most conservative governors in the country are leading the push to incorporate MOOCs in university curricula.
According to Leonard, Rick Perry, Rick Scott, and Scott Walker are "the three horseman of the MOOC apocalypse" who boast "undisguised scorn for the whole enterprise of higher education, insofar as it pertains to anything more than equipping people with marketable skills."
It's not exactly earth-shattering to suggest that decisions over allocating public funds are "political." But Leonard's paranoia is off for two reasons. First, spending cuts are a national trend, not a partisan conspiracy. Second, he ignores the fact that Perry, Walker, and Scott have all called on their public university systems to create low-cost degree programs. They haven't "outsourced" higher education so much as they've challenged their public institutions to innovate.
On the finance side, Leonard is right about one thing: higher education funding has suffered during the recession. Each year the State Higher Education Executive Officers (SHEEO) Association publishes data on how much states spend on higher education per full-time student (expressed as educational appropriations per FTE). Tracing this figure from 2009-2012, we can calculate changes in appropriations over time to see how they jibe with which party controls state government. (Note: we opted to adjust the 2009 figures for inflation using the CPI, since SHEEO uses an inappropriate inflation adjustment). We compare the change over the period to the political environment in each state: which party controlled the governor's mansion, did they have unified or divided government, and so on.
Bipartisan Support for Cutting Higher-Ed
The national trend is marked: between 2009 and 2012, 47 states cut higher education spending per FTE. The median (mean) reduction was just over 23 percent (22 percent). Just three states saw increases: Illinois (unified Democratic government), North Dakota (unified Republican government), and Rhode Island (divided government with Republican governor).
When they have had unified government, both Democrats and Republicans have cut higher education funding. If we look at the seven states with unified Democratic control over this period, six reduced funding. Those six (excluding Illinois's 2.8 percent increase) reduced funding by between 19 and 31 percent (West Virginia and Washington respectively) for an average reduction of 22.9 percent.
Of the nine states under unified Republican control, eight reduced funding by an average of 25.2 percent, ranging from a 0.2 percent decline in South Dakota to 42.8 percent reduction in Idaho. Texas, one of Leonard's great villains, reduced funding by 9.2 percent (less than any of the Democratically-controlled states). Florida cut funding by 27 percent, which outranked all but one unified Democratic state. So while Republican-controlled states did cut higher education spending, they were not alone; unified Democratic governments more than held their own. (Of the 17 states with divided government, 16 reduced higher ed spending by an average of 25 percent during the period).
Shifts in which party controls the governorship provide an additional test. Seventeen states experienced a shift in the party of their sitting governor during the period. Among the twelve where a Republican replaced a Democrat, the Democratic governors all oversaw reductions in funding between 2009 and 2010, with an average reduction of about 9 percent. The new Republican governors continued the reductions in '11-'12, with an average cut of 11.3 percent. Eight out of 12 Republicans oversaw cuts that were larger than those under their Democratic predecessor (including Scott Walker, whose 11.5 percent cut was larger than the 2.2 percent decline over the prior years).
Among the five states with the opposite transition, four of the Republican governors cut funding during '09-'10 (Vermont increased it) for an average reduction of 8.1 percent. All five incoming Democrats cut funding in '11-12 by an average of 6.4 percent. Two of the five Democrats oversaw larger cuts than their predecessors.
These data suggest a bipartisan national trend, not a conservative conspiracy. The vast majority of states–whether controlled by Republicans or Democrats–have cut higher education funding in response to budget deficits.
Public Higher-Ed Is Not Under Assault
More broadly, the argument that conservative governors have cut funding because they want to replace universities with online learning has it backwards. Instead, many governors–Republicans and Democrats alike–have pushed their state systems to innovate precisely because they have less money to spend on higher education. Oddly, Leonard criticizes the three Republican governors for trying to create affordable, state-run degree programs. Tell us, where do you see private MOOCs in Texas' current slate of $10,000 degree programs? We mostly see public campuses working in tandem to cobble together low cost pathways, most of which rely on in-person instruction. Likewise, Walker's "flexible degree" is housed within the state system. Faculty members have voiced concerns about a lack of input in the process, but the flex degree has hardly been "outsourced:" Ray Cross, the chancellor of the University of Wisconsin Colleges and UW Extension, is overseeing the effort.
Meanwhile, the governor who has most aggressively bought into MOOC-mania happens to be a Democrat: California's Jerry Brown. He just inked a deal with for-profit MOOC provider Udacity to provide online, introductory math courses to Cal State students at $150 a pop. So why isn't he Leonard's fourth horseman? Oh, right, because Brown's a Democrat, and according to Leonard his preference for MOOCs is not accompanied by the same "undisguised scorn for the whole enterprise of higher education" as his Republican colleagues.
It's important to distinguish here between efforts to encourage innovation and the temptation to ration public money toward particular academic disciplines. Leonard rightfully points out that Republicans' push for higher education reform has, at times, conflated innovation with their inclination to spend less public money on the humanities. Before announcing his $10-K BA proposal, for instance, Florida's Rick Scott knocked the value of anthropology degrees, and a Florida task force recently suggested that humanities majors should pay higher tuition.
But this is central planning, not innovation. The beauty of a higher education market that encourages innovation is that the state need not be so heavy-handed. Schools and departments that embrace the imperative to deliver quality education at a lower price will be rewarded with more students; those who resist will have a harder time attracting enrollments.
The real question, then, is how should leaders respond to the higher education budget crunch? By simply letting colleges close their doors to new students when state money runs out, as California's community colleges have done? By only spending money on a subset of programs that the government decides have value? Or should we applaud when leaders from either party work to develop affordable degree options for their state residents? Closing the doors to students seems significantly more regressive than creating new options that can serve more people at lower cost.
Critics will argue that these are false dichotomies and that states should just fund higher education at prior levels. If the trend in 47 states is any indication, they are unlikely to find a particularly sympathetic audience in either party.
____________________________________________________________________________________________________
Andrew P. Kelly is a Research Fellow at the American Enterprise Institute; KC Deane is a Research Associate there.
(Photo: California Governor Jerry Brown. Credit: Annenberg TV News.)