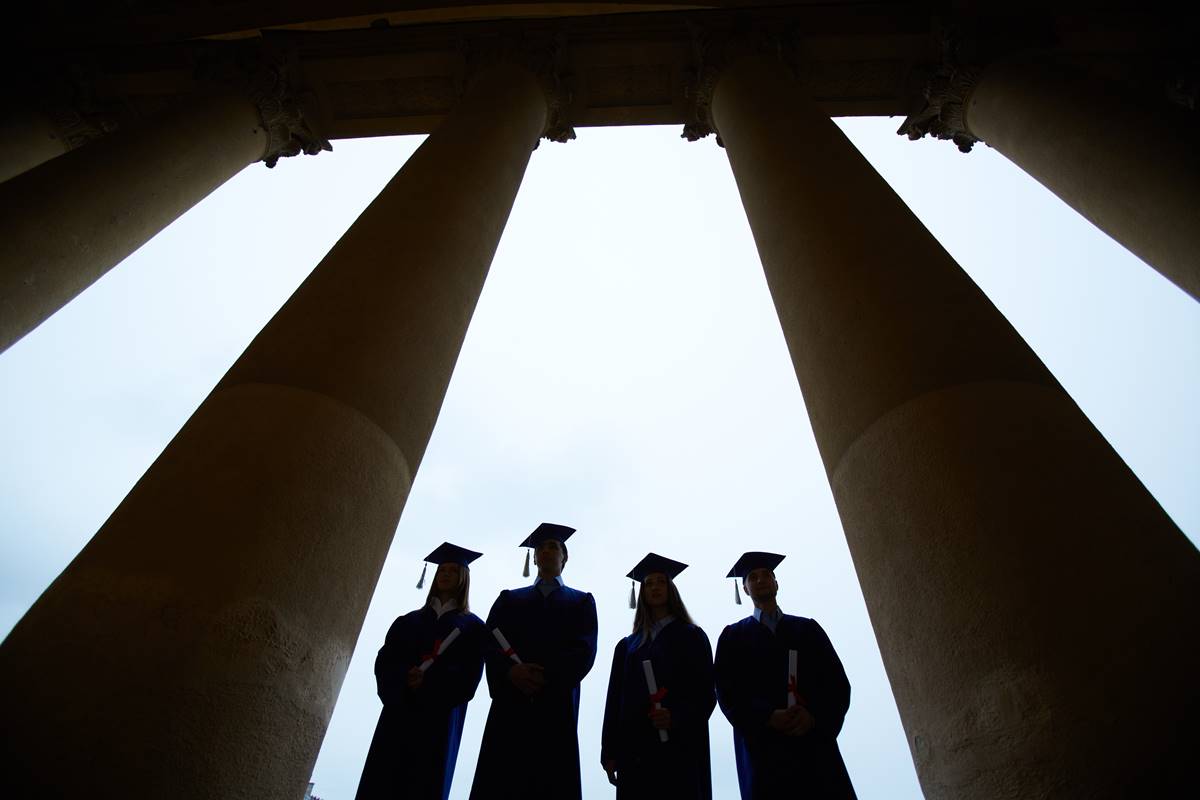 Clayton Christensen's 1997 book, The Innovator's Dilemma, posed the question, why do good companies fail? In industries ranging from computers to telephones to cameras to stock markets, the companies that monitored market trends, tended to their customers, and invested in high-returning capital capsized in a sea of start-up innovations (PCs, cell phones, digital cameras, and online markets, in these cases).
Some say the same is true of higher ed–except that wise schools, perceiving the trend, can embrace the disruption before it disrupts them. So what would happen if colleges embraced the MOOC? That's the question looming behind a number of starry-eyed op-eds that sing the MOOC's upending powers to jolt academe into twenty-first century efficiency.

Consider Thomas Friedman in the New York Times or Ron Trowbridge in the Houston Chronicle counting the ways that we love, or that they think we ought to love, the MOOC. Trowbridge counts four ways. The MOOC is cheap, opening education to the poor. It's fast; students can answer each other's questions in a mean time of 22 minutes, according to Coursera co-founder Daphne Koller. It's the energy pill of higher ed: some students can perform better and faster in school when they study MOOCs alongside their regular courses.  And the MOOC draws top-notch professors, boosting access to star scholars. Both Trowbridge and Friedman cite these benefits at Harvard Business School, which, Friedman approvingly writes, "doesn't teach entry-level accounting anymore, because there is a professor out at Brigham Young University whose online accounting course 'is just so good' that Harvard students use that instead."
The Status Quo
If Harvard has started outsourcing, then junior colleges must be MOOC clones by now, and academia must be well along the path towards MOOC-ifying their campuses. So where have outsourced MOOCs replaced the classroom?
Nowhere, it turns out. In my hours of research, I found no classes replaced by MOOCs, so I asked a number of open education experts where open resources have been adopted in traditional colleges. Michael Nanfito, executive director of the National Institute for Technology in Liberal Education, pointed me to the example of a chemistry professor at the University of Puget Sound who, like many other professors, flips his classroom. He gives students short videos to watch and spends class time working through discussion and examples. Mary Lou Forward, executive director of the Open Courseware Consortium, distinguishes between open education resources (which allow anybody to use and modify the content) and MOOCs (which allow anybody to enroll, but require licenses to modify). Many
universities have incorporated open educational resources, from quizzes and
PowerPoint slides to syllabi and lecture notes, into their regular courses, but
she's not aware of any that traded in-house classes for MOOCs: "The intention
was never to replace classes," but to share materials and enhance collaboration.
Some students have certainly left the alma mater for do-it-yourself MOOCs. And some colleges have started awarding credit to students who demonstrate subject competency by taking and passing a MOOC. But American colleges and universities have yet to shutter in-person classes in favor of third-party MOOCs. Institutions remain committed, at least for now, to their own classrooms and to their own content.
What of Harvard Business School? Entry-level accounting (in addition to finance) is a pre-matriculation requirement that students must meet before attending the MBA program. It's not a credit-bearing course, or even a course at all. Jim Aisner, director of media communication at HBS, told me that "There have been, over the years, a small number of students admitted to the school who are flagged by admissions for pre-HBS coursework" and who need to master accounting before they enroll–usually because they didn't take accounting as undergraduates. These students have a buffet of options before them: enroll at a community college, take night classes at an extension school, or turn to any number of online accounting programs, including one from Brigham Young University. BYU's program, incidentally, comes on CDs and at a price. It is one of several course options for an anomalous 3% of the HBS incoming class. And it is not a MOOC.
MOOC Use
Colleges have been much more eager to produce MOOCs than to use MOOCs. Everyone wants to be one of the magnanimous "openers" of open education philanthropically cracking open for the masses the closed hierarchy of elite education. Can't get into Harvard? Don't worry. There's a consolation prize, HarvardX.
But if everyone wants to be a disrupter, few schools want to be seen as disrupted themselves. When colleges do make use of open online courses, they're inclined to use their own MOOCs. Part of that is due to provincial pride. But it also reflects common sense: it's much easier to ensure course quality when you know the producers and hold them accountable. Georgia Tech's MOOC version
of its computer science master's degree and San Jose State University's Udacity
experiment (on take number two after the first attempt failed) reflect this line of thinking.
Institutions have been willing, though, to mix a few MOOC facets into campus-based classes. Third-party MOOCs haven't crowded out the classroom, but they have filled two ancillary roles on campus. MOOCs supplement campus classrooms as audio-visual textbooks or take-home lectures that allow professors to blend and flip their classrooms. Bunker Hill Community College and Massachusetts Bay Community College, funded by a Gates Foundation grant, have experimented
with blended classes anchored by MOOCs from MIT.  A number of individual professors, such as Eric Rabkin, a pro-MOOC English professor at the University of Michigan, instruct their students to glean information from MOOCs prior to coming to class. Then there's Saint Michael's University in Vermont, which hasn't adopted
a MOOC per se, but is launching a residential summer experiment with third-party online content and faculty mentors. And the State University of New York system has recently launched an open version of itself; part of the plan allows enrolled students to take online courses from any of the SUNY schools and count the credit at the particular SUNY college they've matriculated at. SUNY hasn't awarded credit for MOOC versions of its courses yet, though there's talk of MOOC-credits in the future.
A growing number of colleges are crediting MOOCs with even greater confidence. They haven't cancelled and replaced any of their own courses, but they'll let individual students earn credit and opt out of a course if they first demonstrate competency in the course subject. Competency credits aren't new, but using a MOOC to prove competency is. Colorado State University–Global Campus awards
three credits to students who take Udacity's computer programming MOOC taught by a UVA professor. Antioch University grants credit for two Coursera classes from UPenn.  A number of schools have announced intentions to give transfer credits on the basis of MOOCs. (See Georgia State University, University of Maryland, American Public University, Central Michigan University, Western Carolina  University, Kaplan University, and Regis University.)
Meanwhile the Saylor Foundation, which helps nontraditional students piece together free resources to demonstrate proficiency and earn college credit, has forged partnerships with Charter Oak State College, CUNY's Baccalaureate for Unique and Interdisciplinary Studies, Colorado Technical University, Excelsior College, Granite State College, Thomas Edison State College, and University of
Maryland–University College. Students can use a variety of online resources,
including MOOCs, as part of their portfolios to earn transfer credits.
Innovator's Dilemma
Should schools embrace the MOOC more heartily? Christensen's analysis suggests that they should. But the history of academia suggests they shouldn't. Historically higher education has revolved around community and the mentoring relationship between faculty and students. Those relationships and interactions aren't the places to economize. Lose intellectual kinship, and you've lost the core.
The studies on MOOC users concur: students come to MOOCs not as replacements for college, but as supplements. The average MOOC user is more likely to work from an office desk than a classroom desk. Many of the colleges that extend transfer credits for MOOCs have seen a tepid reception. Traditional students who participate in MOOCs see them as complements to their classrooms–as do most of the professors who've incorporated MOOCs into their syllabi.
So bravo to the schools that haven't outsourced the classroom. Innovation is helpful, so long as we don't scrap the essence. That's the real dilemma.