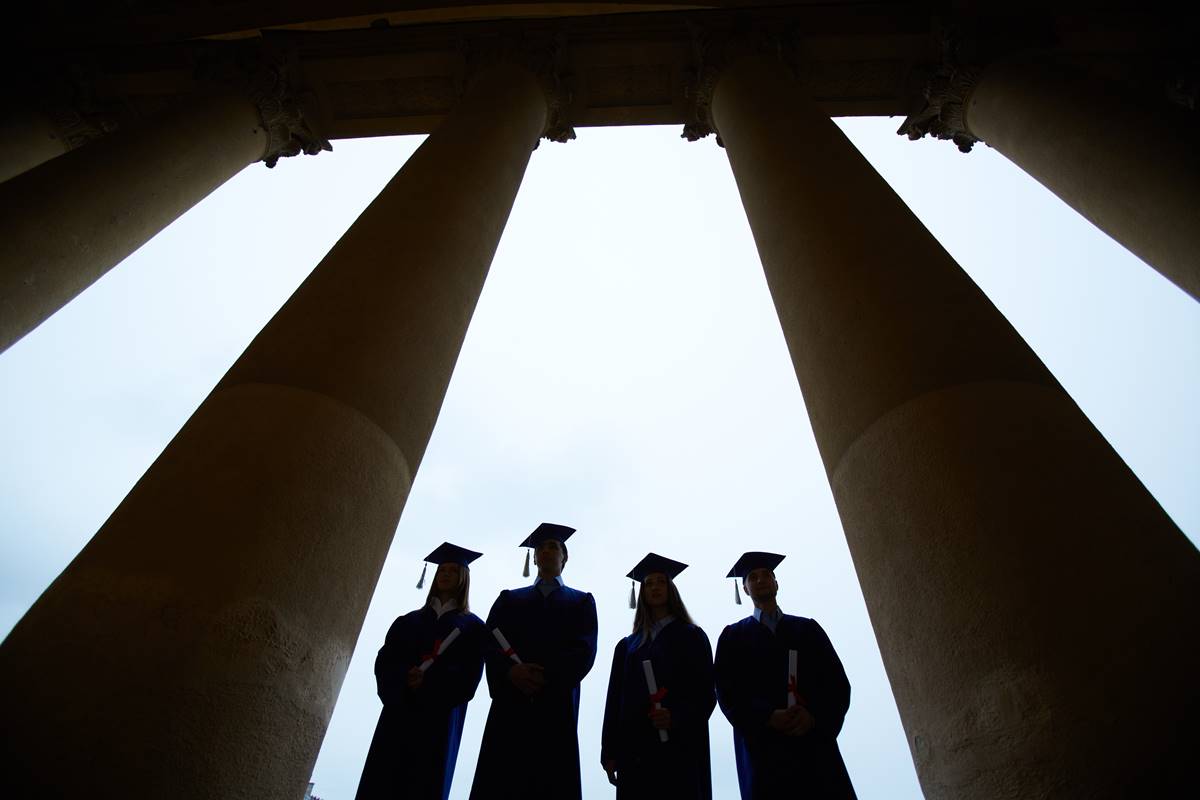 Here's a scary statistic about American higher-ed: more than 40 percent of college students don't graduate. But that number hides enormous variations in drop-out behavior. The National Student Clearinghouse Research Center has issued a "state supplement" report filled with interesting statistics; Here are some:
Completion rates are vastly lower for part-time students relative to full-time ones;
Students attending private schools are more likely to graduate than those at public institutions;
Far more two-year public college students fail to complete their degree than successfully do so;
Interstate variations in completion rates are large;
Roughly 20 percent of those completing schools graduate from an institution different than the one they originally attended, although that proportion is lower at four-year schools;
Those entering colleges right out of high school are much more likely to get a degree in six years than those who wait to attend college;
Women are more likely to complete school then men.

At academic gatherings, you often hear that a majority of students today are "non-traditional" -going to school part-time, often much older than the 18- to 24-year-old students dominating residential college campuses. Yet these non-traditional students have dramatically lower completion rates than kids entering college out of high school. About 34 percent of students under 20 years old entering college full -time at public institutions in 2007 failed to graduate by 2013; for persons over 24, the proportion was 53 percent. The statistics are even more dramatic regarding full- vs. part-time students. More than 86 percent of full-time four-year students do graduate within six years —but barely 20 percent of part-time students do. To be sure, it takes longer to get a degree attending part-time. Yet over two-thirds of part-time students entering in 2007 not only had no degree by 2013, but were not in school.
This convinces me that perhaps we should reduce subsidies for part-time or older students. Younger students have more than a 40-year work lifetime expectancy after graduation; older students often have 20 years or less. The economic and noneconomic benefits of a degree are far smaller for older students because they enjoy them for fewer years —and there is a far greater risk they won't graduate. Encouraging older students to attend school part-time strikes me as questionable, something pushed by colleges facing enrollment shortfalls desperate for more bodies in the classroom.
Most (86 percent) entering four-year colleges full time graduate within six years. For two-year schools, only 58 percent do -the non-graduate proportion (42 percent) is triple of that at four-year schools. To be sure, half of community college receiving diplomas have gone on and aimed for a four-year degree, and over 40 percent of the non-graduates are still attending college. Still, the huge financial advantage associated with low-cost community colleges is considerably offset by the greater non-completion risk. I still think that entering community colleges and transferring to four-year schools works for many and saves lots of money, but support of this approach must be tempered by reality: lots of community college kids never graduate.
Students attending four-year non-profit private schools full-time have about a 20 percent lower dropout rate than those attending public universities. Including part-time students, the differential is greater: the non-completion rate at public schools (36.6 percent) is more than one-third higher than at private ones (27.1 percent).
Why? I think there are two factors at work. First, on average, private schools are more selective. They do a better job screening out students whose probability of academic success is low, based on high school performance or test scores. Second, on average, students at private schools have more skin in the game -more of their own money at risk because of higher tuition fees. To me, given the underemployment of many recent graduates, this suggests we should reduce enrollment by lowering subsidies to less successful public institutions.
Not only are a majority of college students female, but dropout rates are also higher among males: the six-year completion rate at four-year schools, including part-timers, was 67.3 percent for women, compared with 59.5 percent for men. I have a controversial explanation: the welfare state has neutered American men. The male role as provider and protector has been reduced by the expanding female role in society; also, work has been downgraded by entitlements, and males historically are the main workers. Men are losing their way, particularly among minority populations.
15-20 percent of students change schools and then graduate. (The NSC has reliable data on this.) Would the proportion rise dramatically if institutional barriers to mobility relating to graduation requirements were dramatically reduced?
Looking at full-time students at four-year public schools, fewer than 10 percent of those in Iowa and Virginia failed to complete degrees in six years. The proportion is over three times as great (more than 30 percent) in Utah, Montana, Idaho, Nevada, Idaho, Arkansas and West Virginia. Why did more than 20 percent not complete degrees in New York, but only 13-15 percent in neighboring New Jersey, Connecticut, and Vermont?  Among big Sun Belt states, why did 23 percent not graduate in Texas, but only 15 percent in Florida and barely 12 percent in California?   I don't have ready answers, but it is worth exploring.
(Photo: 94 year old Hazel Soares graduates from Mills College. Source: WSU.)