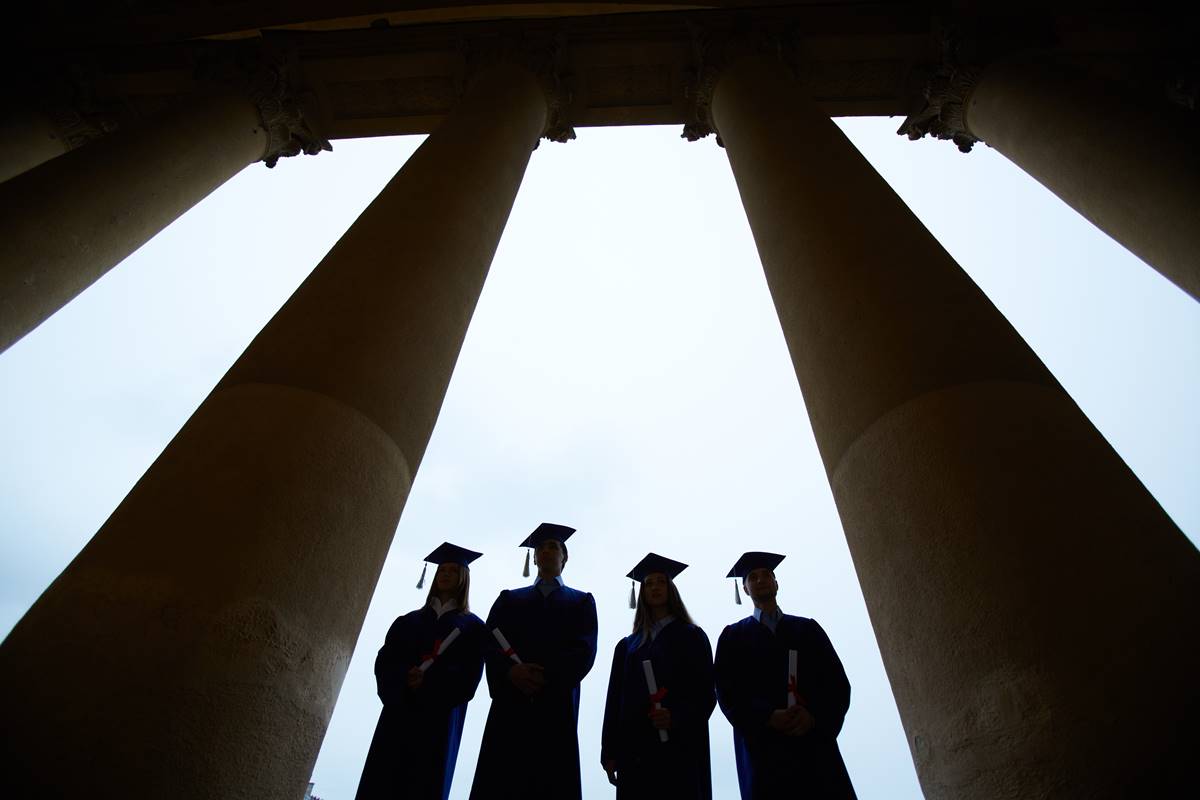 By James Piereson and
Naomi Schaefer Riley
When Thomas and Lorraine Pangle, married professors of government at the University of Texas at Austin, launched a great books program for freshman this year, they expected a demand, but they weren't prepared for just how strong it would be. With 80 slots available, the scholars program of the Thomas Jefferson Center for the Study of Core Texts and Ideas received 440 applications–not only from the College of the Liberal Arts but also from the College of Natural Sciences, the engineering school, and the business school.
The UT experience is not unique. Christopher Nelson, president of St. John's College (a great books school in Annapolis, Md.), says that his school's applications have been stronger in the past four years than at any time since he took charge more than two decades ago. The Great Hearts Academy charter school network in Arizona now has nineteen schools and is planning more. The Classical Latin School Association, just created last year, is working with twenty schools directly and hundreds more are using parts of its curriculum. A Latin textbook for elementary grades used at many of these schools has sold 150,000 copies.
In a tight economy with so many students (and their parents) increasingly focused on career preparation, growing interest in studying Plato, Aquinas, and Locke comes as a surprise. But the vocational impulses in public schooling and the rise in homeschooling may be driving people back to the great books, says Ken Calvert, the headmaster of Hillsdale Academy, a classical elementary and high school in Michigan whose curriculum has been adopted by schools around the country. At public schools, "the emphasis these days is on the illiberal." Education is narrowing students' intellectual vision.  Curricula like the Common Core "see human beings as drones," and students "never tackle the big questions about life and the nature of the universe."
He also thinks that at a time when many college curricula resemble a cafeteria or a Chinese food menu–one from column A, one from column B–the great books curriculum provides strong coherence. Mercer College in Georgia offers a seven-course sequence in the great books that begins with the ancient Greeks and Romans, moves on the to Old and New Testaments, and then to modern authors ranging from Luther, Dante, and Chaucer to Shakespeare, Hobbes, Locke, Newton, Nietzsche, and Yeats. The rigorous program enrolls nearly twenty percent of the school's undergraduate students.
Studying these authors–particularly reading entire works, not just selections in anthologies–seems almost otherworldly now. For those who attended top schools, this was more or less what was studied, at least until the 1920s, according to Martin Cothran, director of the Classical Latin School Association. In the 1920s, John Dewey launched what became a series of educational fads based on the idea that college students should be trained for vocations or for common citizenship in an evolving democracy. According to Dewey and his followers, a structured curriculum based upon great books was out of date.
The great books experienced a resurgence in the post-World War II years with Robert Maynard Hutchins at the University of Chicago. Christopher Nelson, whose father worked under Hutchins at Chicago, says that the belief in the possibility of a world government helped impel people to go back to the great books to study, among other things, which forms of government were best. Man was essentially perfectible, in the eyes of these scholars, and the great books were viewed as a means of transporting students beyond their own culture to a world of universal principles.
Partly as a result of this, and partly because Karl Marx and several known atheists were on the program–the great books seemed to many at the time like a fundamentally liberal project.
With the upheaval of the 1960s, though, came the notion that a curriculum focused on the works of "dead white men," was no longer sufficient and the Sixties people who entered academe vigorously pushed the view that great books were instruments of Western oppression. There was an insistent demand that curricula should become representative of new voices of women and minority groups, and include readings from non-Western cultures and civilizations. In subsequent decades, general education requirements were dropped or watered down at virtually every major American university.  Columbia University is probably the most prominent exception. Undergraduates there are still required to take two full-year seminars in which they read, study, and discuss one of the great books every week.
Since the 1980s, the classical curriculum has largely been seen as the province of conservatives working to sustain the integrity of Western Civilization in the face of divisive forces such as multiculturalism, relativism, and globalization.  Some of the interest on the right is the result of a surge in the homeschooling movement and a renewed desire among Catholic and evangelical families in preserving these important texts. One of the most prominent and rigorous great books schools is Thomas Aquinas College, a Catholic school in Southern California.
"It is only natural that an institution grounded in religious tradition is used to thinking about some texts as being more canonical," says Nelson. But it's not just the idea that some texts are more important than others that makes religious students a natural fit. It is also the way that they approach texts. Charlotte Thomas, the director of Mercer's program, says, "There is a respect for tradition. This book wouldn't have been as influential or held status over time unless there were something important here." When students read books, they "submit" to them. It's not that they will necessarily conclude the ideas are right. But the books are worth serious consideration.
Lorraine Pangle is quick to point out that the great books, if taught properly, "will have an unsettling effect and even a potentially revolutionary effect on students." The program is not just an exercise in preserving old books, but about "reanimating old questions," she says.
While the left often suggests that the intellectual tradition of the West is a sort of party line that conservatives want to impose on the young, the people who run great books programs say that the tradition is hardly so narrow. These curricula do not cover Ronald Reagan's speeches–or Milton Friedman's, for that matter. Many of the faculty would say students are perfectly capable of reading those works on their own without the guidance of a college faculty. Rather, great books courses are an extended argument over important ideas at the highest level.
Roosevelt Montas, the director of Columbia's program, notes that many of the faculty grumble about having to teach some of these courses–they are "pedagogically intensive"–but he finds that they are taught both from conservative and liberal perspectives. "Books that end up on this list of classics are masterpieces and tend to not be reducible to conveying simple ideological messages." They can be approached, he notes, "from a variety of ideological commitments."
Indeed, Pangle says that one of the goals of UT's program is to "promote civic discourse and civility" among students who disagree with one another. "For a student coming to the university thinking there aren't any answers we want him to understand that there are better and worse answers. For a student who thinks people who disagree with him are foolish or dishonest, we want to show him that there are strong arguments behind different positions." She says, "We want to help liberals and conservatives talk to each other."
Part of doing that is finding a common language. And what these classes and their students have in common are the texts. "It's very empowering for students," says Charlotte Thomas. "They're able to pursue what's interesting to them." There is a lot of preparation for seminars and students hold each other "accountable." Thomas believes that this kind of engagement "breeds a kind of moral courage. They're not afraid of anything intellectually."
That kind of fearlessness is evident even in the essays that applicants sent for the program at UT Austin. A student from the College of Natural Science wrote, "Though I am a biology major, I have always had a strong love for literature, and I wish to learn more about the great masterpieces of world literature. Biology comprises the science of life, but books, especially books that have shaped civilization and culture, comprise the meaning of life." Who can argue with that?
———————————————————————————
James Piereson is a senior fellow at the Manhattan Institute. Naomi Schaefer Riley is author of "The Faculty Lounges . . . And Other Reasons Why You Won't Get the College Education You Paid For." 
(Photo: Thomas Aquinas. Credit: Catholic Culture.)