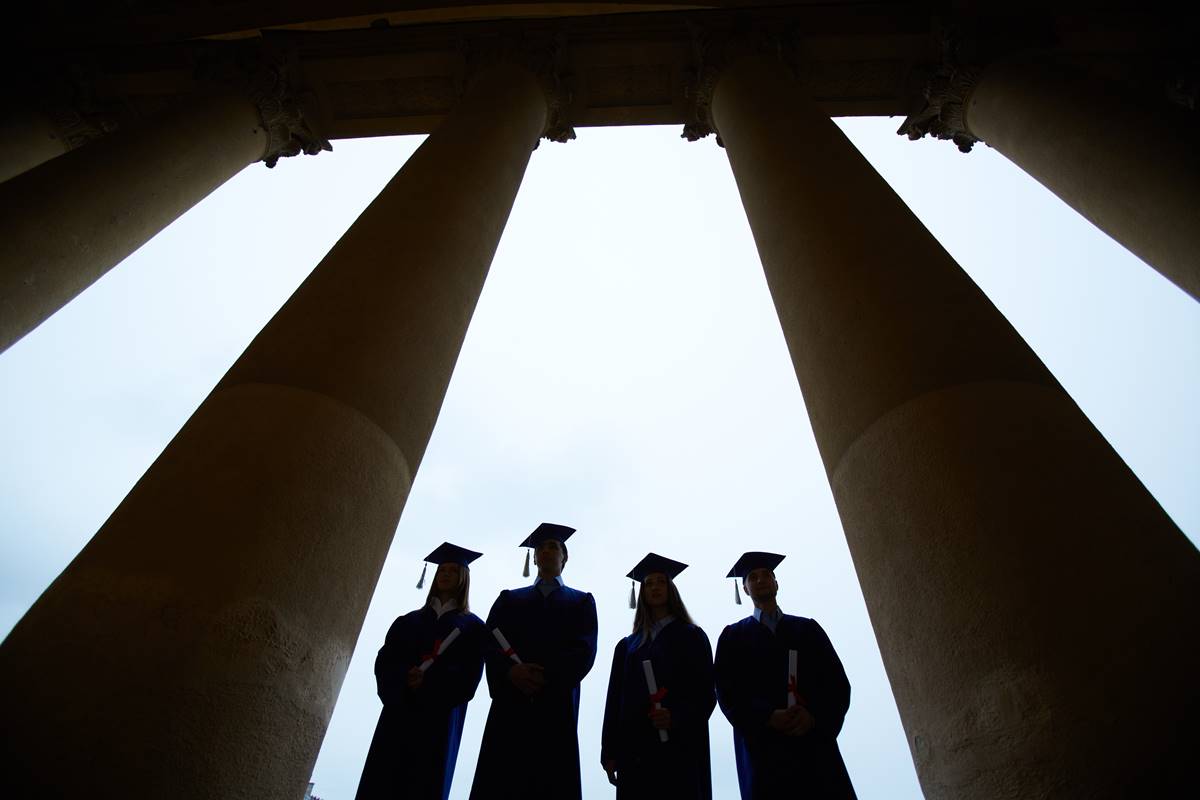 After the Titanic struck the iceberg, the ship's captain and senior executives were said to be unworried.  How could their mighty ship sink?  The hubris and arrogance of the ship's captain and senior officers was astonishing.  They seemed to believe that because they were handsomely recompensed, resplendent in their uniforms and saluted by their toadies, their little world would never end.  While the passengers and lowly crew members were beginning to panic, the officers urged them to remain calm.  They were confident that the ship was unsinkable and on course.  The dining rooms remained open and the ship's orchestra played on to soothe the foolish passengers and crew who prattled about an utterly impossible impending disaster.  Unfortunately, more than a century later, the good ship Titanic remains at the bottom of the ocean.  Some of her passengers survived but 1500 did not, victims of the captain's decision to maintain course and steam full speed ahead despite numerous warnings from experienced crew members that there were icebergs in the vicinity.
The Titanic came to mind as I scanned the results of a 2014 survey of college presidents recently published in the Chronicle of Higher Education under the title, "The Innovative University: What College Presidents Think About Change in American Higher Education."   According to the survey, the great majority of college presidents believe that American higher education is heading in the right direction, that cost-cutting should not be a major focus and that they are providing excellent value for students.
These college presidents appear to believe that their good ship is on course and can continue steaming full speed ahead.  And, why shouldn't our captains of erudition have a rosy view?  Many are lavishly compensated, expensively dressed and coifed, and surrounded by legions of deanlets and toadies who always agree with them.  How could anything be wrong with such a world?  Cries of alarm from faculty members, students, parents and legislators must be uninformed.  Tell the band or, perhaps, order the university office of public information and administrative propaganda to turn up the volume and drown out the grumblers.
Related: The MOOA's First Assignment
Unfortunately, the good ship Higher Education has gone off course and is heading toward icebergs.  Its presidents have disempowered the senior faculty members who actually knew something about education; hired legions of deanlets, deanlings and ding-a-lings who may not know the difference between a classroom and a restroom and certainly do not know the difference between a mission statement and a mission; allowed costs to explode by failing to rein in administrative salaries and unnecessary services; undermined faculty control over the curriculum resulting in a hodgepodge of offerings of unproven value; and generally converted the university from an institution that prided itself on shared governance into one whose management structure seems modeled on General Motors–a pyramid at whose apex sit individuals who know nothing about cars.
The Chronicle survey also reports that college presidents believe that faculty should be drivers of change in higher education.  This is an odd finding since presidents have spent the past quarter century making certain that the faculty had no such power.  I think a reasonable interpretation of this finding is that presidents and their toadies have no ideas–the remainder of the survey confirms this proposition–and wish that faculty members would provide them with some clever thoughts for the strategic plan and college mission statement.  These are, of course, the documents where ideas go to die.
Just in case, however, some of the survey's respondents were serious about faculty-driven change, here are some thoughts that I would be happy to share with college presidents..
1. Change the management structure of the college.  Successful organizations follow a model the Germans call Auftragstactic, or mission-oriented leadership.  This model allows senior managers to set general goals but depends upon professionals who actually understand the tasks at hand to devise their own strategies for carrying them out.  This organizational model requires senior leaders to give up some power, but is best for the organization. It was once called shared governance.
2. Reduce administrative bloat and administrative salaries.  About a third of the cost increase in higher education over the past 20 years can be attributed to these two factors.  Begin with a 10 percent cut in administrative positions.  They will never be missed.  If you can't think where to start cutting, consult the faculty.  As to salaries, start with your own.  You are seriously overpaid and someone just as good as you could be hired for far less.
3. Use the savings generated by reducing administrative bloat to cut tuition.  Students or their parents are facing enormous debt burdens from outlandish tuitions that result, in part, from profligate administrative practices.
Related: Can We Halt Administrative Bloat?
There, I've tried to be a faculty change agent, just like the survey reported college presidents sought.  The faculty has many other ideas for change but these three would be a good place to start.
It is rather disheartening to read that college presidents believe we are heading in the right direction and that all is well with the academic world.  Perhaps their academic world is doing just fine but in the academic world of impoverished adjuncts, the world of students with worthless degrees and mountains of debt, the world in which the liberal arts are deemed not to be cost effective all is not well.  Our captains of erudition are sailing the ship at full speed toward the icebergs and should not say they were never warned. The Chronicle survey seems to suggest they are as deaf to warnings as the captain of the Titanic.