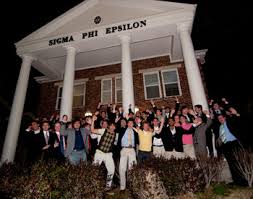 "Will Wesleyan Be the Next School to Do Away With Frats?" That was the headline that ran on a Newsweek story in March. And the most likely answer to that question is "Yes." As Newsweek staff writer Zach Schonfeld, himself an alumnus of the elite 183-year-old liberal-arts college in Middletown, Connecticut, wrote, there's now "a heated discussion about how residential fraternities should continue on campus, if they should continue at all.
That's because Wesleyan's Greek culture—especially as represented by its three all-male fraternities, plus (to a lesser extend) four co-ed fraternity houses and one sorority that has no residential facility–has become a nationwide ideological battleground in the war against campus "rape culture," as feminists call it: the perceived epidemic of sexual assault in academic settings that has riveted the attention of the media, the Obama administration's Education Department, and most recently, Missouri Democratic Sen. Claire McCaskill, who on July 9 released a survey that she said indicted college administrators for not properly investigating sexual assaults at their institutions.
Ironically, Wesleyan wasn't even named among the 55 colleges and universities, from Harvard on down, that the Education Department indicated in late April it was investigating for improper handling of sexual-assault claims. (By contrast, nearby Amherst College in Massachusetts, which banned fraternities from its campus nearly 30 years ago and has recently forbidden its students to join even off-campus Greek organizations, is on the Education Department's sexual-assault blacklist.) Furthermore, defenders of the Wesleyan fraternity system point out that annual campus-crime disclosure reports required under the federal Clery Act indicate that there is no greater incidence of sexual violence at schools with all-male fraternities than at those without.
Related: 55 Schools the Feds Will Investigate
"Jane Doe," a Wesleyan student, was  allegedly raped in a bedroom inside the house of Beta Theta Pi, one of Wesleyan's three all-male fraternities. She filed a $10 million federal lawsuit against the fraternity and Wesleyan alleging, among other things, that Wesleyan had failed to take proper steps to prevent the assault. Her assailant, John O'Neill, hadn't even been a Wesleyan student. A ne'er-do-well Middletown "townie," he had more or less crashed the party as a high-school friend of a Beta brother. O'Neill was already on probation for other criminal offenses, and he eventually pleaded guilty to third-degree sexual assault and was sentenced to 15 months in prison. Wesleyan settled with Jane Doe on undisclosed terms.
The Jane Doe case caught the attention of Atlantic writer Caitlin Flanagan, whose March 2014 cover story for the magazine bore the title "The Dark Power of Fraternities." Flanagan devoted nearly 4,100 words of her 15,000-word article to the Jane Doe case and Beta, painting Beta's alleged involvement with the assault in lurid if murky colors ("fraternities are no strangers to acts of violence committed in their houses by nonmembers") and accusing Wesleyan of victim-blaming in its efforts to defend itself against Jane Doe's allegations. Flanagan had a history of anti-fraternity animus; in 2011 she had written an op-ed article for the Wall Street Journal urging that they be "shut down…for good." In preparation for her article she had spent some time interviewing and going through the litigation files of Jane Doe's lawyer, Douglas E. Fierberg, a Washington, D.C. lawyer who specializes in suing fraternities.
Hot on the heels of Flanagan's cover story came a second Fierberg lawsuit, filed on March 11, alleging that yet another Wesleyan freshman who alleged that she had been raped, on May 3, 2013, at a Wesleyan pledge party. The fraternity in question was another of Wesleyan's all-male houses: Psi Upsilon, which in contrast to Beta and the third all-male house, Delta Kappa Epsilon, was supposed to be the "nice guy" fraternity, according to a student guide. In contrast to Jane Doe, the plaintiff boldly identified herself by name: Cabri Chamberlin, still enrolled at Wesleyan (Jane Doe had transferred out after her assault). Chamberlin alleged that that the party included a "strip tease" produced by the Psi U pledges. One of the naked pledges, Kwame Chihomboro-Quao, had grabbed her, "pulled down her leggings, and raped her in the presence of numerous others," her complaint alleged.
The Chamberlin lawsuit pushed Wesleyan into the lead paragraph of a June 12 New York Times story about fraternity scandals. Meanwhile, Wesleyan's president, Michael Roth, who as recently as 2008 had been publicly championing the virtues of fraternities (Roth, a 1978 Wesleyan graduate, had belonged to co-ed Alpha Delta Phi), had been turning into one of their most censorious critics. In an April 30 post on his Wesleyan blog, Roth lambasted fraternity culture as a nexus of "what researchers call 'proclivity' to discrimination and violence" and observed that "many students see fraternity houses as spaces where women enter with a different status than any other building on campus, sometimes with terrible consequences."
Roth, who assumed Wesleyan's presidency in 2007, had been regarded as fairly fraternity-friendly, reversing a 2005 directive of his predecessor, Douglas J. Bennet, that had required all Greek houses to allow members of both sexes to live on their premises, or else forfeit their status as permissible student housing. (Bennett is the father of Atlantic editor-in-chief James Bennet; the younger Bennet reportedly recused himself from participation in Flanagan's article.) Douglas Bennet's action had been regarded as an effort to disband outright both Beta and DKE, whose national organizations bar women and whose local chapters have been adamant against going co-ed (Psi U's national is agnostic on the issue). Before the Chamberlin lawsuit, Beta and DKE were the Wesleyan fraternities most targeted by campus feminists for their supposed "rape culture" attributes, mostly because they tend to attract campus athletes (who are generally disliked by progressives, who have a special animus against "helmeted" athletes), and because their members have tended not to avow the political correctness that marks official campus culture at most colleges.
Related: In Defense of Fraternities
Feirberg's litigation strategy in the Chamberlin case seems clearly designed to exploit the growing rift between Wesleyan and its Greek houses. He did not name Wesleyan as a defendant as he had done in the Jane Doe case—which all but guaranteed Wesleyan's cooperation in targeting Psi U's local and national organizations as the chief responsible parties.
There is only one problem: Unlike the situation in the Jane Doe case, significant numbers of Wesleyan students don't seem to believe that Cabri Chamberlin was actually raped, much less raped in public, at the May 3 pledge party. For one thing, although Chihomboro-Quao was either expelled or asked to leave Wesleyan promptly after the incident (a Wesleyan spokesman declined to discuss the case with me), Psi U maintains that it was disciplined only for failing to register the party with Wesleyan as college rules require and for permitting the consumption of alcohol on its premises. It is uncertain whether anyone contacted the Middletown police that night, and Chihomboro-Quao to this day has not been charged with any crime.
Chamberlin did contact campus security, and a subsequent rape-kit exam at a local hospital revealed vaginal tears and bruising. According to Evan Drutman, a New York lawyer and 1986 Wesleyan graduate who is unofficially representing Wesleyan's Greek-house community (a San Francisco law firm is handling the Psi U lawsuit), it is likely that Chihomboro-Quao had groped Chamberlin inappropriately and offensively, but the two already knew each other and "had fondled each other on previous occasions." Drutman added: "Everyone was drunk that night. And afterwards she apparently went to another party. Some Psi U brothers saw her there."
A distressed-sounding op-ed by two female Wesleyan undergraduates that ran in early April in both the Argus, Wesleyan's student newspaper, and in the Hartford Courant indicated the extent of other Wesleyan students' skepticism about the facts of Chamberlin's alleged public rape. "The campus dialogue surrounding the Psi Upsilon lawsuit is dominated by a focus on fraternity community service and fundraising, victim blaming and accusations of 'misreporting,'"  Mari Jarris and Chloe Murtagh wrote. "Common responses include, 'It seems like she's creating a problem out of nothing,' or 'but she went home with him.'" The two blamed the widespread student skepticism about Chamberlin's claims on "the extent to which rape culture thrives on Wesleyan University's campus."
I asked James McCullen, a Hartford lawyer who is co-counsel with Fierberg in the Chamberlin case, about his client's specific allegation that she had been raped and the fact that no criminal charges had ever been filed. (Connecticut law specifically requires that rape include penile penetration.) "I think there are witnesses who differ about what happened to her," McCullen said. "My understanding is that the [Wesleyan] disciplinary proceeding found that there was a rape," McCullen said. "The complaint in this case was just filed, and we have to do discovery."
At this point, however, it scarcely seems to matter how much truth there is to Cabri Chamberlin's allegations—or whether two incidences of alleged sexual assault over a three-year period constitutes enough evidence that colleges with fraternities are any worse than those without. Roth now seems determined either to abolish Wesleyan's fraternity system altogether or to force the all-male Greek houses to go co-ed or disband. He is also said to have a majority of Wesleyan's 30 trustees on his side. Fraternities have been called "anachronisms" in today's academic world. That may or may not be true, but many people want to make them so, at least at Wesleyan.