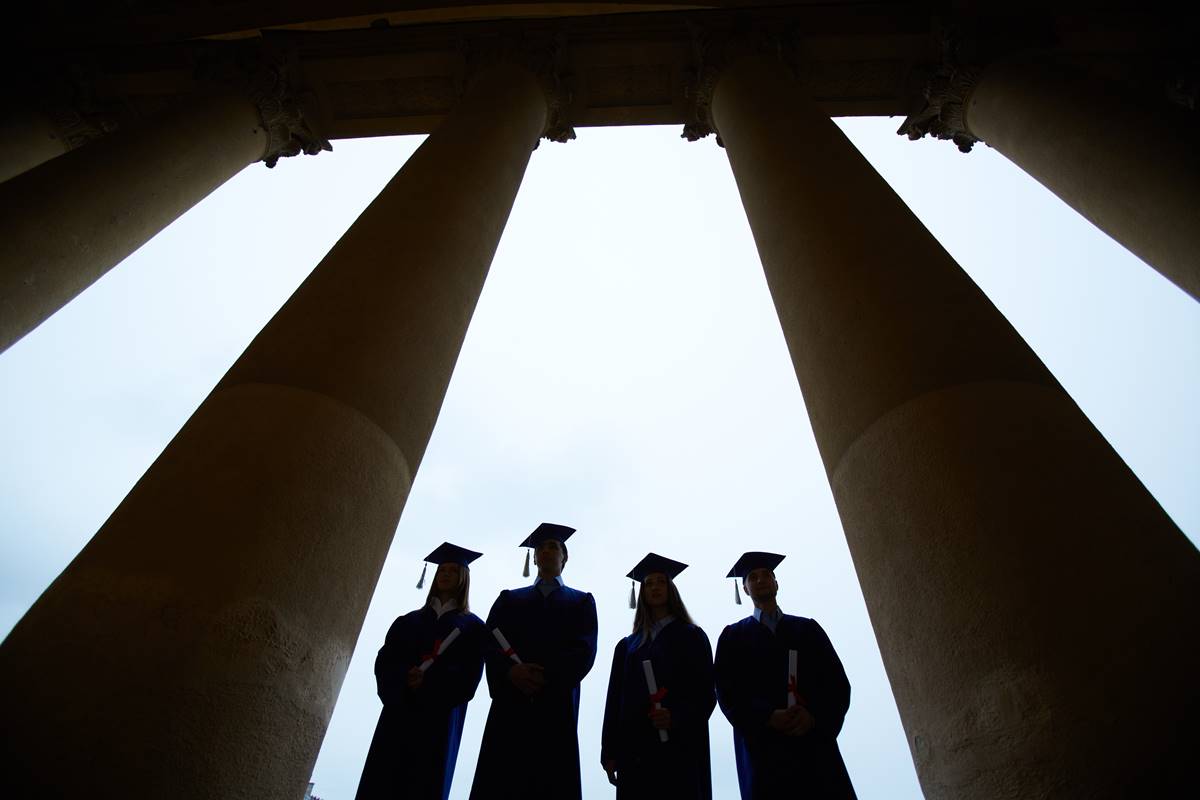 A favorite trope of science fiction dystopias is a classroom of students wearing metallic skull caps wired to a blinking, monolithic computer, and staring vacantly into space while the propaganda and "facts" that pass for knowledge and education are downloaded directly into their brains. That scenario may be coming soon to a college campus near you, if in a somewhat more refined manner.
Consider the state of higher education today. Since the late 1970s, the total of poorly paid untenured and contingent faculty has far outstripped the number of tenured faculty on college campuses all over the world and now accounts for roughly 76 % of faculty in U.S. higher education.
The shrinking number of tenured academics has been paralleled by a growing number of very well-paid administration positions, filled by MBAs or Educational Administration doctorates who have spent little or no time in the actual educational trenches. The current corporate administrative pattern emphasizes a profit model of efficiency, cost control, and knowledge delivery, which is fundamentally different from the academic and pedagogical model of knowledge creation, a messy, individualistic but often life-changing process. This new emphasis is evident in the constant rise of tuition (going to grandiose building projects and bloated administrative salaries mirroring the corporate world), increasing demands for the quantification and standardization of instruction, larger class sizes, and the devaluing of educators' professionalism, expertise, mentoring, innovative pedagogy, and the kind of student-centered, highly personalized learning opportunities I had at my small liberal arts college in the 1980s.
If these trends continue unchecked, the educational "opportunities" I and many other educators foresee will look like something out of that science fiction dystopia. For the sake of efficiency and the bottom line, students will be "educated" (although it will be more like indoctrination with facts than true education) en masse, remotely, in MOOCs (massive online open courses) by a few "star" academics who record their lectures and require the purchase of very expensive texts and materials from a few monopolistic academic publishers. Low-salaried "tutors" (today's adjuncts with Master's degrees and doctorates) will be standing by at what amounts to a call center with scripted responses to students' questions. There will be little or no discussion of the material, little opportunity to interact with other students, the professor, or even ideas that are not in the book or online, and virtually no support for struggling students beyond a disembodied voice or image on a screen. This is the logical extension of the model of knowledge delivery vs. knowledge creation, which requires teacher-student interaction, argument, discussion, questioning, practice, and widely varied pedagogical methods—teaching the student, not the material.
If this sounds far-fetched, you should know that one attendee at the recent Coalition of Contingent Academic Labor (COCAL) conference reported that her Canadian college,  Athabasca University, is already in the process of moving its adjunct instructors into that call center, hiring non-academic operators to determine whether student questions are administrative or academic and route them accordingly, and requiring its "tutors" to use a script penned by the textbook publisher. Remember the last time you called tech support and got an offshore technician who insisted on running through the entire customer-service script, even though you've already tried everything suggested? Imagine this as your educational experience. Just as bad, MIT and Harvard have already formed a company called EdX to provide machine grading of academic essays. Not for Harvard or MIT, of course. Machine grading, though possibly cost-saving, would lead to a "beating the machine" or "gaming the system" mentality of teaching to the test rather than real learning, the kind of instruction we see in test prep centers for the college boards. I'm sure the testing companies will jump on that opportunity too.
Inevitably, this sets up a two-tier system of education: the intimate, personalized educational experience for those who can afford a "traditional" education, and the cheaper, technology-heavy/professor-light so-called education of the masses. Good pedagogy requires the collaboration of student and instructor and the interaction is often a two-way street, building something entirely new—a new viewpoint, a new technique, a new set of questions. When instruction becomes standardized and rote as it is now becoming in our worst for-profit and online schools, nothing new comes out of it. A massive shift to so-called competency-based education that emphasizes the concrete skill sets that non-educators value over the more abstract and difficult-to-quantify results of "live" higher education would kill rather than nurture new ideas, in both students and faculty. If the drive to standardization and contingency continues, higher education will become a place where innovation, creativity, and open inquiry go to die of exhaustion and active suppression.
Science Fiction Grand Master Arthur C. Clarke (one of the inventors of geosynchronous satellites) said in his essay "Hazards of Prophecy: The Failure of Imagination," that, "When a distinguished but elderly scientist states that something is possible, he is almost certainly right. When he states that something is impossible, he is very probably wrong." We have lost a generation of research scholars already, to the perpetual post-doc carousel and the permanently insecure adjunct track. The lack of new blood supported by job security and living wages entrenches old ideas and leads to stagnation. Progress in technology requires risk; so does cultural progress. The current and future corporate university is risk-averse. Negative results get you "not renewed." Research with no immediate application does too. Controversy is and will continue to be interpreted as "contrary to the best interests of the university" as corporations protect what they see as a brand, rather than a dynamic institution of challenging ideas and knowledge creation.
Treating higher education as though it were a business where students are customers and professors are contract service providers may create future campuses that house only enormous administrative office blocks and computer centers where students sit before screens, running through a series of automated exercises before being awarded a printable certificate of academic completion. Owing tens of thousands of dollars, graduates will then shuffle off into contract positions at the corporate campuses which look—and act—strangely like the academic campus they just left.
Wait—haven't I seen this movie before?