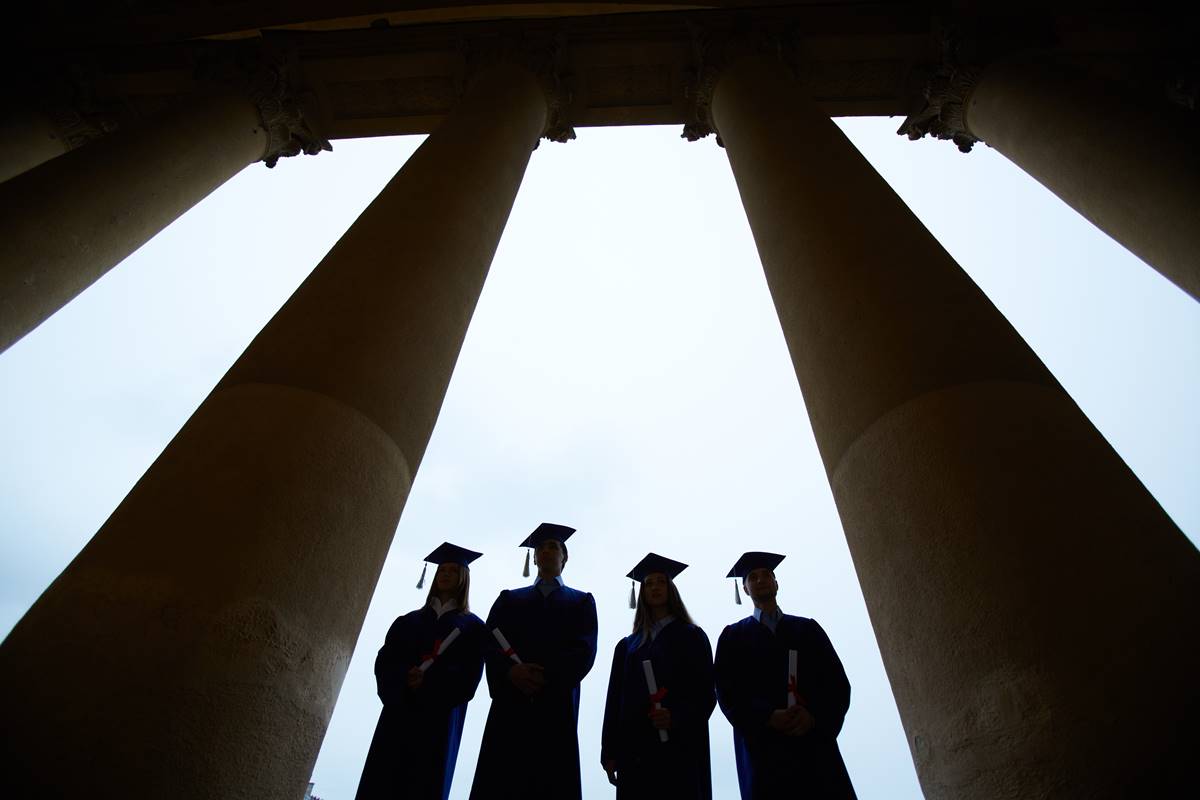 George Will's scheduled October 22 appearance at Miami University in Oxford, Ohio has drawn protests from those angered by his June column questioning the campus culture of victimhood and the anti-rape crusade. Anita Manur, director of the school's Women's, Gender and Sexuality Studies program, argued that Will's commentary could "re-victimize and re-traumatize some of our students." Likewise, when Scripps College decided to cancel a talk by Will, its president Lori Bettison-Varga noted that "sexual assault is … too important to be trivialized in a political debate." In other words, debating the definition of sexual assault or the statistics on its prevalence is beyond the pale of acceptable speech.
Thanks to the efforts of the academic left, this view is increasingly prevalent on college campuses. However, some right-of-center organizations now seem terrified of challenging rape-culture orthodoxy. My personal encounter with this development involves the Federalist Society, the venerable national association of conservative and libertarian lawyers, law professors and students.
I first joined the Federalist Society's speakers' bureau in 1999. Over the years, I spoke at the student chapters of numerous schools including UCLA, Stanford, the University of Chicago, the University of Michigan, and Georgetown, on topics ranging from various gender issues— feminism and the law, the politics of rape, domestic violence, sexual harassment—to religious liberty and international relations.
Not surprisingly, sometimes there was controversy, especially around topics related to sexual violence. Once, flyers advertising my talk at UCLA Law School were torn down and I ended up with an audience of four or five people. In 2009, a couple of weeks before my event at American University Law School titled, "Presumed Guilty? Rape, Feminism, and False Accusations," the organizer warned me that the Women's Law Association was planning a protest (their email summed up my talk as "Slut Blaming and Shaming"). It turned out to be an entirely civil affair; the protesters handed out brochures and asked pointed and occasionally hostile questions, but all within the bounds of reasonable debate. Afterwards, ironically, a female faculty member who had attended as a protestor told me that she completely agreed about the danger of undermining the presumption of innocence for sex crimes.
Four years later, in March 2013, a talk on a similar topic at St. Louis University School of Law turned out to be more contentious. It took place days after the verdict in the emotionally charged Steubenville rape trial; the promotional poster for the event, which stated that 41 percent of rape accusations are false (a figure from one study which I have never used as definitive) probably added fuel to the fire. When I arrived at the school, the student organizing the event told me the chapter's faculty advisor had demanded to join in as my opponent—which was fine with me, though I found his tone during the debate confrontational to the point of discourtesy (at point he described my argument as "puerile").
A few days later, Federalist Society president Eugene Meyer called to discuss the negative reactions to my talk and bluntly told me he was very anxious to avoid anything that might tar the organization with the "Republican war on women" brush. (He was taken aback when I informed him that the event also featured another viewpoint; the people who complained had neglected to mention that.) I told Meyer that I thought this was partly a matter of overly provocative advertising and partly of timing, and assured him that I always discussed this issue with the sensitivity it warrants. I believe he suggested avoiding the topic for the rest of the spring semester; I agreed.
In September and October, I gave several talks at law schools in Kentucky and in Minnesota, some of them dealing with sexual assault. These events went quite well; I even got thank-you notes from officers of two of three Minnesota chapters that had hosted me, saying they would recommend me to their successors for next year's program.
Imagine my shock when, on November 11, Meyer called out of the clear blue to inform me that the Federalist Society had to drop me from the list of approved speakers due to extremely negative feedback from people who had attended the latest events and found them offensive. I was unable to find out any specifics—how many people complained, or what had offended them—except for one detail which turned out to be a blatant falsehood: supposedly, at one of the Minnesota events, my remarks had prompted a mass walkout. It occurred to me that this was probably someone's creative spin on the mundane fact that a number of students had to leave during the question-and-answer period to go to class. Meyer said I was probably right and promised to take another look at the issue. For the time being, however, I was told not only to refuse any future invitations but to cancel several already scheduled events for that semester and the spring of 2014.
Meyer told me that he agreed I was raising important issues but perhaps there was something about my presentation that "triggered negative reactions." I don't claim to be a stellar speaker, but I'm fairly sure I'm not a particularly inflammatory one. Indeed, I always made sure to preface my critiques of "rape-crisis feminism" by noting that feminist anti-rape activism arose in the 1970s in response to real injustices, from rape convictions being overturned because the victim didn't fight back enough to the use of "unchaste character" to impeach a woman's credibility. Since one of my planned events was in Washington, D.C., where the Federalist Society's national office is based, I suggested that Meyer or another official could attend and see for themselves. That suggestion was turned down. All in all, I got a clear message that the topics themselves were unwelcome; at one point, Meyer said that the phrase "false accusations of rape" should never have appeared in the title of an event.
A few days later I wrote to Peter Redpath, head of the society's student division, to see if there was any chance of reversing the decision—at the very least, of letting me complete my already scheduled engagements. Redpath replied that Meyer's decision was final and that part of the problem was that they had been consistently receiving "below average to lukewarm" reviews on my events for a while. His email concluded with the words, "And with this particular topic, there really can be no room for error due to the sensitivity of the issue. I hope you understand the position we're in."
Obviously, I have no idea what kind of reviews I had been getting—though a number of chapters that hosted me went on to invite me back. I can also say with certainty that the subject of poor feedback had never come up in my previous conversations with Meyer or other Federalist Society officers. During a conversation in the fall of 2012, there had been a passing mention of concern about low attendance at some of my events; however, that had not been a problem recently.
As a postscript, several months later a law student at a West Coast school who was very interested in having me speak at his chapter contacted the national office to ask if they might approve the event. They did not. After a fourteen-year relationship, I was blacklisted so thoroughly that you'd think I had showed up for a talk visibly drunk, or had used racial or sexual slurs.
I know that this isn't a free speech issue. The Federalist Society, like any other organization, is within its rights to decide what speakers to sponsor. There was no breach of contract, only of basic courtesy. Yet, given that the society's mission statement says it is "dedicated to fostering balanced and open debate about the fundamental principles of freedom, federalism, and the role of the judiciary," its willingness to cave to those who would stifle debate is distressing—all the more so when the subject of that debate is an assault on the fundamental principles of freedom and justice.
Update: The Federalist Society responds here.