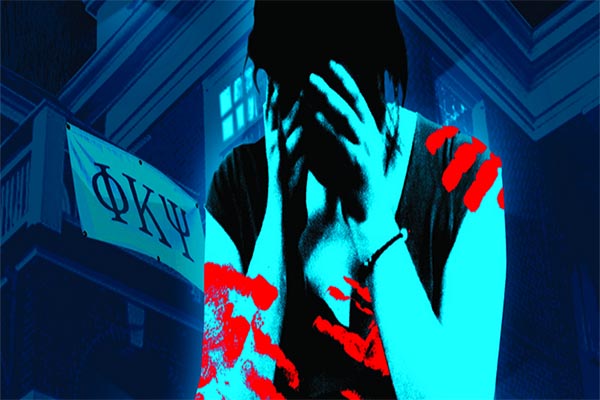 Sabrina Rubin Erdely's Rolling Stone article detailing an alleged brutal gang rape at the University of Virginia has triggered widespread outrage. But it also has prompted varying degrees of skeptical commentary from (most importantly) Richard Bradley, and also Bret Stephens of the Wall Street Journal, Reason's Robby Soave, and Judith Shulevitz in the New Republic. I don't intend to repeat the critiques in any of these pieces; I do recommend each of them. Rather, I wanted to raise three additional issues of concern with Rolling Stone's (and Erdely's) handling of the case.
In an interview with the New Republic, civil libertarian Wendy Kaminer stated, "If I had to guess what happened at UVA—and at this point, we can only guess (which is why we should not be passing judgment), I'd guess that the story is neither entirely fabricated nor entirely true, and, in any case, compels a real investigation by investigators with no stake in their findings." That strikes me as a reasonable comment, based on what we now know. But there are many questions about Erdely and Rolling Stone got us to this point.
Troubling Explanations for Not Contacting the Accused Students
In the past few days, Erdely and her editor, Sean Woods, have offered deeply troubling revelations as to why Rolling Stone went to press without presenting the accused students' version of events.
Here's the story Erdely told to Paul Farhi of the Washington Post: "[Erdely] won't say, for example, whether she knows the names of Jackie's alleged attackers or whether in her reporting she approached 'Drew,' the alleged ringleader, for comment. She is bound to silence about those details, she said, by an agreement with Jackie [the accuser], who 'is very fearful of these men, in particular Drew. . . . She now considers herself an empty shell. So when it comes down to identifying them, she has a very hard time with that.'"
This version, to put it mildly, makes no sense. Jackie was so afraid of Drew that she forbade Erdely from contacting him—but wasn't so afraid of him as to accuse him as a brutal rapist in a national magazine? Indeed, the portrayal comes across as Jackie (and Erdely) afraid that speaking to the accused student might undercut Rolling Stone's preferred storyline of widespread campus rapes, a storyline that Erdely herself told Farhi she had been pursuing for months.
Perhaps that's why, in a podcast with with Slate's Hanna Rosin, Erdely didn't mention this journalistically troubling agreement. Five times Rosin asked Erdely (in different ways) whether she had contacted the accused students and what their response was. Five times Erdely sidestepped the question—talking about her contacts with UVA administrators, or with the national branch of the fraternity. She simply refused to say why she hadn't performed elementary due diligence and sought to speak to the student she had portrayed as a monster—even as she conceded to Rosin that lots of people on campus would know the identity of "Drew."
Then, after Judith Shulevitz was rebuffed in speaking with Erdely (based on the Rosin interview, it's easy to see why Rolling Stone wouldn't want her speaking with a neutral interrogator), the magazine offered editor Woods, who told Shulevitz that Erdely didn't contact the accused students because, as Shulevitz paraphrased, "This was Jackie's story, he said; it was clearly presented as such." But the magazine presented Jackie's recollections as factual, and a casual (or perhaps even not-so-casual) reader would come away from the article believing that the intent was to detail results of a comprehensive investigation by reporter Erdely, not to present an accuser's story of what happened.
Shulevitz also reports that "Woods also confirmed that Erdely didn't contact the alleged rapists out of respect for Jackie's wishes." This bombshell appeared nowhere in Rolling Stone's article. Why did the magazine conceal this unusual arrangement from its readers?
Jackie's Credibility
In her interview with the Post, Erdely reassured readers that she went to great lengths to establish Jackie's credibility. Farhi reports that "Erdely spent weeks corroborating details of Jackie's account, including such minutiae as her work as a lifeguard. She concluded: 'I find her completely credible. It's impossible to know for certain what happened in that room, because I wasn't in it. But I certainly believe that she described an experience that was in­cred­ibly traumatic to her.'"
Editor Woods echoed the sentiment, telling the New Republic, "The piece was carefully fact-checked . . . we found Jackie credible."
It's good to know that Rolling Stone verified that Jackie could tell the truth about her life story. But the credibility issue in the article is a narrower one: did Jackie tell the truth about being brutally raped? Someone can easily tell the truth about several things and lie (or be mistaken) about another.
To take an obvious example: Erdely's article doesn't corroborate that Drew even attended the fraternity party, much less that he committed a brutal gang rape. Jackie appears to be her sole source for the assertion that Drew was at the party (which, I should point out, I have no reason to doubt). In this respect, Erdely's threshold for believing an accuser appears to be even lower than the (very low) standards of the Durham Police Department in the lacrosse case. At least one of the police investigators in that case, Ben Himan, strongly hesitated moving forward with the (false) indictments until he could establish from a source other than the accuser that the three targeted students had, at the least, attended the spring break party from which the charges sprung. A list of party attendees compiled by one of the captains provided the necessary evidence.
Even if Erdely's was bound by an unrevealed agreement with Jackie not to contact Drew, why didn't Rolling Stone contact other party attendees to get a list of those in the building on the night in question?
Erdely's Credibility
In the end, Rolling Stone's message is "trust us." Erdely vouches for Jackie's credibility, and that's good enough for the magazine. But that editorial style requires readers to take a hard look at Erdely's credibility. And in that task, more troubling questions emerge.
In her article, Erdely quotes from eight figures other than Jackie, Jackie's friends, and UVA administrators: an accuser in a previous case; the mother of an accuser in a previous case; a victims' rights advocate; another victims' rights advocate, from an organization called "SurvJustice"; the "founder of the national male sex-assault peer education group One in Four"; the head of the Obama administration's OCR; the former public policy director of "the advocacy group Clery Center for Security on Campus"; and Wendy Murphy. It appears, therefore, as if Erdely spoke only to people who for personal or ideological reasons were inclined to vouch for Jackie's credibility.
The first seven people in this list—however one-sided their compilation might be—at least are presented fairly. But then there's the person Erdely describes "attorney Wendy Murphy, who has filed Title IX complaints and lawsuits against schools including UVA."
While Erdely elects not to inform her readers, Murphy has a past as a commenter on high-profile campus rape cases. In the lacrosse case, she repeatedly misstated (and on some occasions simply made up) "facts" designed to make the lacrosse players look guilty. To take a few examples, Murphy (on national TV) wildly claimed, "I bet one or more of the players was, you know, molested or something as a child." She later asserted, "I never, ever met a false rape claim, by the way." Murphy falsely stated, "All the photographs showing how really fine [lacrosse accuser Crystal Mangum] was when she left scene were doctored, where the date stamp was actually fraudulent." The attorney falsely told a national TV audience that "all" of the lacrosse players took the Fifth Amendment. (None of them had, and three had voluntarily given statements to police without their attorneys present.) Murphy fantasized about non-existent "broomstick DNA" and the "torn genitalia" of the accuser.
(For citations to these and many other false Murphy statements, see here.)
What does it say about Erdely's credibility—upon which, in the end, the story relies—that she is willing to uncritically quote from a charlatan like Murphy, all while not informing readers of her source's grievous misstatements of facts on a previous high-profile allegation of campus sexual assault?
As Richard Bradley pointed out in his critique of Erdely's work, none of this is to suggest that Jackie isn't telling the truth. But it is to suggest that Erdely and Rolling Stone had an agenda other than presenting the truth to their readers.
(Image Credit: John Ritter/Rolling Stone.)