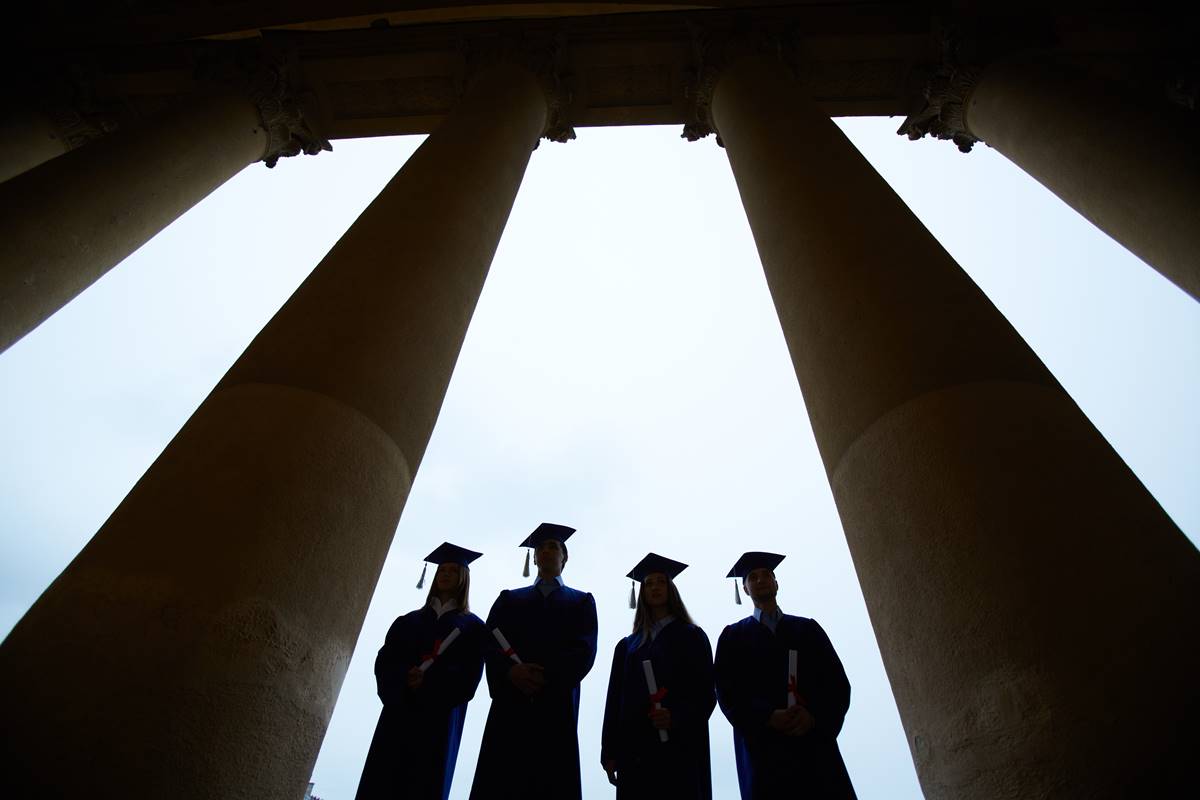 If you can't beat them, join them. So seems to be the MOOC mantra now that "tsunami" hype is fading. Gone is talk of do-it-yourself education replacing credit hours and diplomas en masse. Now MOOC providers are developing elements of the structure of the traditional institutions they once challenged, and focusing predominantly on niche tech markets unlikely to directly challenge the higher ed hierarchy.
Udacity now talks of offering "nanodegrees" complete with prerequisites and tuition fees. Coursera has followed a similar trajectory. First came "Signature Track" with identity-verification and course fees, then "Course Specializations" that grouped classes into a curricular arc culminating with a capstone "senior" project. Now, both Udacity and Coursera have secured tech giants Google, Instagram, AT&T, and others to vouch for the value of their products—in effect, serving as accreditors. The "Wild West" free-for-all of self-directed study is becoming a bit more orderly.
 Mobile Cloud Computing
The rise of corporate partners with massive open online courses signals a second shift in MOOCs' missions: serving as tech trade schools. Companies can sponsor and in some cases have their staff teach courses on skills such as programming apps, mining data, and building websites.   At Udacity, AT&T sponsors a nanodegree course sequence in programming apps for iPhones and iPads, while Facebook collaborated on a nanodegree in data analysis. At Coursera, students can study data science in a Course Specialization sequence taught by a Johns Hopkins professor and then complete a project directed by SwiftKey, a company that analyzes people's touch-screen typing habits and builds apps to better autocorrect errors. Google oversees students' final projects for a Course Specialization in mobile cloud computing sponsored by Vanderbilt and the University of Maryland. Google in particular has a keen interest in MOOCs; Sebastian Thrun, founder of Udacity, was an engineer at Google, and Google has funded research on MOOCs and opened its own open source MOOC platform.
Students who perform well in their courses can advance from apprentice to journeyman.  Coursera touts former students whose specializations led directly to jobs in Silicon Valley, and AT&T offers 100 paid internships to Udacity nanodegree graduates. AT&T has also arranged separately to partner with Udacity and Georgia Tech for a MOOC-based master's degree program in computer science, widely expected to shuttle top performers to AT&T jobs.
A 'Lousy' Product
The move towards mini-degrees and ordered curricula is a major one for MOOCs—and a promising one, too. MOOCs have been plagued by low completion rates and by a PR strategy that mistook their primary audience, which turned out to be significantly older and more focused on job skills than many had realized. When MOOCs first blitzed onto the scene three years ago, they rode a wave of anxiety over the rising cost and plummeting job value of a college degree. After Stanford president John Hennessy warned of MOOCs, "there's a tsunami coming," his metaphor was quickly linked to that other ubiquitous higher ed analogy: the college "bubble." The tsunami would pop the bubble, driving students to flock to MOOCs and piece together a college-equivalent education.
That touched off a battle over whether mass-broadcast video lectures could ever do justice to Plato or teach a freshman to write his English Comp papers with finesse—and the consensus now is no. Hennessy himself has backpedaled from his MOOC enthusiasm and a year ago admitted, "Two words are wrong in 'MOOC': massive and open." Udacity founder Sebastian Thrun, himself a former Stanford professor, has backed down from his vision of self-serve educational buffets replacing campuses and degree programs. After several years of trying, and mostly failing, to get students to take MOOCs instead of attending college and attempting to convince colleges to replace their general education courses with MOOCs, Thrun declared that he had developed a "lousy" product that needed "significant" retooling. The move towards course maps and curricular cores is a part of that retooling.
MOOC 2.0
The return to an emphasis on tech skills is also an important part of the MOOC revival efforts. Prototype MOOCs three years ago began as tech experiments—Thrun's first MOOC was the 160,000-student Artificial Intelligence course that went on to launch Udacity, while Andrew Ng taught 104,000 students in an online Machine Learning course that helped jumpstart Coursera. After a long and largely disappointing flirtation with the humanities and general education, MOOCs would do well to return to their quantitative tech roots. MOOCs are not well-suited to transmit civic values, inspire virtue, inculcate literary taste, or develop civil discourse; but they can be effective at disseminating particular skills and functions, especially those that pertain to their online technological platform. Surveys of MOOC students show that while all MOOCs endure high drop-out rates, tech fields enjoy the lowest.
A year and a half ago I predicted that the MOOC "tsunami" was overblown and would more likely result in MOOCs complementing brick and mortar institutions with flexible professional courses rather than rivaling and undermining those institutions. For the most part, my prediction is playing out now. Coursera and Udacity are borrowing back from traditional higher education concepts such as degrees and structured curriculum. MOOC 2.0 is more structured, less reliant on students' instincts to piece together reasonable course sequences, and also more focused on the professional computer and tech skills important to their primary audience. It's a far cry from the rigid no-electives structure of pre-Charles Eliot Harvard, to be sure, but it's also far removed from the DIY-U that writers such as Anya Kamenetz foretold in MOOCs.
At the same time, MOOCs are beginning to fill the niche of trade schools and apprenticeships within higher education. If the new MOOC partnerships with tech companies succeed in giving students hands-on experience, MOOC tech programs may even begin to outpace their college tech program counterparts, which are less agile in responding to the rapidly changing world of Silicon Valley and often less connected to top technology development corporations. If there is to be any MOOC mini-tsunami, computer science is likely where it'll be.