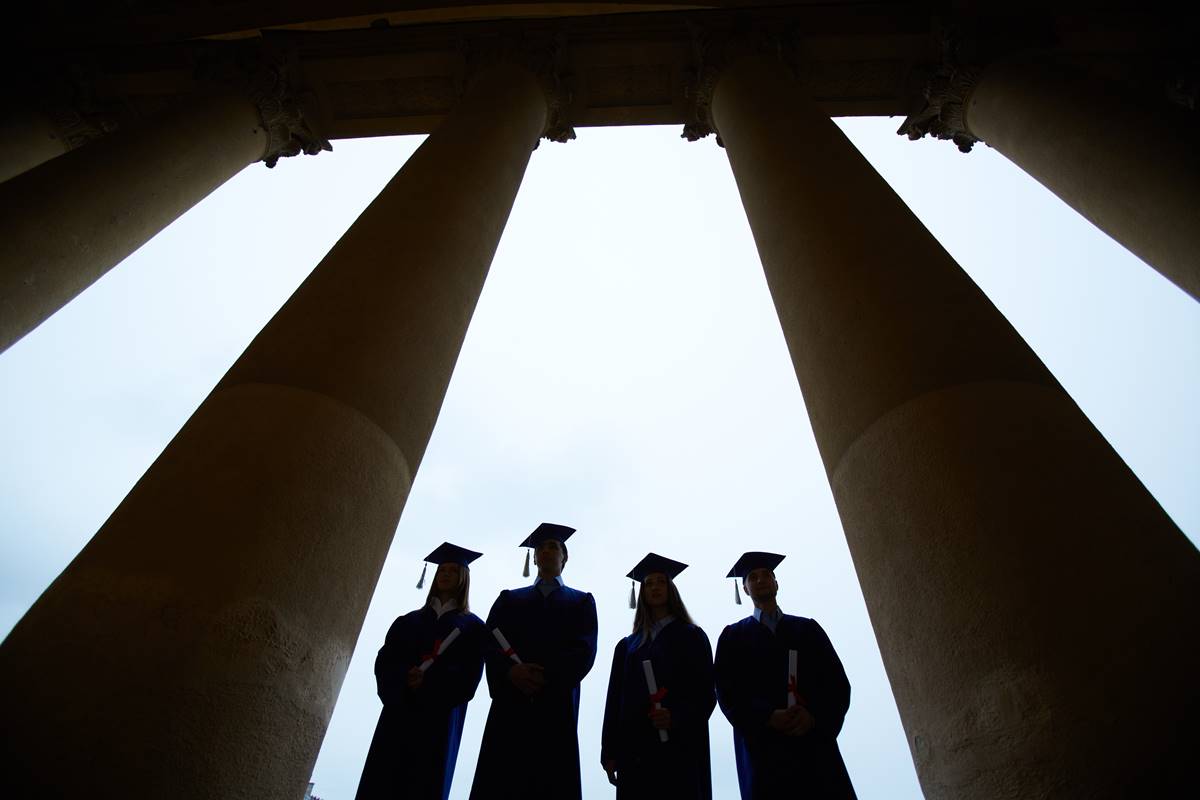 Since March of 2014, federal and state courts have produced a run of decisions favorable to due process in campus sex cases. But in recent months, this welcome development has been reversed—most spectacularly in the deeply troubling decision in the Vassar case, but also in two recent decisions involving cases at Columbia and Miami (Ohio). In both, federal judges dismissed Title IX complaints filed by male students who said they had been falsely accused. The decisions suggest indifference to judicial oversight of college disciplinary actions, and imply that Title IX can be used solely as a sword to eviscerate due-process rights, but not as a shield to protect the civil liberties of students on campus.
Columbia
The first decision came from Judge Jesse Furman, regarding a lawsuit pseudonymously filed against Columbia. I had previously summarized the case, which involved a member of the Columbia crew team who was accused of sexual assault five months after a brief hookup. The accuser didn't go to police or claim to anyone that she had been assaulted; she texted the accused student worried that if word of their hookup got out, it could affect their social standing. Both had been drinking, and the accuser subsequently complained that she was too intoxicated to have given consent. (There was, obviously, no medical evidence to verify this assertion.)
Columbia's investigation and adjudication was cursory even by the weak standards that apply to college proceedings: the university didn't speak to witnesses the accused student suggested who had seen accused and accuser on the night in question, and didn't even tell the accused he had a right to an "advocate." (So: facing a charge of rape, he represented himself.) Found culpable and suspended for three terms, his name was then leaked to the campus newspaper (along with Paul Nungesser's in the "Mattress girl" case).
In a burst of bad luck for the accused student, the case came before Judge Jesse Furman. Three years ago, the Senate's foremost opponent of campus due process, Senator Kirsten Gillibrand (D-New York), informed her colleagues that Furman's "commitment to upholding fairness within our legal system is well regarded and highly respected." Unsurprisingly for a nominee who received Gillibrand's enthusiastic endorsement, Furman's basic message to the accused Columbia student was simple: courts can do nothing, at least when the issue involves students denied due process in sexual assault cases. You can read the opinion here.
Judge Furman, who scowled that that the case before him was part of "what appears to be a growing phenomenon" of due process lawsuits, conceded that "Columbia may well have treated [the accuser] more favorably than Plaintiff during the disciplinary process." But he had no interest in second-guessing Columbia's actions, since the Court's task was not to decide whether Columbia treated Plaintiff fairly or unfairly," and dismissed the case.
Furman and Title IX
Furman bent over backwards to point out that reasons other than gender—a fear of negative publicity, or a fear of an Office of Civil Rights investigation—might have accounted for Columbia's approach to the case. But, of course, plausible non-gender reasons exist as to why schools might allegedly, in the distant past, not have taken sexual assault complaints seriously enough. Yet OCR has been clear that the gender discrimination component of Title IX justifies the agency's assault on campus due process. Furman added that a Title IX allegation must fail because the accused student had not included "any allegations that female students 'were treated more favorably in similar circumstances.'" But this reasoning suggests that OCR's approach to Title IX enforcement is similarly off-base. After all, while the overwhelming majority of campus accusers will be women, a small percentage of the total will be men—and presumably they, too, were treated in ways that did not fit OCR's desires. Accepting the logic of Furman's argument would make it inappropriate to suggest that the treatment of accusers constitutes a gender discrimination issue.
Unsurprisingly, Furman approvingly cited the Vassar opinion of his colleague, fellow Obama appointee Ronnie Abrams (though his opinion lacked Abrams' crusading pro-accuser zeal). Unlike Abrams, he at least acknowledged that other courts had stood up for the due process rights of accusers, though he dismissed the reasoning of those cases.  Also unlike Abrams, Furman seemed to concede that at some point, accused students might be able to use Title IX to file due process suits. Perhaps ten or fifteen years down the road, when a sufficient database of mistreated students could be compiled (thereby gathering "information concerning a control group or the like"), his reasoning might allow such a lawsuit to go forward.
Miami's Compromised Investigation
In late May, Judge Susan Dlott (like Furman, a Democratic nominee) issued a ruling that similarly construed Title IX as solely a sword. (You can read Dlott's opinion here.) The case involved Miami (Ohio) student Matthew Sahm, who attended a fraternity party at the school on August 31, 2013. There, he met a fellow student, Alexis Prenzler; both were underage, both consumed alcohol, and they had some sort of sexual contact. Sahm said that when Prenzler asked him to stop—because, she said, she had a boyfriend and worried about cheating on him—he did. She then left the party with some friends. A few days later, however, Prenzler filed a complaint with the university, and she also told the Oxford Police Department that she had been raped, by an unknown assailant.
The case seemed open and shut, at least to Miami, which investigated and tried Sahm in three weeks. Sahm represented himself before Miami's disciplinary board, and later claimed that at the hearing it was unclear whether he or Pretzler had the burden of proof—the sort of problem that can occur when a student accused of a felony offense represents himself. (Miami's policy forbade Sahm from having an attorney represent him at the hearing.)
Only after being deemed a rapist did Sahm hire an attorney, who used a private investigator to look into the case. The investigator discovered that, according to six people who saw her immediately after the party, Prenzler had expressed the most concern about having cheated on her boyfriend, and denied having been drunk. One of these witnesses claimed that Prenzler had coached sorority sisters about how they should respond to the investigator's questions. More explosively, she revealed that Miami's Title IX investigator, Susan Tobergte, had discouraged her from testifying at the hearing—telling her that she needed to Google information about campus sexual assault to "find that less than 2% of sexual assault cases were wrongful convictions." The student not unreasonably concluded that Miami's allegedly impartial investigator was actually "biased toward one side of the case."
As she "investigated" the case, Tobergte was also serving as a member of the university's task force on sexual assault, which had produced a report claiming, without any hard evidence, that "as many as eight to nine women per week may be victims of sexual assault." (For comparison, according to FBI 2013 crime stats, around twelve women per week were victims of sexual assault in Detroit, the nation's most dangerous city—this amidst a population around 37 times larger than Miami University's.) A report signed by Tobergte also claimed that many "college date rapists . . . did not see themselves as 'real criminals,'" and that "some men may purposely get drunk when they want to act sexually aggressive, knowing that intoxication will provide them with an excuse for their socially inappropriate behavior." It's certainly plausible that someone who held such views could have prejudged Sahm's case, since it involved alcohol.
Three other witnesses filed affidavits on Sahm's behalf. One recalled seeing a distraught Prenzler shortly after the incident—distraught not because of an assault but because, she said, "I can't believe I cheated on my boyfriend." Another (a sorority sister of Prenzler's) came forward because, "as a woman and a woman in a sorority, I think that making false accusations and presenting oneself as weak and a victim is extremely insulting." She recalled that Prenzler had told several friends that she had initiated the sexual contact with Sahm because she "wanted to make sure that [she] didn't just want to be" with her boyfriend. Perhaps because of such evidence, the police never filed charges against Sahm.
Indifference to Fairness
Miami nonetheless upheld the tribunal's judgment on grounds that any such evidence was "available to [Sahm] at the time of the original hearing." The university subsequently denied that gender bias motivated Tobergte's conduct, suggesting a "benign" explanation ("such as an appropriate intent to take allegations of sexual assault seriously") or at worst an "inappropriate but not discriminatory" motivation ("such as lack of experience in handling such investigations") for the school's investigator discouraging a relevant witness from testifying. Sahm was expelled from Miami, and was subsequently denied admission to Allegheny College after the school requested an explanation for why he had left Miami.
Judge Dlott conceded that it was "troubling" that the university's Title IX investigator discouraged a student from testifying, apparently on grounds that the witness would say things that undermined the accuser's tale. But she maintained that the university's procedures, as revealed in the Sahm case, did not "suggest a gender bias against males so much as against students accused of sexual assault." But, of course, the overwhelming majority of students accused of sexual assault will be male—just as the overwhelming majority of students who allege sexual assault are female. The latter fact justified OCR's implication that robust procedural protections for the accused constitute gender discrimination, and therefore fall under the purview of Title IX.
As with Judge Furman, then, Judge Dlott dismissed Title IX as a dead letter for defending due process, even while conceding— albeit very reluctantly—that the university had set up adjudication procedures that were biased against the accused.
Columbia was a case with virtually no evidence. Miami was a case in which several key witnesses, who saw the accuser right after the party, disputed her tale (or simply thought she was lying), even as the school's investigator discouraged one of them from testifying.
For two federal judges, students subjected to such biased procedures are simply out of luck.