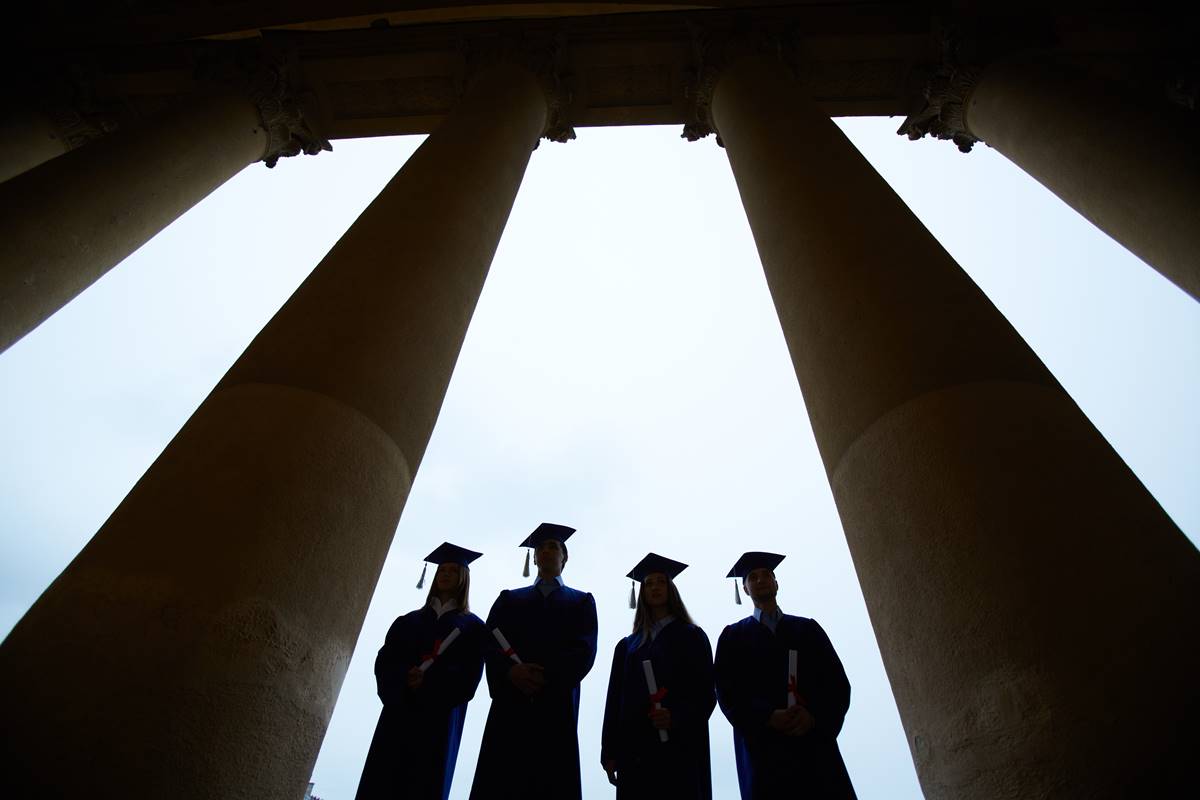 The American Council of Trustees and Alumni (ACTA) has just released its sixth edition of "What Will They Learn," examining the coherence (or lack of it) of the subjects and courses American college students take. These are excerpts from the executive summary.
By and large, higher education has abandoned a coherent, content-rich general education curriculum.  Colleges frequently extol the virtues of a broad-based, "well-rounded" liberal arts education in their course catalogs and mission statements. The reality is, however, that 64.4% of the schools surveyed require three or fewer of the seven core subjects we looked at: literature, composition, American history, foreign language, mathematics, economics and science.
This report makes clear that cost and reputation do not predict the strength of a school's core curriculum. Students attending U.S. News's top national universities and liberal arts colleges are typically paying well over $40,000 each year in tuition and fees, but some of these schools require none of the seven core subjects. In sharp contrast, public universities—where the median in-state tuition and fees are a fraction of that amount—require an average of over three. An encouraging finding is that public colleges and universities generally do a better job maintaining requirements in science and English composition than do private institutions, and Historically Black Colleges and Universities are noteworthy for their strong requirements. And our military service academies also have outstanding, rigorous requirements.
Little-Known Colleges Get "A"s
The list of schools that received "A" grades includes some schools like Pepperdine and Baylor, renowned for their commitment to the liberal arts and academic excellence, but there are also some that deserve to be better known, such as Christopher Newport University, Clark Atlanta University, Colorado Christian University, Kennesaw State University, Houston Baptist University, the United States Coast Guard Academy, Bluefield College, and Regent University. The "F" list includes such august names as the University of California–Berkeley, Bowdoin, Hamilton, and Vassar. That some of the best-known colleges earn poor marks for general education doesn't mean they don't do other things well. But what is clear is that many highly regarded universities enroll some of our nation's top students and then give them nothing more than a "do-it-yourself" curriculum. 
Trivial Courses Abound
While distribution requirements seem like an appealing idea on paper, in practice they usually allow students to graduate with only a thin and patchy education. Students may have dozens or even hundreds of courses from which to choose, many of them highly specialized niche courses. Once distribution requirements become too loose, students almost inevitably graduate with an odd list of random, unconnected courses and, all too often, serious gaps in their basic skills and knowledge. For example:
University of Colorado–Boulder: Among the 45 courses that satisfy the "United States Context" requirement are "Horror Films and American Culture," "Music in American Culture," and "America Through Baseball."
Elmira College: Students can fulfill the "United States Culture and Civilization" requirement with "Mental Illness in the Media," "Leisure Marketing in America," and "The Golden Age of T.V."
University of Illinois–Springfield: "Game of Thrones" fulfills the Humanities requirement.
University of California–Davis: Students may take "Vampires and Other Horrors in Film and Media" to fulfill the American Culture, Governance, and History requirements.
Tennessee and Georgia
In some states, such as Texas and Georgia, legislatures have created strong requirements for the study of U.S. history and government. It is clear, however, that great vigilance is needed in upholding such state laws. Regents and trustees have also taken the initiative to create comprehensive general education standards, as seen in states such as Tennessee, South Dakota, Georgia, and Nevada, where those requirements apply to all schools within a system or even a state. In Georgia, for example, the Board of Regents of the University System of Georgia (USG) has established statewide core curriculum guidelines. The result: The 20 institutions governed by the USG require an average of 4.3 of the seven subjects studied in "What Will They Learn?", well above the national average of 3. Similar results can be found at the universities under the jurisdiction of the Tennessee Board of Regents, the Oklahoma State Regents, and the Nevada Board of Regents.
Less than 13% of the schools we studied require students to learn a foreign language at the intermediate level. Some allow elementary study of the kind typically required in high school to suffice; others have no requirement at all. Some allow classes in both American and foreign cultures taught in English. Recently at Union College, for example, students could substitute foreign language study with "Narratives of Haunting in U.S. Ethnic Literature"; and at Western Illinois University, courses such as "Food and Culture" and "Global Social Networks" stand in for foreign language proficiency.
Little U.S. History
Despite the boasts of college catalogs, few of their curricula will help prepare students to be informed and engaged citizens. This year's survey showed that little more than 18% of our colleges and universities require even a single foundational course in U.S. government or history. Rather than learning about the foundations of their country, students are allowed to fulfill requirements with courses such as "History of Rock" or "Horror Films and American Culture." Citing ACTA's earlier surveys, New York Times columnist Frank Bruni pointedly observed that "the profound and widespread ignorance" about federal processes has been a major impediment to effective governance.
Colleges and universities regularly speak of preparing their graduates for global competition. Yet despite the increasing importance of economics, just over 3% of the institutions studied require students to take a basic economics class.
The National Survey of America's College Students found that 20% of college students completing four-year degrees could not reliably "calculate the total cost of ordering office supplies." This should be no surprise given the fact that 59.4% of colleges and universities believe students should take a college-level mathematics class. This ignorance is of more than academic interest; at a time when policymakers and the international job market clamor for increased technical competence and expanded enrollments in the STEM fields, inattention to math skills puts our nation at a serious competitive disadvantage.
 All Those Diffuse Courses
Studies like the federal government's National Assessment of Adult Literacy and, most recently, the findings in the book Academically Adrift, tell us beyond a shadow of a doubt that many college students spend a lot of time and money but, in return, gain very little that qualifies as higher education. Admittedly, there is no simple solution to this problem. But having a baccalaureate degree signify real learning is surely a place to start. And moving away from the diffuse array of courses that now passes as general education to a real core curriculum is clearly a major part of the solution.
Colleges and universities must make improving general education an urgent priority. Students and parents should vote with their wallets for the institutions that provide a sound foundation. The ratings in this book are available at WhatWillTheyLearn.com, a free resource that is continually updated and expanded. While there are many questions to ask before choosing a college, "What will they learn?" is surely among the most essential. If students and their parents place more emphasis on education rather than reputation, institutions will respond.
Alumni and donors should take an active interest in the strength of their alma maters' general education programs. They should not allow their degrees to be devalued by a decline in standards, and they can speak up against lowering standards.
Boards of trustees in collaboration with faculty members, should insist on a course of study that will ensure students learn the essentials: This means general education curricula characterized by meaningful requirements, satisfied by a select number of courses. Without leadership from trustees and administrators, internal campus decision-making often results in a fragmented and ineffective curriculum. While curricular change may make some faculty and departments unhappy, it is critical in giving students the education they need.
This past year, 21 of the nation's most distinguished college presidents, trustees, and policymakers met under the leadership of former Yale University president and CUNY board chair Benno Schmidt. In their published report, Governance for a New Era: A Blueprint for Higher Education Trustees, they called upon trustees to reexamine their institutions' general education programs and to push back against the costly proliferation of classes offered in lieu of a rigorous core curriculum. ACTA's Restoring a Core trustee guide shows how trustees can work in partnership with faculty and administrators to advance meaningful general education requirements.