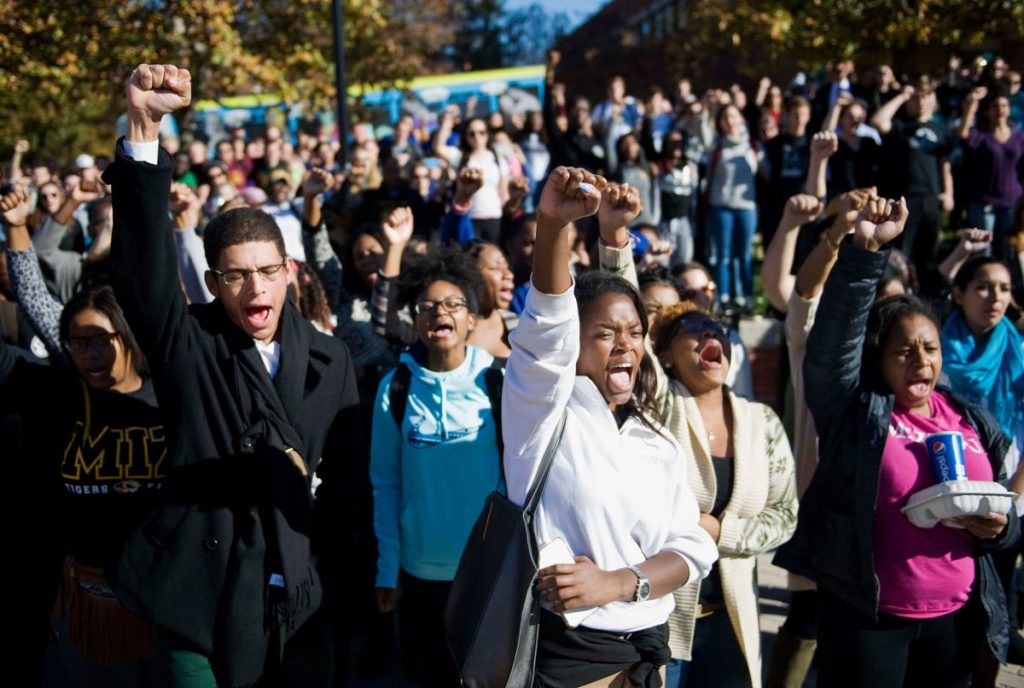 We are reviving the Sheldon award for worst college president of the year. It is named for the late Sheldon Hackney, who presided over many college disasters, including Penn's water buffalo controversy and the theft of a complete edition of the University of Pennsylvania student newspaper that included a column criticizing affirmative action. The thieves were not reprimanded or otherwise punished but the campus cop who caught them was—a nice touch.
Here are the four finalists for 2015:
Tim Wolfe, University of Missouri, 4th runner up: Wolfe couldn't seem to cope with racial protests based on three reported racist remarks and a swastika drawn on a campus wall in feces. Wolfe fumbled the issue for months without taking any action. Then a black graduate student went on a hunger strike, the football team refused to play, and politicians demanded action. At an emergency meeting, on the brink of tears, he quit, saying he hoped his departure would alleviate the pain on campus. "This university is in pain right now … and it needs healing," President Tim Wolfe said in the university-approved language of feelings. Then he quit, saying his departure might help alleviate the pain.
Related: Campus Turmoil Begins In High School
Michael Lovell, Marquette, 3th runner up: A student who opposed gay marriage attempted to discuss the issue in a philosophy class, but the graduate student who taught the class refused to allow it. She said that the gay marriage issue had been settled and that class discussion of it would hurt the feelings of gays. John McAdams, a Marquette professor and conservative gadfly, wrote about the incident on his blog, which resulted in hostile mail and reported death threats to the graduate student. McAdams was suspended (though Marquette quibbles about the word), forbidden to set foot on campus, and still remains suspended more than a year later. In discussing the case, President Lovell has talked generally about disrespect and harassment. What he hasn't said is why the Catholic position on gay marriage can't be discussed in class on a Catholic campus.
Teresa Sullivan, University of Virginia, 2rd runner up: When Rolling Stone broke the story of the brutal (and bogus) rape at the university, Sullivan misjudged the impact and boarded a plane to Amsterdam for a conference three hours after the rape story lit up the Internet. Then, with no investigation or hearing, she suspended the allegedly offending fraternity and all other campus fraternities and sororities as well, extending the suspensions well past the time when the hoax started to unravel. She has issued no apology for the suspensions and offered no reimbursement for fraternity members forced to move into motels and hotels because of the suspensions. The activists and their allies who vandalized the accused frat drew no criticism from her or her administration. She imposed credible new rules for frats, but otherwise every move she made on this issue was wrong.
Janet Napolitano, Chancellor, University of California (Runner Up—If for any reason our winner can't fulfill his duties as winner of the Sheldon, Ms. Napolitano, would wear the crown: Janet Napolitano, chancellor of the University of California, approved and issued a long list of statements that could no longer be uttered by university faculty because they are considered hurtful microaggressions. The list included, "America is the land of opportunity," "America is a melting pot," "There is only one race—the human race" and "I believe the most qualified person should get the job."
Related: Too Many Hollow Men on Campus
Like most campus controversies these days, this one pitted free speech versus hurt feelings, a struggle that colleges typically resolve in favor of feelings (as long as those doing the feeling are non-Asian minorities, gays or women).
Napolitano's effort to quell positive remarks about America was so strikingly risible that in a normal year she would have won the Sheldon award hands-down. But she had to settle for a silver medal because of what happened at Yale.
Peter Salovey, Yale: In the biggest collapse of the year, Yale President Salovey committed millions of dollars to appease racial protesters with a basket of goodies likely to enlarge the stature of the "diversity" movement on campus and its drive for mandatory courses in race and ethnicity. Those goodies included five years of conferences on race and diversity, four new minority professorships and a doubling of budgets of the four student minority centers that Yale probably shouldn't have at all unless it wants to keep furthering separatism—one each for Blacks, Latinos, Native Americans and Asian- Americans.
Salovey managed to produce a major victory for protesters complaining about strikingly weak and vague issues (a teacher's opinion that Yale shouldn't have told students what Halloween costumes to avoid, a feeling of racial discomfort among some blacks on campus, and a false report that a black student had been turned away from a fraternity party).
Related: North Korea Has Taken Over the Modern Campus
When a group of protesters confronted Professor Nicholas Christakis, husband of Erika Christakis who wrote the controversial costume memo, one student is heard saying, "Walk away. He doesn't deserve to be listened to." When Nicholas started to explain himself, a student yells, "Be quiet!" and then proceeds to lecture him. When Nicholas calmly and politely says, "I disagree," the protestor explodes, screaming, "Why the fuck did you accept the position?! Who the fuck hired you?! You should step down!" Then, finally, "You're disgusting!" Had the protester been a white male, he likely would have been expelled or suspended. But the perp was a black female. So no action.
The trigger for the protests was also peculiar. For a large number of students to go berserk over a mild and non-racist email dissenting from a Yale instruction on Halloween costumes was remarkable and Salovey might have politely said so.
As Peter Schuck said on this site, "University officials like us bear some responsibility for the aggressive, obsessive ethnic emphasis practiced on our campus. Through some mixture of cowardice, complaisance, and genuine conviction, we cater to the sensibilities of the most outspoken, politicized students by donning a kind of "kick me" sign. In this atmosphere of identity politics, students have strong incentives to dramatize their wounds as proof of the authenticity of a larger, more heroic social agenda…."
Missing from Salovey's performance was any sense of authority. When the protestors demonized Erika Christakis for her costume memo, and when protesters cursed and threatened her husband, Nicholas ("We know where you live"), Salovey didn't seem to notice or care. He declined to fire the husband-wife pair, as protesters demanded, but made no effort to keep them when Nicholas went on leave and Erika quit teaching at Yale because, she said, the university lacks civil dialogue.
Worst of all, the transformation of universities from actual places of learning to institutions primarily obsessed with race and identity has advanced mightily through Yale's defeat. For demonstrating weak leadership and incomprehension at an elite university, the Sheldon goes to Peter Salovey.
---
John Leo is the Editor of Minding the Campus