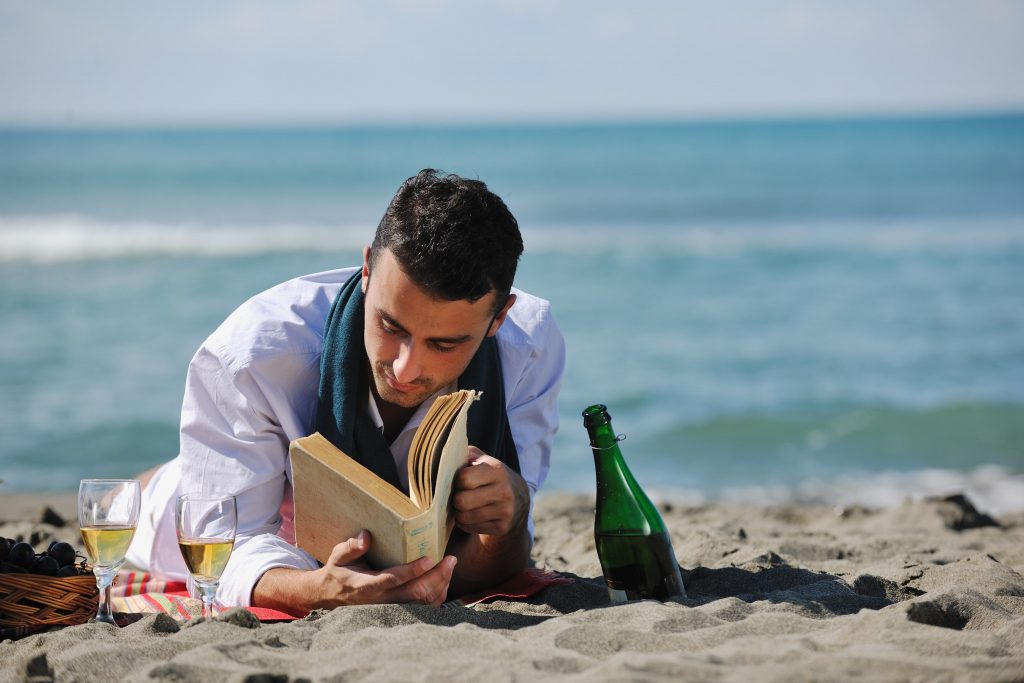 "Beach Books 2014-2016," released yesterday by the National Association of Scholars (NAS), is a study of mostly summer reading assigned by colleges and universities to their incoming freshman.
NAS reports:
Our study of common readings during the academic years 2014-2015 and 2015-2016 covers 377 assignments at 366 colleges and universities for the first year and 361 assignments at 350 colleges and universities for the second year. Our data includes common readings for every college and university we could find—including readings for honor colleges, but not for sub-units of the university such as departments of education. We included books assigned as summer readings, whether to freshmen or to all students.
Although in the past we did not include books tied to readings assigned in a core curriculum, this year we have included Columbia University's assignment of an English translation of the first six books of Homer's The Iliad to its incoming undergraduate class, since it is specifically designated as a summer reading.68 Columbia's decision does make The Iliad the common reading for its incoming class, and this wonderful effect should not be removed from our charts simply because it is not formally labeled as a Common Reading. We hope that Columbia's choice will prove a model to its peers.
Download the report (pdf): Beach Books 2014-2016: What Do Colleges and Universities Want Students to Read Outside Class?
The findings, in brief, follow.
College common reading programs are:
Meant to Build Community. Colleges see their common readings more as exercises in community-building than as means to prepare students for academic life.
Civically Engaged: Common readings are overwhelmingly chosen to foster civic engagement; they scarcely mention the complementary and equally valuable virtues of the disengaged life of the mind. They give no sense of why or how college differs from the world outside, and why those differences are valuable.
Recent: More than half of common reading assignments (58% in 2014, 60% in 2015) were published between 2010 and the present. Only 12 assignments out of 738 (1.6%) were published before 1900, and another 5 (0.7%) between 1900 and 1945.
Nonfiction: 71% of assignments in 2014 and 75% of assignments in 2015 were memoirs, biographies, essays, and other non-fiction.
Dominated by mediocre new books: Most common readings are recent, trendy, and intellectually unchallenging.
A Narrow, Predictable Genre: The common reading genre is parochial, contemporary, commercial, optimistic, juvenile, and obsessed with suffering.
Almost No Classics: Only a scattering of colleges assigned works that could be considered classics. With few exceptions, the hundreds of common reading programs across the country ignored books of lasting merit.
No Modern Classics: Even in confining themselves to living authors, common reading programs neglect some of the best ones, such as Martin Amis, Wendell Berry, J. M. Coetzee, Annie Dillard, Alice Munro, V. S. Naipaul, Philip Roth, Wole Soyinka, and Tom Wolfe.
Author Speaking: In 2014, 53% of colleges with common reading programs hosted personal appearances by the authors, and in 2015, 54% of colleges with common reading programs had author appearances.
Nothing Foreign: Classics in translation were nearly absent—and so was anything modern in translation. Even common readings about foreigners generally were written in English, not translated from a foreign language.
Predominantly Progressive. The assigned books frequently emphasize progressive political themes—illegal immigrants contribute positively to America, the natural environment must be saved immediately—and almost never possess subject matter disfavored by progressives.
The desire to appeal to incoming students who have rarely if ever read an adult book on their own also leads selection committees to choose low-grade "accessible" works. Common reading programs aim to familiarize new students with how college students think, read, discuss, and write. They are meant to establish academic standards—and to establish a sense of community among students, both with other students and with the faculty. How well they do either of these things is open to question. Common reading programs are also meant to inculcate institutional identity and institutional goals—under which cover progressive tenets such as diversity and sustainability often creep in.
Books are selected to appeal to as broad an audience as possible, both to satisfy the varieties of student taste and disciplinary interest and so as to get as broad an institutional "buy-in" as possible from the administration and the faculty. The basic rationale, however, is that if students can be brought to care enough about a book to read it, and even think it's interesting enough to talk about with their friends, they might also care enough about college to make a real go at their education.
Common reading programs state their goals with words that make a leftward skew in the book selections just about a sure thing. Keywords telegraph the content of those goals: all save academic expectations are the euphemistic jargon of the left.
For instance, Salem State University (Massachusetts) desires "thoughtful discussion of ideas"; in 2015, it chose Joshua Davis' soft sell for amnestying illegal immigrants, Spare Parts: Four Undocumented Teenagers, One Ugly Robot, and the Battle for the American Dream (2014).  These basic programmatic goals have been elaborated by a constellation of other words and phrases that largely partakes of progressive jargon as well: active citizenship, awareness, biodiversity, civic engagement, community service, critical thinking, diversity, engaged, equity, ethics, inclusion, injustice, intercultural understanding, local talent, meaningful, multiple disciplinary application, perspectives, powerful, readability, relevant, responsibility, sensitivity, shared experience, social justice, social responsibility, timely, and tolerance.
(Critical thinking, ethics, and tolerance are not monopolies of any political party, and they should be part of a college education. What we note and critique here is the use of this hijacked vocabulary to forward progressive political projects.)
These programmatic keywords reinforce other skews. The calls for civic engagement, community service, relevance, and responsibility filter out books concerned with the disinterested life of the mind. The demand for a reading that is about something in the world leads to endless memoirs and works of popular nonfiction concerned with life beyond the college walls. Even a memoir such as Liz Murray's Breaking Night: A Memoir of Forgiveness, Survival, and My Journey from Homeless to Harvard, whose point is the value of going to college, is entirely about the struggle to get to Harvard, and not the character of her life once she has arrived.
Common reading choices continue to reflect the issues of the day. The sharp rise of selections on African American themes in 2015-16 coincides with the Ferguson protests and the ensuing Black Lives Matter campaign; and it is doubtful that, absent Ferguson, Augustana College (Illinois), Hampshire College (Massachusetts), and Norfolk State University (Virginia) all would have decided in 2015 to assign James Baldwin's The Fire Next Time.
The campaign to amnesty illegal immigrants likewise has produced a sharp uptick of books on themes of immigration, particularly illegal immigration. The popularity of Sonia Nazario's Enrique's Journey: The Story of a Boy's Dangerous Odyssey to Reunite with His Mother (6 selections in 201415 and 5 in 2015-16) evidently derives from this campaign. The rise of the transgender movement, with its insistence on contingent sexuality, probably inspired a faint echo in Bluffton University's (Ohio) choice of Marge Piercy's He, She, and It, a 1991 novel on a woman who falls in love with a cyborg.
The common readings are homogeneous and bland. The desire to appeal to incoming students who have rarely if ever read an adult book on their own also leads selection committees to choose low-grade "accessible" works that are presumed to appeal to "book virgins." Since common reading programs are generally either voluntary or mandatory without an enforcement mechanism, such "book virgins" have to be wooed with simple, unchallenging works.
A significant number of books are chosen by the academy's diversity offices. The sustainability programs are not yet institutional sponsors of common readings, but their influence can be seen in the uptick of sustainability themes for common reading programs. The University
of Tennessee's student-led fossil fuel divestment campaign began in January 2013,9 but surged in popularity after incoming students read the 201314 common reading, Bill McKibben's Eaarth: Making a Life on a Tough New Planet, and heard McKibben speak on campus.10
Wes Moore's The Other Wes Moore: One Name, Two Fates (2010) is by far the most frequently assigned book of the last two years, with 17 assignments in 2014-15 and 16 in 2015-16. This is a memoir of the contrasting fates of two Wes Moores— both born African American and poor in Baltimore, one grew up to be a Rhodes Scholar, decorated veteran, White House Fellow, and business leader, while the other ended up a convicted murderer serving a life sentence.
The most common college selections were in these categories: civil rights/racism/slavery, crime and punishment, drugs and poverty, family dysfunction and immigration.