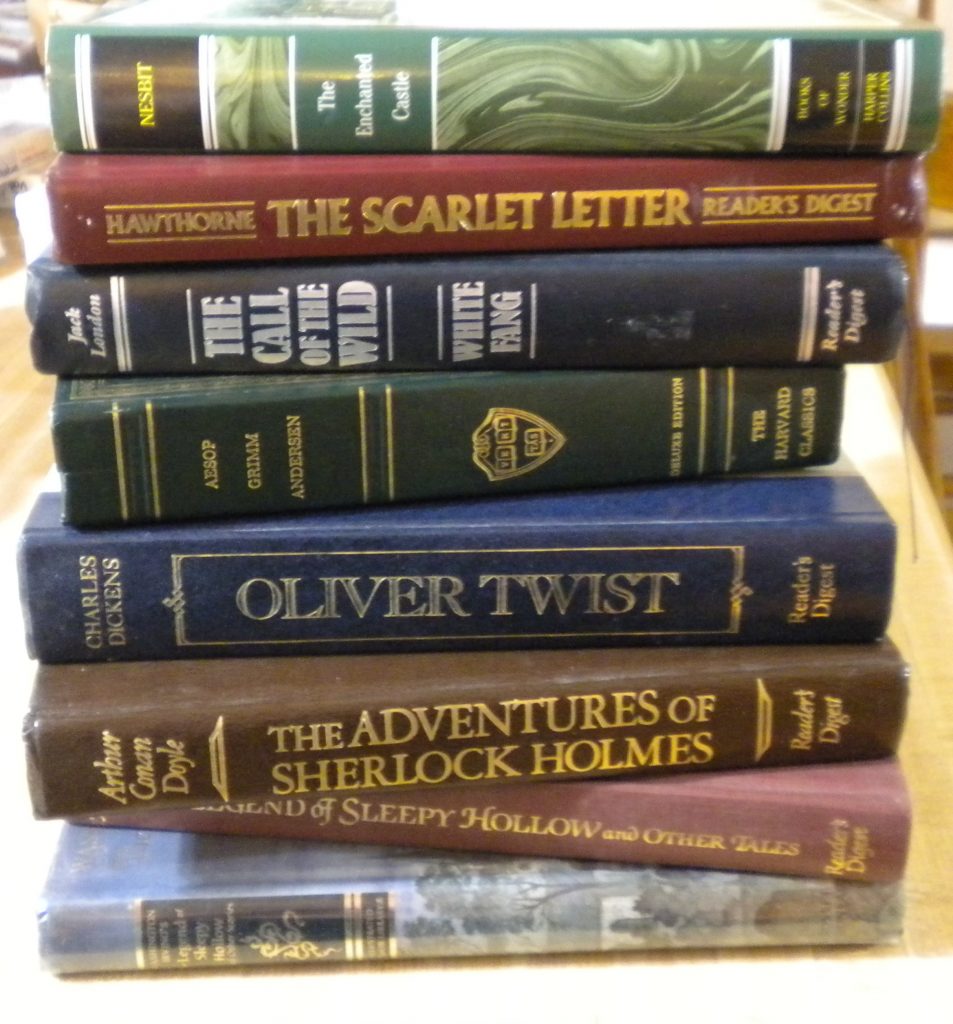 I was thinking about the issue of time this past week, while doing what I call cross-reading:  reading items online and pausing every few minutes to look something up on a web browser and then returning to the original reading.  This is a high-stimulation way of reading, producing an ultrathin layer of information about many different things, but not the intense experience of being deeply immersed in a book or other demanding piece of reading, which takes real time, not just internet time, to absorb and digest.
Almost thirty years ago, Roger Ebert wrote an enthusiastic review of Woody Allen's film Radio Days, set in a Jewish neighborhood in Brooklyn in the 1940s. It began:
I can remember what happened to the Lone Ranger in 1949 better than I can remember what happened to me. His adventures struck deeply into my imagination in a way that my own did not, and as I write these words there is almost a physical intensity to my memories of listening to the radio. Television was never the same. Television shows happened in the TV set, but radio shows happened in my head.
It's this "happening in my head" that seems to be declining, replaced by constant and superficial connectivity, on the one hand, and exacerbated sensitivity to real or imagined slights on the other.  Though teaching my courses continues to interest me, I often doubt that they interest most of the undergraduate students who enroll in them.  A few, yes, but most sit passively with little or nothing to say.  When I first enter the room, they're all sitting silently, absorbed in their iPhones.  Some continue playing with their iPhones during class, as if they think I can't tell from the movements of their fingers, even if I can't see the device itself.  And in the lobby of my building, I've noticed that almost all the students who come and go are on iPhones as they walk, alone but not alone.  Constant, instant, communication has colonized their time and minds.  Does this matter?
Related: Summer Reading for Freshmen, Unchallenging, Mediocre
Long experience has taught me that students often don't do the assigned readings, or do only part of them, or in all likelihood read on-line summaries of novels (which can be very thorough and detailed, but also rapidly forgettable).  What is the difference between reading something at length and giving it a quick once-over?
There are two main ones:  time and imagination.  Two very dissimilar things: imagination, as Ebert noted, is internal. Time is external, and there are only 24 hours of it in a day.  It takes perhaps 8 or 10 hours to read a 250 or 300-page novel.  I know because I once spent a month at the British Library reading dozens of obscure dystopian novels that weren't available in this country (this was long before the Internet, of course).
I used to reread each of the novels I taught in class, but this became discouraging:  my knowledge and understanding of the works increased with each reading, while my students' reading habits were moving in the other direction, spending ever less time on assignments.  Like other professors, I've adapted to this reality to a large extent – using more short stories and essays, and feature films, in my courses. When I started teaching utopian and dystopian literature decades ago, I would typically include eight or nine novels in one semester. But then the semesters grew shorter (they are now at 13 weeks each at my university), and the habit of reading rarer.
Related: What Should Kids Be Reading
Years ago, some of my students told me that even between their experience and that of their younger siblings, there was an enormous gap: the younger kids were less likely to be interested in reading, whereas many of my students, in those days before the Internet, still loved books.  These shifts are not due entirely to technology, though it plays a large role, and text messaging certainly made this problem worse, as everyone knows.  The inevitable result is that more and more communication is going on about less and less:  sheer trivia constantly conveyed to all one's "friends."  Time is at a premium, apparently, and patience is short.
Universities have made many accommodations to this, as well.  Not that long ago I served on a committee dealing with a proposal to change many three-credit General Education courses to four credits. The problem was how to do this without increasing the professors' workload or contact hours, guarded by the contracts our faculty union negotiates with the administration.
A lengthy discussion ensued about what that extra one credit might entail:  additional work for the students, yes, but without correspondingly increasing the professors' work time.  All kinds of ideas were floated.  At one point I asked: "How about actually requiring the students to do all the work that's already on our syllabus?"  No one was amused.  We pretended that the additional credit meant students would intensify and deepen their studies.
Since then, what we expect of our students has only decreased, even as many three-credit courses have indeed been transformed into four-credit ones, so that fewer courses are necessary to complete a bachelor's degree.  And colleagues have grown bored with complaining about how difficult it is to get students to do reading, and how they must take ever greater pains to keep students amused and engaged.
But it's not only these practical considerations (on our part and our students') that are worth noting. An equally important component is the reduction of so much of our teaching to political bottom lines, usually resting on identity issues. Why bother reading anything in detail if one can readily enough spot its politics and praise or blame it on that score alone?
By encouraging or capitulating to this perspective, professors in many humanities departments have in effect taught their students that the humanities do not  matter, that attentiveness to reading is irrelevant, that the life of the mind (does anyone use that phrase these days?) has nothing to offer.  Instead, what counts are attitudes – in particular attitudes toward race, class, gender, heterosexuality, etc. – and if we can discern these quickly, so much the better. Why shouldn't this far more economical, and self-righteous, path not appeal to our students?
The well-known scholar and former MLA president Elaine Marks, whose work was instrumental in promoting feminist literary theory, in the years before her death in 2001 turned against the practice of reading guided by identity politics and the tireless insistence on "differences."  In 2000, she published an essay entitled "Feminism's Perverse Effects," in which she expressed her growing concern about the directions in which literary, cultural, ethnic and women's studies had all been moving for some years.
Disillusioned with the practice of trolling literature and culture for signs of the ubiquitous -isms, Marks acknowledged her new-found sympathy with the arguments set forth by Harold Bloom in his much-maligned 1994 book The Western Canon.  Like Bloom, she had come to lament students' failure to respond to literature imaginatively, their habit of replacing knowledge of western culture with a ceaseless pursuit of signs of its villainy, and their inability to experience surprise and delight in a text.  She was astonished, she wrote, to discover herself applauding Bloom's words, "To read in the service of any ideology is not, in my judgment, to read at all."  But merely expressing such concerns, Marks complained, would stigmatize a scholar as a closet conservative and traitor.
The Suicide of the Humanities
And that was in 2000. Since then things have only gotten worse, as higher education increasingly and openly pledges itself to politics before all else, whether in the name of  those elusive absolutes "diversity, inclusion, and  social justice" – words constantly promoted by university administrators (and accompanied by an ever-expanding corpus of administrators tasked with overseeing these agendas) – or to protect the fragility of  college students who claim to be unable to withstand the horrific offenses to their sensibilities that they manage to ferret out on America's campuses.
Though some scholars may worry when they see the university diverting more and more resources to non-humanistic subjects, the fact remains that the suicide of the humanities is not occurring against but rather with the willing participation of many professors, who have long given up defending their own fields as worthy of study except as ersatz politics. But if that's all the humanities are about, why not just abandon them and go straight for the real thing?