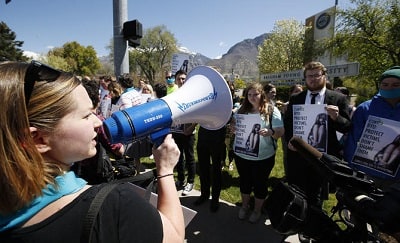 In a crowd of protesters at Brigham Young University, Kelsey Bourgeois, 26, is shown carrying a sign in one hand and a megaphone in the other. The photo is in the May 27 issue of the Chronicle of Higher Education.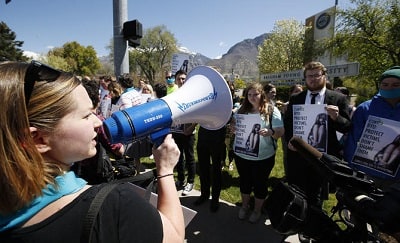 She is not a BYU student, though she was one years ago. She is a professional protester. She produces posters, gather names on petitions and coaches complaining students on how to "optimize" their demands.
She works for Care2, a B-corporation of the left, promoting causes like animal rights, environmentalism, vegetarianism, choice on abortion, and human rights, such as the cause of the woman who died mysteriously in a Texas jail after a traffic arrest. The student protesters do not pay for Care2 services, but outside companies receive $1.50 to $2 each for access to the names of protest supporters.
The Chronicle presented this story as a normal one, thought the use of professionals to inspire, coach and conduct protests seems revolutionary. Unless challenged, off-campus supporters can now run campus protests—and perhaps nationalize them– as part of an indirect money-making scheme.  Some students will still gather in angry crowds, but many will opt to leave it to the pros. Care2 gathered 113,000 petition-signers on behalf of the protest at BYU, more than three times the total number of students at the BYU campus.
Perhaps presidents of universities will intervene to ban professional protesters from campus. But judging from their non- action on protest last fall, don't count on it.