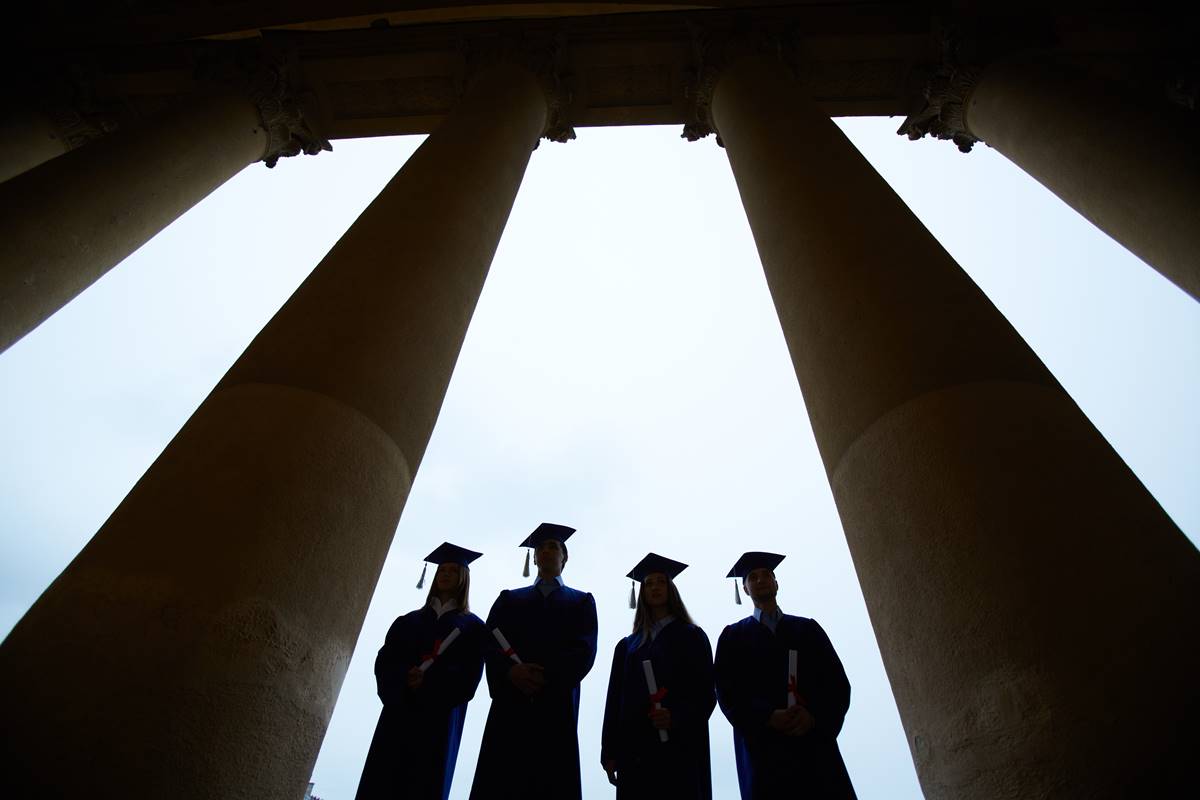 An adjunct lecturer at the University of Virginia was forced to take a leave of absence because his criticism of Black Lives Matter in a Facebook post was "inappropriate" and "inconsistent with the University of Virginia's values." The lecturer, Douglas Muir, had been teaching at the university's Darden School of Business and the School of Engineering and Applied Science.
Muir's Facebook post, now deleted but quoted by the Cavalier Daily, asserted that "Black lives matter is the biggest rasist organisation [sic] since the clan [sic]. Are you kidding me. Disgusting!!!" Muir was responding to comments about a lecture given by Black Lives Matter co-founder Alicia Garza.
Undermines Our Values
Muir's statement is obviously provocative (not to mention poorly spelled), and his rapid resignation suggests that the University of Virginia's vaunted dedication to free speech and "inclusion" does not extend to provocative posts on social media.
"While free speech and open discussion are fundamental principles of our nation and the University," a late Friday statement from the Dean of Engineering and Applied Science declared, "Mr. Muir's comment was entirely inappropriate. UVA Engineering does not condone actions that undermine our values, dedication to diversity and educational mission." The School of Engineering apparently regards a Facebook post as an "action," not speech, and it deems only "appropriate" speech and speech that does not challenge "diversity" worthy of protection.
A statement from UVa Provost Tom Katsouleas was even more smarmy: Muir's comment "is inconsistent with the University of Virginia's values and with its commitment to the principles of academic freedom…. This position in no way squelches academic freedom, which welcomes dissent and encourages the voices of others whose perspectives may differ from ours — thereby adding new insights to our own. But statements such as Mr. Muir's do not foster intellectual exploration, nor do they encourage the voices of others."
What about Alicia Garza?
The fundamental question, in short, is not whether Black Lives Matter is or is not like the Klan. It is whether provosts and deans should be in the business of awarding or withholding UVa's imprimatur of approval on highly charged political speech and empowered to decide which points of view are legitimate and which are "inappropriate" or "inconsistent with the University of Virginia's values" or "do not foster intellectual exploration."
But even if speech is to be monitored and regulated, that cannot be done in a discriminatory manner. In dismissing Mr. Muir because of his criticism of Black Lives Matter, however, UVa seems to be clearly engaged in content-based discrimination, since not only does it not ban but in fact welcomes speech that is equally if not more offensive.
Consider, for example, the typical invective of Alicia Garza, the co-founder of Black Lives Matter whose recent appearance provoked Muir's rant. For example, responding to Donald Trump's acceptance speech at the Republican convention this summer, Garza stated that "[t]he terrifying vision that Donald J. Trump is putting forward casts him alongside some of the worst fascists in history…. Trump is proposing a new, dark age where police have carte blanche authority to terrorize our communities."
Garza is obviously fond of comparing Trump to Hitler because she does so repeatedly. And her target is not simply Trump — whom her friend and co-founder of Black Lives Matter Patrisse Cullors calls "a terrorist" — but also Trump's supporters. "There's millions of people backing a fascist ideologue," Garza told Bloomberg News, anticipating by a month BLM supporter Hillary Clinton's "basket of deplorables" description of the same voters.
In a similar vein, no doubt intended to "foster intellectual exploration" and "encourage the voices of others," Garza responded in The Guardian to those fascists who insist that all lives matter by declaring that "[b]y and large, I'm starting to feel like, if somebody doesn't want to f***ing understand — excuse my language — if somebody can't see the contradiction of saying all lives matter … then they're just wilfully [sic] being ignorant, and an a****le. If a movement can be judged by its heroes, what does it say about Black Lives Matter that Garza proudly asserts that she uses Assata Shakur's "powerful demand in my organizing work"? Here's a description of Shakur, originally known as Joanne Chesimard, from the FBI Most Wanted List:
"On May 2, 1973, Chesimard, who was part of a revolutionary extremist organization known as the Black Liberation Army, and two accomplices were stopped for a motor vehicle violation on the New Jersey Turnpike by two troopers with the New Jersey State Police. At the time, Chesimard was wanted for her involvement in several felonies, including bank robbery. Chesimard and her accomplices opened fire on the troopers. One trooper was wounded and the other was shot and killed execution-style at point-blank range."
Chesimard was convicted of first-degree murder, but in 1979 she escaped from prison and fled to Cuba. Despite pressure to do so, President Obama refused to demand the return of Chesimard as part of his opening relations with Cuba, a decision supported by Hillary Clinton.
My point, it should go without saying, is not that Alicia Garza should be barred from speaking at University events, although I do think it odd that UVa's Office of Diversity and Equity invited her to be keynote speaker at a Community celebration of Martin Luther King last winter (cancelled because of a scheduling conflict). Rather, it is the question of whether university administrators should be empowered to decide whether comparing the Black Lives Matter movement to the Klan is really beyond the pale of legitimate debate and discourse.
If BLM's critics are not allowed to compare it to the Klan, what of its supporters? What, for example, will the protectors of UVa's values do when celebrated Selma director Ava DuVernay's new film about the incarceration of blacks, 13th, is shown in Charlottesville and predictably elicits some faculty gushing? According to the New York Post, it "wowed audiences at the New York Film Festival and looks like a leading Oscar contender," no doubt in part because of its "[e]quating Donald Trump supporters with Deep South Lynch mobs." Could a UVa faculty member now make that equation?
Is There Free Speech at UVa?
In any event, if UVa's Provost and Deans insist that a Lecturer's personal comments on social media must not be inconsistent with the University's values, why are they not concerned that an official University invitation to Garza to be a keynote speaker at a University event might lead some observers to infer endorsement of her extreme views? Would they dismiss any untenured faculty members who posted or tweeted some of the things Garza says all the time?
No doubt the now problematic standing of free speech at "Mr. Jefferson's University" will be subject of some discussion at a long-scheduled Symposium on Free Speech on Campus in Charlottesville on October 13-14 sponsored by the Thomas Jefferson Center for the Protection of Free Speech. How embarrassing, not to mention ironic, if in the coming year would earn one of the Jefferson Center's noted and notorious Muzzle Awards.