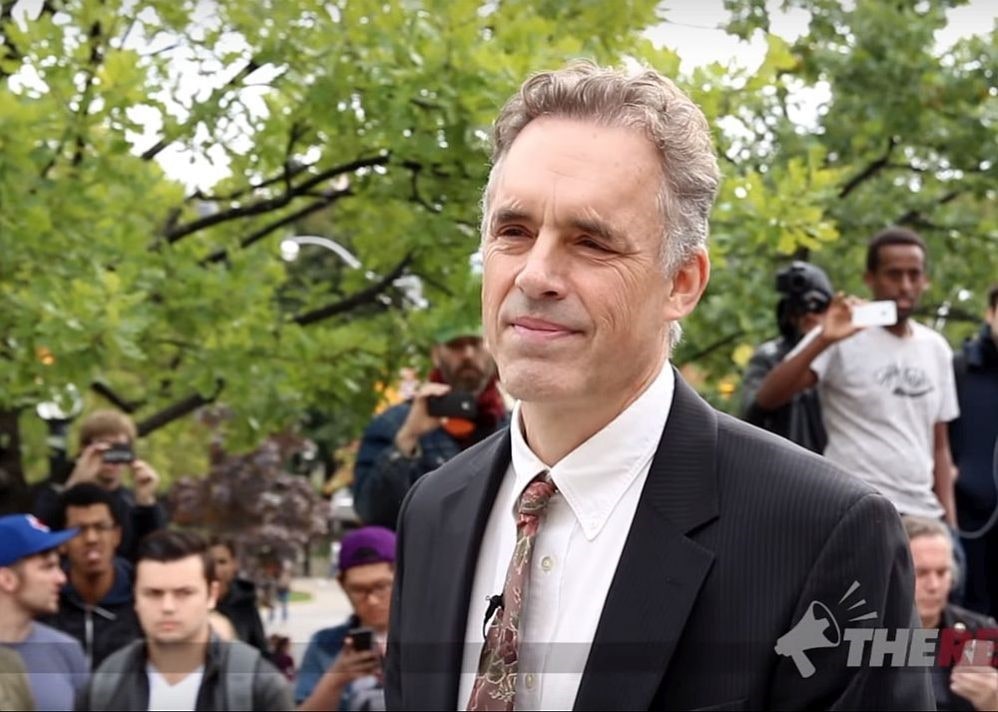 The most controversial man in Canada these days is probably mild-mannered Jordan Peterson, professor of psychology at the University of Toronto.
Peterson has run afoul of the gender/transgender lobby by refusing to use the personal pronouns favored by students, faculty and others with non-binary gender identities. Those with such identities want to be referred to as "zie" "sie" "zim" "vis" and an array of other recommended and personal choices.
He is under pressure from his university, which has ordered him to use personally approved pronouns, as well as from the Province of Ontario, which defines resistance to the new personal pronouns as discrimination and harassment.
Neither Male Nor Female?
The tenured professor drew major media attention after the first part of his YouTube lecture series called Professor against political correctness came out. In the hour-long video, Peterson criticized Bill C-16 — which would amend the Canadian Human Rights Act and the Criminal Code to criminalize harassment and discrimination based on gender identity. Peterson compares this amendment to "the way that totalitarian and authoritarian political states (develop).
The Ontario Human Rights Commission defines gender identity as "each person's internal and individual experience of gender. It is their sense of being a woman, a man, both, neither, or anywhere along the gender spectrum."
"I don't know what 'neither' means because I don't know what the options are if you're not a man or a woman," Peterson states in his YouTube lecture.
"It's not obvious to me how you can be both because those are by definition binary categories. What should you ask of the collective if you deviate in some manner? And you might say, to welcome you with open arms,'" he said. "And I would say, 'That's probably asking too much.' I think what you should ask the collective is that they tolerate your deviance without too much aggression."
A Radical Fringe
He attributes his concerns regarding the Ontario Human Rights Commission to "social justice warrior-type activists [being] over-represented in the current provincial government." as well as the fact that Ontario Premier Kathleen Wynne is a lesbian.
"I can't help but manifest the suspicion that that's partly because our current Premier is lesbian in her sexual preference and that in itself doesn't bother me one way or another," said Peterson in the video. "I don't think it's relevant to the political discussion except insofar as the LGBT community has become extraordinarily good at organizing themselves and has a fairly pronounced and very, very sophisticated radical fringe."
In an article on the Federalist site, Stella Morabito writes, "Today Peterson is laser-focused on fighting the cultural cancer of political correctness. He is alarmed at how quickly it is metastasizing into laws that seek to punish any and all self-expression."
Waking up the Right
Peterson said he fears an extended left-right battle over PC. "One of the things I'm afraid of with regards to all of the continual radical activism on the left is that they're waking up the right," he told The Varsity, a student newspaper. "And all you have to do is look around. There's a huge resurgence in right-wing parties in Europe."
Peterson stood by this speculation: "It's perfectly reasonable to question the company that they keep. If you're a trade union leader, I presume you're going to surround yourself with left-wing activists. If you're a gay politician, I think it's reasonable to assume that some of the people in your political surrounds are going to be relatively radical LGBT activists."
Mandatory Anti-Racist Training
Peterson objects to the U of T's Human Resources Department requirement for mandatory anti-racist training.
"I take exception to that for a variety of reasons. One is, it isn't obvious that there is a racism problem on the U of T campus. Second is, it isn't obvious to me that it's reasonable to term people sufficiently racist when they haven't one anything to deserve that epithet so you have to retrain them. Third, it isn't obvious to me that you should make it mandatory," Peterson said.
"And fourth, I don't think the people who have been put in charge of the education program have the credentials or the ability to deliver what they claim to be able to deliver. And finally, I don't believe that there's any evidence that these anti-racist training programs actually produce a decrement in racism. In fact, they might make people worse," continued Peterson.
Peterson's video lecture also calls gender-neutral pronouns "connected to… an entire underground apparatus of… radical left political motivations."
Laying out a hypothetical situation in which a student asks to be addressed by a different pronoun, Peterson said, "If someone just came up to me and said that, I would definitely just tell them to go away. They have to have a reason to have a conversation with me."
Peterson spoke at a free speech rally on campus October 11. His detractors worked hard to drown out his voice with chants, shouts and white-noise machines. Student supporters of Peterson and free speech advocates circulated and signed this letter of support:
An Open Letter to the Administration of the University of Toronto
First of all, we would like to commend and thank you for agreeing to host the series of debates proposed to you by Professor Peterson. We believe that this is a step in the right direction, and are looking forward to witnessing what constitutes an example of a free and reasoned exchange of ideas on campus. We believe that fostering a climate where all topics, no matter how controversial, are up for intellectual exploration is one of the fundamental functions of a post-secondary institution, and, as such, we applaud the University's decision to host the debates.
Nevertheless, we continue to be disturbed and appalled by the incidents that took place at the Free Speech rally on October 11, 2016, and, most of all, by the University's response to the aftermath of the event. We came to the rally to express our views in a respectful manner; we were instead silenced by members of the University of Toronto Students Union (UTSU)and the Black Liberation Collective (BLC), then slandered by members of these same groups, and finally left aghast at our administration's failure to protect students' fundamental rights and freedoms and their decision to muzzle Professor Peterson.
The University has been quick to condemn online threats of physical violence against members of the transgender community; it has also been quick to condemn the few racists and transphobic slurs that were, unfortunately, voiced by a small minority at the Free Speech rally. These fringe views are in no way representative of the opinion of the majority of free speech protesters; in fact, we fully support the University's decision to denounce these acts. However, we also believe that choosing to draw attention only to those incidents that were perpetrated against the transgender and the Black community is dangerous and wrong.
Why did the administration not condemn the use of white-noise machines, allegedly rented by an executive member of the UTSU? Cassandra Williams and other counter-protesters have clearly broken the Obstruction Clause of the University's Free Speech policy. Although the rally was technically held in a public space, the white noise machine was plugged into a power outlet; thus, the University had a responsibility to prohibit and condemn such actions.
Where is the University's response to co-founder of the BLC and student at the University of Toronto, Yusra Khogali, calling an Ethiopian refugee a "coon" for politely expressing his views on the state of free speech in his home country? This was the most evident act of anti-Black racism at the rally – yet the University and media (including the Varsity) fail to recognize this.
Where is the University's condemnation of an anti-Peterson protester assaulting a journalist, Lauren Southern, and their response to Theo Williamson, the New College Equity Director, lying about it to police? It should be noted that both of these individuals are having criminal charges currently pressed against them. Furthermore, Williamson is having legal action pressed for a completely different altercation, where they seem to have stolen a pro-free speech attendee's cell phone, assaulted the attendee with the phone, and then smashed it against the pavement [3]. Why has the University not reprimanded Cassandra Williams who used her body to physically block the attendee from trying to retrieve her phone?
Why has the University failed to protect student organizers and supporters of the Free Speech rally from slander? Unsurprisingly, it appears that the media narrative surrounding what happened at the rally is based exclusively on the accounts of the counter-protestors, such as Theo Williamson. These are the same individuals who have insinuated that we are no more than a group of white supremacists and neo-Nazis. It is clear, at this point, that we must take these accounts of events very skeptically considering that an active leader of the anti-free-speech movement has no problem lying–even to the police].
Why has the University failed to recognize the very real danger posed to students in support of free speech and Professor Peterson? Wesley Williams (also known as Qaiser Ali), another prominent leader in the anti-free speech movement has been documented proudly and clearly declaring himself to be "the death of the palefaces". What more is needed to constitute a threat to a given demographic?
Perhaps the actions of Yusra Khogali could be it. The fact that Khogali has not been censured by the University for her words and actions is perplexing and disturbing, to say the least. In her various media communications, she has claimed that white skin is "sub-human"; used racial slurs against individuals respectfully sharing their opinion; and expressed a desire to murder "white ppl and men". It is difficult to put into words just how alienating and terrifying it is to know that an open racist who advocates for the use of violence is advising the University on pertinent matters, claiming to hold the secrets to "anti-oppression" and being allowed to ruin peaceful demonstrations. What Khogali's actions amount to is bullying, at best.
Finally, where is the University's condemnation of the Black Liberation Collective – a racist activist group that openly embraces violence("We will strive for liberation by any means necessary, including but not limited to armed self-defense. […] We condone whatever methods Black people adopt to liberate themselves and their kin.")? We find the fact that the administration has not availed itself of this openly available information baffling and hard to believe. And if the University has been aware of the violent nature of the BLC, then why has the administration not only failed to denounce this organization, but also continues to take anti-oppression training advice from this group [10]?
There is video footage and written evidence supporting every claim made in this letter. If you choose to ignore this information, you are engaging in willful ignorance, at the expense of violating the fundamental rights and freedoms of the majority of your student body. If you ignore this letter, you admit to condoning radical activist groups to silence, bully, assault and threaten those who dare to disagree with their views.
In short, we no longer feel that the University of Toronto is a place where students are free to share their ideas without risking being aggressively silenced, insulted, assaulted and slandered. We contend that the University is choosing to pursue political gain at the risk of being slandered by the BLC and the UTSU. It must be acknowledged that as long as militant, racist groups are allowed on campus and, moreover, permitted to advise our University administration – those who wish to espouse opinions not in line with the aforementioned groups are not safe.
We demand justice and equal treatment for all students, regardless of their sex, race, gender identity, religion or political persuasion. As citizens of a democratic society and members of your institution, we deserve the right to free speech and fair treatment. We deserve to have an administration that cares about all students equally and takes a nonpartisan approach when conflicts between various student groups and interests inevitably arise.
The University has failed to protect their students from violence, bullying, racism, sexism and slander. We are speaking up – we need you to listen. What's happening is fundamentally wrong, and against all values of this institution and of Western, liberal democracy.
Sincerely,
Concerned Students