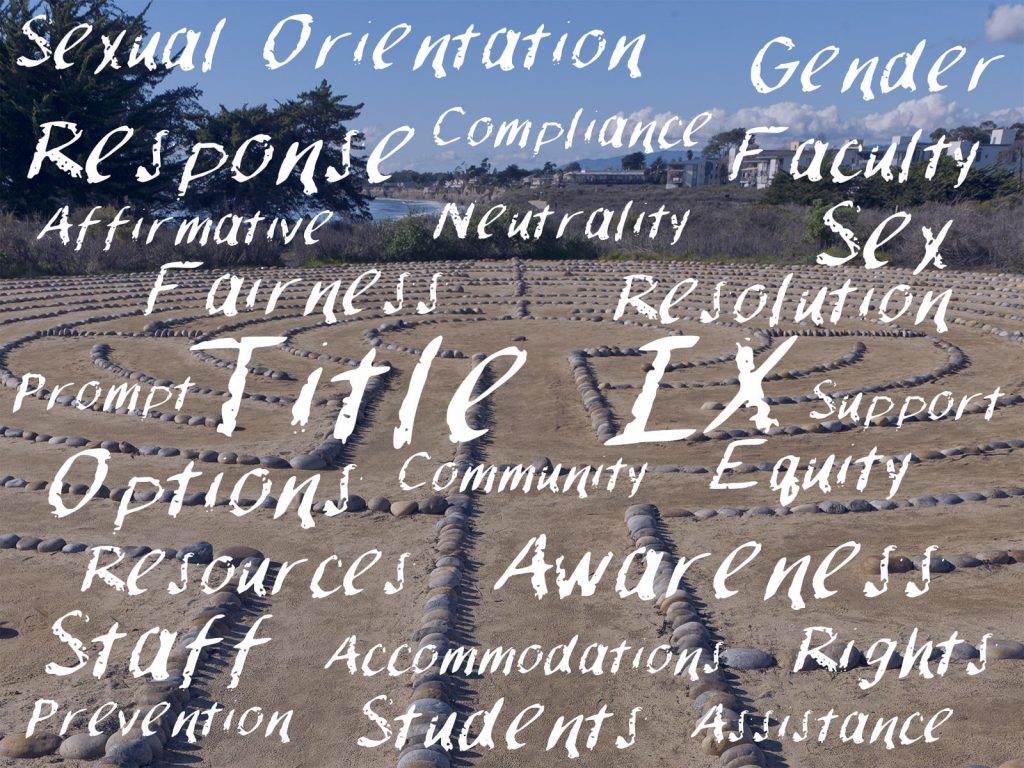 Since 2011, the federal government has made successful and devastating efforts to undermine civil liberties on campuses. The surprise outcome of the presidential election raises at least the possibility that this illicit campaign, based on a vast extension of Title IX, will be reversed. Thousands of students accused of sexual misconduct but denied due process have been victimized by the frenzy stimulated by the Education Department's Office for Civil Rights (OCR), and by the unfair procedures that OCR has championed. (Consider events at Amherst or Yale or UVA or Brandeis, for starters.)
College hearings on sexual misconduct are often a travesty of justice. Usually, there is no attorney for the accused, no cross-examination, no discovery, no note-taking, little time for the accused to prepare and often a form of double jeopardy (the accuser can appeal but the accused cannot). Individual universities can broaden the definition of offenses (at Yale "economic abuse" counts as sexual assault) and uninvolved third-party accusations can sometimes launch hearings.
Some comments on what should, and should not, occur:
The Fate of Obama-Era Guidance
President Obama's two heads of the OCR have ignored the requirements of the Administrative Procedure Act and imposed their dubious interpretations of Title IX without required notice and comment. They never offered a convincing explanation as to why, in part because Congress only rarely pressed them; outgoing OCR head Catherine Lhamon purported to justify OCR's actions in this exchange with Tennessee senator Lamar Alexander, but only revealed herself to be ignorant of congressional authority.
Related: How the Feds Use Orwell to Apply Title IX
But the arrogance of Lhamon and her predecessor, Russlynn Ali, means that the 2011 "Dear Colleague" letter—and OCR's even more troubling 2014 guidance, which suggested that OCR's imaginative interpretation of Title IX could trump the constitutional protection of due process promised to all students at public universities—can be withdrawn without going through the notice-and-comment process.
Given the Access Hollywood tape, it might well be politically impossible for a Trump administration to simply withdraw the 2011 and 2014 "guidance." But another avenue for action exists, including the FIRE-orchestrated lawsuit filed by a former University of Virginia student and by Oklahoma Wesleyan University. The new administration could easily enter into settlement negotiations for the lawsuit and concede the inappropriateness of issuing new regulations on all colleges and universities outside the APA's requirements.
If this doesn't occur, Congress becomes all the more important. The two people to watch are Lamar Alexander and Oklahoma Republican James Lankford. The Oklahoma senator issued an encouraging statement the day after the election, noting that the Education Department had "used Dear Colleague letters and guidance documents to mandate policies for schools without adhering to legally required regulatory processes. It is extreme overreach at agencies like the Department of Education that the American people repudiated in this election. I will push our new Republican-led Washington to put a stop to this abuse and restore proper regulatory and guidance processes to the federal government."
Related: How Title IX Became a Policy Bully
Accusers' rights organizations seem to have recognized that, at the very least, the anti-due process agenda of the current OCR might be discontinued in the next administration. And so, as the Chronicle recently reported, they've ratcheted up pressure on colleges to maintain the current unfair procedures that the Ali/Lhamon-led OCR helped to establish.
Yet even the most extreme of the activist groups—Know Your IX—has conceded that colleges are obliged to provide "fair" processes. (The group's founders, Alexandra Brodksy and Dana Bolger, have defined "fair" in Orwellian terms, but they nonetheless use the language.)
Early in her tenure, Russlynn Ali made clear that the new OCR would welcome Title IX complaints from accusers angered at their college having returned not-guilty findings, or simply not rendering a guilty finding quickly enough. The new OCR could make clear that given the manifest unfairness of most college disciplinary systems on sexual assault matters, it would welcome complaints from accused students, to give the federal government a chance to counteract the improper pressure to keep disciplinary systems unfair. The resolution of the pending Title IX complaint against Brandeis—in a case that was the subject of the piercing opinion by Judge Saylor—could provide a template.
Along these lines, resolution agreements from OCR should restore earlier principles (from the Bush II administration) that colleges aren't obligated to reinvestigate claims where a criminal complaint has been filed; and that colleges aren't obligated to investigate allegations that occur off campus.
Distractions
Over the past five years, only a handful of politicians have paid any attention to the issue of campus fairness; as Christina Hoff Sommers presciently noted, "due process has no lobby." Scores of GOP legislators and governors, on the other hand, rose up as one against OCR guidance regarding bathroom policies for transgender school kids.
For advocates of campus due process, then, the great fear is this: given Republican priorities, the new administration will focus its OCR reform agenda on eliminating protections for transgender public school students—a move that will receive fierce political resistance—and therefore will decide not to address the campus due process issue at all.
Related: The Feds Now Run a Bureaucracy That Regulates Sex
Any comment on a Trump-led OCR has to address what was avoided. While OCR under Obama was disastrous for due process, the crusade always had a surreal element to it. Obama, after all, was formerly a constitutional law professor, and also someone who was willing to stand up for campus civil liberties (albeit only in the free speech context). Even as his administration eroded due process rights for accused students, there was always the chance that a President with Obama's beliefs would recognize he had gone too far.
No chance would have existed for such a course correction under Hillary Clinton, had she been elected. (Full disclosure: I am a Democrat who donated to, and voted for, Barack Obama in 2008 and 2012. My only federal political donations in 2016 went to Jason Kander, who narrowly lost in the Missouri Senate race.) To the extent that Clinton had any consistent beliefs, they revolved around a fierce connection to gender-based identity politics. And there was no doubt as to how these beliefs would have translated on campus.
Clinton's campaign began with an official policy toward campus sexual assault—that all accused students who could not prove mistaken identity were guilty since all campus accusers had a "right to be believed." Even Obama's OCR, as extreme as its approach toward campus due process had been, never adopted such a policy. Clinton withdrew the line only after she was asked how it would apply to her husband's accusers, but there seems little doubt that she would not have granted the same degree of skepticism for students accused of sexual assault on campus.
It also seems likely that a Clinton OCR—perhaps with Lhamon staying on for a second stint in charge of the agency—would have more aggressively targeted campus free speech. The University of Montana "blueprint" (imposed by OCR and the Justice Department) supposedly was abandoned after a public outcry. But its basic principles were quietly extended to the University of New Mexico and could have formed a national template under four years of Clinton.
In a Clinton presidency, Title IX would have been used as a sword against fairness and due process. If nothing else happened last Tuesday night, that outcome appears to have been avoided.