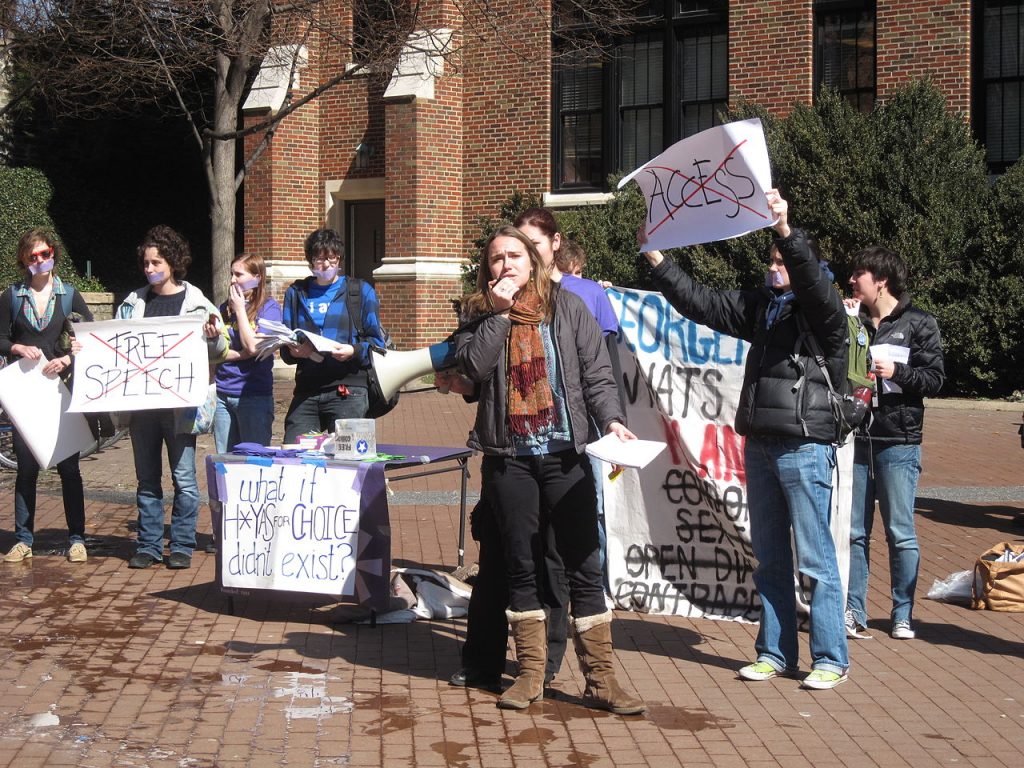 While Georgetown University leaders may have said a silent prayer last week for the repose of the soul of one of its most distinguished alums, the best-selling author, William Peter Blatty, it is unlikely that most were mourning his passing. Blatty, the author of The Exorcist, had been making life difficult for Georgetown for more than a decade after he became convinced that the university had abandoned its Catholic mission.  In fact, concluding that his alma mater "takes pride in insulting the Church and offending the faithful," Blatty filed a Canon Law petition with the Vatican in 2013 asking that Georgetown University be denied the right to call itself Catholic.
A Jesuit at Every Table
Calling Georgetown a "Potemkin Village," Blatty once declared, "Georgetown is the leader of a pack of schools that are failing to live up to their Catholic identity."  Blatty was especially critical of what he saw as Georgetown's hypocrisy: "At alumni dinners, they will make sure there is a Jesuit in a collar at every table, like the floral arrangement."
Blatty's 200-page papal petition contained more than 480 footnotes, 99 appendices, and 124 witness statements.  It also included a commissioned 120-page institutional audit of Georgetown.  According to Manuel A. Miranda, who served as Blatty's counsel, "We have documented 23 years of scandals and dissidence—more than 100 scandals in the most recent years alone."  The petition asked Pope Francis to require that Georgetown implement Ex Corde Ecclesiae, the 1990 papal document requiring all Catholic colleges to teach "in communion" with the Church.  The goal of Blatty's petition had been to revoke Georgetown's right to call itself Catholic unless it complies with Church teachings.
Georgetown is not alone. Defiant from the earliest days of the release of Ex Corde Ecclesiae, most Catholic college presidents refused to implement the papal document. When it was first released by Pope St. John Paul, Notre Dame's then-president, Fr. Edward Malloy, along with Fr. Donald Monan, then-chancellor of Boston College, published an article in America magazine calling the document "positively dangerous."  The faculty senate at Notre Dame voted unanimously for the guidelines to be ignored.
With the exception of a few Catholic colleges and universities (like my own academic home, Franciscan University of Steubenville), most of the 230 Catholic colleges and universities have strayed far from their Catholic roots.  This all began in 1967, when Catholic college leaders gathered in Land O'Lakes, Wisconsin to create a manifesto that declared their "true autonomy and academic freedom in the face of authority of whatever kind, lay or clerical." Since that time, most Catholic college presidents have ignored attempts by their presiding bishops to bring their schools into communion with the Church.
Workshops on Trans-Health
Ignoring Catholic doctrine on human sexuality and life issues, some faculty members at Georgetown have promoted legislation to provide access to same-sex marriage and to expand reproductive rights. The New York Times lauded Georgetown for its "gay-friendly" campus. Each October Georgetown hosts a 40-day celebration of GLBTQ issues.
The theme for 2016 was "Honoring Our Histories" and focused on legislative pathways to securing rights across the decades for trans and gender nonconforming people; the intersections between faith, sexuality, and disability; stories of coming out and coming together; and journey of transitioning through the constructions of gender." With workshops like "Trans-Health in the Military," and "Queer in the Capital," Georgetown has been long been a leader in lobbying for same-sex marriage and other GLBTQ rights.
An important part of OUTober is Georgetown's "I AM" Campaign that encourages students, faculty and staff to discuss was I AM" means to them.  Posting videos online Georgetown faculty and staff proudly described their appreciation for Georgetown University's acceptance of their same-sex marriages and relationships.  This year, several gay and lesbian faculty members spoke about their pride in being part of the GLBTQ community at Georgetown.
'Not Just Tolerated'
In one of the online videos, Samuel Aronson, Assistant Dean of Georgetown's School of Foreign Service, said that for him, the "I AM" campaign means that at Georgetown he is "not just tolerated" as a gay man who is "happily married." Rather, Dean Aronson says that at Georgetown, "we love you not despite who you love, or your gender expression, but because of who you love."
Beyond lobbying for same-sex marriage, and transgender rights, some at Georgetown have encouraged undergraduate students to help expand abortion rights as a social justice issue. Collaborating with the dissident Catholics for Choice, Law Students for Reproductive Justice, a student law school organization on several Catholic campuses, aims to produce a new generation of abortion advocates to help "train and mobilize law students and new lawyers across the country to foster legal expertise and support for the realization of reproductive justice."
As recently as 2015, the LSRJ website listed chapters of  Law Students for Reproductive Justice at Georgetown University as well as DePaul, Fordham Law; Loyola, Los Angeles; Loyola Chicago; Santa Clara University; Seattle University; St. Louis University; Detroit Mercy; University of San Diego; University of San Francisco, as well as Loyola, New Orleans and Boston College.   And, although several of these chapters were deleted from the new LSRJ website, the Cardinal Newman Society (an orthodox Catholic higher education resource organization) maintains that there remain 13 active LSRJ chapters on Catholic campuses.
Working with Planned Parenthood
Law Students for Reproductive Justice is still listed among other law student organizations on the Georgetown University law school website, but now there is a disclaimer that the organization "is not funded by the university." The University attempted to suggest that was also so in 2015—even though public meeting notices on campus listed LSRJ activities as being held on campus at the Tower Green, and in various rooms in McDonough Hall—the main Law School building.
Georgetown's LSRJ chapter past president was Sandra Fluke who gained fame by publicly criticizing Catholic colleges and other Catholic institutions for their unwillingness to support "reproductive health" for women by paying for contraceptive care—including abortifacients.
Blatty was concerned about the ways undergraduates were being socialized at Georgetown. The Cardinal Newman Society has documented several connections between Planned Parenthood and Georgetown University involving faculty and undergraduate student internship opportunities.
Signs of Life at Georgetown
Blatty was joined in his concerns about Georgetown's Catholic identity in 2012 by Donald Cardinal Wuerl, the presiding bishop of the Washington DC Diocese, when he denounced the University's decision to invite Kathleen Sebelius, the pro-choice Catholic Secretary of Health and Human Service, and the creator of the controversial contraception mandate, to be the Commencement Speaker. An editorial published in the Catholic Standard, the official Archdiocesan newspaper representing the Cardinal, concluded that "Georgetown has undergone a secularization due in no small part to the fact that much of its leadership and faculty find their inspiration in sources other than the Gospel…they reflect the values of the secular culture of our age."  
The fact that the Law Students for Reproductive Justice felt the need to change its name and hide its chapters can be viewed as a positive development for Catholic identity at all Catholic colleges and universities. At Georgetown, the student group "Hoyas for Choice" appears to have been encouraged to change its name to "H*yas for Choice." But, what is even more encouraging is that the campus pro-abortion culture itself may be beginning to change. In a recent op-ed in The Georgetown Voice entitled "H*pocrites for Choice a self-described "liberal feminist Catholic" criticized H*yas for Choice because "they are hypocrites…they must admit that the Catholic Church now has some, although very negligible domain over their lives."
H*yas for Choice
Complaining about the growing pro-life culture on campus, bloggers at H*yas for Choice believe their pro-abortion group has been unfairly marginalized:
While we receive no funding to promote students' right to bodily autonomy, Georgetown University Right to Life receives a large budget from the school each year that enables them to fund their efforts to force their own values about behavior and what forms of health care acceptable onto all students' bodies.
While there has been little change in the faculty culture at Georgetown, the student pro-life culture continues to emerge as the pro-life generation comes of age. While pro-life messages on campus have been vandalized by pro-choice advocates, the fact that pro-life messages have been allowed at all on the campus is a positive development.
Georgetown University will be well represented at the Annual March for Life in Washington DC this week. And, although few faculty will join them, they cannot help but be moved by the growing activism of a growing and vibrant pro-life student campus culture. William Peter Blatty would be proud of these student-led developments at Georgetown.