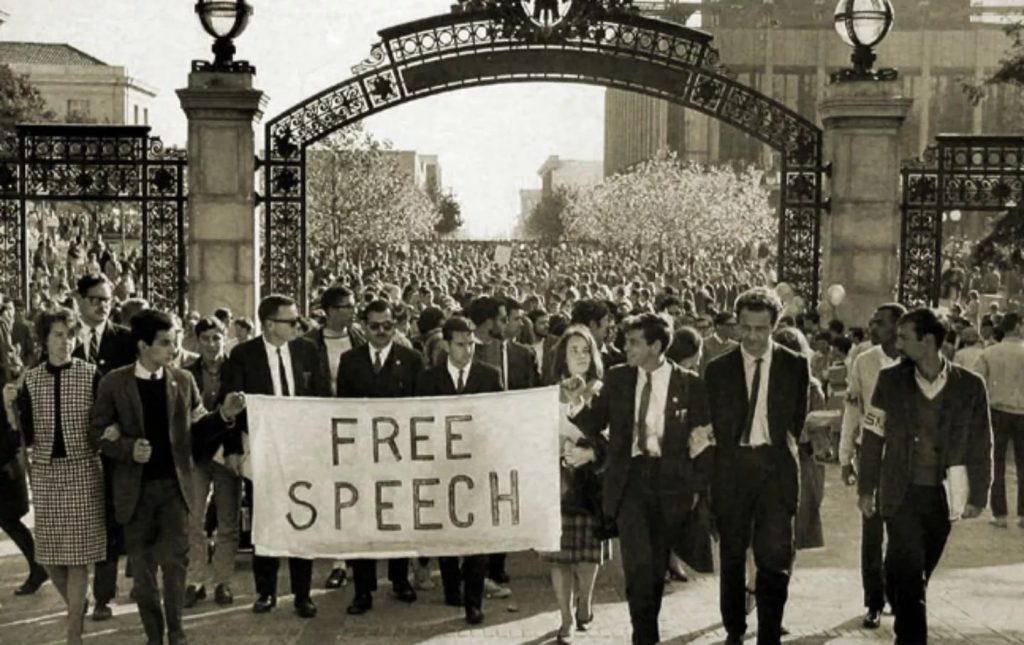 At Middlebury, where Charles Murray was prevented from speaking about the disintegrating white working class, college president Laurie Patton made some appropriate comments on the need for free speech. But her remarks seemed slightly out of focus, as if the crisis revolved around discord between two groups of students, not basic freedom of expression, and that the job of Middlebury was to help guide disputing factions into getting along.
In a March 4 statement to the campus, Patton wrote: "The protests and confrontations in response to Charles Murray's appearance laid bare deep divisions in our community. The campus feels different than it did before. It will take time and much effort to come together, and what the future ultimately looks like may not be anyone's ideal—at least not for a while. We have much to discuss—our differences on the question of free speech and on the role of protest being two of the most pressing examples."
This is verbal dithering. Free speech is not a "question" for discussion. It's an essential need of any college or university. Without free expression, a college or university becomes a seminary for the dominant campus faction. Or as liberal scholar Robert Reich, puts it, "colleges become playpens." Patton calls for everyone to submit community-building ideas for consideration. Compare Patton's meandering comments to this focused one from a column by John Daniel Davidson of the Federalist:
"Our college students have come to this impasse in large part because their parents, high school teachers, college professors, and school officials have all failed them. They have not only refused to instill in them a reverence for the First Amendment, they have taught them to despise the Constitution and the Bill of Rights, the very things that protect their right to protest. In so doing, they have turned them into the thing they claim to despise most: fascists."
Note that 65 of Middlebury's professors signed a statement strongly backing free speech. Good. But that's just one-fifth of the faculty; 240 didn't sign. Nationally, faculties have not been a factor in supporting free speech. As in most issues of college decline, they have been quiet onlookers. Meanwhile, a few people on the left dream of a hate-speech exception to the First Amendment, or think the exception has already been made. Former Vermont Gov. Howard Dean tweeted on April 20, "Hate speech is not protected by the First Amendment." He is quite wrong.
Another concern is the endless delay.  Patton warned that sorting out the facts of the March 2 shout-down of Murray would take time. Nine weeks later, with classes at Middlebury ending in mid-May, many are concerned about the administration running out the clock without suspending or expelling any of the perpetrators.
Since February 1, when violent and masked demonstrators, canceled Milo Yiannopoulos at Berkeley, starting fires, tossing Molotov cocktails, beating people in the crowd and giving at least two people concussions, we count ten campus speeches or events disrupted or canceled on campuses. The responses by the colleges and universities has been meek with little taste for standing up to the visiting thugs.
When Yiannopoulos attempted to speak at Berkeley, police kept inside a building making no attempt to take control while the riot proceeded outside. Primary administrators (Patton at Middlebury, Chancellor Nicolas Dirks at Berkeley) have let us know at length what they think of Murray and Yiannopoulos. But nobody cares what their opinions are, just that they will act responsibly to keep the peace and let free expression proceed.
Meeting no resistance, violent agitators are likely to push further each time, though the end of the school year may postpone increasingly disastrous behavior. But college administrations will have to change and defend their campuses. That will mean a willingness to make arrests, to expel anyone showing up for a campus talk in a mask, to film the disruptions and to make decisions on penalties before months of delay have passed.
The disruptions and violence aren't going to fade without some show of resistance. Keep in mind that the University of Missouri, after offering no resistance to Ferguson-related riots on campus, had to close four of its dormitories because many fewer students cared to attend a university that couldn't keep the peace.
The University of California, Berkeley, after canceling Anne Coulter's scheduled speech and hearing that she was determined to deliver it on April 27, announced that she would have to deliver it on May 2, a dead time on the academic calendar. This is gamesmanship, showing only the university's disdain for the speaker. Having flubbed the Yiannopoulos speech, the university plays games with the Coulter talk. When will the colleges and universities act with basic integrity?