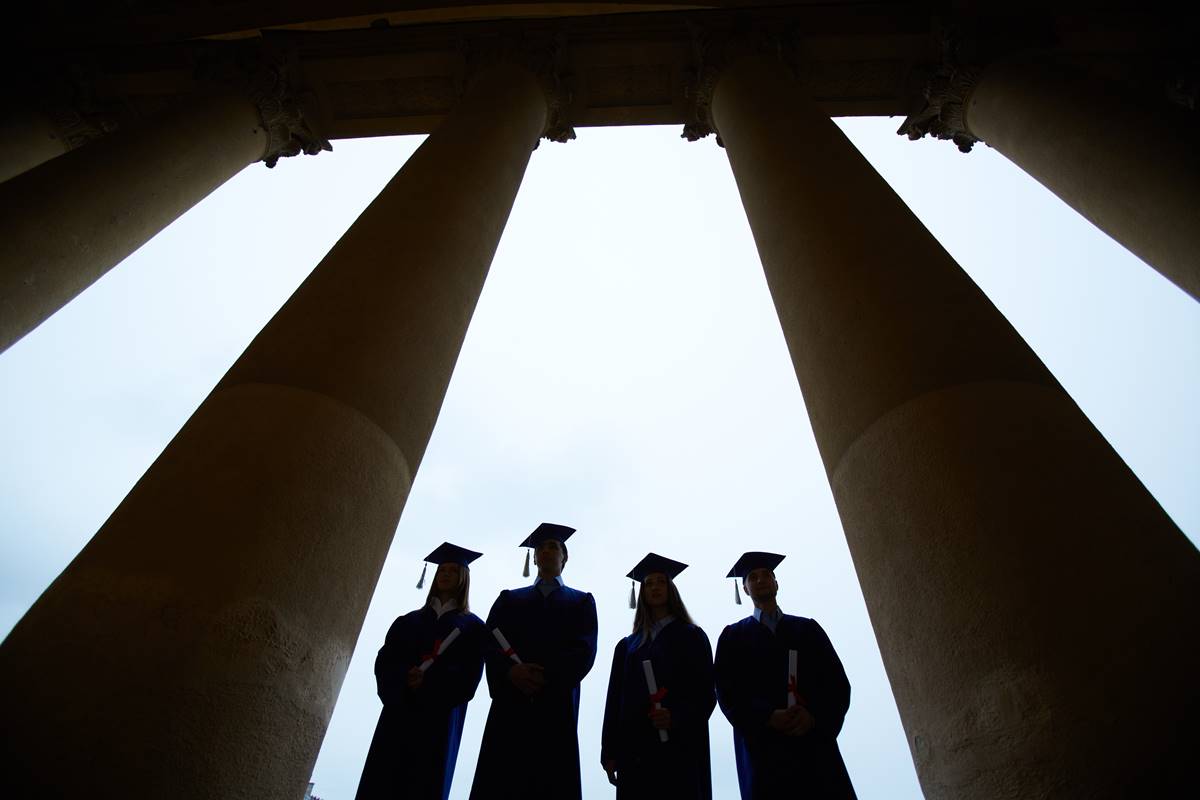 The liberal reaction to Donald Trump's speech on Western civilization goes to show how much liberals played the fool way back in the 1980s. That's when the debate over Western Civilization boiled over and traditionalists and multiculturalists vied for control of the humanities curriculum. Liberals didn't fit easily in either camp. Most of them in the humanities taught a standard course in recognized figures, English from Beowulf to Joyce, art and architecture from the Acropolis to Pollock, U.S. history from the Pilgrims through the Sixties. But while their educational practices were conventional, they stood politically with the progressives and radicals. They had to come up with a compromise–and they did. Donald Trump's speech proves beyond all doubt that, whether they realized it or not, it was a fake.
At that time, when William Bennett, Allan Bloom, E. D. Hirsch, and other advocates of traditional cultural literacy were filling the public sphere (though Hirsch was a firm political liberal), there were two versions of the "Eurocentrist" critique coming from the Left. First, hard identity politicians in humanities departments and "studies" programs cast Western civilization as a racist, sexist, imperialist enterprise. They retained the anti-Americanism of the anti-War movement of the previous decade and applied it to the college syllabus, treating a course packed with dead white male authors as just that: an ideological formation by race and sex. They didn't see the legacy of Homer and Plato, Dante, and Shakespeare, Mozart and Manet as a positive lineage of genius. They only registered the exclusions: not enough women and persons of color.
But their presentation was so bitter and anti-intellectual that it didn't impress many colleagues across the campus, not to mention observers in the public sphere. In fact, it alienated them. Harold Bloom termed these bilious progressives the School of Resentment, and in my view, the Nietzschean tag fit even though I hated Reagan and all the other Republicans as much as anybody. Liberals didn't view the Western heritage that way, and it wasn't how they talked about reform, either. The professors I had in the 1980s were solidly Democrat (that is, anti-Reagan) and fully in favor of affirmative action and abortion rights. They wanted to see Geraldine Ferraro Vice President and they acknowledged all the oppressions of the past, but they hadn't learned to characterize their own teaching of Great Books as another one of them.
Yes, they agreed that Milton and Pope had their sexism and that pre-Civil Rights American writers didn't recognize the equality of African Americans. But that didn't make Western civilization something to withhold from historically-disadvantaged individuals. The liberal position was to allow everyone access to it, and that included appreciating the tools of justice that Western civilization provided such as natural and universal rights. If Western civilization bore elements of the bad -isms, the solution wasn't to banish it or even to disparage it. We should revise it, instead, particularly where it had excluded other voices and other experiences.
And so, we got a positive version of reform, not "Hey hey, ho ho, Western civ has got to go!" but happy expressions of diversity, "opening up the canon," "recovering lost voices," preserving "herstory" as well as "history." This was the liberal via media. It didn't displace Western civilization — it enriched it. We didn't need to denounce Jonathan Swift because of his misogyny. We could simply place contemporary women's writings alongside his and produce a fuller, deeper, richer picture of the tradition.
That was the promise of liberalism in the humanities. When conservative critics would charge that Alice Walker is pushing Hemingway off the reading list, liberal professors quickly replied, "No, no, not at all. Hemingway is still there, but now we have broader representation of American literary history." Who could argue with that?
Well, now we know. We believed that sober moderates would prevail over adversarial leftists, who would sputter out once the (in their eyes) repressive tolerance of liberalism would do its work. But it didn't work out that way. The identity politicians suffered many public embarrassments because of their political correctness and speech codes and illiberal education and tenured radicalism, but that didn't slow their advance one bit. On this issue of civilization, they have won off-campus liberals to their side. The enthusiastic or benign appreciation of Western civilization is now a sign of bad politics.
Peter Beinart handily explains what Western civilization now means: "In his speech in Poland on Thursday, Donald Trump referred 10 times to "the West" and five times to "our civilization." His white nationalist supporters will understand exactly what he means." Beinart regards "the West" as "a racial and religious term." The Washington Post's Jonathan Capehart, too, linked it to white nationalism, especially Trump's sentence, "We write symphonies." In response, Capehart wrote, "In that one line, taken in context with everything else Trump said, what I heard was the loudest of dog whistles. A familiar boast that swells the chests of white nationalists everywhere."
Commentaries on these remarks have been profuse, but I haven't seen anyone bring up this 30-year-old background. To recall it is to prove a remarkable and sad transformation in the status of Western civilization. To speak proudly of its achievements, to hail its art and music, to acknowledge its origin in Jerusalem and Athens and Rome was in the past a partial interpretation of human history and culture. Now, it's racist and imperialist.
All the old liberal talk about diversity and recognition and recognizing the "other" is gone. The fierce multiculturalists of the 1980s are now the mainstream liberal talking heads of the 2010s. It is anti-intellectual and historically-inaccurate, but among the left, it has a bien–pensant moral force.  One expects this in academic humanities departments, and now we can find it in the pages of distinguished liberal periodicals, too.