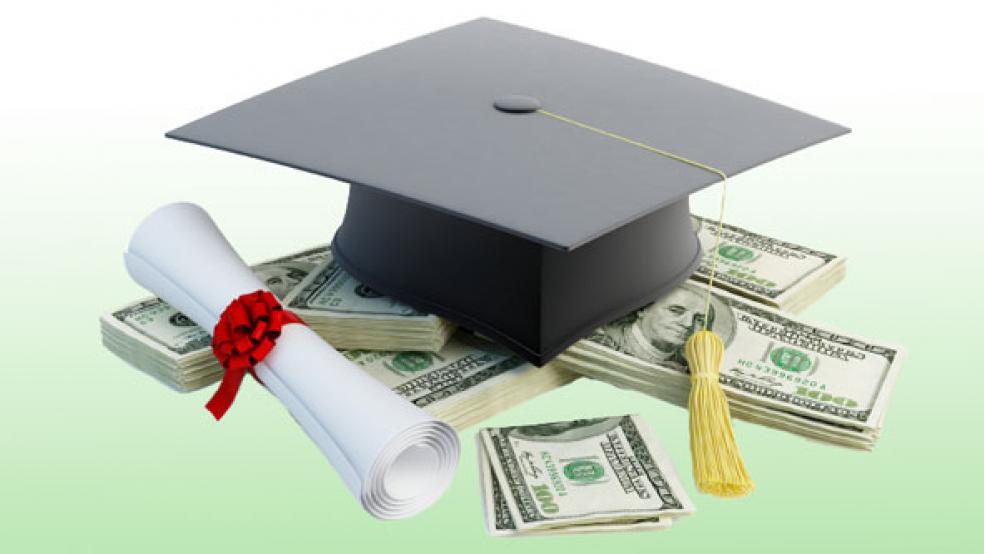 Is America about to embark on the "mass defunding of public higher education"? Fredrik deBoer thinks it's a real, horrifying possibility. In a Los Angeles Times op-ed and on his blog, he argues that the political basis for this defunding now exists.
The problem, according to the Pew Research Center, is that the list of truths self-evident to members of both political parties no longer includes the institutional value of higher education. On the question of whether colleges and universities have a positive or negative effect on the country, Pew found that Democrats had a favorable view of colleges by a wide margin, 72% to 19%, while Republicans had a negative view, 58% to 36%. Democrats' support for higher education, always strong, has grown more pronounced since 2010. Only within the last year, however, have Republicans gone from favoring to opposing colleges and universities.
Identity-Politics Departments
This loss of bipartisan support constitutes a "crisis," deBoer contends. Not only is America closely divided between two parties, but Republicans are especially powerful at the state level, where funding decisions about higher education are made. No, he doesn't expect that the Republican governor and legislature of Wisconsin, for example, will shut down its flagship state university. But he does think that the Republican voters' new consensus—higher education no longer merits deference or the benefit of the doubt—portends that states will start to close down identity-politics departments like Women's Studies, and make taxpayer support contingent on enforcing "harsh restrictions on campus groups and how they can organize."
DeBoer writes as an academic—he holds three degrees from three different public universities, and is Academic Assessment Manager at a fourth, Brooklyn College of the City University of New York—and as a leftist—another of his recent articles makes clear that he doesn't want to regulate profit, but do away with it entirely.
Censoring Mainstream Views
Especially interesting, then, that he assigns a large share of the blame for public higher education's crisis to the academic left. DeBoer "grew up believing that most professors live by" a "philosophy of non-coercion and intellectual pluralism." The long list of recent incidents where campus activists have attempted to "censor completely mainstream views," with the encouragement of some faculty and administrators and the acquiescence of others, has convinced him otherwise.
The professors and activists who used to insist that allegations of anti-conservative bias in academia were factually wrong, deBoer argues, have pivoted without pause or embarrassment to insisting that such anti-conservative bias is morally right. As a result, the "defenders of public universities" who "now mock the concept of public debate as a conservative shibboleth" have "created the conditions for the destruction" of these universities.
DeBoer's opinion of this prospective destruction is particularly equivocal, which makes it particularly interesting. He certainly does not welcome the disaster he expects. The conservative movement incensed by campus radicalism "has one and only one remaining impulse," he alleges, "which is to destroy its perceived enemies."
Nevertheless, the victimhood studies associate professors and diversity office administrators will find the principal culprit for their coming unemployment in the mirror. There is, as the literary scholar John Erskine argued a century ago, a "moral obligation to be intelligent," to "find out as far as possible whether a given action leads to a good or a bad end." Accordingly, any system of ethics that excuses people from this duty is "vicious." Erskine was restating the essence of Aristotle's idea of prudence, practical wisdom, which called for pursuing moral outcomes by shrewdly assessing concrete situations.
Though he sympathizes with the campus activists' social justice goals, deBoer also criticizes the willful blindness of educators who refuse to live in the world as it is. The fact that "public universities are chartered and funded as non-partisan institutions" makes the practical necessity to conciliate rather than anathematize one of the two major political parties into a moral imperative. Rather than confront this reality directly, however, the academic preference to strike poses of ironic indifference to it will, deBoer believes, "make it easier for reactionary power, every step of the way."
Misinvesting in Higher Ed
Those who are reactionaries, or merely dubious about the social justice project, face a prudential question of their own: would the defunding of public higher education that deBoer fears lead to a good or a bad result? Several considerations deBoer does not consider argue in favor of it. Most importantly, there is a case to be made, one having nothing to do with academic politics, that we are over- and misinvesting in higher education, rather than under-investing. A bachelor's degree used to set people apart in a way it no longer does.
Only 7.7% of American adults held one in 1960, compared to 33.4% in 2016. As economist Richard Vedder has repeatedly made clear, the growing ranks of bartenders, waiters, hairdressers, and letter carriers with undergraduate and graduate degrees argues that too many young people, not too few, are steered into the 120-credit-hour slog for that one credential. The resources, including public money and private time now squandered on that quest, would do more people more good if redirected to training programs that match the jobs actually attainable and emerging in the 21st century.
We're also over-investing in higher education if too many college students receive degrees despite not learning anything in particular. In Academically Adrift (2011) Richard Arum and Josipa Roksa described precisely that situation: large numbers of recent college graduates are "failing to develop … higher order cognitive skills." Specifically, 45% of the students Arum and Roksa studied were no better at critical thinking, complex reasoning, and written communication after two years of college than they were at freshman orientation, and 35% were no better after four years. This is a particular problem in large public institutions, where many students become "maze smart," figuring out how to accumulate credit hours without really learning anything, and students and professors tacitly enter into a "mutual nonaggression pact," exchanging good grades, easily earned, for students' favorable evaluations of their instructors.
There is, in short, a strong case apart from anti-conservative bias for state legislatures to make far more skeptical, rigorous, and targeted funding decisions about post-secondary education. The political question all but cinches it. And the political question is not about exerting power or exacting revenge but affirming fairness. Non-coercion and intellectual pluralism really are valuable principles.
The fact that, with little optimism, deBoer appeals to self-preservation to get professors to respect these standards shows how contemptuously they are regarded in the academy. Elected officials who fail to uphold academic principles in the only language academics understand—by eliminating faculty lines and slashing budgets—will vindicate academia's contempt for intellectual freedom, and for the taxpayers who subsidize higher education.