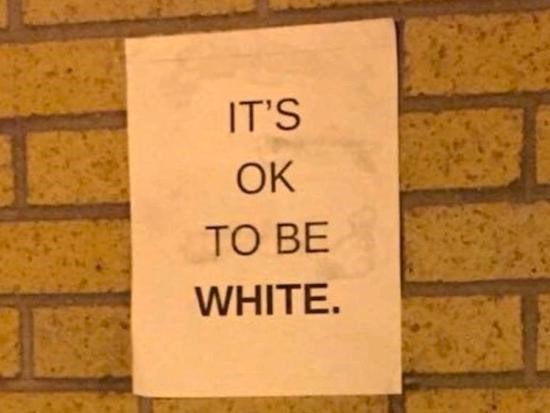 "It's OK to Be White" signs have been popping up on campuses apparently to show that any similar slogan ending in a reference to any other racial, ethnic or gender group would be welcomed by college students, but not one ending in "White." Sure enough, the "White" signs have been pulled down rapidly, apparently by the campus left, with some students saying the motto is a clear attack on diversity or a hateful expression of "white supremacy. "
Since Halloween, the signs have turned up at Princeton, the University of Iowa, Tulane, Harvard, the University of Maryland, Purdue, Concordia College in Minnesota and the University of Alberta and the University of Toronto in Canada.
More than a dozen handmade stickers reading "It's Okay to Be White" surfaced around Harvard Square last Wednesday, prompting Cambridge officials to remove them and the Dean of Harvard Law School, Marcia L. Sells, to denounce the signs as "provocations intended to divide us."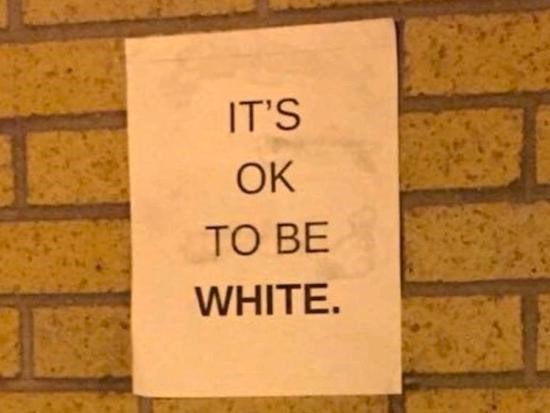 The Harvard Crimson reported that the stickers appeared to be part of a campaign started on the controversial forum website 4chan, which called upon followers to put up posters with the message in their area on Halloween night. The author of the original post on the site wrote that they hoped the "credibility of far-left campuses and media get nuked" as a result of the incident, adding that they could help achieve a "massive victory for the right in the culture war."
Some campuses worked hard to spin the news as they reported it. The University of Kansas student newspaper ran the news of the signs as "white supremacy posters found around campus."
John Hinderaker, writing at Power Line, reported that "A group of students at Concordia College in Moorhead, Minnesota, did something so outrageous, so transgressive, that it has roiled the campus and led to newspaper headlines: they posted signs on campus that say, "It's OK to be white."
You might think that in a campus environment where a thousand genders are blooming, you could finish a sentence beginning "It's OK to be…" in just about any possible manner. But you would be wrong.
Concordia students said the whole "plan" goes against the diversity message at the school.
Leftists divined that those who put up the signs are not entirely on board with the bullying zeitgeist of 21st-century education:
Senior Micah Ferden said, "(I) was really shocked that someone had the guts to do this because we try to promote diversity so much, and seeing this is saying 'Hey, we still have students who aren't fully invested in this diversity message.'"
A naive observer might have thought the message of the signs was anodyne. Moorhead, Minnesota, where Concordia is located, is 90.4% white, according to Wikipedia. So, a naïve observer might assume, it had better be OK to be white. But some thoughts must not be spoken. Concordia's President has announced an "open forum" to discuss the radical sign.
Unsurprisingly, the campus left was generally prone to seeing the posters as out of bounds and illegitimate, though whites, particularly white males, have been the unofficial punching bags as oppressors in movements against "white privilege and "white fragility," With campus leftists in recent weeks instructing whites to move to the back of lecture halls.