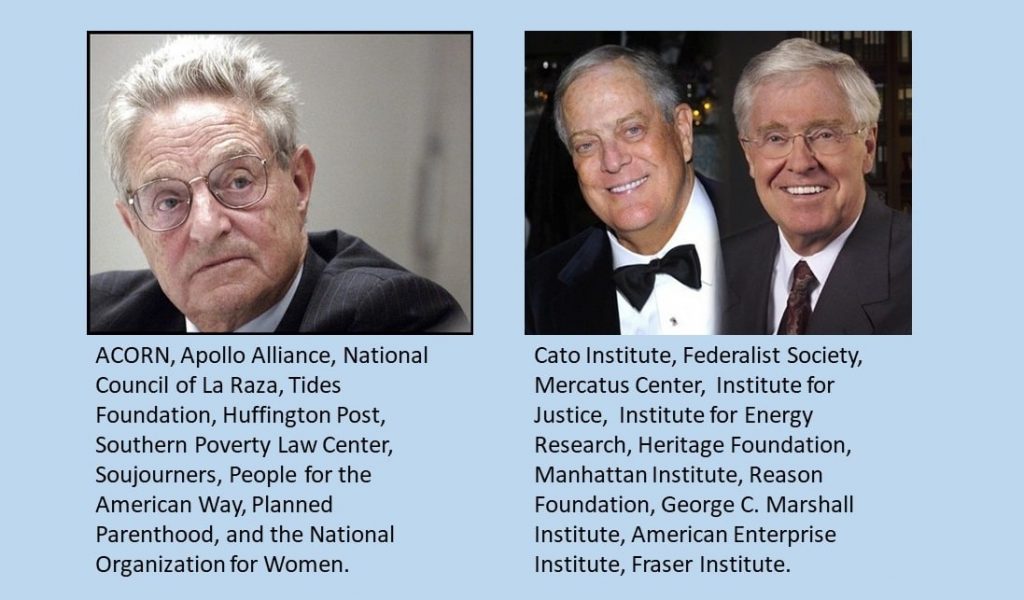 Continuing its attack on what it calls the "politically tinged" philanthropy of the Charles Koch Foundation, The Chronicle of Higher Education followed-up last year's essay entitled, "How Right Wing Billionaires Infiltrated Higher Education," with last month's "Think You Know What Type of College Would Accept Charles Koch Foundation Money? Think Again."
Left-wing billionaires like George Soros have been influencing higher education for decades, but The Chronicle focuses on faculty resistance to Charles Koch Foundation money, saying it has "borne fruit." Citing Ralph Wilson, one of the founders of UnKoch My Campus (UKMC), The Chronicle reported that Koch "ended the year adding only 44 first-time campuses, falling below the average gain of the previous five years for the second straight time. And with 69 campuses dropping off Koch's list in 2016, it was also the second straight year in which the foundation lost more campuses than it added." Wilson added that "the more that faculty know about Koch's contracts and strategy, the more they are trying to resist its influence."
'The Resistance' Fights Koch
Koch spokesperson Trice Jacobsen cautioned against making too much of the foundation's list of 2016 grant recipients, telling a Chronicle reporter that "shifts in the calendar year giving are part of the natural academic giving cycle. Last year, the Charles Koch Foundation awarded $50 million in grants to 249 colleges—a 49 percent increase over 2015 when the Foundation distributed $34 million in grants.
Still, it has become more difficult for university administrators to negotiate grants and contracts with the Foundation as progressive faculty and a growing number of students have become part of "the resistance movement" to keep conservative donors like Charles Koch from providing funds for faculty research and student scholarships. When Catholic University of America accepted a $1 million grant in 2013 to help the school's goal of advancing the study and practice of principled entrepreneurship," a group of 50 progressive Catholic educators signed a letter suggesting that the Koch brothers advance policies that directly contradict Catholic teaching on a range of moral issues from economic justice to environmental stewardship." And, in 2015, when Catholic University received another $1.7 million to expand the Business school's study and practice of principled entrepreneurship, the National Catholic Reporter reminded readers that Pope Francis had blamed growing economic inequality on the kinds of ideologies promoted by Charles and David Koch.
Focus on George Mason
Most of the criticism from UnKoch My Campus has focused on George Mason University, the recipient of more funding from the Charles Koch Foundation than any other school. In 2013, the Foundation donated more than $14.4 million to George Mason University—on top of the tens of millions in Koch dollars that the University and its affiliated research centers have collectively received in recent years. The Koch-funded Mercatus Center at George Mason is described by PublicIntegrity.org as the "largest collection of free market faculty" at any university in the world. Carrie Canko, Vice President for the Mercatus Center, told a reporter for Public Integrity that the Mercatus Center is a "stand-alone non-profit." George Mason University provides no direct funding for the Center, but George Mason University and its students receive millions of dollars in annual financial benefit from the Mercatus Center.
No Focus on Tom Steyer
As UnKoch My Campus stages protests, demands meetings with administrators and launches chapters at George Mason University and other institutions, no one seems concerned that progressive donors have spent decades shaping higher education. When Democratic mega-donor Tom Steyer gave more than $40 million to the TomKat Center for Sustainable Energy at Stanford University—whose aim is to influence energy policy, The Chronicle of Higher Education did not publish an excited article, "How Left Wing Billionaires Infiltrated Higher Education." And, no one has begun an UnSoros My Campus group to protest the fact that George Soros has given much more money for left-wing causes on college campuses throughout the country than Koch has for right-wing ones.
Promoting his own political agenda, Soros gave a grant to MIT to provide support for the Deferred Action for Childhood Arrivals (DACA). Bard College, a tiny liberal arts school in New York state is the recipient of a $60 million multiyear commitment from Soros. The Soros money is intended to fund Bard College's "Center for Civic Engagement"—a broadly defined Center designed to promote the progressive causes that Soros endorses.
When Georgetown University received $100,000 from Soros to host Guatemala's former Attorney General as a Visiting Scholar at the school's Institute for Women, Peace, and Security, none of the progressive Catholic organizations complained. And, when Fordham University received a $400,000 grant from Soros to study the role of money in the democratic process, the National Catholic Reporter was unconcerned—even though Soros has long championed anti-Catholic initiatives-including expanding access to abortion—throughout the world.
Money for Catholic Colleges to Attack Catholic Values
In some cases, progressive foundations give money to Catholic colleges to intentionally help faculty attack Catholic teachings on life issues, marriage, and sexuality. For example, the James Irvine Foundation funded the University of San Diego's "Rainbow Visibility Project" with the goal of "raising the collective awareness of the university community LGBTQ culture and history." Fairfield University received a $100,000 grant from the Arcus Foundation to "hold and disseminate information from a series of forums in order to expand the current discussion on homosexuality within Roman Catholicism to include the diverse opinions of progressive Catholic thought leaders and theologians."
The protests against the Charles Koch Foundation have had an impact. After accepting thousands of dollars in Koch grant money, the University of Dayton caved in to pressure from progressive critics. An op-ed published in the university's student newspaper by Jay Riestenberg, a member of the alumni, and a research analyst at the progressive organization, Common Cause (a campaign reform advocacy group) claimed that accepting Koch funding "is in clear violation of the institution's Catholic Marianist values." It seems that University of Dayton administrators agreed and announced that "The University of Dayton no longer accepts Koch cash, and it will not in the future—despite the efforts of Koch-backed organizations."
The faculty at the University of Dayton are barred from opportunities to receive Koch funding for their research. Much of this research is investigating areas that are important to faithful Catholics—alleviating poverty and addressing racial inequality in prison sentencing. There is a promising new Koch research initiative on the over-incarceration movement in this country that has resulted in racial inequality in prison sentencing. Providing research support in order to collect data to shape policy on the inequality that has resulted from the application of mandatory minimum sentencing is surely in keeping with Marianist values—but faculty at the University of Dayton have been forbidden from even applying for such grants because progressive professors and alumni don't like conservative donors like the Koch brothers.
The dominance of left-leaning faculty and administrators on all campuses—including most Catholic campuses—has had the effect of silencing diverse voices, and denying the academic freedom of anyone who disagrees with the prevailing progressive ideology. The Charles Koch Foundation offers hope to those who want to pursue research on alternatives to the over-incarceration of our citizens, or the value of free markets and limited government. But, in a clear violation of academic freedom, many of our colleagues are blocked from even applying for such support.