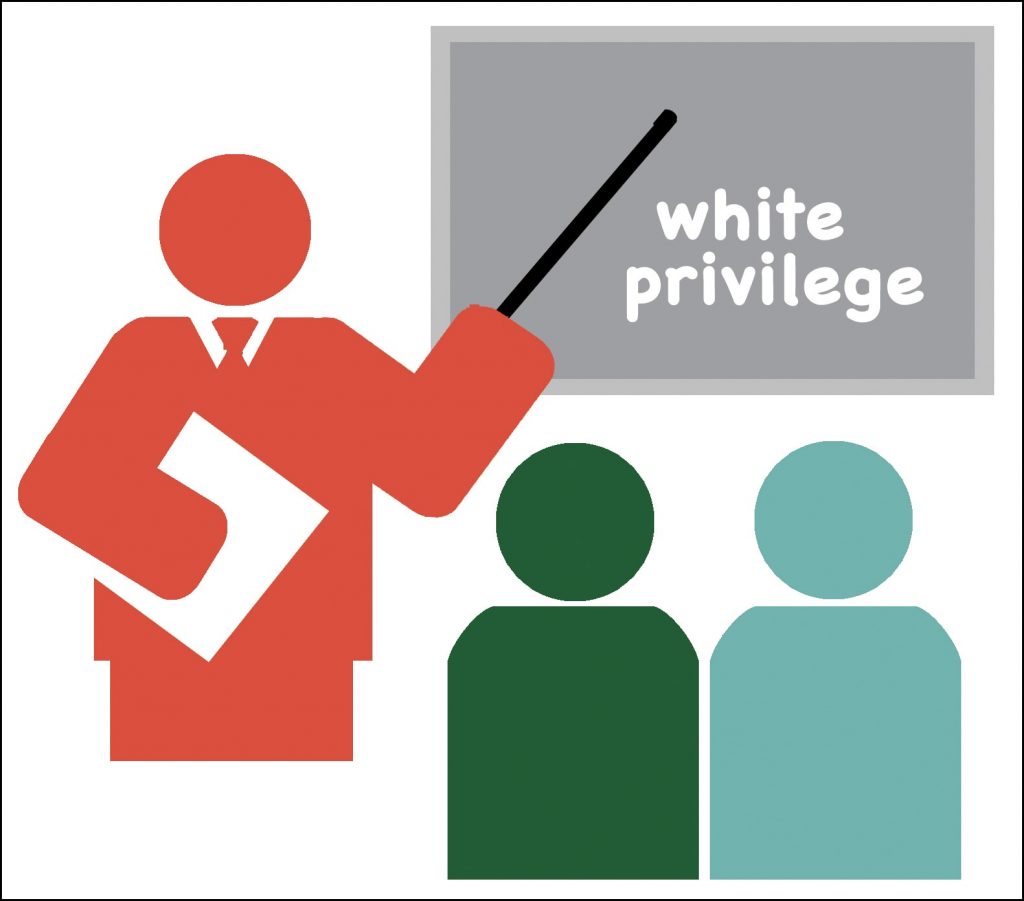 In November 2017, a Yale sophomore, Sohum Pal, wrote an op-ed for the student newspaper, the Yale Daily News, titled "White Students, Step Back." It criticized Yale's much-promoted "diversity" policies as "focused on a brand of assimilationist politics — the deeply misguided notion that students of color want to be wealthy, that we want to possess the social legitimacy and cultural capital of our white counterparts on terms dictated by white stakeholders."
Instead of "reaching" out to minority students to ensure their participation in campus life—that's a dubious "assimilationist model" that assumes "whiteness will always be centered" while "color is constantly peripheral," Pal wrote—non-whites at Yale should be "seated at the head of the table… because we must dictate our own terms of engagement with white power structures." In short, whites ought to get out of the way in order to facilitate "a liberation politics that would decenter whiteness." He summed it up: "I don't want opportunity: I want power."
Earlier in 2017, while still a Yale freshman, Pal had described himself in a Yale-funded "Asian and Asian American oral history project" as "queer, disabled, and South Asian." (Pal suffers from cerebral palsy, as he wrote in an essay for yet another Yale minority-student publication during the fall of his freshman year.) He said that at Yale, as at his high school in San Luis Obispo, California, he had received "microaggressions or actual aggressions everyday [sic]."
Perhaps so, but, his disability aside, Pal doesn't seem to have suffered unduly. Although his family may not be "wealthy" (to lift a word from his Yale Daily News op-ed), it is undoubtedly quite comfortably off. His father, Nirupam Pal, is a professor of environmental engineering at California Polytechnic State University in San Luis Obispo, with a number of outside consulting gigs, and his mother, Susmita Guptapal, is CEO of Infotech Telecom, a long-distance reseller serving immigrants calling relatives in Southeast Asia and the South Pacific (the 22-year-old company with around five employees pulls in about half a million dollars in revenue each year).
Both parents are immigrants from India but have lived in the U.S. since at least the early 1990s, and both hold advanced degrees from U.S. universities. In May 2016, right after her son was accepted at Yale, Guptapal wrote a letter to IndiaWest, a newspaper for Indian expats, stating that he had been accepted at Harvard and Princeton as well and that he had "received perfect scores in the SAT, all APs and subject tests." And if Sohum Pal's LinkedIn profile is any indication, he has been impressively ambitious career-wise during his first two years at Yale, churning through numerous internships and student-job stints related to social-justices causes.
Pal's call for white people to "step back" so that minorities can be "seated at the head of the table," while probably shocking to equality-minded readers outside the academy, is actually just part of a trend toward anathematizing whiteness and white people that is ubiquitous on college campuses—all in the name of advancing minority rights.
"Critical whiteness studies" has been a part of college curricula since the 1980s. Unlike black studies, developed during the late 1960s to give academic respectability to examining aspects of African-American culture such as music, literature, and folk traditions, whiteness studies typically pays little attention to actual aspects of historically white culture, whether it be Appalachian dulcimer tunes or Brooklyn-centric "stuff white people like" fads for farmers' markets and exotic breeds of dogs.
Whiteness studies are instead entirely ideological. Their underlying thesis is that "whiteness" is no more than a social construct dating from the 17th and 18th centuries that has enabled one class of people of European descent to dominate, marginalize, enslave, and even terrorize and murder those it deems to have unacceptably darker skin. At the heart of whiteness studies is the notion that it's simply illegitimate to be white.
"Decentering whiteness" isn't a new idea invented by Sohum Pal but a 20-year-old idea invented by Jeff Hitchcock, executive director of the Center for the Study of White American Culture, who began a series of "National Conferences on Whiteness" during the late 1990s. "We must disrupt the historic process of assimilation to whiteness that still continues to this day, and begin a new historic process whereby those who are white begin to assimilate to a multiracial version of America," Hitchcock wrote in 1998.
By 2003 The Washington Post had counted at least 30 colleges and universities across America teaching "whiteness studies," or, as is often the case in order to demonstrate by capitalization the presumably arbitrary nature of the designation, "Whiteness studies." A Stanford University course,"White Identity Politics," offered during the fall of 2017, discussed the concept of "abolishing whiteness" altogether.
There has been a certain amount of political pushback, especially when taxpayer-funded public universities began offering undergraduate courses titled "The Problem of Whiteness," as the University of Wisconsin-Madison did during the spring of 2017. That course, as its syllabus stated, aimed to explore how white people "consciously and unconsciously perpetuate institutional racism," which "devastates communities of color."
Residents of Wisconsin might have been forgiven for wondering who exactly was trying to "perpetuate institutional racism"—they or the professor who taught the course. But so far their voices seem to have been ignored. So it's not surprising that a Yale sophomore who has led a comfortable and perhaps even privileged life but happens to be of Indian descent has felt free to sound off on the unbearable whiteness of whiteness.