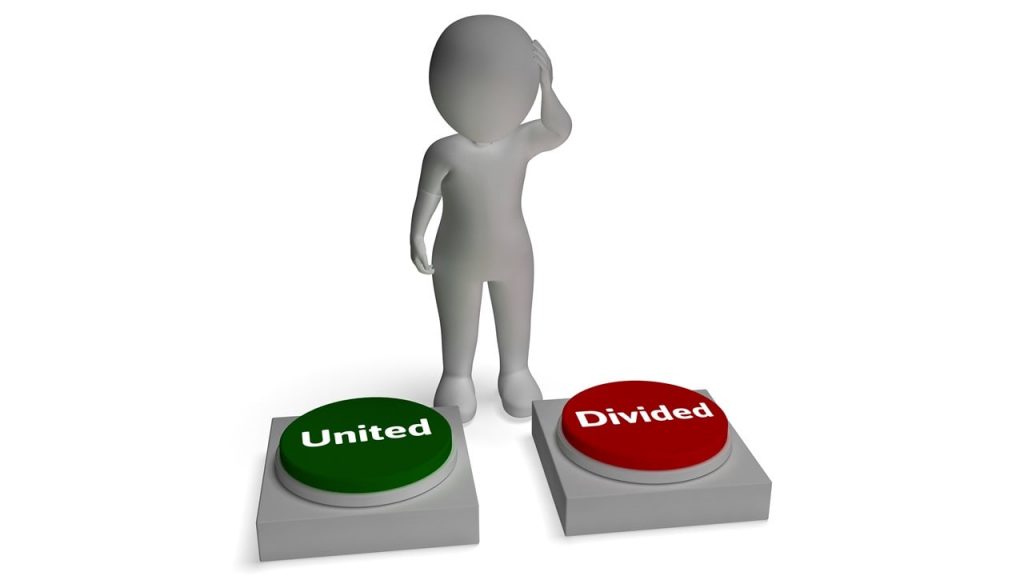 Chattering classes throughout the world are talking about identity politics and with good reason. It is propelling the so-called populist movements, and the response to those movements, which are shaking the foundations of almost every society today. Whether a polity is democratic, authoritarian, or anarchic, it is awash with clamorous appeals to relatively narrow allegiances based on race, religion, class, social position, gender, ideology, party — and typically some combination of them.
In the United States, college campuses, where our future voters and leaders are seeded, are the breeding grounds for these sectarian dispositions. There, young people newly emancipated from their families' supervision are free to define themselves afresh. There, they are pressured by peers and professors alike, as well as social media, to endorse the orthodoxy of the tribe.
The notion that there are but two sides on important questions – right versus wrong, tolerant versus bigoted, progressive versus conservative — is an unfortunate feature of this war of words. The real world, when they finally enter it, will discipline their minds in ways that their campus lives have not, but the residue of ideologies already implanted there may continue to shape them as voters and fellow citizens. So, here's this professor's effort to clarify the nature of identitarian rhetoric.
I offer five propositions that may confound partisans on all sides.
First, all politics is identity politics even though the identities that are emphasized constitute but a small part of who we really are. This is neither a new phenomenon – bitter, seemingly unbridgeable divisions have often occurred in American history — nor the exclusive or even predominant preserve of the left or the right. In any democracy, electoral politics means, among other things, dividing people up rather than uniting them, which is much harder. Getting elected entails "rubbing raw the sores of discontent" and "mobilizing bias" (as two analysts have put it).
All human societies are tribal. As Amy Chua argues in a new book, Political Tribes: Group Instinct and the Fate of Nations, we all seek warmth and solidarity from those who we think are like us in some important respects. But beyond a certain point, tribalism can be pathological. Half of Republicans and a third of Democrats say they would be upset if their child married a member of the other party, and these antipathies are steadily deepening. This growing polarization of the parties parallels clustering of partisans in states, localities, and even neighborhoods, and it is occurring within parties as well.
Second, the appeal to the traditional transcendent unifying norms are debatable – notably "American values" and "the American Dream" –are debatable; they no longer do the unifying work that they once did. This, even though almost all Americans, including the poor, enjoy a rising standard of living. In truth, these appeals beg fundamental questions of morality and complex policy on which Americans significantly differ, so it is not surprising that we cannot agree about value-laden and empirically contested issues like immigration, the government's role in healthcare, the integrity of law enforcement, abortion, gun control, and many more.
Third, even the terms and categories that we use to think about and discuss identity issues are over-simplified — in some areas grotesquely so. Occupying center stage is the subject of race. Although science long ago showed it to be a meaningless, misleading concept, both sides deploy it aggressively and simplistically to conceal inconvenient truths. The right contends that race is only a battleground because activist groups like Black Lives Matter, campus protesters, and other "outside agitators" exploit it. Leftist groups divide society into whites, blacks, and other people of color even though a significant share of Americans carry other ancestries, and intermarriage among these groups has greatly increased. Campus activists deem whites to be categorically "privileged," yet the vast majority of poor people are white or non-black, and over half of "Hispanics," many of them poor, self-identify as white. Only about a third of black students at Harvard had four grandparents descended from slaves; the great majority were West Indian and African immigrants or their children. The good news is that far more young people socialize and marry inter-racially unlike their more restricted grandparents, who in any event are dying out.
Fourth, identity-talk makes no serious effort to engage with the teachings of social science. Yet, empirical facts, careful distinctions, and hard-eyed assessment of policy consequences could complicate the easy moralizing and aggressive guilt-mongering in which identitarians of all stripes wallow. For example, sociologist Orlando Patterson has shown that the life experiences of black men and black women are so different that to treat them as a single "community" is vastly, even tragically misguided. By the same token, "immigrants" are not a single category but rather a congeries of people with sharply different social, cultural, economic, and legal statuses – and hence identities. To speak of immigrants generically, as we all tend to do, obscures their differences and misleads our judgments about them.
Finally, identity-talk is almost always more certain of its own premises — and more ignorant or indifferent to those on the other side of the lines it draws — than it should be. Smugness in the face of contradiction is endemic. Cosmopolitan liberals, for example, feel beleaguered by what they take to be an oppressive conservative hinterland now controlling Washington and the country. (Here, the classic New Yorker cover lampooning this view comes to mind). Yet as others have observed, liberalism has actually won the culture war, which in the long run is far more consequential for how we think, live, and vote. Conservatives have their own grievances, intensified by their own blind spots. Their bitter attack on Obamacare (which borrowed from Republican ideas) despite their inability to propose a viable alternative while controlling the machinery of government is but one example; another is the ease with which evangelical Christians continue to support a president who flagrantly violates their most fundamental moral commitments.
Yes, we are tribal, and yes, our tribes are blinded by ignorance and self-righteousness. Perhaps this has always been true. But our politicians were simply better at both unifying the voters that they had just tactically divided, and the institutions fragmented by our Constitution. In the end, we must reduce the hold that our tribes have over us, and we must elect those who share this goal.