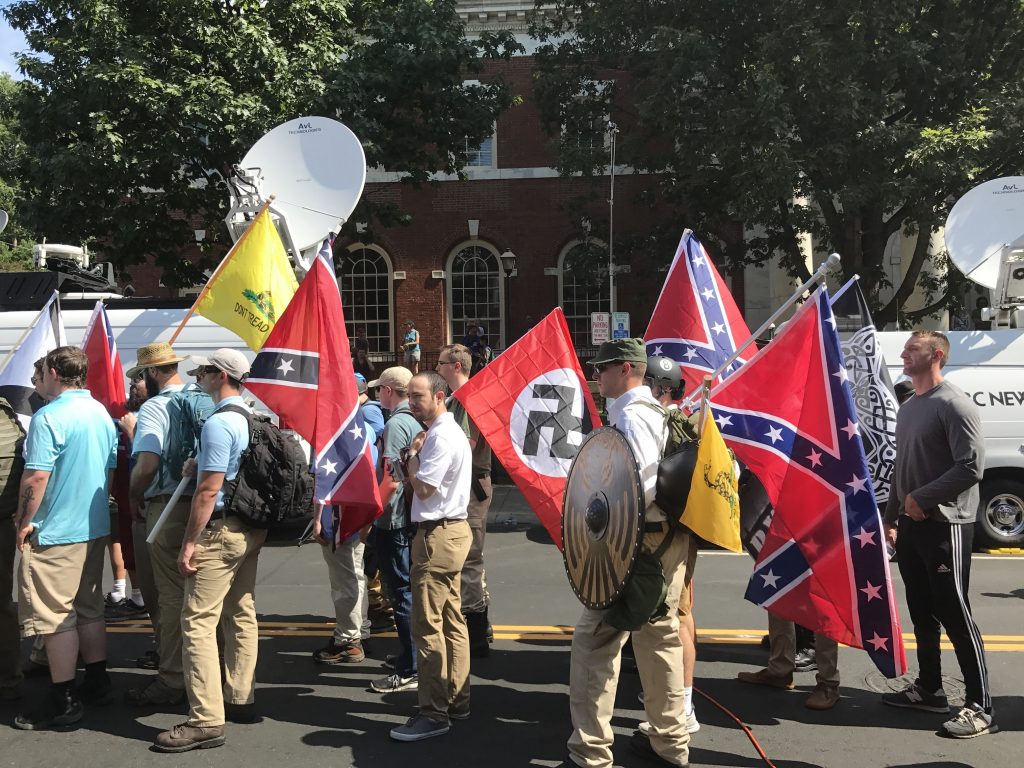 Charlottesville is still recovering — or trying to recover — from the chaos of last August when the city and its centerpiece, the University of Virginia, were "invaded," as people here say, by extreme right-wing demonstrators, who were attacked by extreme left-wing Antifa counter-demonstrators.
Evidence of the continuing fallout from the August clashes abound. Here are a few examples from just the past week or so.
The law library at the University of Virginia was just closed to "outsiders" because Jason Kessler, a notorious local right-winger, and organizer of August's "Unite the Right" invasion, attempted to use it to prepare his defense in a lawsuit. "While Jason Kessler purportedly did little except visit the institution's law library to study for a civil case for which he is standing trial," Inside Higher Ed reports, "just his presence triggered angst among students and professors."
The next day, "in an emotional town hall," according to the Charlottesville Daily Progress, "students said Kessler's presence brought back some of the same feelings of fear, isolation and anger that they experienced on August 11 and 12 … [and] School of Law Dean Risa Goluboff expressed her empathy for the students. 'I'm sorry,' she said. 'I'm angry, too.'"
The law library, usually open to the public except for exam periods, is now at least temporarily restricted to those with University identification, and a group of students and faculty demanded that the university bar Kessler from campus. As C-Ville, a local progressive free weekly, put it, "Kessler Alert: UVA law library hits the books in search of ban." In addition, according to the Daily Progress, the university "is also considering changes to its free speech policy," restricting speeches, rallies, pamphlet distribution, etc., "to certain times and places on Grounds" (the UVA term for campus).
The University initially refused to bar access to Kessler because, well, he hadn't broken any laws or university rules, but it has now done so. The Daily Progress reports that a No Trespass warning was issued "after multiple reports from students that Kessler threatened them, targeted them through cyber-bullying and cyber-harassment and targeted them based on protected characteristics."
Kessler is accused of making anti-Semitic comments to some students on his last visit and in general of being a very bad person who organized the August invasion of very bad people.
Not content with barring Kessler from University grounds, law professor Anne Coughlin and law student Rebecca Kimmel, the Daily Progress reports, have been urging the prosecution of Kessler and his colleagues, claiming the torches they carried in their August 11  demonstration violated "Virginia Code 18.2-423.01, a successor to a previous cross-burning law, makes it illegal to burn an object in a public place with the intent to intimidate or to make someone fear for their safety or life."
Coughlin spoke at a "candlelight vigil" on race issues in 2003, then roiling the campus. On that occasion she mentioned her reluctance to speak, fearing that whites would think she was blowing issues out of proportion and blacks would think she, as a white person, was the wrong person to speak. "My fears are produced by racism," Coughlin said. "My fear has made me an ignorant person."
Given her current campaign to prosecute torch-bearing protestors, perhaps an enterprising reporter should ask her whether the candles at that 2003 vigil would have run afoul of the statute she now wants to be enforced. We all might agree that there is a world of difference between tiki-torch carrying Klan-sympathizing protesters and candlelight vigilers, but should we trust prosecutors now and in the future — including a possible "deplorable," i.e., Trump-supporting, prosecutor — to share our certainty?
Moreover, so far as I am aware, Coughlin has launched no similar effort to have the mask-wearing Antifa counter-demonstrators prosecuted under § 18.2-422 of the Virginia code, another anti-Klan holdover that makes it "unlawful for any person over 16 years of age to, with the intent to conceal his identity, wear any mask, hood or other device whereby a substantial portion of the face is hidden or covered so as to conceal the identity of the wearer."
Meanwhile, in a counter-intuitive, man-bites-dog shocker, black students and their dean opposed and managed to cancel a public visual and performance arts exploration of the role of slaves in building the University. Why? Because C-Ville reports, the proposed art "reopens slavery's wounds."
Maurice Apprey, Dean of the Office of African-American Affairs and three deans in his office then wrote a letter to Pat Lampkin, UVA vice president and chief student affairs officer, asserting that "the pretext of the entire project was clearly offensive…. We shudder," they wrote, "at the thought of having to explain to concerned parents, students and alumni that our black and non-black students are being asked to play roles of humiliation; namely, the enslaved and slave-owning."
One wonders what Dean Apprey, his deanlets, and the censorious black students think of what is no doubt presented in history classes at UVA, not to mention the work the University's own Commission on Slavery and the University. When did reminding people of slavery become a bad thing?
Monitoring Social Media
One effect of "Charlottesville" (the event) is a new big brother-like emphasis on monitoring, and on occasion censoring, Facebook, Twitter, etc., for signs of impending unrest. As Engadget has reported, "Google and GoDaddy aren't the only internet companies dumping racists in light of the violence in Charlottesville. The team behind the gaming chat app Discord has shut down both accounts 'associated with the events in Charlottesville' and the altright.com chat server."
Now, the Charlottesville Daily Progress reports, the University of Virginia itself has taken on the role of Big Brother, contracting with a private firm to scan social media messages and alert police when certain keywords such as "kill," "die," or "shoot" are used. When an alert arrives, according to UVA police officer Beth Davis, the social media post is examined using "a checklist of warning signs. We look at the whole context of the post," she said.
The Cavalier Daily, the student newspaper, reports that "students and faculty raise questions over UVA's social media monitoring efforts." According to Siva Vaidhyanathan, Robertson Professor of Modern Media Studies and director of the Center for Media and Citizenship, "this whole practice is silly." It is ineffective, he points out, since "you have to hope the person has location services on and is willing to share location." Moreover, he adds, "most radical people do not publicly post their plans or actions on social media accounts such as Twitter or Instagram, but rather post on platforms such as Discord, an anonymous gaming platform."
"The problem with August 11 and 12," according to Vaidhyanathan, was that actual human beings watching activity on Discord alerted the University that there was an impending invasion, and the University did not take that seriously." Of course, now that Discord has banned racists from participating, the professor's preferred solution would no longer work. That's one problem with driving unpopular expression underground: it's no longer visible.
There is a bigger problem, however, than the inefficiency of the method UVA has chosen to monitor social media. In 2016 Doug Muir, an adjunct lecturer in UVA's Darden School of Business, was forced to take a leave of absence because of a Facebook post comparing Black Lives Matter to the Klan. He was responding to a campus lecture by BLM co-founder Alicia Garza, someone not known for the temperance of her speech.
What is relevant here is not Mr. Muir's opinion — abandoned under pressure from University leaders — but the responses of those leaders at the University of Virginia to his original expression of it on Facebook. "Mr. Muir's comment was entirely inappropriate," the Dean of Engineering and Applied Science declared. "UVA Engineering does not condone actions that undermine our values, dedication to diversity and educational mission." The School of Engineering, I noted, "apparently regards a Facebook post as an 'action,' not speech, and it deems only 'appropriate' speech and speech that does not challenge 'diversity' worthy of protection."
A statement from UVA Provost Tom Katsouleas was even more striking. Muir's post, the Provost asserted, "is inconsistent with the University of Virginia's values and with its commitment to the principles of academic freedom…. [S]tatements such as Mr. Muir's do not foster intellectual exploration, nor do they encourage the voices of others."
At a Symposium on Free Speech on Campus sponsored by the Thomas Jefferson Center for the Protection of Free Speech, University President Teresa Sullivan praised her provost and deans for their statements "defending academic freedom." During the question period, I responded to President Sullivan, noting that in the Muir affair a UVA lecturer had been hounded from his classroom, even if for only a short while, by what amounted to a heckler's veto and that it was sad UVA's officials sided with the hecklers." (Comment begins at 59.25 of this video of the symposium posted below.)
One does not have to be a privacy purist to be concerned about university presidents, provosts, and deans who regard social media posts as "action," who limit academic freedom protections to faculty statements they deem constructive, and who harangue and discipline faculty members for posting opinions that are "inappropriate" or, even worse, "inconsistent with the University's values." When these leaders then proceed to hire an outside watchdog to monitor faculty and student postings on social media while patting themselves on their backs for protecting academic freedom, they become caricatures of the proverbial fox guarding the chicken coop.
Photo: Unite the right march, Charlottesville – Wikipedia